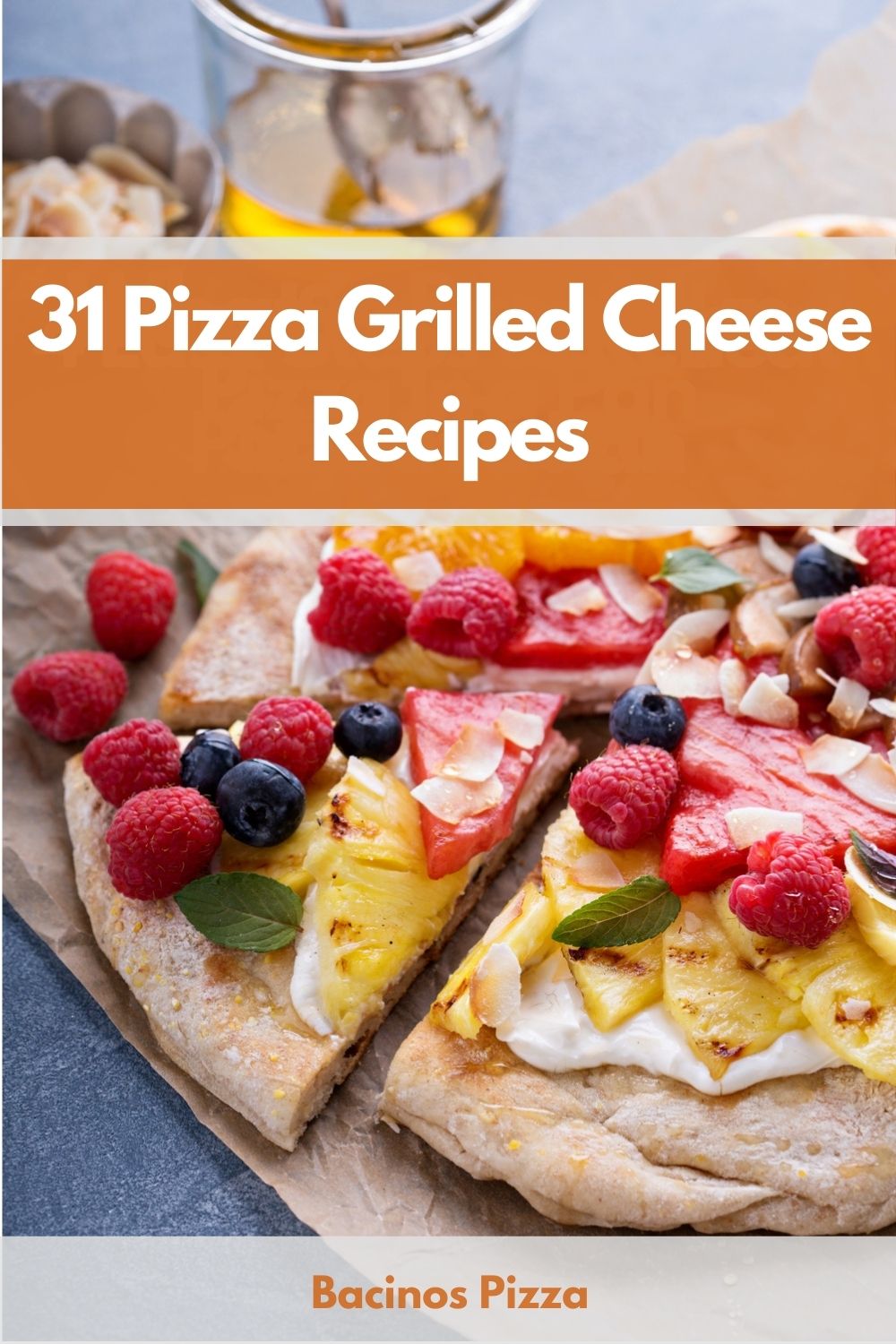 Grilled cheese sandwiches and pizza are two of America's top indulgences. They make the ultimate care package when you need comfort food. And in true American style, we found a way to combine them, making them even better! The two main styles are a bread sandwich with pizza toppings or pressed leftover pizza. Here are 31 pizza grilled cheese recipes to try.
1. Sorted Margherita Pizza Grilled Cheese
This first pizza grilled cheese recipe uses the bread approach. The sandwich is built off sliced sourdough and marinara sauce. The sauce is simple – crushed tomatoes, garlic, salt, sugar, and olive oil, spiced up with red wine for extra kick. Cool the sauce before spreading to keep your pizza grilled cheese from getting soggy. Top with cheese, sausage, and basil then press.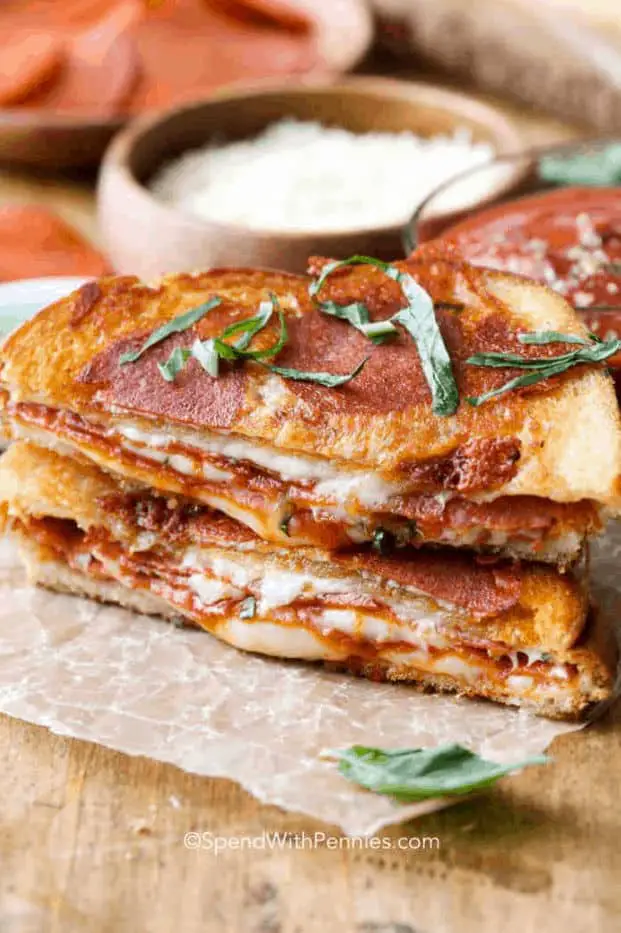 The trick to pizza grilled cheese is the spices and toppings. You want it to look like a sandwich but taste and smell like pizza. This recipe achieves that through pepperoni packed on artesano bread with a mix of cheeses. If you don't have a sandwich toaster, you can brown your pizza grilled cheese by manually pressing it on low heat using a regular pre-heated pan.
3. Leftover Pizza Grilled Cheese
The simplest way to make pizza grilled cheese is to take two leftover pizza slices, press them together with the toppings on the inside, then warm the pizza so the cheese melts and seals the sandwich. Microwave-heating dilutes the pizza flavor so just warm them on a pan, covered with a lid, with the crust facing the pan. You can add extra cheese to hold the pizza.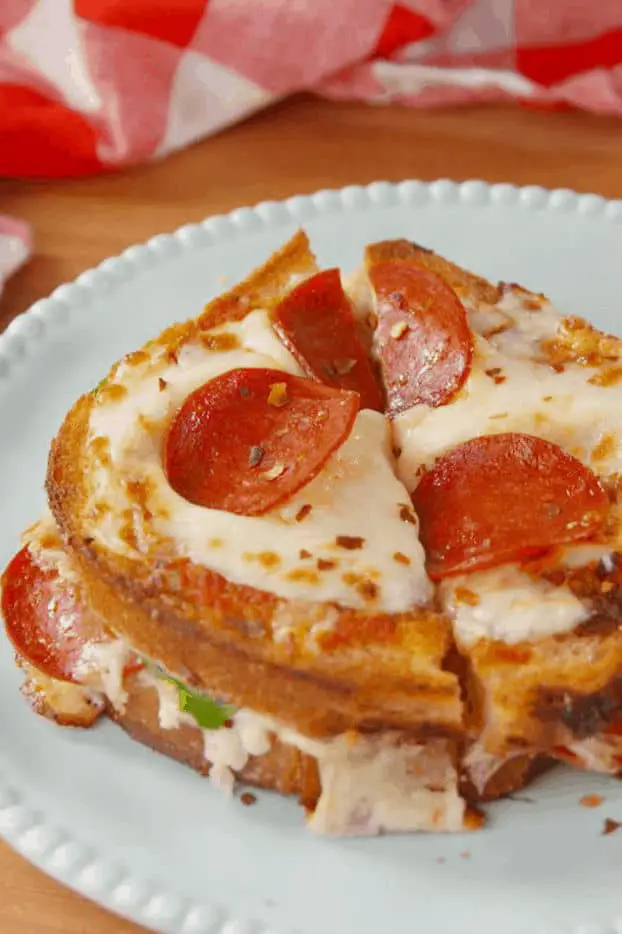 If your pizza grilled cheese is based on bread (as opposed to re-warmed pizza slices), the type of bread plays a huge role in the resulting taste. That's why this recipe uses sourdough bread. For cheese, the sandwich has a mix of mozzarella and parmesan. The sandwich also has pizza sauce, basil, and red pepper though the primary topping is pepperoni. Grill under a broiler.
5. Definitely Not Gourmet Pizza Grilled Cheese
When you're making pizza grilled cheese, the bread needs to brown. So whether you're using a frying pan, grill, broiler, sandwich toaster, or regular oven, butter the bread on both sides. This version uses a plain tomato sauce mixed with Italian seasoning. The cheese is mozzarella and the sandwich filling is pepperoni. Fry the sandwich in a preheated pan.
No rule says pizza grilled cheese sandwiches must use pepperoni. It's just easier to work with. But you can use any sliced sausage – salami, bologna, polony – any will do. And you can mix cheese types too. This version kicks it up several notches by layering the pizza toppings between slices of garlic toast. Serve the sandwiches with soup or baked beans.
7. French Bread Pizza
Try this buffet set-up that is both sophisticated (thanks to the French stuff) and football-friendly. You've got pretzels, waffle fries, crudité, sweet potato + blue potato chips, and a sweet-onion-garlic-cider-nutmeg dip. For the pizza grilled cheese, slather French bread with dip gruyere and parmesan. Add spinach or sausage and bacon and grill the 'pizza' uncovered.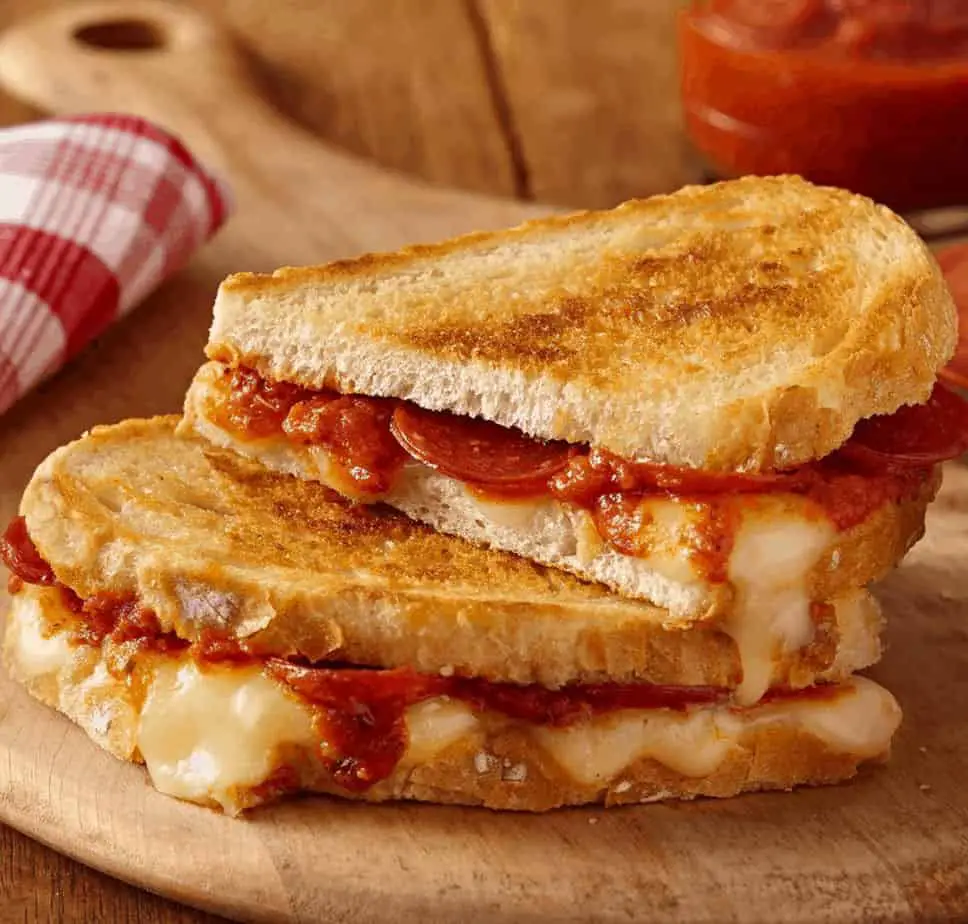 We're crossing from Frenchified American snacks to Italianized ones. This pizza grilled cheese uses Italian seasoning and Italian bread. You'll fry your sandwich on a skillet so you only need to butter the outsides. In between the slice, place mozzarella slices, pepperoni, and pizza sauce mixed with Italian seasoning. Fry the pizza grilled cheese slowly and flip once.
9. Hellthy Junk Food Pizza Grilled Cheese
Whether you're feeding the munchies or your little munchkins, this inside-out grilled cheese pizza is a treat. It has crispy toasted cheddar on the inside. The outside has pizza sauce between two layers of mozzarella topped with a pepperoni crust. For the sauce, water down cold tomato paste slightly and add pizza seasoning (garlic, marjoram, oregano, basil).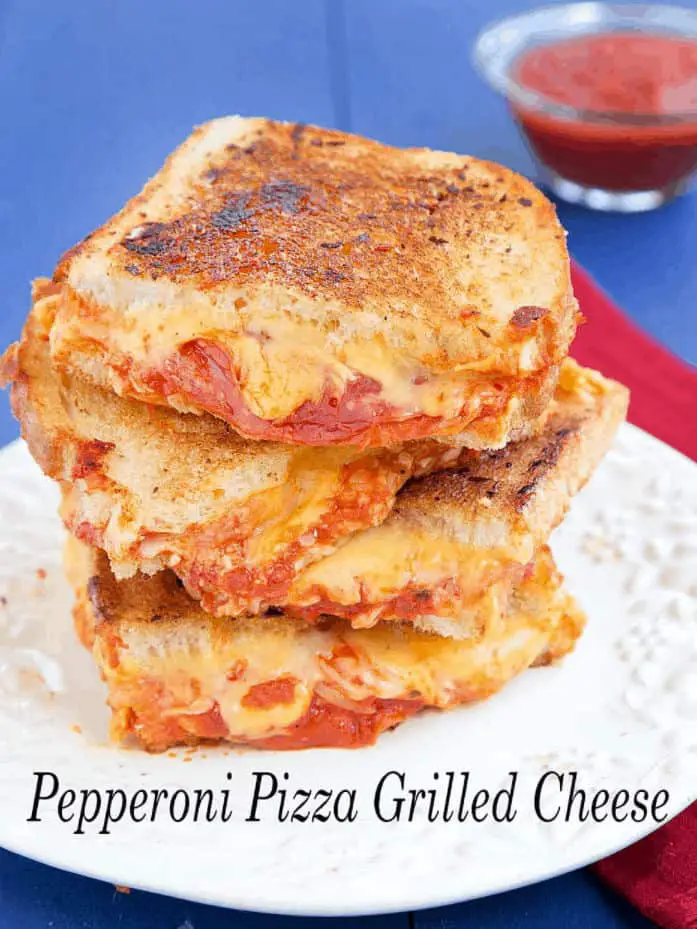 This recipe is similar to inside-out sandwiches because it has cheese both inside and outside. Start with bare bread slices (sourdough is ideal) then add pepperoni, pizza sauce, and mozzarella. Stack the slices so the toppings are always on the outside. You can stack two, three, or even four slices this way. The top-most slice will only have butter on the outside.
11. French Fry Pizza Grilled Cheese
Make the most of your leftover take-out for a perfect morning-after dish. This recipe combines American favorites – French fries, grilled cheese, chili dogs, and pizza. Line the pan with French fries and bake. Mash the fries and spread them on the pan to make 'dough'. Add mozzarella, cheddar, beanless chili sauce, hotdogs, and more cheese. Grill until golden.
Black lives matter … but once in a while, you want white pizza – all cheese, no toppings. So when you convert this concept into a sandwich, you should probably use (white) Italian bread for your pizza grilled cheese. You can mingle mozzarella, American cheese, and provolone. For the white sauce, use sweet onion, garlic powder, rosemary, and butter.
13. Pepperoni French Bread Pizza
We've already seen Rachel Ray make grilled French bread pizza. But here, she steps it up with pepperoni sauce. Add grated pepperoni to the marinara and fry with onion, garlic, parsley, and chili flakes. Spread this red pepperoni sauce on French bread, add cheese, pepperoni slices, and more cheese. Grill the pizza bread without covering with a second slice.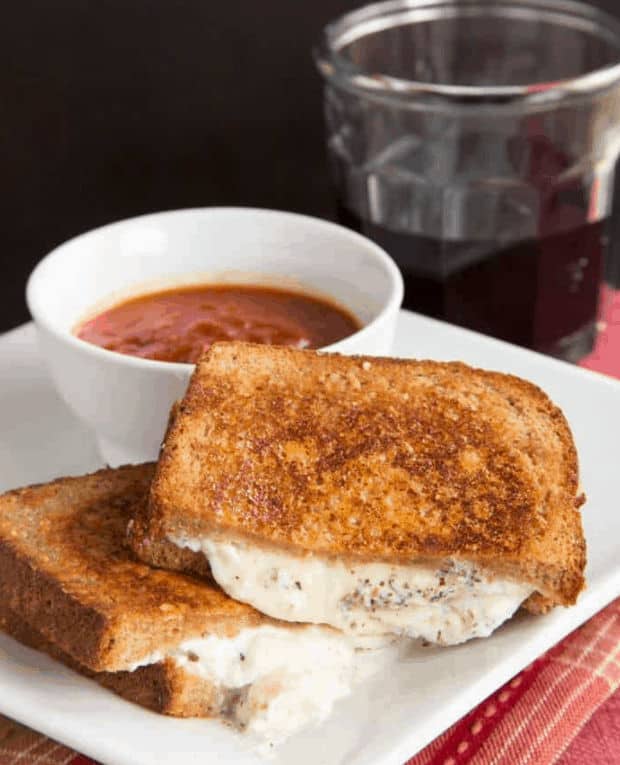 Here's another take on white pizza sandwiches. Yes, you can toss some cheese slices and the bread and be done with it. But to enrich your palate, combine different cheese varieties. This recipe has ricotta, parmesan, and mozzarella. It doesn't use red sauce so there isn't a touch of color anywhere … but the Italian seasoning still gives it that characteristic pizza flavor.
15. Celebrity Pizza Grilled Cheese
Celebrities are human too. So after a night filled with champers and paparazzi, they may want to soak off all that after-party booze with pizza grilled cheese. Try these cheesy variants (and add pizza sauce and seasoning!) by Kylie Jenner, Chrissy Teigen, and Martha Stewart, Antoni Porowski, and The Game. Then tell us (in the comments) which version tops the list!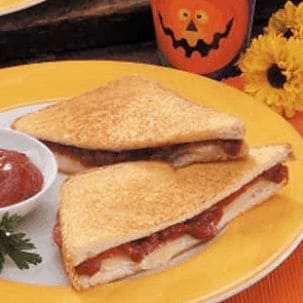 Grilled cheese and pizza are teenage staples, so let's see this 15-year-old's take on our favorite snacking combo. It has pizza sauce, pepperoni, and provolone cheese. For best results, place the buttered side on a skillet then add the toppings while the bread is already on the skillet. Once assembled. Cover with the top slice, press with a spatula, and flip.
17. DeLaFuente Pizza Grilled Cheese
Here's another quick one made Italian-style. Melt butter in a pan while assembling the sandwich on the countertop. Use regular bread, two slices of cheese, lots of pepperoni, pizza sauce, another two slices of cheese, then the top slice. The bread isn't buttered on the outside – it soaks the butter from the pan as it fries. This heightens the crunchy texture and flavor.
As we keep saying, grilled cheese pizza doesn't have to restrict itself to pepperoni. You can convert any pizza flavor into a grilled cheese combo. This recipe beefs up the sandwich with chicken tenders. Brush the outside of the bread with garlic butter and sprinkle parmesan inside. Cook the chicken with pizza seasoning then load the bread with chicken and cheese.
19. Business Insider Pizza Grilled Cheese
(How) would a corporate exec make pizza grilled cheese? Here's an idea – and remember business people are all about speed, efficiency, and cost-cutting. Butter the bread on the outside but not the inside. Spread the pizza sauce directly on the (unbuttered) side. Arrange pepperoni on one slice and sliced mozzarella on the other. Press together and fry in a pan.
Heard of Texas Toast? It's basically garlic bread made of regular store-sliced loaves. And this grilled cheese pizza uses thick slices of this Texan breakfast base. The sandwich is filled with homemade marinara, parmesan, mozzarella, and pepperoni. The marinara doesn't go in the sandwich itself – it serves as a dip to stop the sandwich from getting soggy on the pan.
21. Hebbar's Street Style Pizza Grilled Cheese
Can you make grilled cheese pizza in a kadai (Indian Wok)? Yes! Try this triple threat with tons of color, flavor, and three slices per sandwich! Toppings are a mixed bowl of finely diced onions, tomatoes, sweetcorn, capsicum, paneer (Indian cottage cheese), eggless mayo, chutney, chili + tomato sauce, and pizza cheese. Add cucumbers and mashed potato bits.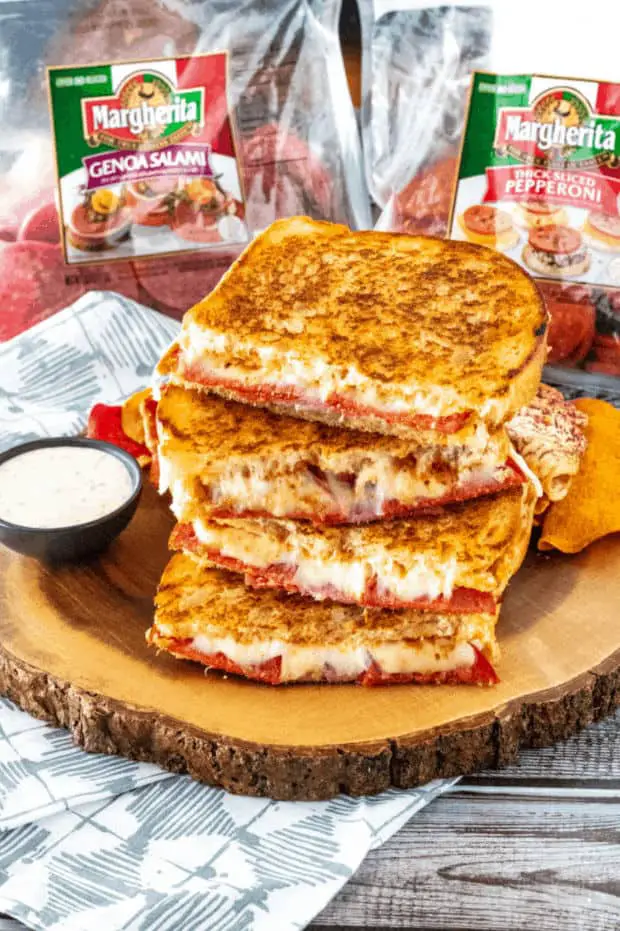 Pre-sliced sausage is a top sandwich ingredient because it's ridiculously easy to use. So why not try more than one type? This grilled cheese pizza uses boxed salami and pepperoni for that extra porky punch. To prevent the marinara from soggily soaking into the sandwich, the bread is buttered on the inside. Slip the meat between the cheese slices, press, and fry.
23. Nicole Burgess Pizza Grilled Cheese
What type of chef are you? If you prefer everything pre-packaged in a convenient box or jar, this is the grilled cheese pizza recipe for you. And you can get all the ingredients at Dollar Tree. Try boxed turkey pepperoni Add Italian seasoning and pre-grated parmesan, though mozzarella slices are the primary cheese. The pizza sauce is for dipping – don't spread it.
So far, we've seen how to make pizza grilled cheese with either bread or pizza dough. Now we'll do a recipe with Pillsbury crescents. Brush a cookie sheet with garlic butter and spread the crescent dough on it. Add Monterey jack cheese and diced pepperoni. Press a second sheet of crescent dough over it, inch shut, brush butter over it, and bake. Cut into triangles.
25. Cook 'n Share Grilled Cheese Pizza
This version is whipped up using regular brown bread or whole wheat bread, nothing fancy. Butter the outside but not the inside. Apply pizza sauce on the bare bread. Follow with sharp cheddar cheese and mozzarella. The cheddar makes it grilled-cheesy while the mozzarella makes it pizza-ey. Finish with pepperoni, olives, and your top bread slice. Press and fry.
Enough with the bread – let's get back to the dough. You'll use two pieces with toppings in between. The top of the pizza has spirals of ranch dressing and buffalo sauce while the middle is stuffed with pizza sauce and three cheeses (mozzarella, Monterey Jack, and cheddar, also arranged in spirals). Use chives as garnish if the top of the pizza feels nude.
27. Veggie Grilled Cheese Pizza
Vegan pizza can be a stretch, but with the veggie version, you still get lots of cheese. So this pizza grilled cheese recipe skips the pepperoni and instead uses sliced jalapenos, tomatoes, onions, olives, chili flakes, mixed herbs, and grated mozzarella. Spread the pizza sauce on the inside of both slices (don't put butter on the inside), add toppings, press down, and fry.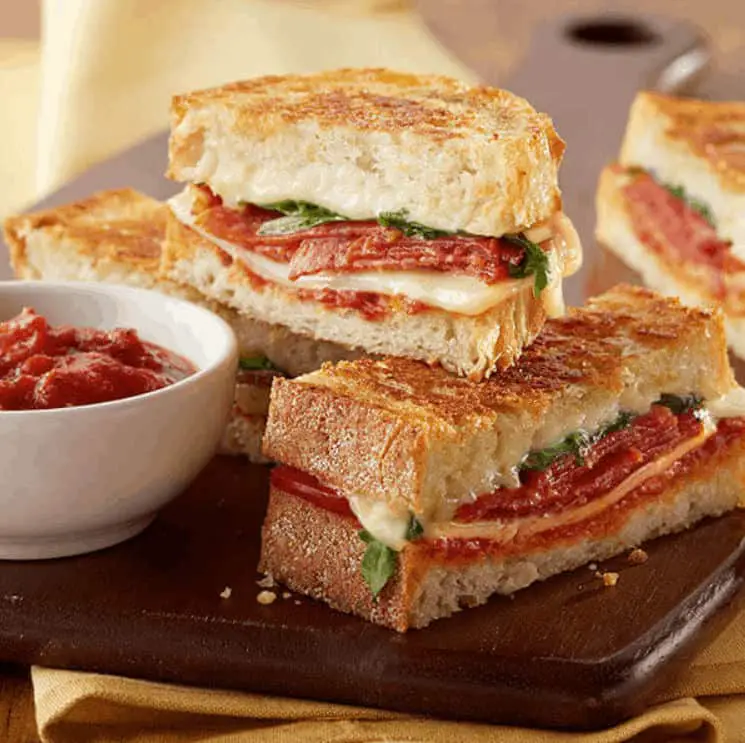 You could opt for a white pizza sandwich …and we've tried several. Or go for reds, whites, and greens. This pizza grilled cheese is heavy on the color, thanks to fresh chopped basil and salad greens. Spread butter on one side of the bread and pizza sauce on the other. Fill the sandwich with deli cheese, salad greens, and basil. Use the leftover pizza sauce as a dip.
29. Byron Talbott's Grilled Cheese Pizza
Three types of cheese on ciabatta bread give this pizza sandwich its edge. Spread the marinara directly on the inside of the bread. Add soft mozzarella cut into thick slices. Follow with spicy pepperoni, parmesan, fresh uncut basil leaves, and more mozzarella – but this time it's shredded. You can make the sandwich in an oven, a Panini press, or a skillet.
Do Canadians do it different? Well, in terms of pizza grilled cheese, they're far more careful about their portions. While we prefer to drown everything in as much sauce and cheese as possible, our 'upstairs neighbors' prefer to skimp. This recipe has only two tablespoons of pizza sauce and butter plus a ¼ cup of mozzarella. For two slices! Sacrilege! Healthy though.
31. Stuffed Grilled Cheese Pizza
We're closing the list with a recipe that will leave you stuffed, pun intended. It merges grilled cheese with stuffed cheese crust pizza. And it's so easy to make. Just take two 'slices' of store-bought dough (yes you can make it at home if you prefer) and place cheese slices between them + around the rim. Bake the stuffed dough separately then add toppings and bake again.
What's your favorite pizza grilled cheese recipe? Tell us how to make it in the comments!
31 Pizza Grilled Cheese Recipes
Ingredients
Sorted Margherita Pizza Grilled Cheese

Leftover Pizza Grilled Cheese

Definitely Not Gourmet Pizza Grilled Cheese

French Bread Pizza

Hellthy Junk Food Pizza Grilled Cheese

French Fry Pizza Grilled Cheese

Pepperoni French Bread Pizza

Celebrity Pizza Grilled Cheese

DeLaFuente Pizza Grilled Cheese

Business Insider Pizza Grilled Cheese

Hebbar's Street Style Pizza Grilled Cheese

Nicole Burgess Pizza Grilled Cheese

Cook 'N Share Grilled Cheese Pizza

Veggie Grilled Cheese Pizza

Byron Talbott's Grilled Cheese Pizza

Stuffed Grilled Cheese Pizza
Directions
Select your favorite recipe.
Organize all the required ingredients.
Prep the recipe in 30 minutes or less!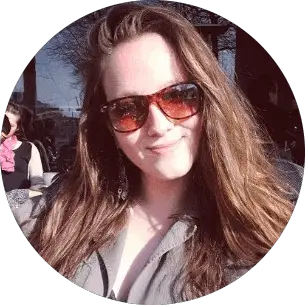 Barbara is an enthusiastic food-exploring person that goes through different culinary experiences. She got inspired by creating a pizza blog post after she tasted one of the best-selling pizzas in Toledo.