Pizza is by far the ultimate comfort food. I mean, who doesn't like it? Whether you prefer classic toppings, or you are into more adventurous pizzas, the experience remains the same for vegans.
The fact that they don't eat cheese doesn't mean they have to miss out on pizza. So, without further ado, here are 28 vegan pizza recipes for you to try.
1. Pulse Cafe's Sourdough Pizza
To create a great pizza, you must have good dough working as a canvas. Here is when sourdough comes to play, with its unique texture and flavor it helps to elevate the eating pizza experience to a whole new level. And yes, you guessed it right… Sourdough is indeed vegan. Add some fresh natural toppings, cashew mozzarella cheese, and it is done.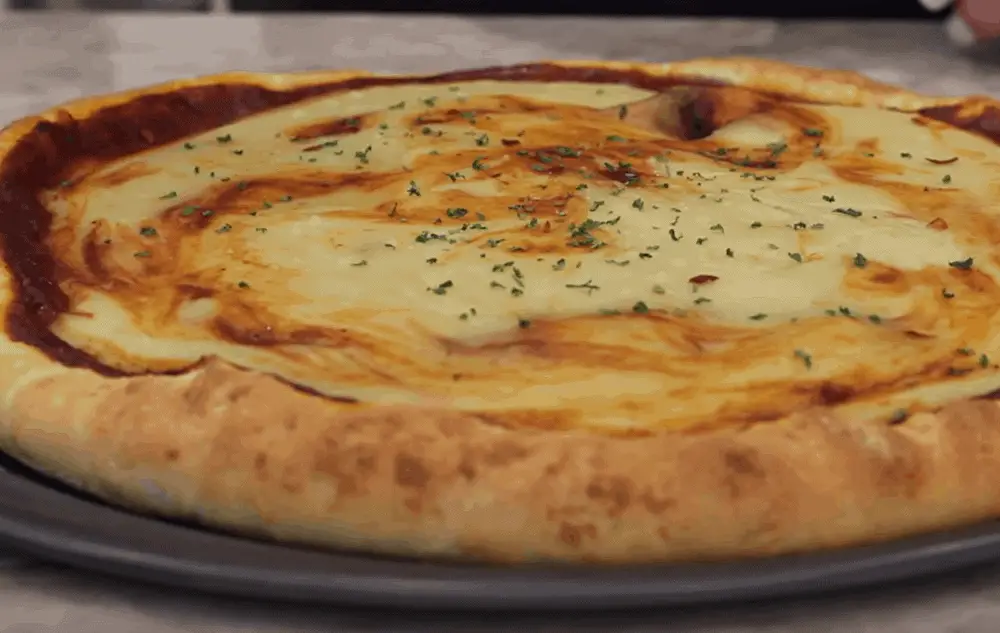 Francesca's recipe is great for anyone looking for a nut-free plant-based pizza with a cheese made from cauliflower which means also no soy and no gluten. Perfect if you need to adapt it to fit any allergy you may have. Her secret is just to blend the cauliflower (after boiling it) with some non-dairy milk, and it will become super smooth.
3. BananaBistro's Vegan Wheat Pizza
If you happen not to have sourdough available or you do not know where to find one, you can mix things up with a wheat pizza. A firm knead is key for the success of this pie. Once it is done, simply mash some onions and tomatoes to create a sauce, and add any other plant-based toppings you like, since the dough is going to be 100% vegan.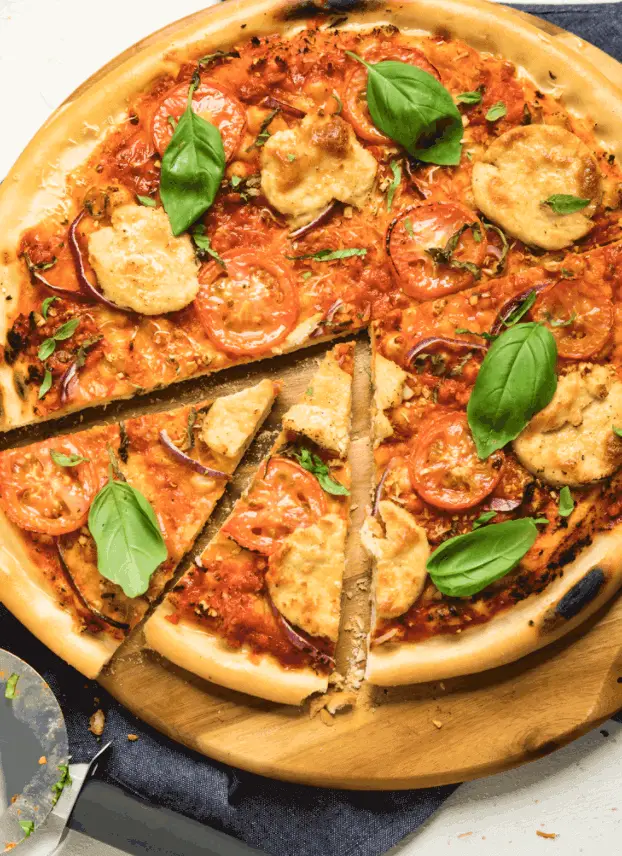 Pizza dough with literally only two ingredients? Is it possible to learn this power? Well, it is not only possible but also pretty easy to follow Andrew's instructions. He himself explains how combining flour with coconut cream was simply a panic attempt to make a pizza with basically no ingredients, and how it became such an important part of his life.
5. Fry Pan Vegan Pizza
Have you ever thought of a not-baked pizza? Well, me neither. But this recipe proves us wrong. First, make your regular dough, but then put it on an oiled pan while making some small holes with a fork on it. Add your sauce, plant-based cheese, and toppings. And do not forget to put a lid on the pan so it cooks evenly.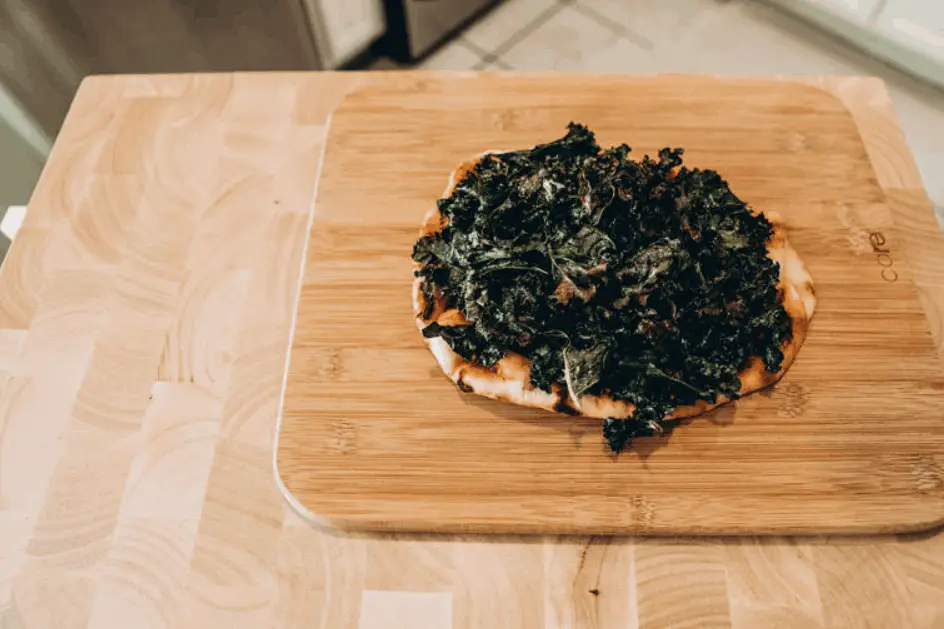 For this particular recipe, you are going to need two basic ingredients: naan bread, and kale. What makes this so unique, is that it does not have cheese. Start things up by making a delicious sauce with some tomatoes, garlic and onions then put it on top of your naan bread. After that, you just add the kale and put it in the oven until it is crispy. You cannot miss this one.
7. Aman Food's Zucchini Pizza Crust
A natural and super healthy dough made by shredded zucchinis is what makes this particular recipe so unique. First of all, as mentioned, you want to shred at least half a zucchini. Put it on a pan and cook it for about five minutes. Then add some almond flour and yeast, and shape the mix like a pizza, add your favorite plant-based cheese and some toppings, and you are done.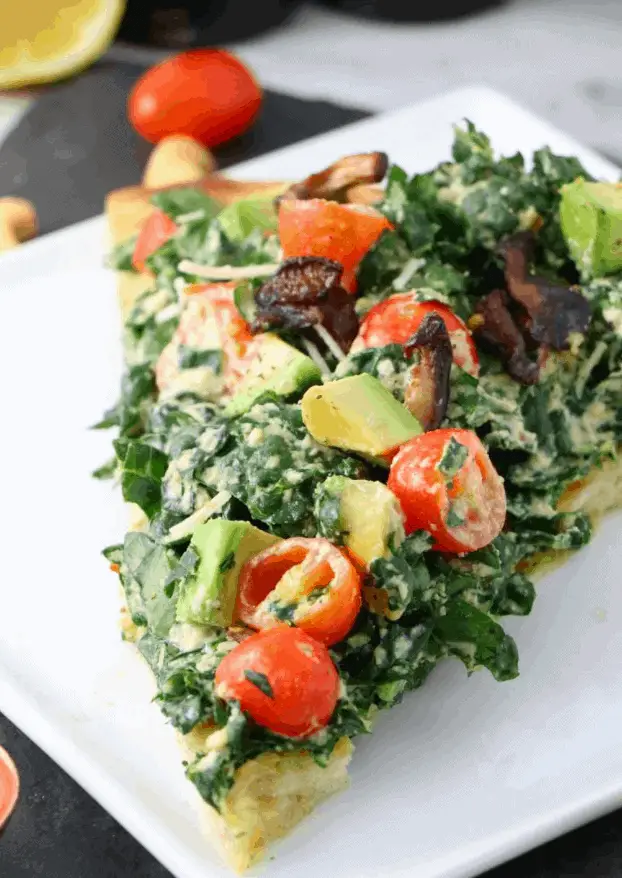 In some way similar to Miss Enocha's Kale Pizza, this particular version adds some ingredients to the mix, and it creates a whole new experience for those looking for a fresh and light, but still delicious, pizza. You want to basically create a Caesar salad in a bowl, and then use the entire thing as one big topping for the whole pie. The type of dough is up to you to decide.
9. JessGoneVegan's BBQ Chicken Pizza
An all-time American classic, this BBQ chicken pizza variant is 100% vegan with each unique ingredient being plant-based. First, you want to cook your vegan chicken with some BBQ seasoning and BBQ sauce so it starts to absorb the flavor. Then, you can let it rest while making the pie. Remember that the longer is stationed, the more flavor it will absorb.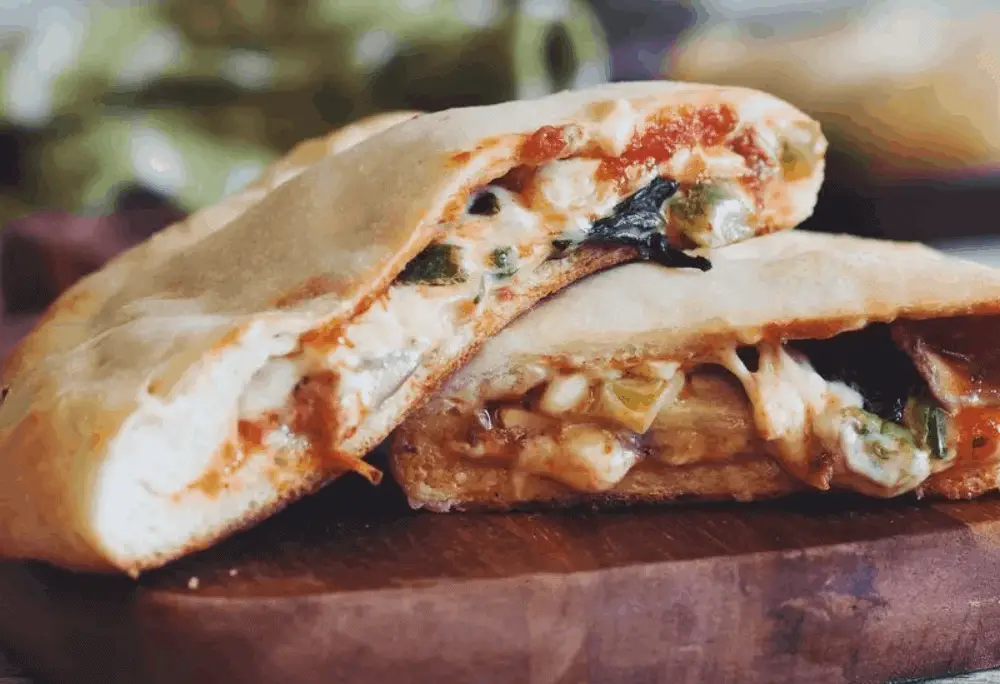 This vegan pizza pockets recipe is perfect for those who want to create a rustic pizza pocket, with that handmade aesthetic that makes you feel at home. Feel free to express yourself with the sauce and toppings, and cut chunks of your favorite plant-based cheese. Before baking, add some oil on the outside of the pie, so it looks crispy and brownie all around.
11. Team Ninja's Vegan Broccoli Pizza Crust
At first glance, you can see Team Ninja's recipe is special, as the crust looks so unique. Start steaming some broccoli on a covered pan, and then blend them and remove as much liquid as possible to create the dough with almond flour and flax meal. A little tip, put the pie in the oven to make it crispy before adding the sauce, cheese, and toppings of your choice.
The tallest pizza you probably ever seen. Made on a cake pan, with a dough with no kneading at all, this recipe is so unique you will surprise anybody you invite over for pizza night. Built with layers as it was a cake add in any other and as many levels as you want the vegan cheese, some sauce, and some toppings.
13. JourneyToNature's Raw Vegan Pizza
Remember the not-baked pizza, well, this recipe is not only not-baked but also entirely raw. For the crust you will need chia and flax seeds, which mixed will create a delicious plant-based pie. Then just add as many toppings as you want that do not require cooking at all, like most vegetables. Let it rest and dehydrate, and enjoy.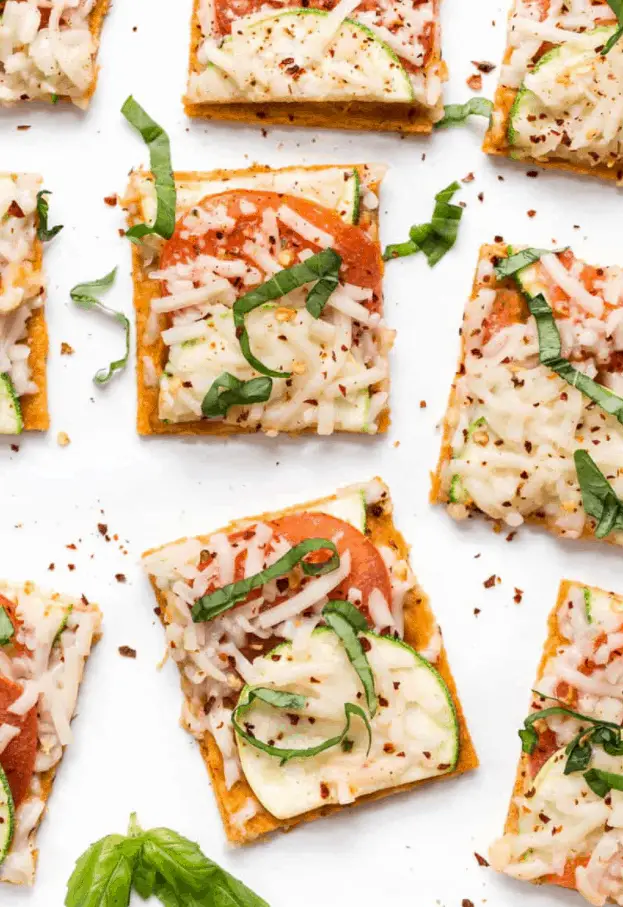 This creamy pie is super refreshing and works wonders as a summer meal. Simply Quinoa's secret is that they use hummus instead of your regular tomato sauce. That way the whole experience is different, as the pizza becomes so especially fresh. Add some toppings and plant-based cheese you like, and make a couple of pizzas so you can stock your freezer.
15. Korenn Rachele's Vegan Pizza Rolls
Since pastry is what we are using here, it is delicious in a unique way and makes it a different way to eat pizza. The layers in the dough make for a perfect wrapper for fresh ingredients with plant-based cheese. Looking like ravioli, this recipe is not only easy but also not pricey at all.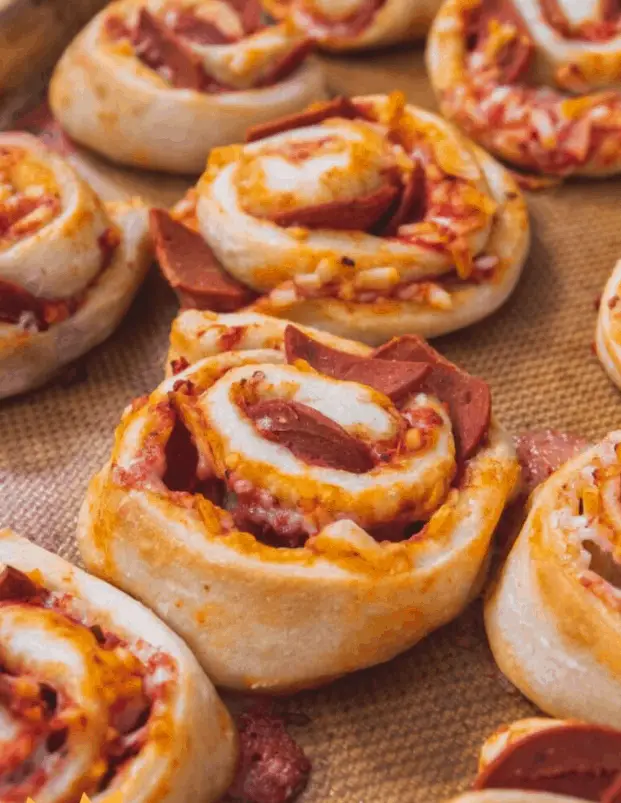 So far we've seen a lot of different ways to create crusts, but nothing like this! The Viet Vegan's Pizza Rolls uniqueness relies on how spongy and fluffy they are. She uses not only homemade dough but also homemade sauce. The beauty here is that you can just grab the ingredients from any store, and jump straight on the action, and be done by the 15-minute mark.
17. WholeFoodMarket's Spicy Grilled Vegan Pizza
Pizza is always incredible. But how come we got this far on the list without talking about grilled pizza? Get the dough as flat as you and put it in the grill on both sides to get equally crispy. Remove them from the heat, add the sauce and toppings, and then put it again for a couple of minutes. As soon as the bottom gets toasty, they are done.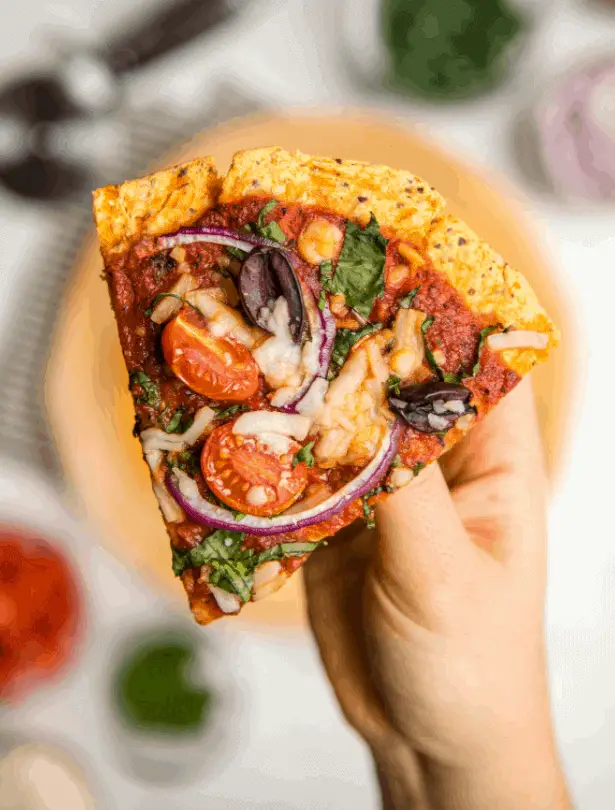 The combination of both vegan and gluten-free, in addition to healthy while being delicious, seems like a pretty complicated quest. But look no more, because here it is. Caitlin's secret to the perfect dough relies on how much you steam the potatoes. The longer you steam them, the creamier the pizza will be. You can even leave some potato pieces on the crust. It is up to you.
19. HappyHealthyVegan's Cornmeal Pizza
Low fat, gluten-free, no salt, no oil, and dairy-free. There's no way this pizza checks all those boxes while being so delicious. The dough is made with cornmeal and water, and as soon as it's getting creamy, it is ready to get shaped and go in the oven for a couple of minutes to get crispy. Cut some vegetables of your choice, and put them on top. And it is done.
Step aside, The Hulk. With kale, parsley, green onions, and of course, spinach, this is the definition of green. Paint your already crisped dough with some vegan alfredo sauce and then let the green wave complete this wonderful pizza. Put it in the oven until all the greens start looking toasty, sprinkle some cheese on top for it to melt and enjoy.
21. Tofu "Ricotta" Pizza
This pizza is packed with protein. Tofu is not only delicious but also an incredible source of nutrition for vegans. The unique texture it provides cannot be compared to other plant-based cheeses. Just crisp the dough a bit in the oven, then add the tofu with as many vegetables as you want, like broccoli and kale, and then back on the oven to cook until perfection.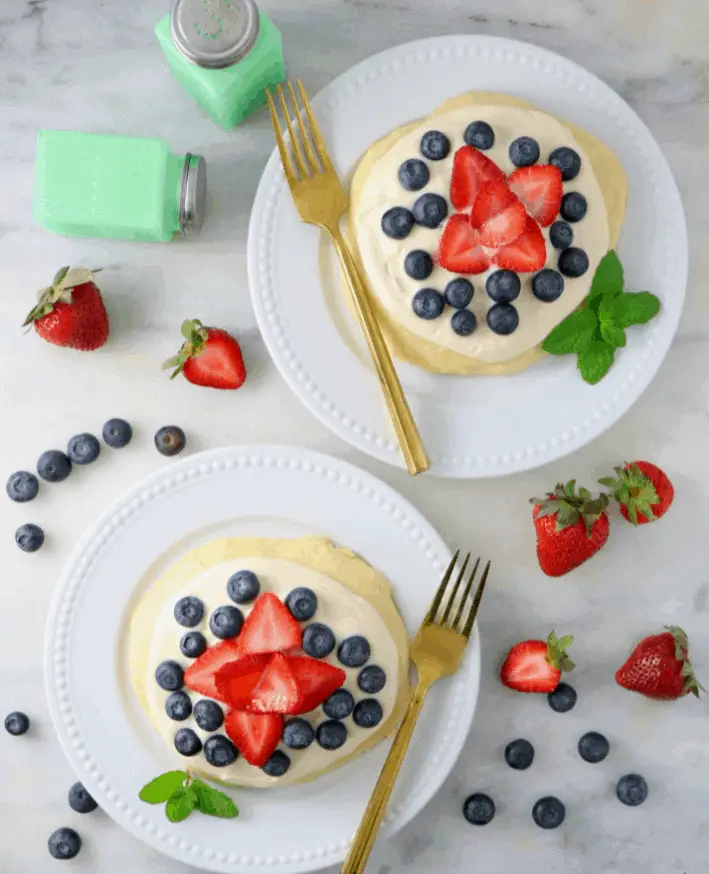 Great for kids and adults alike, this vegan fruit pizza distinctly makes a wonderful dessert. Starting with sweet cookie dough with vanilla and coconut milk, you can top this pizza with anything you like. Here, Gabrielle tops it with some vegan cream cheese, blueberries, and strawberries. Both fresh and light, this vegan recipe works wonders for birthday parties.
23. Ginny Williams' Basil Pesto Pizza
Ever felt bored of making the same red sauce pizzas? We mentioned a hummus one before, but if it is not your style, here you have a pesto recipe to replace the tomato. The smell and taste of pesto pizzas are so unique that they cannot be compared to anything we have done before. Ginny here provides us with her personal touch with her home-grown basil.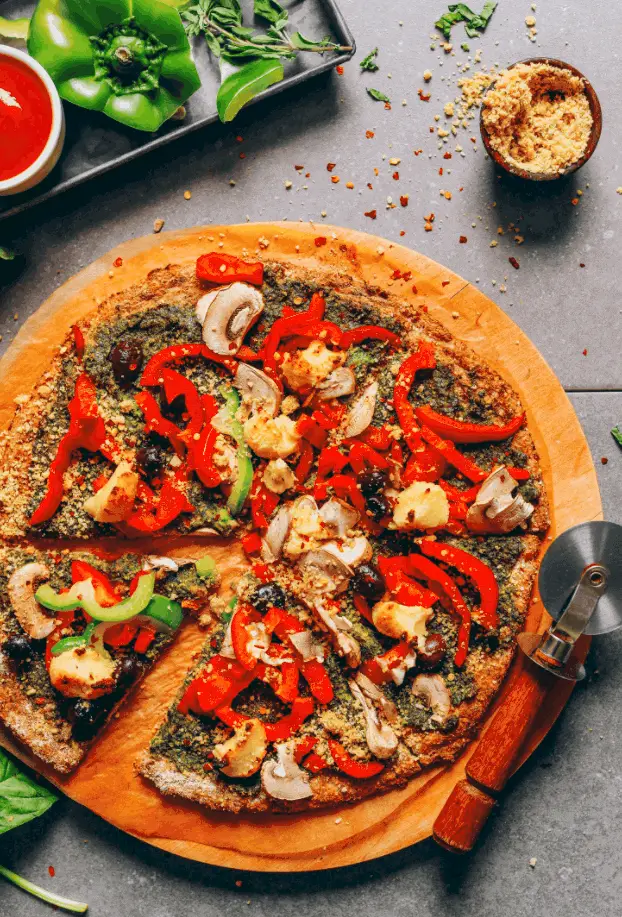 One of the simplest and easy-to-follow recipes so far, this cauliflower pizza crust is not only crispy and delicious but also 100% plant-based. The secret here is that once the cauliflower rice is boiled, it must be super dry. Otherwise, you will not get a dough that is easy to shape and maneuver. Add some herbs, species, and vegan parmesan for flavor! Toppings are up to you.
25. Home Chefonomics' Cast Iron Pizza
We already talked about a pizza made on a frying pan, but this is a whole new level. This tall and thick iron pan goes straight up in the oven, which makes the crust crispy on the outside while being spongy on the inside. Add some vegan sauce on top of your dough, your plant-based mozzarella, and some toppings of your choice.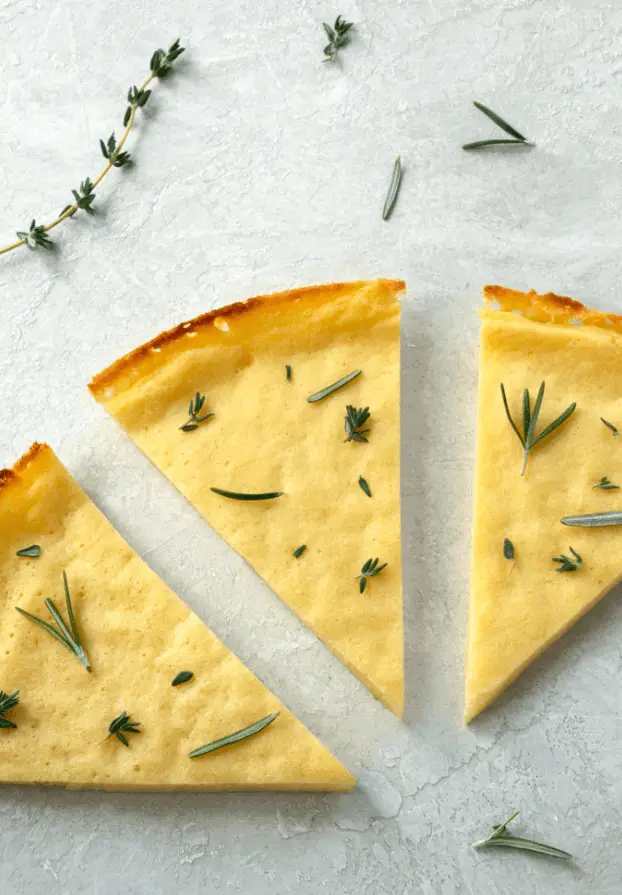 This vegan grain-free crust is not only super easy to make, as it requires only one ingredient, but also is a great source of protein and fiber. Made entirely with legumes and no flour, you only need to add water to the blended legumes for the dough. Once it is done, crisp it a bit on the preheated oven, and add the toppings of your choice.
27. Raw Vegan Italian Mushroom Pizza
If there is something we can always be thankful for on YouTube is that it opens up the door to many cultures and traditions right into our house. This Italian recipe replaces a regular dough with a portobello mushroom, that you can stuff by simply spooning the inside, and put in the oven right away.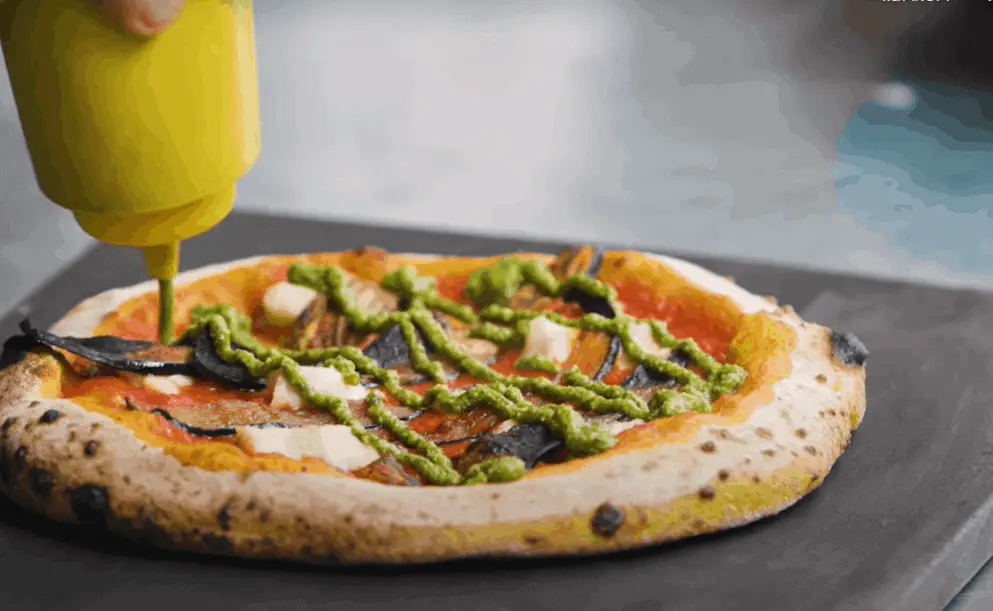 Our last recipe is probably the one with the most gourmet angle. Starting with a dough with turmeric powder, and making the cashew nuts into cheese, this pizza might require some work and be a bit expensive compared to the others, but the result is both classy and unique. Topped with roasted eggplant, the flavors will explode in your mouth.
What was your favorite vegan pizza recipe? Let us know in the comments!
28 Best Vegan Pizza Recipes
Ingredients
Pulse Cafe's Sourdough Pizza

BananaBistro's Vegan Wheat Pizza

Fry Pan Vegan Pizza

Aman Food's Zucchini Pizza Crust

JessGoneVegan's BBQ Chicken Pizza

Team Ninja's Vegan Broccoli Pizza Crust

JourneyToNature's Raw Vegan Pizza

Korenn Rachele's Vegan Pizza Rolls

WholeFoodMarket's Spicy Grilled Vegan Pizza

HappyHealthyVegan's Cornmeal Pizza

Tofu "Ricotta" Pizza

Ginny Williams' Basil Pesto Pizza

Home Chefonomics' Cast Iron Pizza

Raw Vegan Italian Mushroom Pizza
Directions
Select your favorite recipe.
Organize all the required ingredients.
Prep the recipe in 30 minutes or less!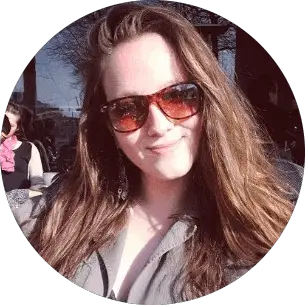 Barbara is an enthusiastic food-exploring person that goes through different culinary experiences. She got inspired by creating a pizza blog post after she tasted one of the best-selling pizzas in Toledo.