Pizza Hut Melts is a new addition to the menu! It's an innovation to the standard pizza with a sandwich-like appearance. But before you indulge in these delicious treats, you might wonder about their nutritional contents. Well, we have the data for you!
In this article, let's explore the Pizza Hut Melts Nutrition Facts!
What are Pizza Hut Melts?
Craving something that's easy to eat on the go? Look no further than Pizza Hut's new Melts! It's packed with a thin n' crispy crust pizza filled with your favorite cheesy goodness, sauce, and toppings.
The classic pizza comes to you in sandwich form, with a fold to keep everything securely inside. Plus, choose from four tasty combinations for $6.99 each (prices may vary).
Pizza Hut Melt Varieties
These are the Pizza Hut Melts currently available in the market:
Pepperoni: This classic combination of pepperoni and mozzarella cheese is sure to be a crowd-pleaser as it's a mainstay Pizza Hut Melt. It features a marinara sauce for dipping.
Cheesesteak: This cheesesteak Pizza Melt is a specialty flavor featuring bits of beef along with a cheesy crust.
Meat Lover's: This classic pizza is whatever you crave, with pepperoni, Italian sausage, beef, and pork toppings as the hearty base, along with bacon and mozzarella cheese to give it an extra protein boost.
Buffalo Chicken: This Melt sandwich is layered with delicious ingredients, including chicken, onions, buffalo sauce, and melted cheese. It has buffalo sauce and ranch for dipping!
Chicken Bacon Parmesan: A cheesy and savory pizza melt with chicken, bacon bits, and parmesan cheese. Add it with the ranch for that added kick.
Common Ingredients
Pizza Hut Melt might have different varieties, but some ingredients can be found all across. First of all, if the dough. The melts use the same dough as regular pizza, but with one noticeable difference: it's thinner.
The second is the pizza sauce. It's important to note that the dressings are the same across the different Pizza Melts, with some variations in toppings. However, some have additions to the meat, such as with the Buffalo Chicken.
Then comes the cheese. Like most fast-food pizza joints, Pizza Hut Melt uses the common Mozzarella, Cheddar, and Parmesan.
Lastly, the meat. Regarding standard ingredients, the meat is where most of the Pizza Melt differentiates itself. It ranges from chicken, pepperoni, and pork-based processed meat.
Why do Nutrition Facts Matter?
Nutrition facts are essential in understanding the components and nutritional values of all the foods you consume. With this knowledge, we can make healthy choices and ensure suitable portions for our daily diets.
Tracking Essential Nutrients: Reaching your diet goals can be easier with nutrition facts. It is a great tool for keeping track the amount of calories, proteins, carbohydrates, and other nutrients needed for proper nutrient consumption. By comparing different food choices, you can know which is the best Pizza Hut Melt for your diet.
Healthy Diet Planning: A perfect way to monitor eating behaviors starts with learning about your food. That way you can plan your meals accordingly. Nutrition information is useful when planning and managing specific nutrients such as increasing or reducing your intake.
Nutritional Facts of Different Pizza Hut Melts
Now that we know the importance of nutritional facts, then let's get into the nutrients you can find in Pizza Hut Melts. Find out more about our nutrition facts, ingredients, and allergen information below. Keep in mind that this is an approximation, and it can vary with the serving of your Pizza Hut Melt.
Pepperoni Lover's Melts
| | | |
| --- | --- | --- |
| Nutrients | Value | Daily Nutrition Value |
| Calories | 1150 | |
| Proteins | 53g | 106% |
| Calories From Fat | 560 | |
| Total fat | 62g | 95% |
| Saturated fat | 28g | 140% |
| Trans fat | 1.5g | |
| Cholesterol | 165mg | 55% |
| Total carbs | 95g | 32% |
| Sugars | 17g | |
| Dietary fiber | 8g | 32% |
| Sodium | 2660mg | 111% |
While it offers excellent flavor, the Pepperoni Lover's Melt does contain quite a lot in terms of nutritional content. This includes 1150 calories, 62 grams of fat, and 95 grams of carbs.
If you want to consume a Pepperoni Lover's Melt from Pizza Hut, you're consuming 1150 calories. 49% of the calories come from fat, while 33% is made up of carbs. To offset those calories, it would take approximately 101 minutes of running or 164 minutes of walking.
Cheesesteak Pizza Hut Melts
| | | |
| --- | --- | --- |
| Nutrients | Value | Daily Nutrition Value |
| Calories | 1110 | |
| Proteins | 43g | 85% |
| Calories from Fat | 550 | |
| Total fat | 65g | 83% |
| Saturated fat | 26g | 130% |
| Trans fat | 1.5g | |
| Cholesterol | 105mg | 35% |
| Total carbs | 87g | 32% |
| Sugars | 12g | |
| Dietary fiber | 6g | 21% |
| Sodium | 2320mg | 101% |
Cheesesteak has a lower amount of calories, sitting at 1110, which is the second lowest amount in the list of varieties. It also has a good amount of protein at 43g. To burn the calories from this pizza melt, you'll need to run for 107 minutes or ride a bicycle for 154 minutes.
Meat Lover's Melts
| | | |
| --- | --- | --- |
| Nutrients | Value | Daily Nutrition Value |
| Calories | 1100 | |
| Proteins | 49g | 98% |
| Total fat | 59g | 91% |
| Calories from Fat | 530 | |
| Saturated fat | 24g | 120% |
| Trans fat | 1g | |
| Cholesterol | 130mg | 43% |
| Total carbs | 93g | 31% |
| Sugars | 17g | |
| Dietary fiber | 7g | 28% |
| Sodium | 2700mg | 113% |
This hot and hearty treat has 1100 calories in total, 93g carbs, and 59g fat. It's the lowest calorie option in the variations of Pizza Hut Melts.
That said, due to its meat-centric ingredients, it is high in protein.
Buffalo Chicken Pizza Hut Melts
Satisfy your spicy chicken craving with a Buffalo Chicken Pizza Hut Melt! You also get ranch and buffalo dip sauces to pair with your meal, which is not accounted for in this chart.
| | | |
| --- | --- | --- |
| Nutrients | Value | Daily Nutrition Value |
| Calories | 1190 | |
| Proteins | 44g | 88% |
| Calories from Fat | 480 | |
| Total fat | 53g | 82% |
| Saturated fat | 17g | 85% |
| Trans fat | 1g | |
| Cholesterol | 115mg | 38% |
| Total carbs | 134g | 45% |
| Sugars | 19g | |
| Dietary fiber | 6g | 24% |
| Sodium | 4310mg | 180% |
But don't forget to check the nutrition facts first: Pizza Hut Buffalo Chicken Melt has 1190 calories, 134g of carbs, and 53g of fat.
If you're looking to burn off those calories, you'll need to get your running shoes on. With 1190 calories, it's 104 minutes of running or 170 minutes of walking.
If you want to lower the carbs, you can try the next pizza melt: Chicken Bacon Parmesan Melts.
Chicken Bacon Parmesan Pizza Hut Melts
Get your hands on their delectable Chicken Bacon Parmesan Melt! The deliciousness is made up of a thin-crust pizza folded in half and topped with a parmesan-based alfredo sauce, chicken, and bacon and served with ranch dipping sauce.
| | | |
| --- | --- | --- |
| Nutrients | Value | Daily Nutrition Value |
| Calories | 1170 | |
| Proteins | 49g | 98% |
| Calories from Fat | 630 | |
| Total fat | 70g | 108% |
| Saturated fat | 27g | 135% |
| Trans fat | 1.5g | |
| Cholesterol | 130mg | 43% |
| Total carbs | 86g | 29% |
| Sugars | 11g | |
| Dietary fiber | 5g | 20% |
| Sodium | 2400mg | 100% |
This Pizza Melt contains 1170 calories but only 70g fat and 86g carbohydrates. A Chicken Bacon Parmesan Melt from Pizza Hut contains 1170 calories, with 54% of those calories coming from fat. Running for 103 minutes or walking for 167 minutes would be necessary to burn off the caloric intake from that melt.
Which is the Healthiest Pizza Hut Melt?
Choosing the healthiest meal from the Pizza Hut Melt Menu is dependent on many factors such as your personal dietary needs and restrictions. Although every person's needs are unique, here are some things that might help you feel confident in choosing the best option for you:
Meat Lover's has the lowest calorie count at 1100kcal; Buffalo Chicken has the highest at 1190kcal.
Buffalo Chicken has the lowest amount of protein at 44g; Pepperoni Lover's has the most at 53g.
With all these factors considered, you should be able to pick a dish that will suit your particular nutritional preferences. Also, note that Pizza Hut Melts contain the following allergens:
If you are allergic to these ingredients, then you must not consume Pizza Hut Melts. Digestion might lead to adverse reactions.
Tips to Make Pizza Hut Melt Healthier
If you're in the mood for Pizza Hut Melts, why not add a side salad to your order? It's not only full of delicious veggies and dietary fiber, but they offer essential vitamins and minerals that your body needs.
While enjoying this treat, forgo sugary soft drinks and instead opt for a nutrient-rich, calorie-free beverage such as water or sparkling water. This way, you don't have to ingest more calories.
Ultimately, practice moderation by making healthier meals for the majority of your day so you can still enjoy your Pizza Hut Melt without taking any unneeded steps forward for an appalling figure.
In Conclusion
With that, you now know the different Pizza Hut Melt Nutrition Facts. Be sure to reference this the next time you try out one of the Pizza Hut Melt variants! Note that you don't have to sacrifice this tasty treat to be healthy. As long as it's not an everyday staple, you are safe to indulge in this cheesy innovation to pizza!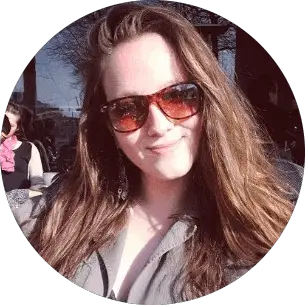 Barbara is an enthusiastic food-exploring person that goes through different culinary experiences. She got inspired by creating a pizza blog post after she tasted one of the best-selling pizzas in Toledo.