Monkey bread pizzas take slice sharing to the next level. This perfect party snack, or family dinner, involves all the great pizza tastes and flavors baked into breakaway pieces. There are many ways to play with the pizza formula to make it easy to grab as little or as much as you want.
Here are some great ideas to get you going, and remember to experiment. You can always add or remove fillings and toppings to make your personalized perfect Pizza Monkey Bread recipe.
1. Gemma's Bigger Bolder Baking Pizza Monkey Bread
This recipe starts with a traditional pizza dough made with flour, salt, sugar, yeast, milk, and butter. While this proves, you can prepare herby pizza sauce and the toppings of your choice. Then, stuff dough balls into a bundt tin and bake at 350°F for 30 minutes.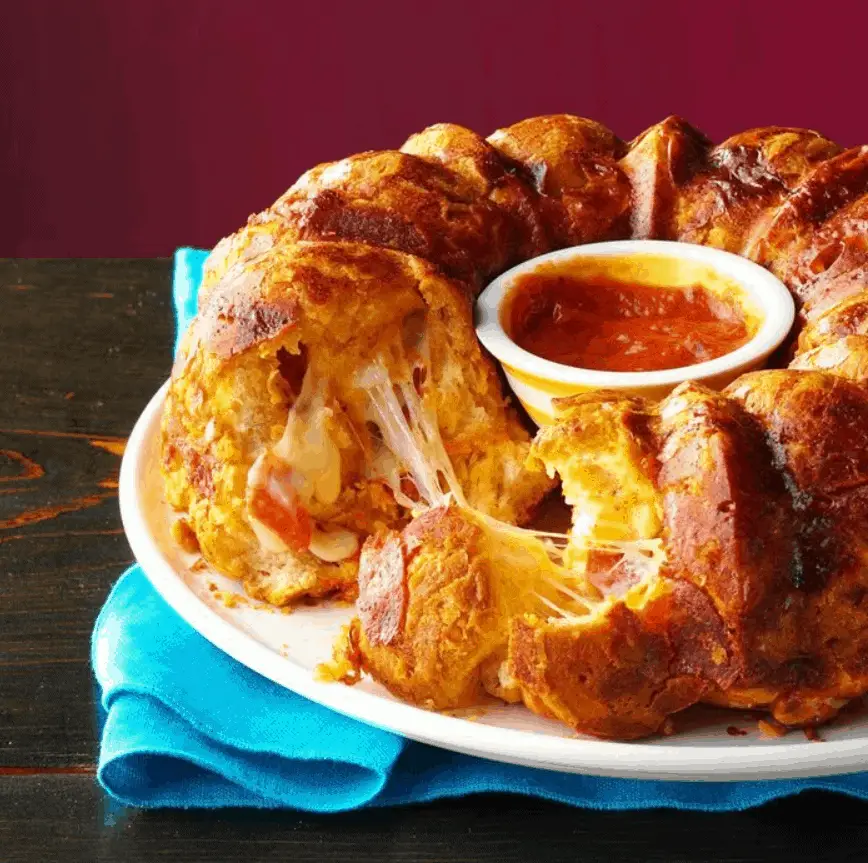 This quick and clever recipe avoids making or buying pizza dough. Instead, the pizza 'base' is made from store-bought flaky biscuits. You can season and layer these with mozzarella, marinara sauce, and pepperoni around a bundt tin. Bake for 40 minutes, and you're good to go with finger-friendly chunks of oozy monkey bread pizza deliciousness.
3. Cooked By Julie Monkey Bread Pizza
Cooked by Julie's monkey bread pizza recipe uses canned buttermilk biscuits to give an elegant effect on the pizza ring. And it takes only two minutes to prepare. Yes, you read that right, two minutes. Then, add mozzarella, Parmesan, and pepperoni toppings over the biscuit dough in a bundt tin and bake for 45 minutes.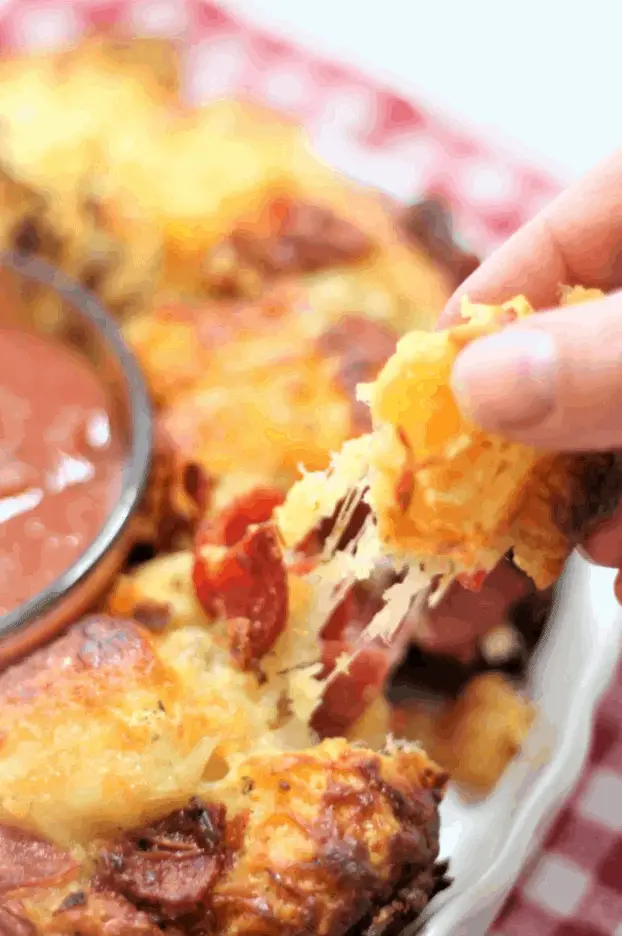 It's way easier to get hold of vegan mozzarella substitutes that are as tasty as the real thing. Thanks to the innovation we have these days! This recipe fills homemade dough balls with an alluring combination of melted cheese and fresh, herby pesto.
Don't be afraid of making the dough; it's a quick process. All you need to do is to leave it for an hour to prove. Then, stuff the filling into small balls and bake in the pan until a deep golden brown.
5. Food Fusion Pizza Monkey Bread
The appropriately named food fusion makes a delightful chicken monkey bread pizza with an Indian Twist. A traditional yeast-leavened pizza base is topped with spiced chicken and baked in a bundt tin. The space in the middle gives way to a spicy dipping sauce.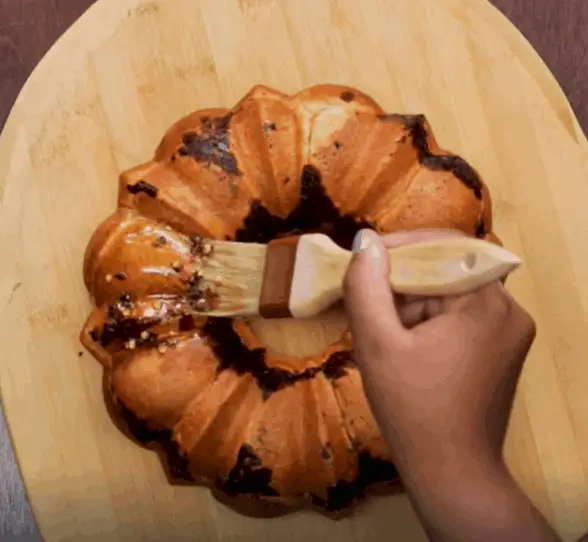 If you're on a diet, then move on because this recipe involves liberal amounts of olive oil. But if you fancy a treat, why not try these cheese and pepperoni-filled balls of shaped biscuit dough? This monkey bread is given plenty of character and flavor by a brushed oil coating. It contains oregano and pepper flakes, giving that extra zing.
7. Pull-Apart Garlic Pizza Bread
These pizza dough balls are filled with delicious garlic and parsley butter and then layered in a baking dish. After adding plenty of pizza sauce and mozzarella, the dish bakes for half an hour. The result is a deep cake-like slab of garlicky goodness that easily breaks off into bite-size chunks.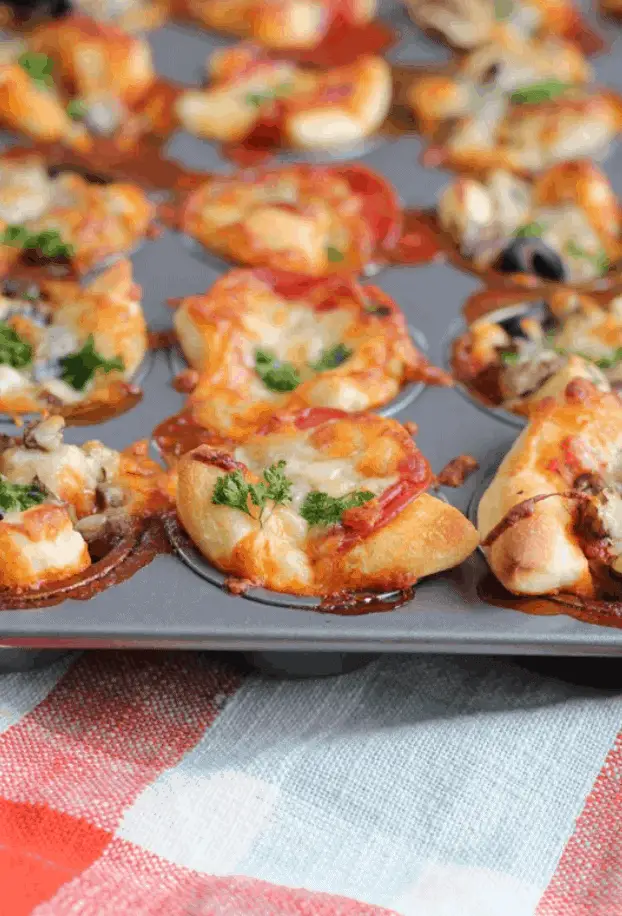 Hip Foodie Mom's mini pizza bites use a muffin pan to make mini deep-dish pizzas perfect for game nights. Just roll out store-bought pizza dough, and cut it into triangles. Place these in an oiled muffin pan, filling the centers with tomato sauce, mozzarella, and pepperoni (or the filling of your choice). The triangle edges are perfect for grabbing straight from the tin, saving time, and washing up.
9. Low Carb "Cheese & Garlic" Loaf
If you're a Keto diet follower, this low-carb cheese and garlic loaf is an excellent way to max out the protein and fat while watching those carbs. But how do you make a pizza without dough?
This recipe gently melts mozzarella and butter and adds xanthan gum as a binding agent and yeast to make it rise. The dough is then rolled out and covered with scallions, garlic, and dollops of cheese. Then shape the mix into a loaf and bake for 20 to 30 minutes until a rich golden brown.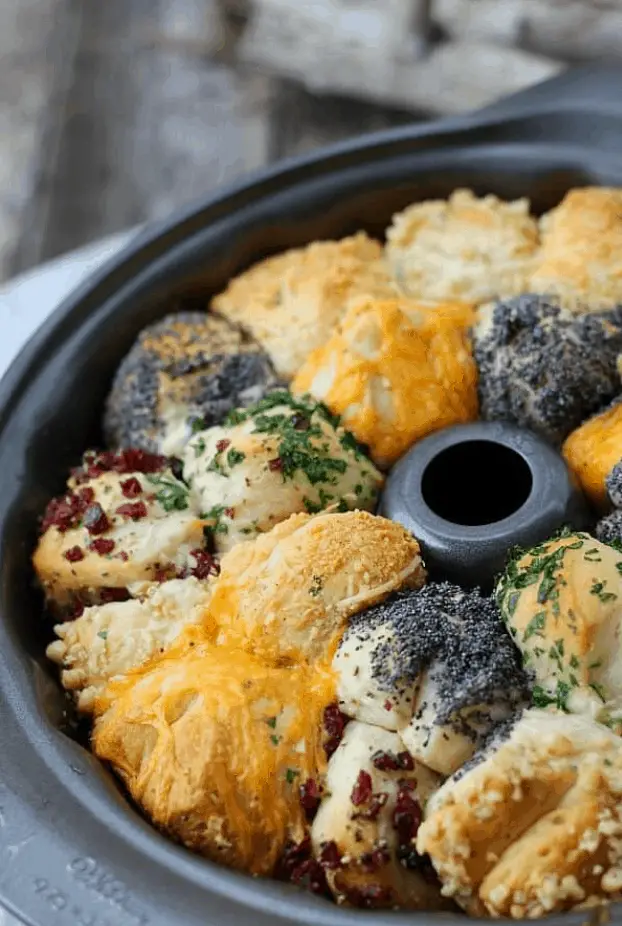 This recipe is a showstopping party finger food since a different topping for each ball of pizza bread gives the dish a riot of color. It's quick to make—taking only 50 minutes—including prep and cooking time.
In this instance, buttermilk biscuits provide the dough base. With which you stuff whatever cheese and herb combination you like. Suggested toppings include fresh herbs, poppy seeds, and Parmesan with paprika.
11. Bridgford Pizza Skillet Monkey Bread
This recipe uses a cast iron pizza skillet to oven-bake farmhouse-style bread roll dough. Layer small balls of pizza dough in the bottom of the skillet and add a mix of mozzarella, pepperoni, and Italian herbs. Then, let rise for 45 to 60 minutes, and oven bake for twenty minutes.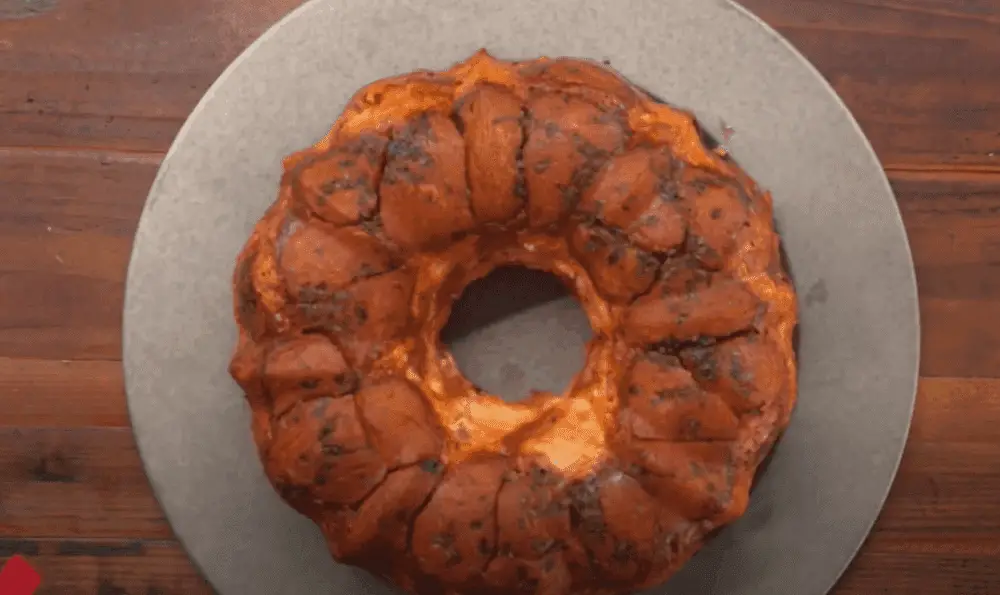 This classic Bundt tin monkey bread uses garlic powder and fresh parsley to add depth of flavor. It also fills dough balls with a mixture of pepperoni and pizza cheese or Monterey Jack if you want a sharper bite. After baking for half an hour, invert the triple-layered array of savory cheese balls onto a serving platter.
13. Gluten-Free Pizza Rolls Recipe – 4 Ingredient Dough
If you love pizza but want to avoid gluten, try out this ingenious recipe. The dough forms from gluten-free flour, yeast, melted butter, and plain Greek-style yogurt. I bet you weren't expecting that. Topless dough with tomato paste and ham base, and add cheese. Then roll, slice, and bake the slicers for 15 to 20 minutes.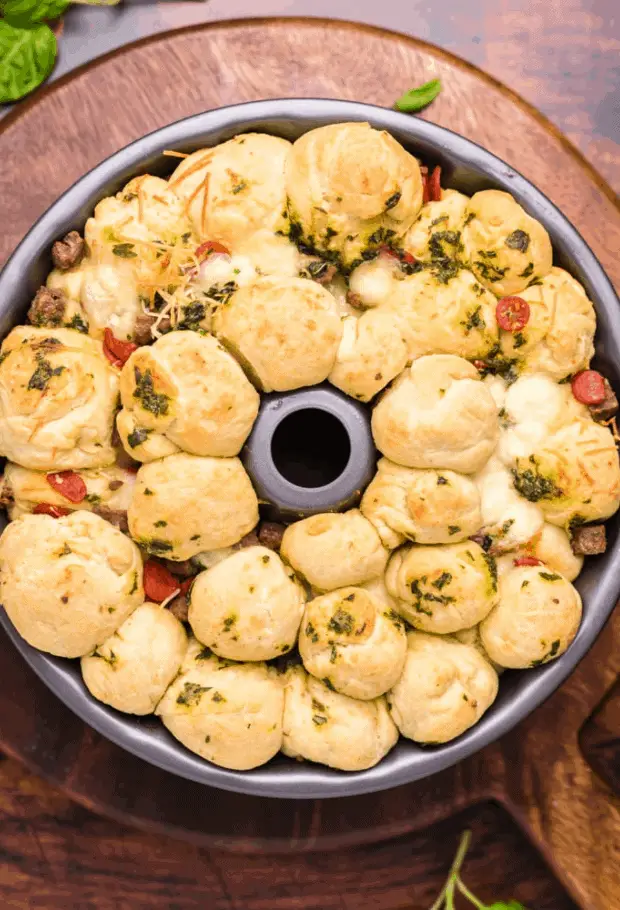 It takes a while to make your own bread dough. But it's not a tricky process. Instead, you'll reap the rewards when you try these garlic butter balls oozing with mozzarella, pepperoni, and sausage. And if you don't have the time or patience, you can always use pre-bought dough.
These quick-cook pizza bombs are tasty envelopes of tinned or frozen biscuit dough. Fill them with pizza sauce and a sharp and stretchy combo of Parmesan and mozzarella. Then bake for a taste explosion!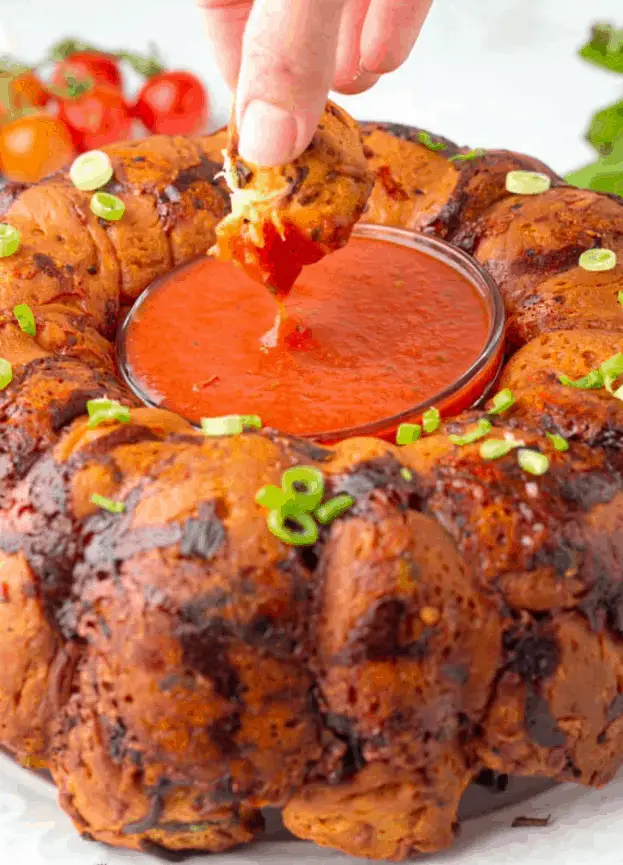 This biscuit-based monkey bread recipe uses the hollow center of a Bundt tin. It makes space for a bowl of zesty pizza sauce so you can gild the lily by dipping your ball of pizza. The pizza balls are brimming with a combo of melted butter, cheese, and savory spices, so this is a vegetarian-friendly dish.
17. Super Easy Pizza Bites
If you're looking for an alternative to monkey bread for guests or gatherings, try these mini pizza bites. First, make quick-rising pizza dough and leave it for half an hour. Then divide into many pieces, add sauce and toppings, then bake. Voila! Mini-pizzas for everyone.
19. Vegan Herb & Cheese Monkey Bread
This tasty vegan monkey bread uses a dough made from almond milk, coconut sugar, yeast, flour, and apple sauce. Balls of dough are rolled in spiced onions and vegan cheese and layered into a baking dish.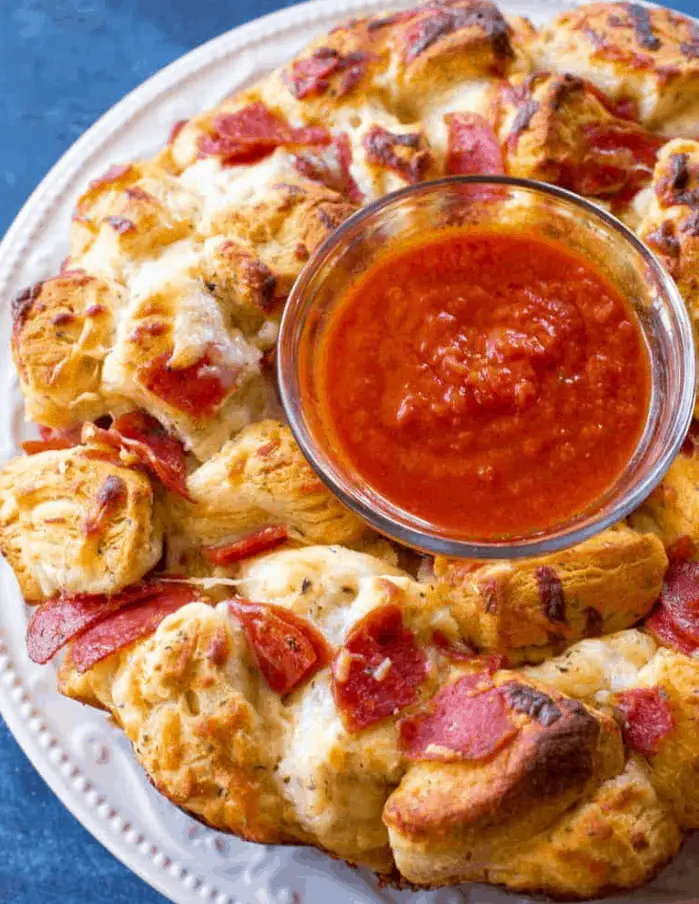 This superfast recipe is another variation using store-bought biscuits as the dough. These are perfect because they puff up quickly and save lots of time. Preparation is a breeze. All you do is mix cheese, butter, seasonings, pepperoni, and biscuits and arrange them in a Bundt tin or baking dish. Then bake for 35 to 45 minutes.
Note: if you're really hungry, use a baking dish. It cooks a few minutes faster.
21. Appetizer Recipes For Pizza Lovers
This anthology of quick and clever pizza appetizers makes innovative use of store-bought pizza dough. You can make pizza twists, roses, mini-bites, and more in minutes. And, as with all these recipes, feel free to add toppings to your taste.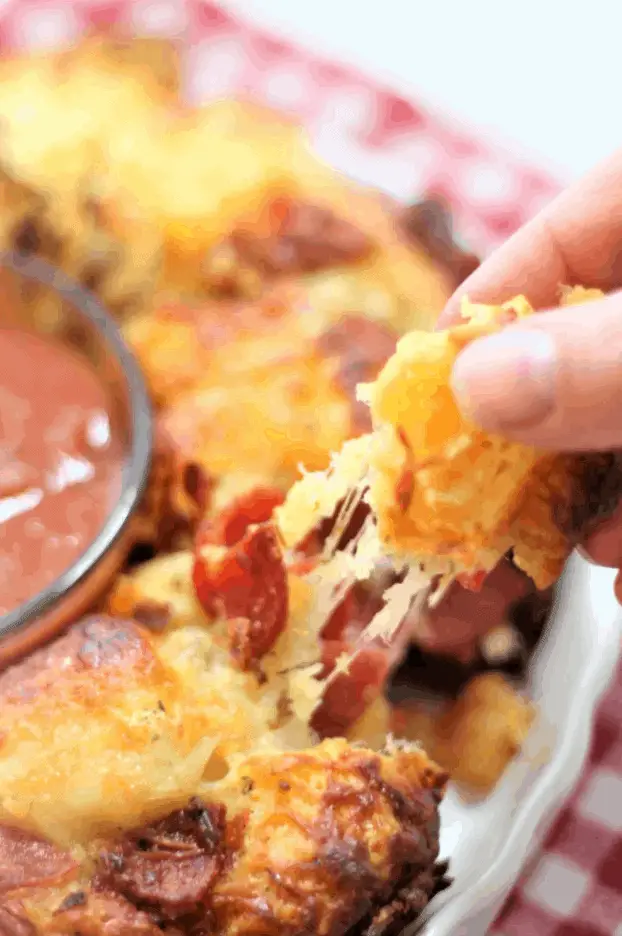 Thankfully, gluten-free doesn't mean pizza-free. Let Them Eat Gluten-Free is the go-to site for anyone who doesn't want gluten intolerance to get in the way of enjoying food. The only extra step here is to make a gluten-free biscuit dough. It takes fifty minutes of prep and cook time, and it's a good idea to make plenty and freeze it for later use.
23. Puff Pizza Ring Recipe
If the guests are coming around and time has caught up with you, you can't do better than this quick ten-minute puff pastry pizza rings. Just score sheets of frozen puff pastry and fill them with mozzarella, pizza sauce, and your favorite fillings. Roll out the dough, shape it into a circle, and bake for 10 minutes. Problem solved!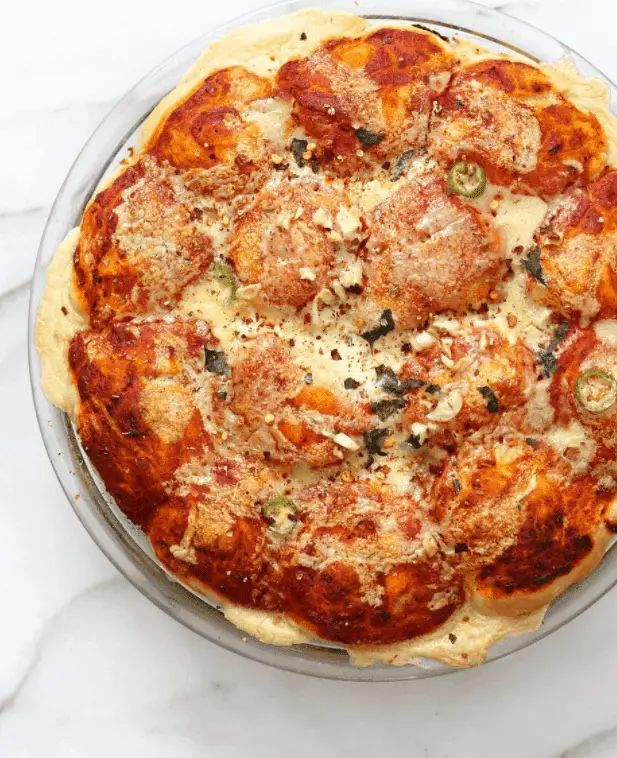 This ingenious pizza bread looks more like a traditional pizza, but it's formed from separate dough balls that tear apart easily. Simply cover a layer of dough balls with pizza sauce, herbs, and super creamy mozzarella-style cashew sauce. And then bake for thirty minutes. You can pack flavourful roasted vegetables between the balls midway through cooking. And top it with jalapeno if you like it spicy.
25. Garlic Cheese Monkey Bread
Garlic lovers will feel swept away by this herb-topped monkey bread made with yeast-leavened pizza dough. Roll dough balls in melted butter and coat them with cheese, garlic, and herbs. Layer in a baking tin, and bake for 25-30 minutes at 350°F.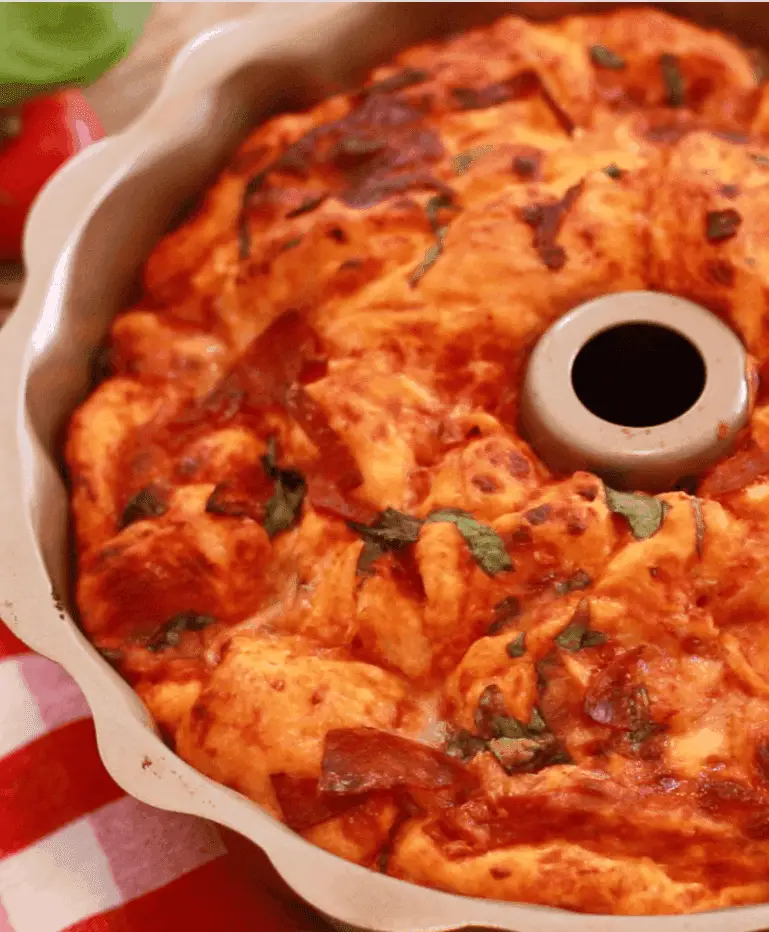 This recipe looks like the ultimate deep-pan pizza. Only you can tear away bite-sized balls filled with pizza sauce, pepperoni, garlic, cheese, and basil. It uses a simple dough made from flour, yeast, water, and salt. The filled bowls are packed tightly and baked for forty minutes for a brown top and a deliciously crispy base.
27. Braided Vegetarian Pizza Bread Loaf
If you want to blow people away with an impressive vegetarian party piece, try this recipe. First, you'll need to prepare a traditional pizza dough. Next, roll it out into three long strips. Fill these layers of pizza dough with pizza sauce and mozzarella. Roll these into sausages and plait them together. Glaze with egg yolk and sesame seeds and bake.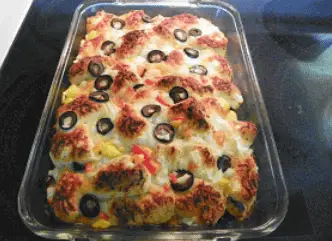 Dickie Bird's Nest makes this imposing tray of pizza bread starting with canned biscuits. So, it's super quick and convenient to throw together if you're having people around or just fancy an indulgent snack. Here, you don't need to spend time individually filling your biscuit balls. Place them together on a baking tray. Then layer over toppings like mozzarella, mixed peppers, and olives, and bake until golden brown.
29. Pizza Monkey Bread With Hangry Michelle
If you have some dough leftover from another baking project, this is a delightful way to make use of it. The recipe involves rolling the dough into small 1 to 2-cm balls. These are combined with pizza sauce, mozzarella, and toppings of your choice in a muffin tin to create individual cake-sized monkey bread. Bake in the oven for twenty-five minutes at 350°F and serve with any dipping sauce you choose.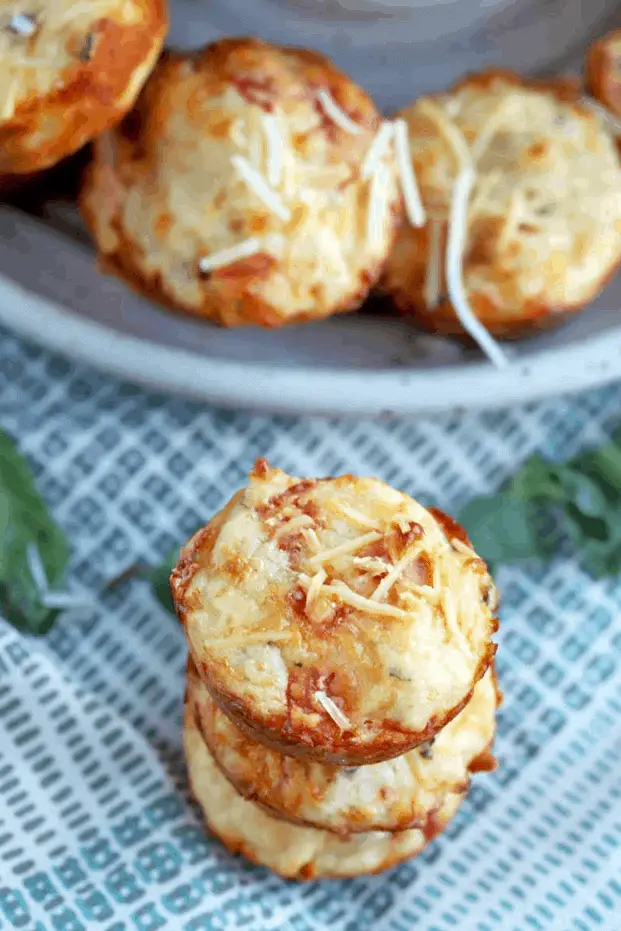 These separate mini pizzas are a neater version of the monkey bread concept. Fill a simple pizza dough of flour, salt, sugar, oil, and baking powder with mozzarella and pepperoni. Then, bake it in a mini muffin tray. Dip the finished bites in marinara sauce for a rich pizza flavor.
At first look, you might think that this dish is buffalo chicken wings with a spicy dip. But don't get fooled because I reckon this one is better! She uses a vegan-friendly biscuit dough coated with seasoned butter for the base. Then, the marinara sauce, vegan mozzarella, and pepperoni envelopes everything. Lastly, the pizza bakes at 350 degrees Fahrenheit for 35 to 40 mins.
32. TikTok Pizza Bites (Muffin Tin)
@oscarins_kitchen She sends me a text saying she's craving my pepperoni, be ready when I get there. I make her Pizza Bites. She arrives and gets mad cause I wasn't naked. She tosses my pizza bites in the toilet and calls me a fake pizza maker. Next day she sends me a pic of her getting railed at a Pizza Hut #pizza ♬ La Canelera – Los Capos De Mexico
There are many reasons why recipes go viral on TikTok. But two of what I think are the most important is the taste and preparation time. And that is precisely why we're gushing over this pizza bread trend! It only takes 15 minutes to cook, perfect for those late-night cravings. Also, you don't have to make your base as it is suitable for refrigerated biscuit dough.
33. Casual Cook's Pepperoni Pizza Monkey Bread
You can use loaf bakeware instead if you don't have a mini muffin tin or a Bundt pan. Casual Cooks show how he formed layers of pepperoni, cheese, and dough balls to form a bread-like shape. He also used a canned pizza sauce and pre-packed ingredients. It makes it perfect for a sudden pizza party. Then, it bakes (350°F) for 20-25 minutes, resulting in a nicely browned and melted pepperoni pie.
Pizza Monkey Bread For Any Occasion!
Birthday parties, late-night cravings, and tailgate events, you name any occasion! These 33 pizza monkey bread recipes can meet anyone's appetite. It is easy to make, and the variations are endless. You can stick with the regular pepperoni toppings. Or go all out with the quirkiest ingredients.
It is also beginner friendly since you don't have to make everything from scratch. Just visit the nearest grocery store and grab the pre-packed cheese. Or savory meats you like to go on your pizza. But make sure that the vegetables are fresh so you still get the nice sweet crunch.
30 Pizza Monkey Bread Recipe
Ingredients
Gemma's Bigger Bolder Baking Pizza Monkey Bread

Cooked By Julie Monkey Bread Pizza

Food Fusion Pizza Monkey Bread

Pull-Apart Garlic Pizza Bread

Low Carb "Cheese & Garlic" Loaf

Bridgford Pizza Skillet Monkey Bread

Gluten Free Pizza Rolls Recipe – 4 Ingredient Dough

Pizza Bombs

Super Easy Pizza Bites

Vegan Herb & Cheese Monkey Bread

Appetizer Recipes For Pizza Lovers

Puff Pizza Ring Recipe

Garlic Cheese Monkey Bread

Braided Vegetarian Pizza Bread Loaf

Pizza Monkey Bread With Hangry Michelle

Ms.Vegan Pizza Monkey Bread

Casual Cook's Pepperoni Pizza Monkey Bread
Directions
Select your favorite pizza monkey bread recipe.
Organize all the required ingredients.
Prep the recipe in 30 minutes or less!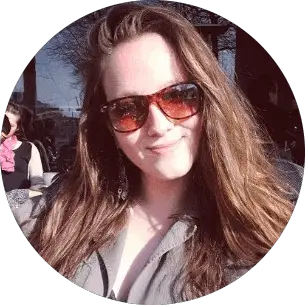 Barbara is an enthusiastic food-exploring person that goes through different culinary experiences. She got inspired by creating a pizza blog post after she tasted one of the best-selling pizzas in Toledo.