Wouldn't it be awesome if you could make your pizza right at the comfort of your own home? If we share the same school of thought, why don't you go ahead and get your own pizza oven?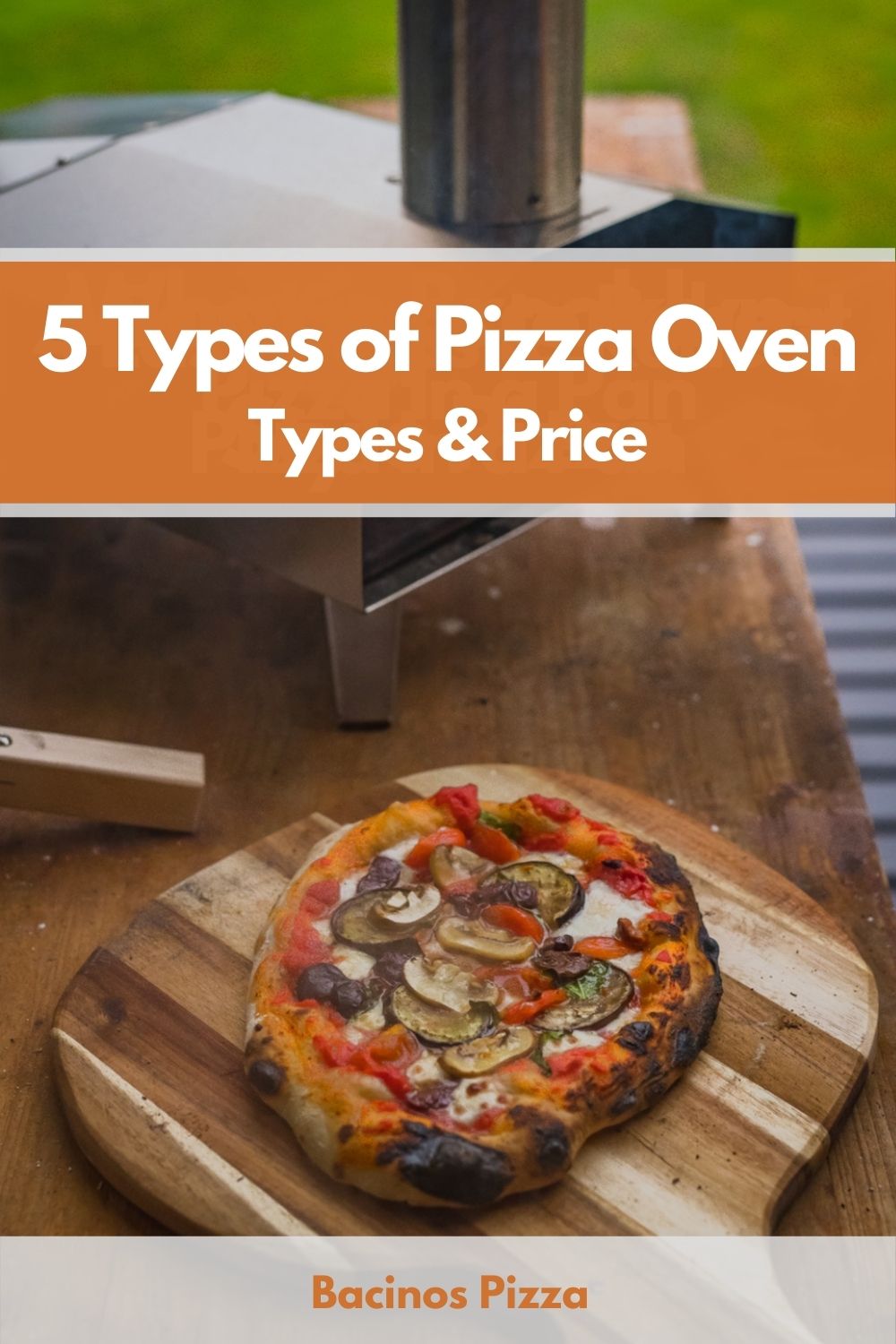 Depending on which pizza oven you choose, you'll be able to enjoy the authentic taste of a crispy Neapolitan pizza, Hawaiian pizza, Veggie pizza, and so much more. Actually, the possibilities for pizza making are endless.
To get you started, you need to know the different pizza oven types and their prices. This will help you set your budget before you hit the market. Anyways, here are the five most popular pizza oven types and prices.
1. Convection Pizza Oven ($50-$1,000)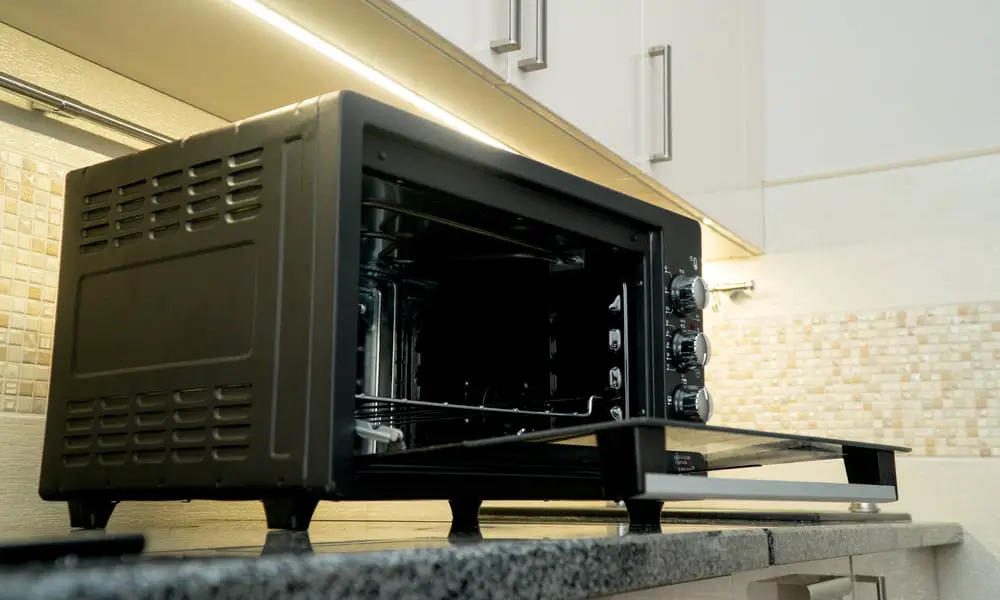 As the name suggests, a convection pizza oven uses the standard convection heating method. It comes with fans for circulating hot air around the oven's interior to cook the pizza dough evenly. It takes about 5-7 minutes for the convection pizza oven to brown the cheese toppings and create a crisp crust.
Convection ovens are the least expensive, so they're great if you own a small business or restaurant where pizza is a bonus menu option. Most of these ovens have a compact footprint and can produce only 1-2 pizzas at a time. You can't rely on them for large-scale production.
The good news is, convection pizza ovens are the easiest to maintain. It would be best if you cleaned the inside of the oven once a day and the intake fan once a week. Furthermore, these pizza oven types are never power-hungry, allowing you to save on electricity costs.
What's more, convection pizza ovens are very effective both at home and in commercial environments. By circulating hot air, the resulting pizza will be evenly cooked to crisp perfection. And the larger options can bake up to 10 pizzas in about six minutes!
Convection Pizza Oven Facts
Oven Dimensions: 15 cubic feet to 60 cubic feet
Power Sources: Electric, gas
Preheat Time:  15-20 minutes
Cook Time: 5-7 Minutes 
Standard Temperature Range: 425˚F-500˚F
Best For: Neapolitan and New York Pizza
2. Brick Pizza Oven ($100-$5,000)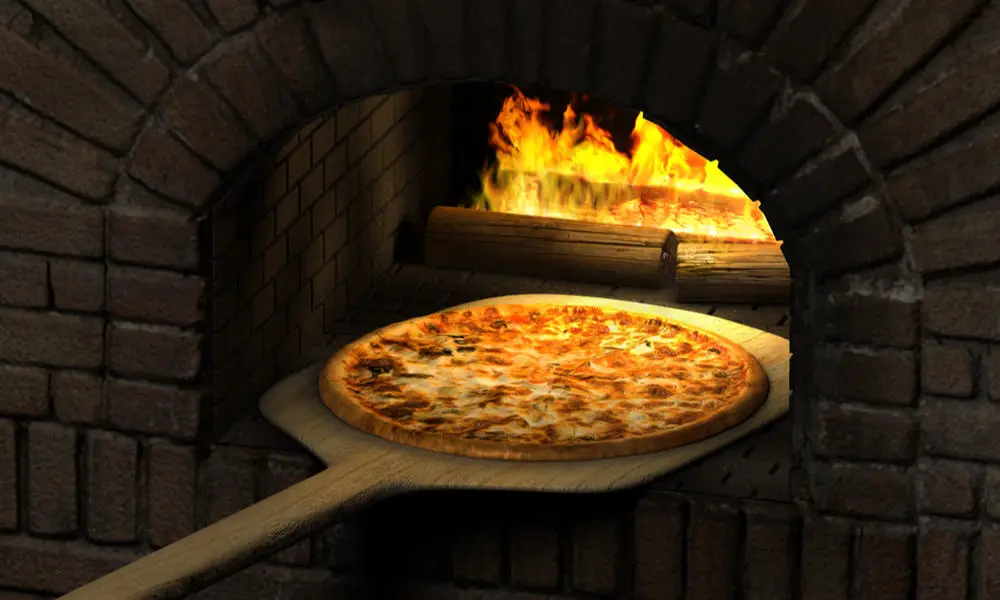 These pizza oven types create some of the most authentic and irresistible pizzas. Brick-style pizza ovens are suitable for pizza enthusiasts looking to mimic the original Italian pizza's rustic look, feel, and taste. There's absolutely no way you can go wrong with these machines.
A brick pizza oven uses the traditional wood-fired method to cook pizzas slowly and evenly at optimum temperatures. Instead of wood, you can also use gas to light fire inside the oven. The oven itself is made of heat-resistant bricks that allow heat to build up within the cooking cavity.
These bricks require about 45 minutes to heat, but once they're hot, they can reach temperatures between 700˚F-1000˚F. Because they retain the most heat, they can reflect incredibly high temperatures over the cooking area, creating a pleasant browning effect and crisp crust in 2-3 minutes. Depending on size, brick pizza ovens can cook up to 10-12 pizzas in a record 5 minutes.
Being able to cook more pizzas in less time means these oven types are ideal for restaurants whose main menu item is pizza. If you're looking to showcase the traditional Italian theme on your menu, go for a wood-fired brick or stone pizza oven. You'll want to know that the brick pizza oven is custom-made, meaning that the cost may vary by size, materials, and contractor.
Brick Pizza Oven Facts
Oven Dimensions: 150 cubic feet to 400 cubic feet
Power Sources: Wood, gas
Preheat Time:  45-60 Minutes
Cook Time: 2-3 Minutes
Standard Temperature Range: 600˚F-1000˚F
Best For: Neapolitan, New York, Chicago, California-style, and Sicilian
3. Conveyor Pizza Oven ($5,000-$30,000)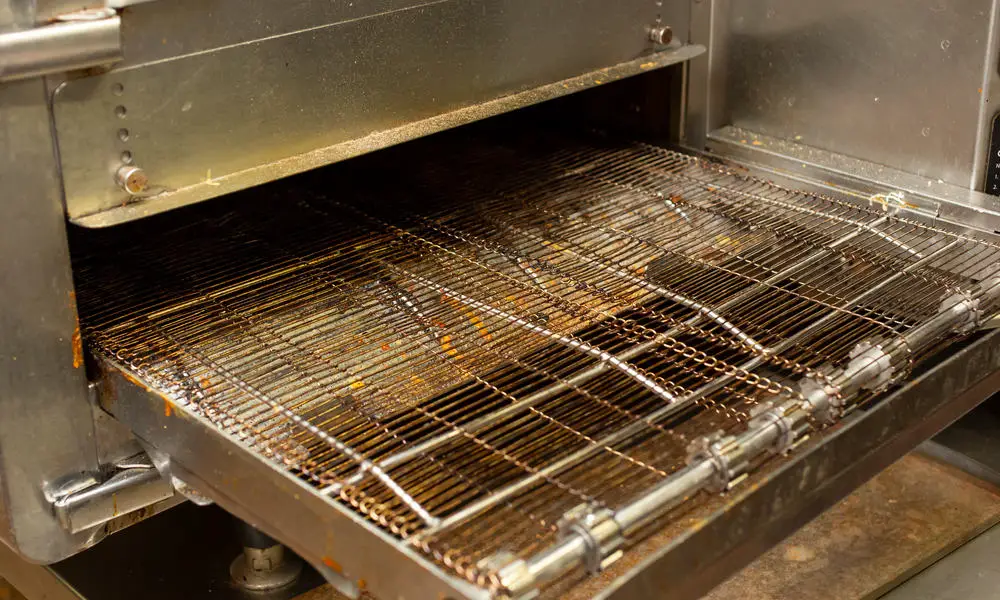 This type of commercial oven cooks the pizza using a conveyor belt. All you're required to do is place the fresh or frozen pizza on the conveyor belt, which then automatically pulls the pizza through the cooking chamber at a set speed. After completing the cooking process, the conveyor belt moves the finished pizza to a cooling platform where you can remove and serve it.
There are two types of conveyor pizza ovens: full-sized freestanding units and countertop industrial units. Full-sized freestanding pizza ovens utilize the forced-air heating chamber, while countertop industrial pizza ovens use the radiant heat or convection cooking chamber. No matter which option you choose, conveyor pizza ovens produce consistent results.
Due to their rapid cooking mechanism, conveyor ovens are the perfect option for restaurants looking for a quick way to cook large pizza quantities on the go. You can choose between the gas and electric oven style to match your business requirements. Both options are automated, which means the food is cooked with little or no supervision.
Small-sized conveyor ovens can produce 75 pizzas per hour per deck, while large models can churn out 100 pies per hour per deck. With a conveyor pizza oven, you can cook your pizza in 4-5 minutes. This is because the machine pulls the pizza under the constant heating elements in the cooking chamber, preventing time lost to heat recovery.
Conveyor Pizza Oven Facts
Oven Dimensions: 100 cubic feet to 180 cubic feet
Power Sources: Electricity, gas
Preheat Time:  10-15 Minutes
Cook Time: 4-5 Minutes
Standard Temperature Range: 400˚F-600˚F
Best For: Neapolitan and New York
4. Deck Pizza Oven ($5,000-$30,000)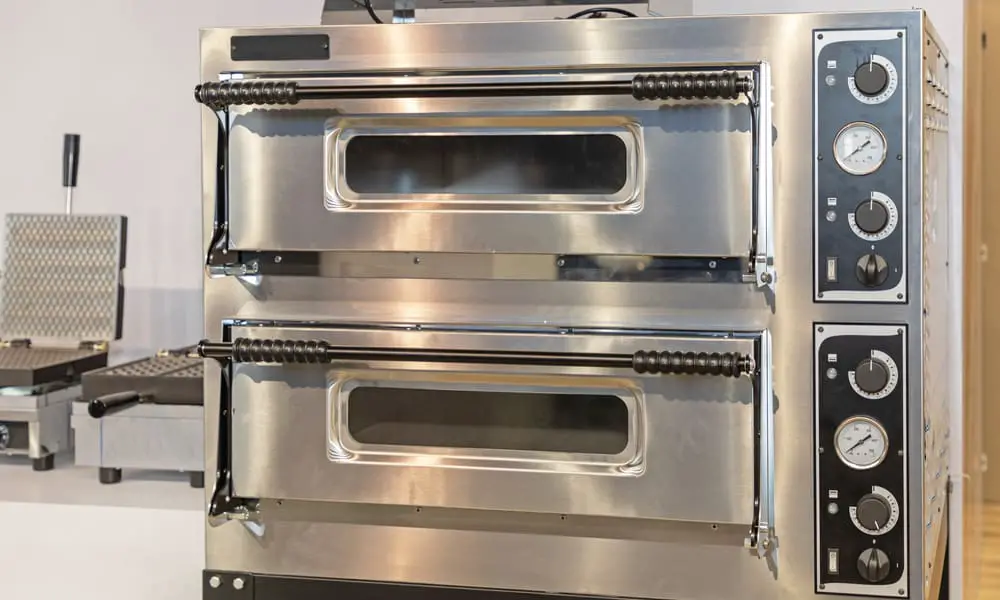 A deck pizza oven shares pretty much the same characteristics as a traditional brick pizza oven. A deck may consist of a flat stone or stainless-steel surface for cooking food using radiant heat. I prefer a stone as it absorbs moisture to create a nicely browned and crispy crust. But that doesn't mean that stainless steel is bad – it also provides adequate browning and crispiness at a more affordable cost.
To cook your pizza, first heat the oven, which may take about an hour for some models. Once the oven reaches temperatures between 400˚F-700˚F, place your dough directly on the stone to bake. Depending on how thick your crust is, the cooking process may take 6-8 minutes. If you think this cooking time is longer than expected, you can opt for models with more decks. Some models come with up to 6 decks, with each deck holding 4-6 pizza slices.
Pizza oven decks send infrared heat waves to cook the pizza dough evenly without charring the toppings. You shouldn't expect burned crusts or poorly melted cheese. On the downside, you need to manually rotate the pizzas while they cook to get an even bake. Additionally, you may end up losing time to heat recovery.
All in all, a deck pizza oven is an ideal machine for those who want to cook authentic pizza but hate the hassle of maintaining a brick pizza. Since pizza deck ovens have no moving parts, they rarely call for professional repairs. Moreover, cleaning them is easy – just scrub off the burn marks and wipe down the decks!
Deck Pizza Oven Facts
Oven Dimensions: 100 cubic feet to 180 cubic feet
Power Sources: Electricity, gas
Preheat Time:  6-8 Minutes
Cook Time: Approx. 60 Minutes
Standard Temperature Range: 400˚F-700˚F
Best For: Neapolitan, New York, Sicilian, and Chicago.
5. Countertop Pizza Oven ($100-$11,000)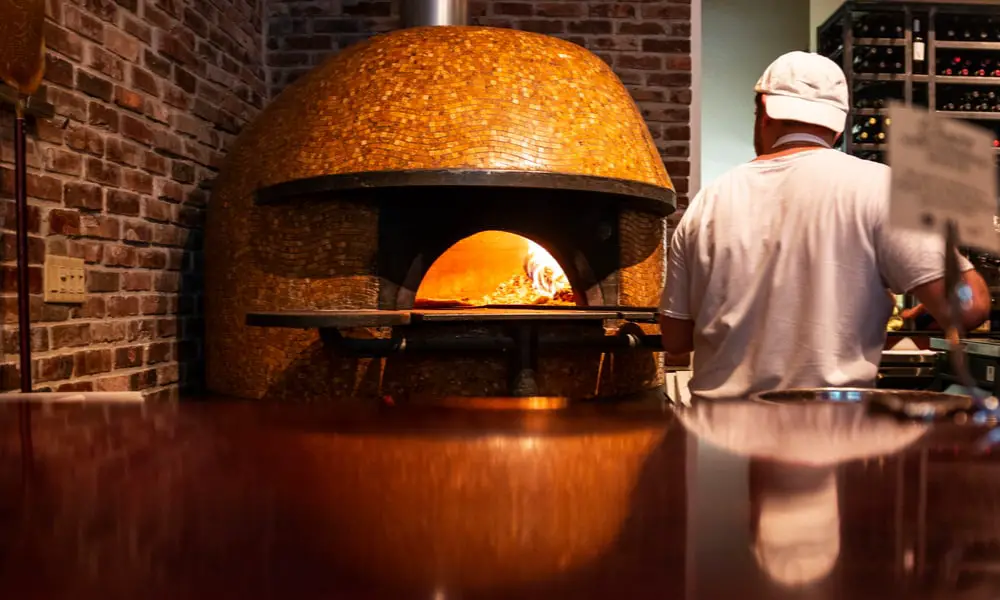 A countertop pizza oven is generally a more space-saving version of the full-sized convection, conveyor, and deck pizza oven, though prices can vary widely. This is great if you're running a small business like a pub, bar, kiosk, country club, and the like. A countertop oven generally outputs fewer pizzas than a full-sized oven, but the actual hourly production varies by oven type.
As aforementioned, countertop pizza ovens bear a lot of similarities to their full-sized counterparts. For example, the most economical countertop ovens use pizza stone or metal deck designed to heat frozen pizzas. However, their space requirements are poles apart, with countertop ovens requiring small installation space.
Most countertop pizza ovens are heated by electricity and should be installed near an electric outlet. They also include two decks that hold about two pies per batch. While cooking times can vary, many of these pizza oven types often take around 5-6 minutes to complete the cooking, but some models might take longer, making them less ideal for operators looking for speedy service.
Nonetheless, there are several high-speed countertop oven versions that can get your pizza ready in less than 15 minutes. These high-speed models implement impingement heating for expeditious bake times. Powerful countertop ovens accelerate cooking by projecting heat from above and below the deck. This allows the cheese to melt nicely and the crust to brown and crisp quickly and evenly.
Countertop Pizza Oven Facts
Oven Dimensions: 15 inches to 20 inches
Power Sources: Electricity, gas
Preheat Time:  Approx. 12 minutes (but may vary by model)
Cook Time: Approx. 5-6 minutes
Standard Temperature Range: 300˚F-575˚F
Best For:Neapolitan, New York, and reheating frozen pizza
Final Thoughts
Now that you know the different pizza oven types available, you should be in a position to make an informed purchase decision. I recommend asking yourself a few questions before buying your ideal pizza oven.
For instance, what's your budget? What type of fuel would you like to use? How much space do you have? And finally, what's your highest output? All of these questions are crucial when acquiring your ideal pizza oven.
Happy shopping!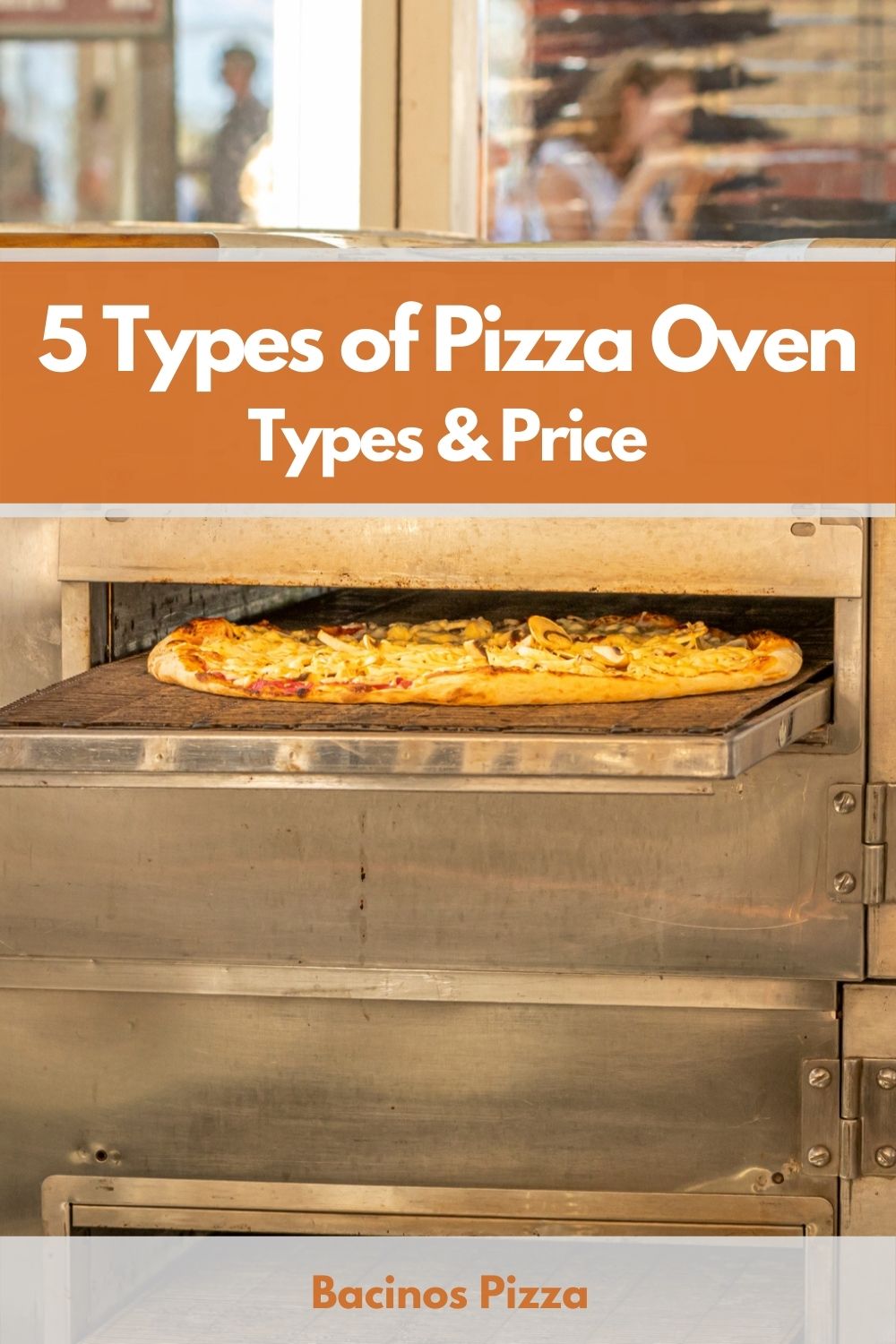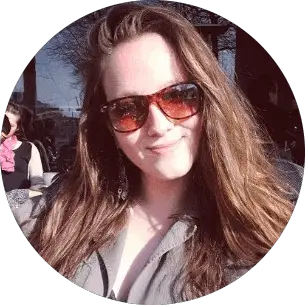 Barbara is an enthusiastic food-exploring person that goes through different culinary experiences. She got inspired by creating a pizza blog post after she tasted one of the best-selling pizzas in Toledo.