Los Angeles has a reputation for being a foodie paradise with thousands of restaurants, and the pizza is top-notch. It's a local favorite, and tourists or visitors flock to some of the best pizza places in Los Angeles every time they come through. We don't want you to have bad pizza, so we've done all the leg work for you when it comes to these reviews.
We've looked at a range of sources, from Yelp and Google Reviews to local publications like Eater LA and the LA Times to find the best places you can go for pizza in the City of Angels. We considered the crust texture, ingredient quality, restaurant history, customer service, ambiance, topping variety, and the overall taste of the pie when we compiled these reviews to ensure we picked nothing but the best.
Our goal is to give you a guide to the best pizza places in Los Angeles,so you can eat your way through them and decide for yourself which one is your new local favorite. Whether you're just passing through, on vacation, or you call this city home, we'll help you track down the perfect slice.
Price: $$$$
Address: 1534 N McCadden Pl, Los Angeles, CA 90028
Phone: (323) 366-2408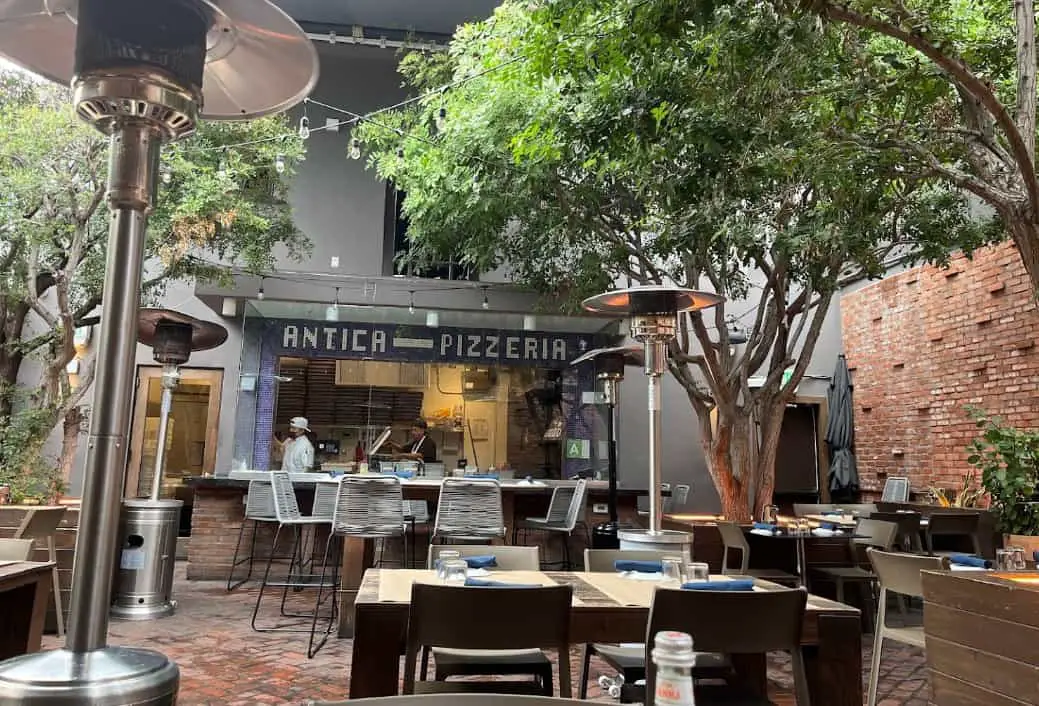 Originating in Naples in 1870, this restaurant opened in the United States in 2019 in Hollywood, California before expanding to New York and Santa Barbara. This restaurant has a reputation for serving up thin, flavor-packed crusts with 13 topping choices.
You can also get salads, pasta, brunch, cocktails, beer, wine, desserts, appetizers, and more. It has a very warm, old Hollywood, romantic feel for the ambiance, and guests can gather out in the courtyard to watch the chefs make the pizza. They offer catering and can accommodate large and small parties, and you'll find something for everyone on the menu.
Price: $$$
Address: 7459 Melrose Avenue, Los Angeles,CA, 90046
Phone: (323) 424-7184
This is a much more casual and laid-back pizza restaurant where they masterfully mix wine and beer with good food, a friendly atmosphere, and lots of fun.  You can choose from meatballs, snacks, drinks, and pizza when you get here, including five deep dish, five thin crust, and a build your own pizza option.
With memorable names that make you look twice, like Balls Deep and El Chingon, you get a mix of classic and experimental pizzas. The crusts are delightfully dark on the tops from the wood fire pizza ovens, and it lends a very rich, smoky flavor to the top-quality ingredients for a great slice of pizza.
Price: $
Address: 1650 Colorado Blvd, Los Angeles, CA 90041
Phone: (323) 256-9617
With over 50 years of rich history and starting in Chicago, Casa Bianca Pizza Pie has built a solid reputation for offering classic, Italian-style pizzas. The owners come from Italy, and the menu features dishes passed down through generations that give you that home-cooked taste.
You can choose from six pizzas, including a build your own, several crusts, appetizers, salads, sandwiches, and desserts, all served with a side of beer or wine. This restaurant has an old-school feel and style with a warm atmosphere and friendly staff, and it has huge glass windows that allow you to sit and watch LA's nightlife or sit in the sun.
Price: $$
Address: 11712 San Vicente Blvd, Los Angeles, CA 90049
Phone: (310) 481-7108
Originating in the founder's home as Saturday night pizza parties, Pizzana has since grown and gained a huge following of lovers of traditional and odd pizza flavors and combinations. Traditional pizza from Naples gets a fun, fresh Californian twist. Additionally, this restaurant's claim to fame is their signature "slow dough" that they prepare 48 hours before using it with stone ground, organic flour.
As a result, you get a light and airy crust that is sturdy enough to hold all of the toppings you want. Along with pizza, they serve salads, wood fired vegetables, seasonal dishes, and antipasti. Each dish has an Italian flair with high-quality ingredients.
Price: $$$
Address: 641 N Highland Ave, Los Angeles, CA 90036
Phone: (323) 297-0101
The crust and Californian ingredients steal the show at Pizzeria Mozza. You get soft and chewy crust with charred spots with sour and sweet notes from the wood-burning oven that enhance the fresh toppings. This restaurant also has a reputation for being as sustainable as possible, and this is why they source as many of their ingredients from local sources as possible.
ou can pick from traditional Italian-style pizzas to LA fusions, and there is also dessert, appetizers, and a nice beverage selection. When you walk in, you'll get friendly staff and a very warm and welcoming atmosphere that makes it seem like coming home.
Price: $$
Address: 124 4th St, Los Angeles, CA 90013
Phone: (213) 221-2433
This restaurant's goal is to bring people together, and they do so by creating tiny micro fusions of different tastes and flavors in their pizzas. Many of them have car names, but you can also find such items as Big Aloha, Seoul Kitchen, The Love Bug, and more.
The rich tomato sauce gets a thick layer of cheese and toppings, and all of the pizzas come in an iconic square shape with charred, crispy edges. Along with pizza, you can get salads, soups, appetizers, baked goods, sorbet, gelato, and drinks. The design of this space features gorgeous panels from the legendary artist, Shepard Fairey hung strategically around with a welcoming ambiance.
Price: $$
Address: 8781 W Pico Blvd, Los Angeles, CA 90035
Phone: (424) 279-9800
Each pizza at Pizzeria Sei is wood-fired to bring that smoky, slightly charred layer of flavor to the final product. The name references the number six, and they slice every pizza into six equal slices before they serve it. When you walk through the doors, you get a slightly more high-end feel with a warm and welcoming ambiance and friendly and professional staff.
The large wood-fire pizza oven takes center stage in the design, and you can choose from a range of classic and modern Italian-inspired pizzas. Recently, they've added a beer and wine tasting menu to complement their pizza selection and round out your meal.
Price: $$
Address: 1305 Portia St, Los Angeles, CA 90026
This unique pizza place features dine-in or walk-up only, and the pre-orders for their pizzas start every day at 10am and go until they're gone. This is a pizza and pastry shop that features a range of classic Italian pizza toppings and desserts. When you walk through the door, you'll have friendly and attentive staff with a smaller bar-style restaurant setting that is very clean and neat.
They specialize in Detroit-style pizza with traditional toppings, and they don't allow modifications. The sauce is thick and tangy, and the crust is wonderfully chewy without being too thick. They also swap out their menu fairly regularly so you can try a range of dishes each time you come through.
Price: $$$
Address: 8810 Washington Blvd, Culver City, CA 90232
Phone: (718) 417-1118
This is a more sophisticated pizza place in LA with a very sleek and modern look with huge glass windows that allow for a lot of natural sunlight exposure. The interior is high-end and sleek, and the staff is very friendly and accommodating. You can eat wood-fired pizzas and refined Italian food both inside or out on the pretty patio.
They offer brunch and dinner with drinks, including five premade options and a build your own, pasta, appetizers, and an impressive beer and wine list to finish the meal. The crust comes blistered and chewy with the perfect amount of toppings that don't overload the dish.
Price: $
Address: 330 S Hope St Suite 205, Los Angeles, CA 90071
Phone: (213) 772-7664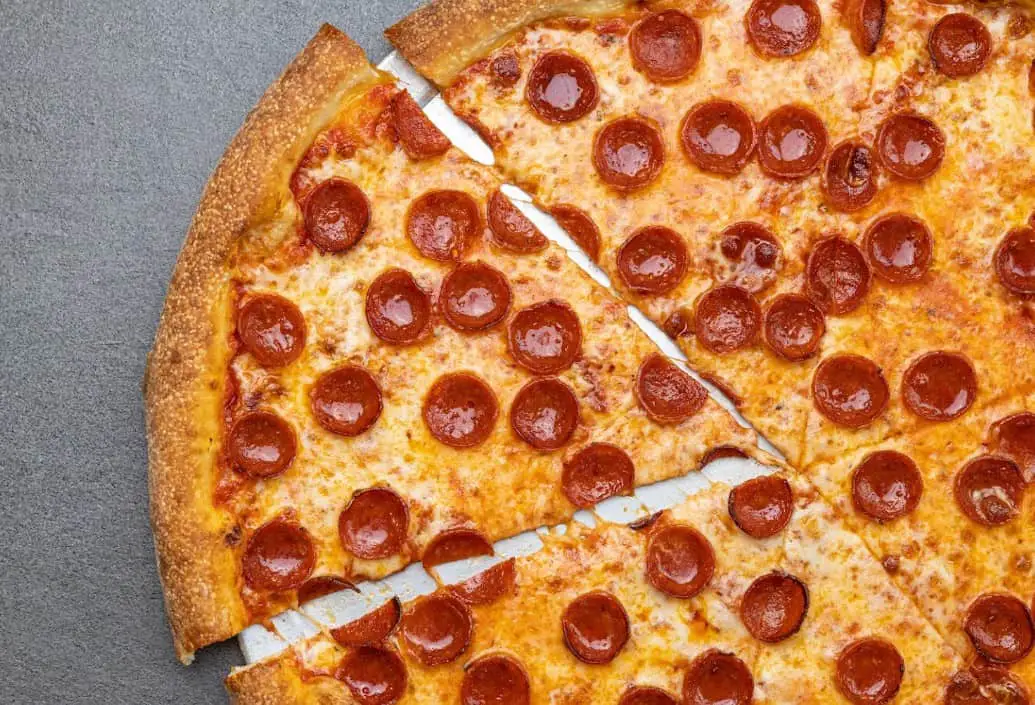 Inspired by the famous New York-style pizza, owner and founder Daniel Holzman wanted to bring it to LA when he relocated from New York. You get the choice of whole pizzas or huge slices with 10 possible pies and a build your own option.
There are also appetizers, sandwiches, salads, and extras you can add to your order. This pizza place takes great pride in the work they put in to create the perfect slice, and you get a very warm and laid-back atmosphere when you walk through the door. Run but a classically trained chef, this restaurant has something for every foodie.
Price: $
Address: 1906, 100 W 7th St, Los Angeles, CA 90014
Phone: (213) 996-0175
The final option on the list allows you to buy a whole pizza or buy pizza by the slice, and they focus on sourcing local ingredients to create a host of eclectic and traditional pizzas. You can also eat salads, starters, desserts, calzones, and lunch specials here, and it has a very welcoming vibe with friendly staff.
They're open seven days a week, and they offer several discounts to make this a very affordable option. This casual and trendy restaurant is perfect to stop in after work and unwind or bring the family and friends to bond over great food and a fun environment.
Wrapping Up
Now you have 10 of the best pizza places in Los Angeles, CA to knock off your bucket list one by one. Whether you want traditional Italian wood-fired pie or a huge New York-style slice, we have it all. Try one or try them all and find your new favorite hangout spot right in the City of Angels.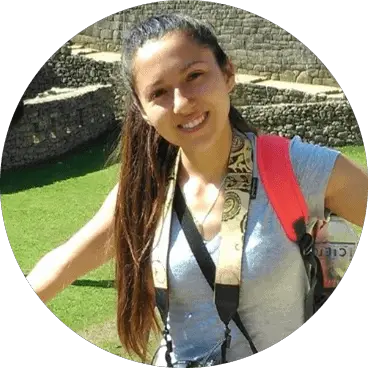 Kathryn's love for pizza started when she was still young. When she was young, she's been a picky eater–that's what her Mom used to say. The only food that she enjoyed and loved was pizza–until now! Her love for pizza turned into a passion!