Dinner doesn't get much better than a tasty salmon pizza! Using salmon as a topping makes for a light, airy, and flavorful pizza.
Your kids are likely to enjoy this delectable pizza. It's a great dish if you are pressed for time but want something fun and delicious. Salmon cooks quickly and satisfactorily.
Salmon is also highly nutritious. Eating it is a great way to pack protein and vitamins into a single meal.
The many health benefits of salmon are excellent. For instance, salmon protects your heart, supports brain function, and allows you to age healthily.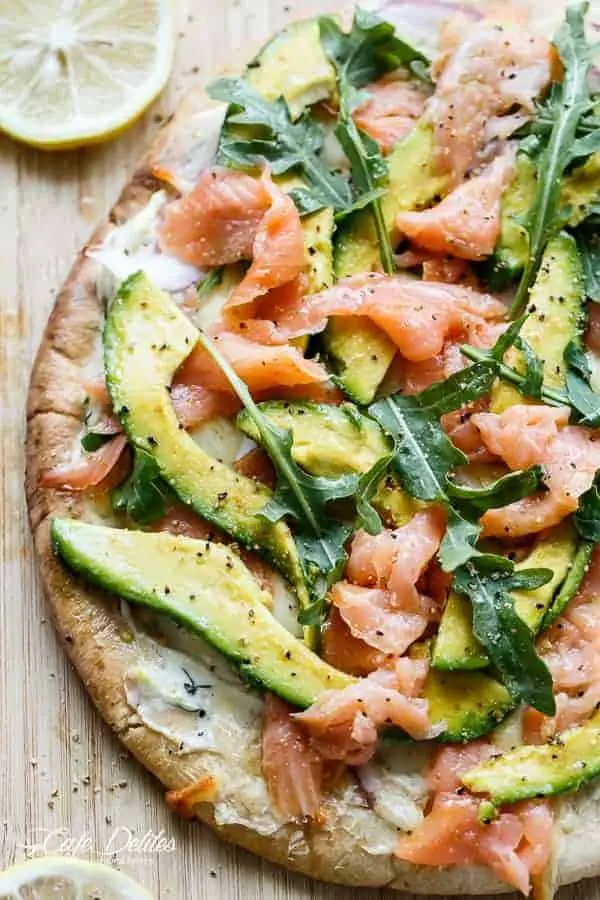 For the pizza base, use olive oil and a soft cream cheese mixture made from cream cheese, chopped dill, and crushed garlic. Bake the pizza in the oven with a topping of onion and mozzarella cheese.
Add your smoked salmon and avocado slices. Squeeze a freshly cut lemon over your smoked salmon slices to make the best of this fantastic recipe!
2. Salmon and Cheese Pizza
This light and airy pizza is perfect as a snack or for brunch. This recipe will show you how to make the flatbread from scratch!
Instead of using regular pizza sauce, the chef makes a simple pomodoro sauce using tomatoes, garlic, and vegetable oil. This sauce makes a wholesome foundation for the mozzarella and feta cheese topping.
The recipe also uses fresh salmon. What a healthful and flavorful dish!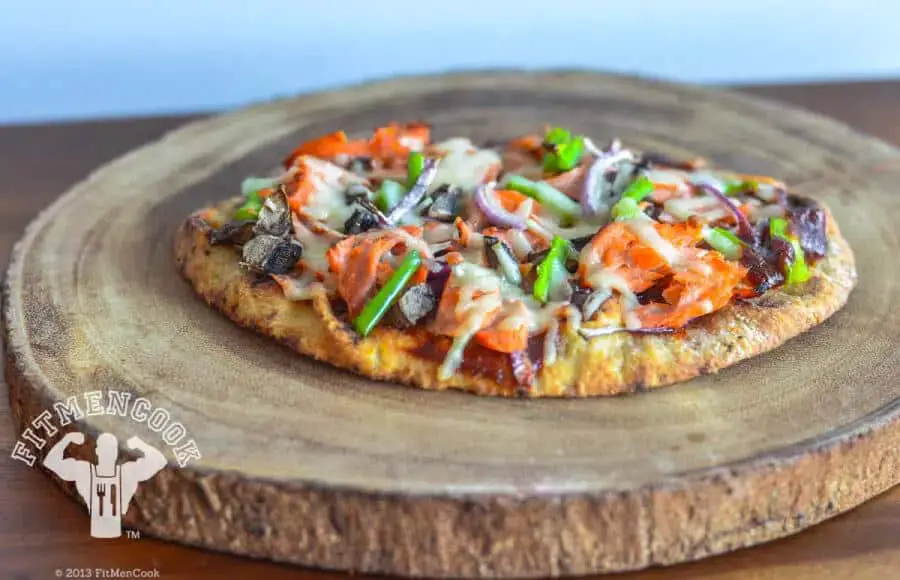 This tasty pizza takes only 20 minutes to prepare!
BBQ sauce is the star of this dish. Instead of using regular pizza sauce, mix BBQ sauce with chili sauce to create your own pizza sauce.
You can use as much or as little chili sauce as you want. You can even leave it out if you don't want a too-hot pizza!
4. Salmon Sushi Pizza
This salmon pizza is a clever take on sushi and pizza. Its base is Nori seaweed, which traditionally wraps sushi.
Traditional sushi filling then becomes the topping for this pizza. The toppings are fresh salmon, white fish roe, and white rice.
The famous Youtuber chef Nick DiGiovanni uses a big fresh California king salmon. He also uses a flame thrower to sear the Nori seaweed sheets!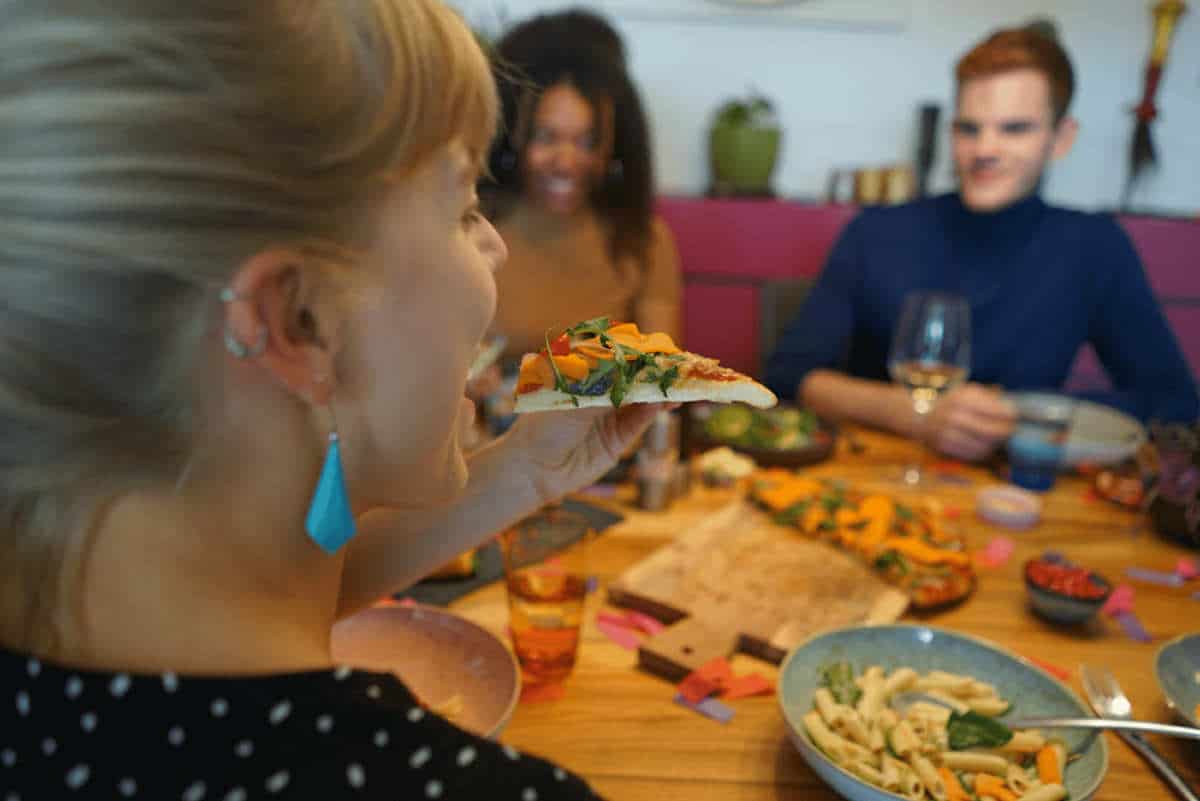 Revo Smoked Salmon™  is the centerpiece topping of this vegan pizza. It's a plant-based smoked salmon substitute.
The ingredients in Revo Smoked Salmon™  come from pea proteins, algae extracts, and plant oils. It's soy-free and contains all the nutrients that salmon does.
Other toppings are avocado and arugula. Grab a tasty, wholesome bite of this very green and healthy pizza!
6. Beetroot and Rum-Cured Salmon Pizza
This gourmet pizza is carefully and beautifully prepared. You will have to cure your salmon two days before baking this pizza.
Cure your fresh salmon using cubed and boiled beetroot, gravlax marinade, and a shot of rum, gin, or vodka. Mix all these ingredients in a bowl, cover it with a plastic film, and leave it in the fridge.
The high-end taste is simply unparalleled.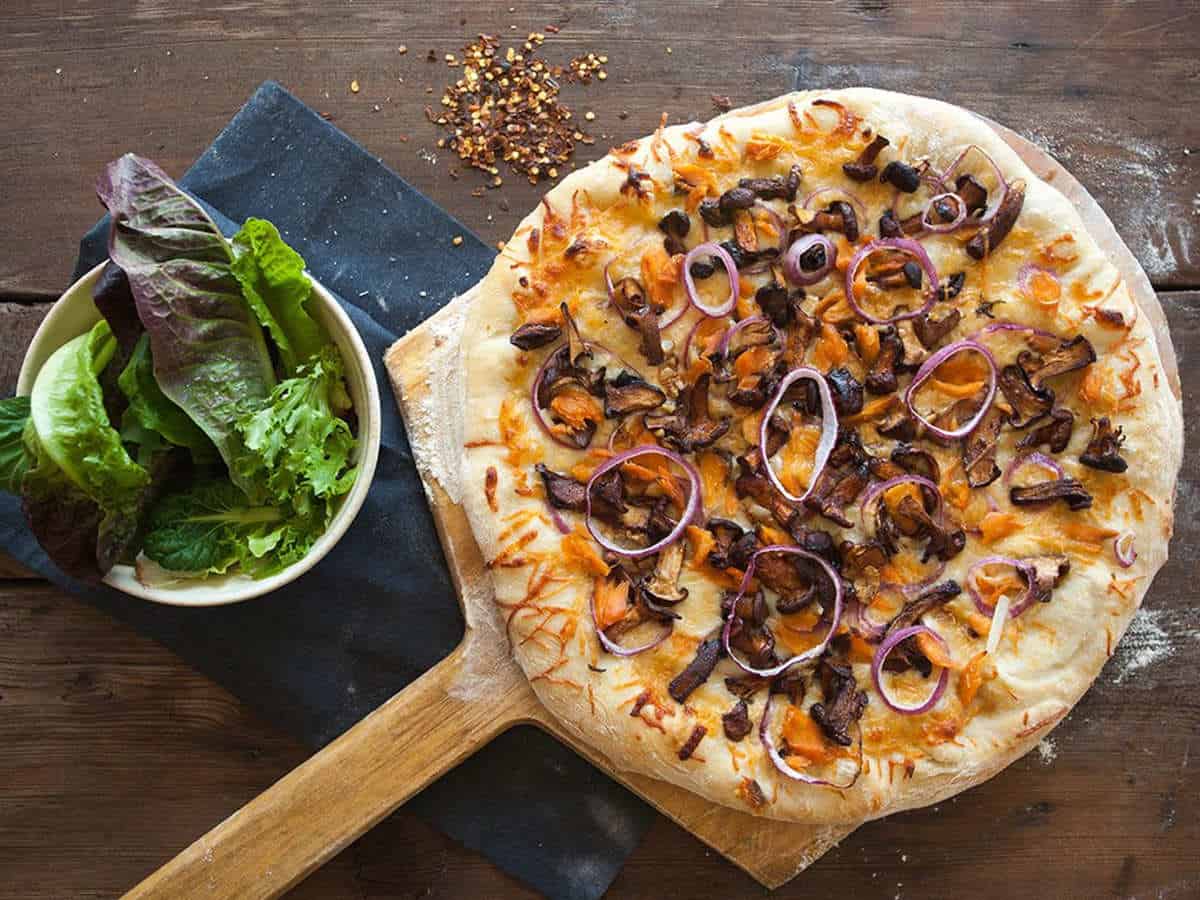 This recipe creates a subtle yet delicious dish using wild salmon and chanterelle mushrooms as pizza toppings. Mozzarella cheese makes a wonderfully soft base for the toppings.
Cut your chanterelle mushrooms into long thin slices to make the ideal topping. Sautée these slices in melted butter and minced garlic before using them to top the pizza.
The wild salmon pieces bring in a tender savouriness.
8. Brunch Pizza with Smoked Salmon, Brie Cheese & Sesame Seed Crust
Another one for the foodies out there! Impress your friends at brunch with this sophisticated pizza.
This recipe will show you how to make your pizza dough from scratch. Spread extra virgin olive oil over your rolled-out dough before gently pressing some sesame seeds in.
The rich earthy brie cheese beautifully complements the smoked salmon. Sprinkle some chives over the pizza for an extra oomph.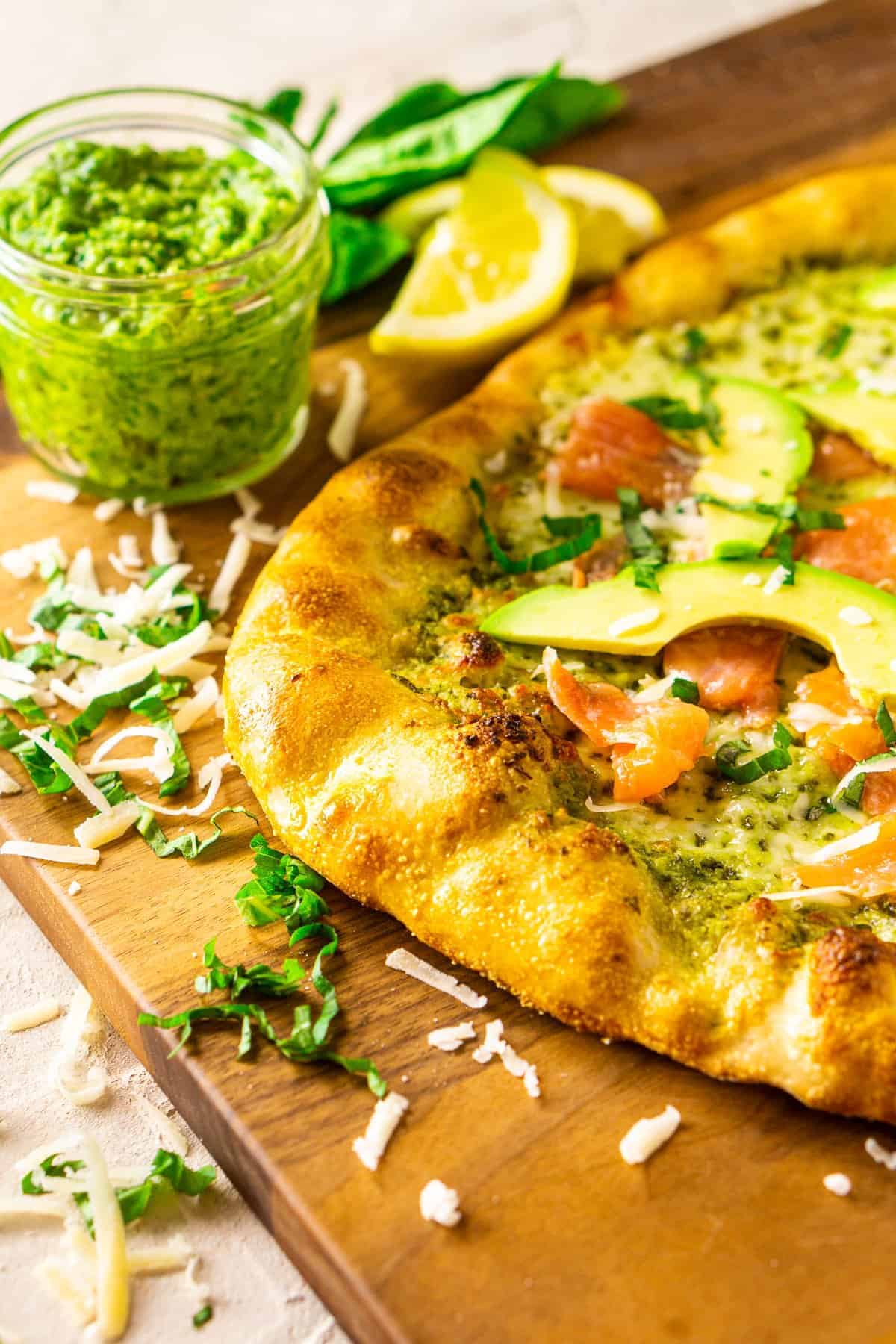 This pizza uses beer pizza dough to make the crust. Begin by infusing beer into regular pizza dough to create the unique dough you need.
The summery notes in this pizza perfectly complement one another. The lively pesto sauce brings out the smoked salmon's freshness and the cool, smooth taste of the avocado.
Nothing says 'summer' louder than a cold beer. Grab a cold beer as you enjoy this pizza!
10. Nordic Salmon Pizza
Top this pizza using shredded smoked Norwegian salmon and baby arugula. Layer with dollops of smooth Borsin cheese.
Bake the topped pizza for up to 2 minutes.
The chef uses duck fat to soften the dough. Duck fat's earthy taste beautifully complements Norwegian salmon's pure, briny taste.
Garnish with dill. Sprinkle balsamic glaze and freshly squeezed lemon juice for a delectable pizza!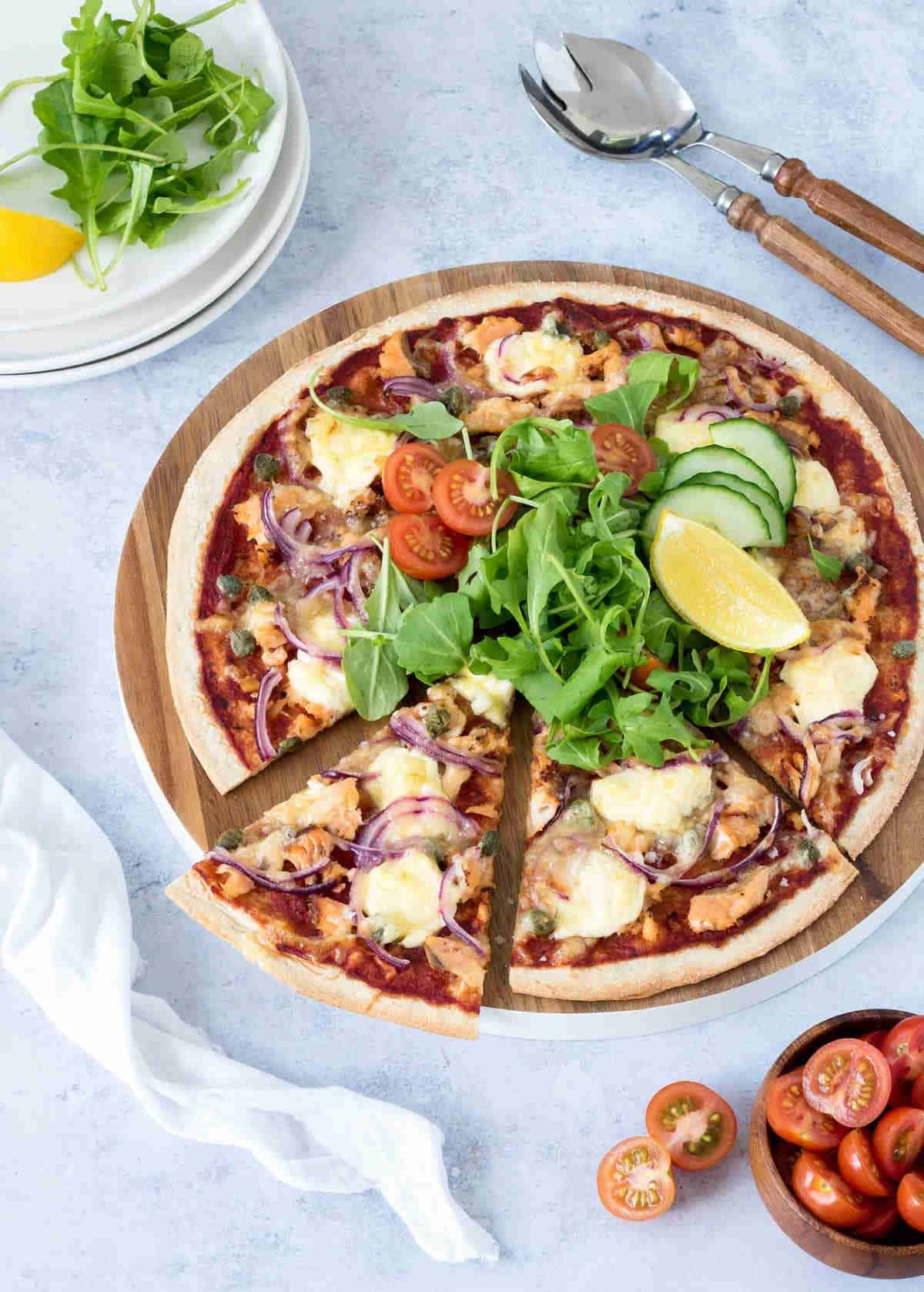 This meal will take you less than half an hour to whip up! It's mouthwatering yet very gourmet-tasting.
Each pizza serves a group of four. It's perfect if you have guests coming over! Make two or three if you have a large crowd.
Cream cheese is the engine behind all this deliciousness. Serve with Mediterranean rocket, lemon wedges, and cherry tomatoes.
12. Honey Smoked Salmon Pizza
Honey-smoked salmon tastes exactly as it sounds, delicious! You can buy honey-smoked salmon in the store or make some from scratch.
Prepare a regular pizza using pizza sauce, mozzarella cheese, green peppers, red onion, sun-dried tomatoes, and mushroom slices. Once baked through, shower it with tons of honey-smoked salmon pieces!
Garnish with basil before serving.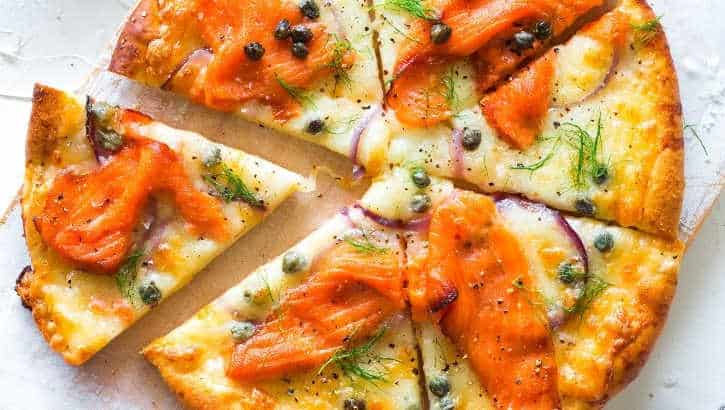 Another sweet yet savory delight! There are a couple of ways to make this lovely confection.
Depending on your chosen method, it could take anywhere between 30 minutes to a good number of hours. The easiest way to save time is to use store-bought pizza dough.
You can also use readymade maple smoked salmon slices. Make your own maple smoked salmon to go the extra mile!
14. Pillsbury Artisan Salmon Pizza Flatbread
Lox bagels inspired this delectable pizza! The topping for these delicious bagels is raw lox salmon on a bed of soft cream cheese.
Pillsbury Artisan pizza crust with whole bread makes the base. Spread cream cheese over the crust. Top with thin cucumber slices, shaved red onions, and lox salmon.
Garnish with capers and dill. This pizza is a gigantic Lox bagel! Enjoy the multiplied goodness.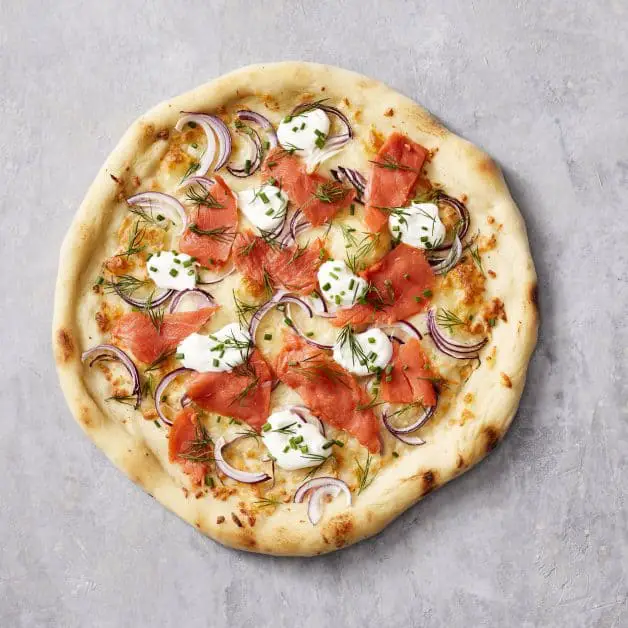 Follow this recipe to up salmon's natural savouriness. This dish uses light sour cream instead of pizza sauce to bring out its tangy flavors.
The many fresh herbs make this dish even more wholesome. It uses chopped fresh dill and chives.
Mozzarella cheese is always a welcome foundation for the toppings, and the tiny touch of olive oil is simply perfect.
16.  Pizza with Smoked Salmon, Crème Fraîche, and Caviar
The renowned Austrian-American chef Wolfgang Puck first made this gourmet pizza in the 1970s. It has stood the test of time because of its sophisticated simplicity.
Set some time aside to follow this recipe properly. It infuses chives into the pizza dough right off the bat. What a high-end maneuver!
The thick crème fraîche and delectable caviar add to the dish's rare unparalleled taste. Garnish your pizza with a light sprinkling of chives.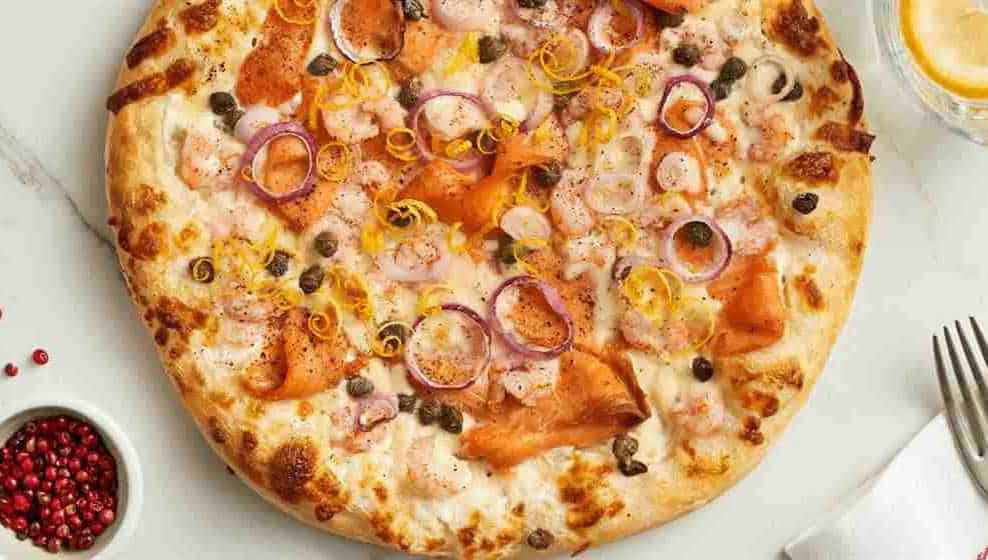 The sea-based palette of this dish is exciting. Both the smoked salmon and Nordic shrimp are naturally salty and beautifully textured.
It's essential to use Nordic shrimp instead of regular shrimp for this recipe. Nordic shrimps' firm texture and smaller size make them great toppings.
Onions, capers, and lemon add liveliness to the dish. It takes an hour to make this pizza, but it will be well worth your time!
18. Whitebait, Watercress, and Salmon Pizza
This maritime dish will likely be extremely impressive. Whitebait is the name given to groups of immature fish eaten whole.
They aren't more than 2 inches long a piece! Whitebait's subtle taste contrasts nicely with salmon's rich, vibrant taste. Watercress vegetable is a beautiful addition to this tasty, wholesome meal.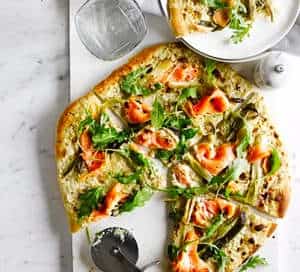 A pizza bianca is one made without tomato or marinara sauce. 'Bianca' means white in Italian; a pizza bianca overflows with white cheeses.
This recipe uses heaps of crème fraîche. Freely flavor it with creamed horseradish sauce, chopped shallots, spring onions, parmesan cheese, and rocket.
Smoked salmon nicely accompanies these vibrant flavors.
20. Cauliflower Crust Pizza with Smoked Salmon
The sweet, nutty notes of cauliflower in the almond flour crust create a strong base for the smoked salmon. The generous spread of ricotta over the crust doesn't hurt, either.
This recipe is a keto and gluten-free way to enjoy pizza. It also uses shrimp and pine nuts.
Summary
Salmon is loved world over for its brilliant taste and nutritional properties. Most importantly, however, salmon is a light, versatile food you can enjoy in various ways.
You can have any of these salmon pizzas for breakfast, lunch, or dinner! They work as a snack or for brunch too. Dig in!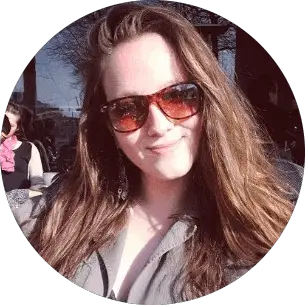 Barbara is an enthusiastic food-exploring person that goes through different culinary experiences. She got inspired by creating a pizza blog post after she tasted one of the best-selling pizzas in Toledo.