Tortilla pizza is ideal for enjoying pizza, when you don't feel like ordering or making one from scratch. We all know that pizza dough requires time and effort, and sometimes, we just don't feel like putting in the work. Using tortillas as a base doesn't require nearly as much time. Plus, this version is lighter and easier to make.
Let's look at a few tortilla pizza recipes to try the next time you're craving this dish.
This one is considered a classic and the least time-consuming one for a quick meal. All you need is a tortilla, olive oil, chicken breast, and different veggies of your choice. Of course, don't forget the cheese. All you have to do is bake the tortilla in the oven for several minutes before arranging the toppings. It then requires only five more minutes in the oven, and you're good to go.
2. Toaster Oven Pizza Tortilla
If you don't like the idea of heating your oven to bake a single tortilla pizza, you can totally use your toaster oven. This is simple to do if it has a "baking" setting. If not, simply run a few "toast" cycles until the pizza is crispy. You can top it with any ingredients you like, but mostly, ketchup, cheese, sausage, and some tomatoes make for a good option.
Greek pizza is an excellent choice if you're a fan of basil pesto. Plus, it's easy to make since you probably have most of the ingredients at home. You'll need a tortilla of your choice and some veggies like bell peppers, cherry tomatoes, and red onion. This one calls for Kalamata olives as well, but you can use any other you like. Also, this one doesn't have meat, so it's great for vegetarians.
4. Low Carb Tortilla Pizza
This might be your best option if you're on a low-carb diet. The good news is that it tastes just like regular tortilla pizza, and you can use any toppings you like. The key to success is the low-carb tortilla you're supposed to use for this recipe. You will also need a pan that's oven-safe since you'll take it from the stove-top to the oven to achieve the ultimate crispiness.
This tortilla pizza is ideal if you're a fan of the hot jalapeño taste mixed with pineapples. It calls for barbecue sauce, cheddar cheese, and red onion. You can chop these ingredients any way you want, but make sure they're fresh. It's essential to use fresh pineapple or at least defrosted one since canned slices aren't as good for this purpose.
6. Hawaiian Tortilla Pizza
The Hawaiian version is quick and easy to make. You'll need a large tortilla, tomato sauce, cheese, ham, sliced pineapple, salt, pepper, and chili flakes. The pineapple is what gives it that Hawaiian taste, so make sure to pile some slices on. As for the other ingredients, you can play around if you don't feel like sticking to the recipe all the way.
Most tortilla pizzas take little time to prepare, but this one might be the best choice when you're in a rush. First, spread some ketchup or BBQ sauce on it before you add mozzarella and parmesan cheese.
Once you do that, you can add other toppings of your preference, which is precisely why it's called a personal pizza. Some of the recommended ingredients are pepperoni, sausage, spinach, and possibly even broccoli for a healthy twist.
8. Three-topping Tortilla Pizza
This version is excellent if you want a tasty meal/snack, but you don't have many things in your fridge. All you'll need are the three essential ingredients most people have – some bacon, spinach, and sweet onion. Some oil, salt, pepper, and ketchup will also help it taste better. Although the recipe shows you can bake it in the toaster oven, you can use your regular oven as well.
Now there's hardly anything better than pizza with pepperoni, especially if it takes less than ten minutes to make. Grab some tortillas, but stay away from the corn ones for this recipe. Start with a hot sauce, spreading it evenly across the tortilla. Add chopped tomatoes, dried oregano leaves, chopped pepperoni, green peppers, and some mozzarella cheese. Bake it at 400°F until it's crispy.
10. Air-fryer Tortilla Pizza
You don't want to use the regular oven and don't have a toaster oven? Do you have an air fryer? Bingo! This recipe shows you can easily make this healthy and delicious meal in only a few minutes without having to preheat any of your ovens. Plus, the entire air frying process takes seven minutes, which is just the time you need to clean up the kitchen counter and be free to enjoy the pizza once it's done.
Do you have a cast-iron skillet and a few tortillas lying around? If so, this recipe is perfect for you. First, lay the tortilla on a hot skillet and wait for it to develop bubbles before spreading the sauce and adding some cheese.
This creates a crispy bottom that resembles tacos. After that, you can use pretty much anything you like for the rest of the ingredients, such as tomatoes, mozzarella, caramelized onions, basil, and sausage.
12. Keto Tortilla Pizza
Just because you're on keto doesn't mean you can't have some pizza. Bama Brandi shows an amazing low-carb, keto version of this quick and easy meal. You'll need low-carb tortillas, your preferred sauce, sliced mushrooms, spinach, and some pepperoni if you're up for a spicy kick. For meats, you can use any keto-suitable option, although she's using ground Italian sausage.
Ah, who doesn't love some crisp? Although bar pizzas aren't that difficult to make from scratch, sometimes the situation is urgent, and you can't wait longer than fifteen minutes.
With this recipe, fifteen minutes and some basic ingredients are all you need. Use flour tortillas to get that crispiness regardless of whether you'll bake it in a skillet or oven. This recipe explains how to do it in a cast-iron skillet.
14. Egg Mozzarella Tortilla Pizza
YouTube recipes are easier to follow because you can see exactly how to do it. This Breakfast for One video shows exactly how to make an easy egg and mozzarella tortilla pizza in less than ten minutes. Apart from these two ingredients, you'll want to add things like green onion and possibly even pepperoni if you're a fan.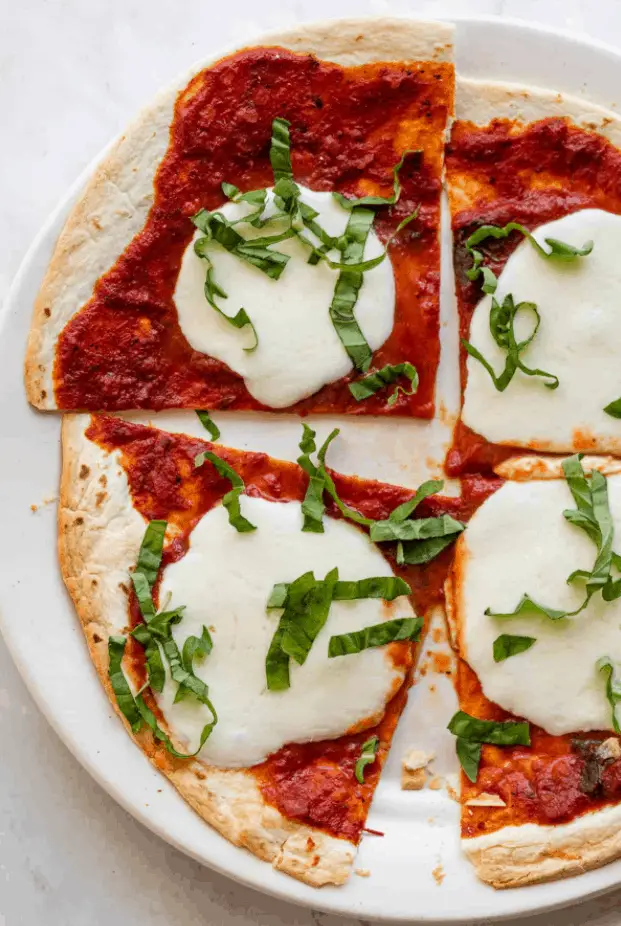 As you know, you can always use any ingredients that you have at home. Yumna offers several topping ideas, but the most interesting one is this vegetarian version with a few ingredients. It requires flour tortillas, pizza sauce (or any other you like), mushrooms, olives, and green peppers. If you feel like it, you can also use some vegetarian, plant-based cheese like tofu.
16. Colorful Tortilla Pizza
Yes, we know! How your food looks isn't as important as how it tastes, but who doesn't like it to be pretty as well? This fantastic recipe is not only easy to follow but takes only ten minutes to complete.
Of course, you'll need some tortillas and any toppings you like. But, yes, you've guessed it! It has to be colorful, so go for some tomatoes, olives, green and yellow pepper, cheese, and oregano.
There's no need to give up pizza because you're gluten-intolerant. This recipe will bring joy back as it includes double the cheese and sauce. All you need are some gluten-free tortilla wraps and whatever ingredients you want to use for the topping. The original version calls for some mozzarella, pepperoni, ham, pineapple, cheddar cheese, mushrooms, and marinara sauce.
18. Mini Tortilla Pizza
The Everyday Home Cooking recipe shows how to make mini versions of this popular snack. How cute are these? And, not only that, but they're just as easy to make. Use large tortillas and cut them up in smaller circles using a glass or a mug for guidance. What's great about this method is that you can top these to get several different tortilla pizzas at once.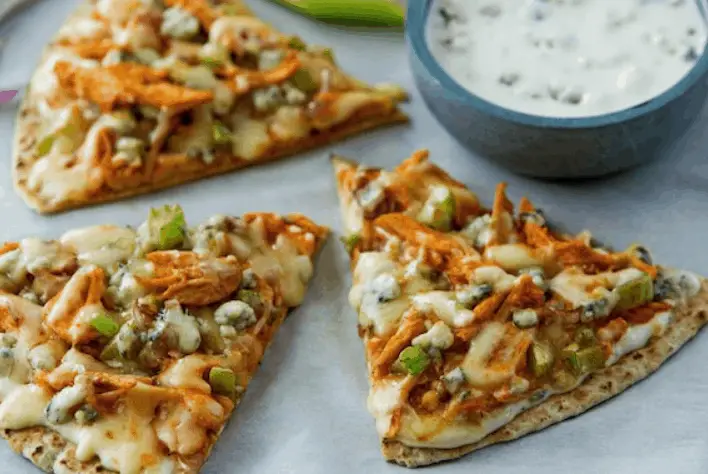 This one is a great choice if you're after a unique tortilla pizza that takes little to make. You'll need some burrito whole-wheat tortillas, low-fat ranch dressing, rotisserie chicken, buffalo wing sauce, blue cheese, red onion, diced celery, and mozzarella.
Assemble everything and bake it in the oven until it's crispy and the cheese has melted. It shouldn't take more than fifteen minutes with preparation and all.
20. E-Z Crispy Tortilla Pizza
This is another excellent way of making quick tortilla pizza in less than ten minutes. Preparing the ingredients takes more time than actual baking. The video shows you can place two tortillas as a base if you don't want it to be too crispy. But you can omit one if you're a fan of the crispiness. You'll probably have to adjust the temperature a bit, though.
What better way to enjoy healthy pizza than with some sausage and mushroom. Tortillas are lower in carbohydrates and also much cheaper than original pizza dough. Lauren's version of this go-to recipe requires up to twenty minutes with all the preparation and baking. You'll need stuff like sautéed mushrooms, pizza sauce, precooked chicken sausage, mozzarella, and oregano.
22. Blackstone Tortilla Pizza
Grahams on a Road Trip is an amazing cooking channel that shows plenty of tasty recipes. Still, there's hardly a snack that can top this tortilla pizza or tortizza – how they nicknamed it.
Go for some large tortillas or a few smaller ones if you want several topping variations. Then, top them with sauce, sausage or ham, mozzarella, cheddar, pepperoni, black olives, and some fresh herbs to balance things out.
Everyone loves a delicious breakfast to start the day, but we can all agree that spending too much time on it kills the fun. Mia made this quick recipe that takes only five minutes to whip up with sauce, an egg, shredded cheese you like, fresh herbs, and some pepper and tomatoes. The recipe calls for bacon or sausage, but you can also use ground turkey as a healthier option.
24. Philly Cheese Steak Tortilla
This is another version for your Blackstone griddle. Not only it's easy to make, but it has that unique flavor of the Philly Cheese Steak sandwich we all love. It's a classic, so you can't go wrong. You'll need some essential ingredients, but also some seasoned rib-eye steak. Caramelized onions are the second major ingredient you don't want the skip.
What better way to enjoy a tortilla pizza than with a Mexican twist? Catherine's version includes everything you'd want in a Mexican tortilla pizza, and it takes only fifteen minutes to make. She used refried beans, but you can also mashed white, pinto, or even black beans. Top that with salsa and cheese, and you might want to add some hot sausage.
26. Charcoal Cooked Tortilla Pizza
Baking and delivery would be pretty tricky when camping, so why not try this charcoal-cooked tortilla pizza. It's a simple and quick method, resulting in delicious pizza in fifteen minutes. Get your fire going and place a skillet to preheat before you bake. Add any toppings you like but make sure to cook with the lid closed. You'll get the unique smoky flavored pizza in around seven minutes.
This tortilla pizza is ideal for kids to make (under parent supervision) as it takes only twenty minutes. It's a great recipe to get your children involved in the kitchen. Use any tortillas you like and top them with ham, ground beef, mushrooms, and cheese. Of course, you can use any veggies you like but mostly stick to those your kids like as well. Don't be afraid to use olives, as well.
28. Cheese Burst Tortilla Pizza
What's great about this one is that you can make it with or without an oven. It's a great snack option for everyone, especially since it's healthier than regular delivery pizza. The video shows how to turn leftover tortillas into delicious cheesy bites. The trick is in melting the cheese and adding it to the tortilla before adding the sauce. For the rest, follow the recipe as it goes.
If you can't decide whether you want a cheeseburger or pizza – have both. This tasty recipe brings the two together and takes only fifteen minutes to put together and bake.
Coat the tortilla with the sauce of your choice and pile some tomatoes, lettuce, ground beef, and onion on it. Of course, don't forget the cheese. The original recipe calls for large whole-wheat tortillas, but in reality, you can use any that you like.
30. Strong and Beyond Weight Loss Tortilla Pizza
Sadly, pizza is one of the first things we have to give up when on a diet. Not anymore! This version has only 200 calories, whereas a slice of regular cheese pizza has 285 calories. How's that for comparison? This Strong and Beyond recipe takes ten minutes to make with all the ingredients that help it stay under 200 calories. Dieting doesn't sound as bad now, does it?
31. Hummus Tortilla Pizza
Eating Bird Food is all about wholesome food without labels, and this tortilla pizza is here to prove that. It works well with flour and corn tortillas, as well as any sauce from pesto to regular. In her recipe, Brittany explains how to use vegan cheese, different sautéed veggies, and fresh herbs to make this heavenly snack. Oh, and don't forget the hummus.
What's your favorite tortilla pizza recipe? Comment below if you made any of these and how it turned out.
31 Best Tortilla Pizza Recipes
Ingredients
Toaster Oven Pizza Tortilla

Low Carb Tortilla Pizza

Hawaiian Tortilla Pizza

Three-Topping Tortilla Pizza

Air-Fryer Tortilla Pizza

Keto Tortilla Pizza

Egg Mozzarella Tortilla Pizza

Colorful Tortilla Pizza

Mini Tortilla Pizza

E-Z Crispy Tortilla Pizza

Blackstone Tortilla Pizza

Philly Cheese Steak Tortilla

Charcoal Cooked Tortilla Pizza

Cheese Burst Tortilla Pizza

Strong And Beyond Weight Loss Tortilla Pizza

Hummus Tortilla Pizza
Directions
Select your favorite recipe.
Organize all the required ingredients.
Prep the recipe in 30 minutes or less!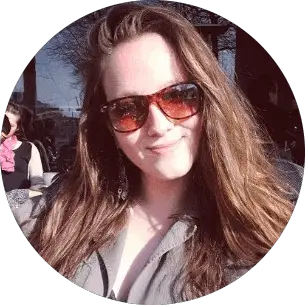 Barbara is an enthusiastic food-exploring person that goes through different culinary experiences. She got inspired by creating a pizza blog post after she tasted one of the best-selling pizzas in Toledo.