Air fryers are super-convenient machines to own since they can be used to make a whole range of foods, taking less time than regular methods while also making your meals healthier since they avoid the use of oil.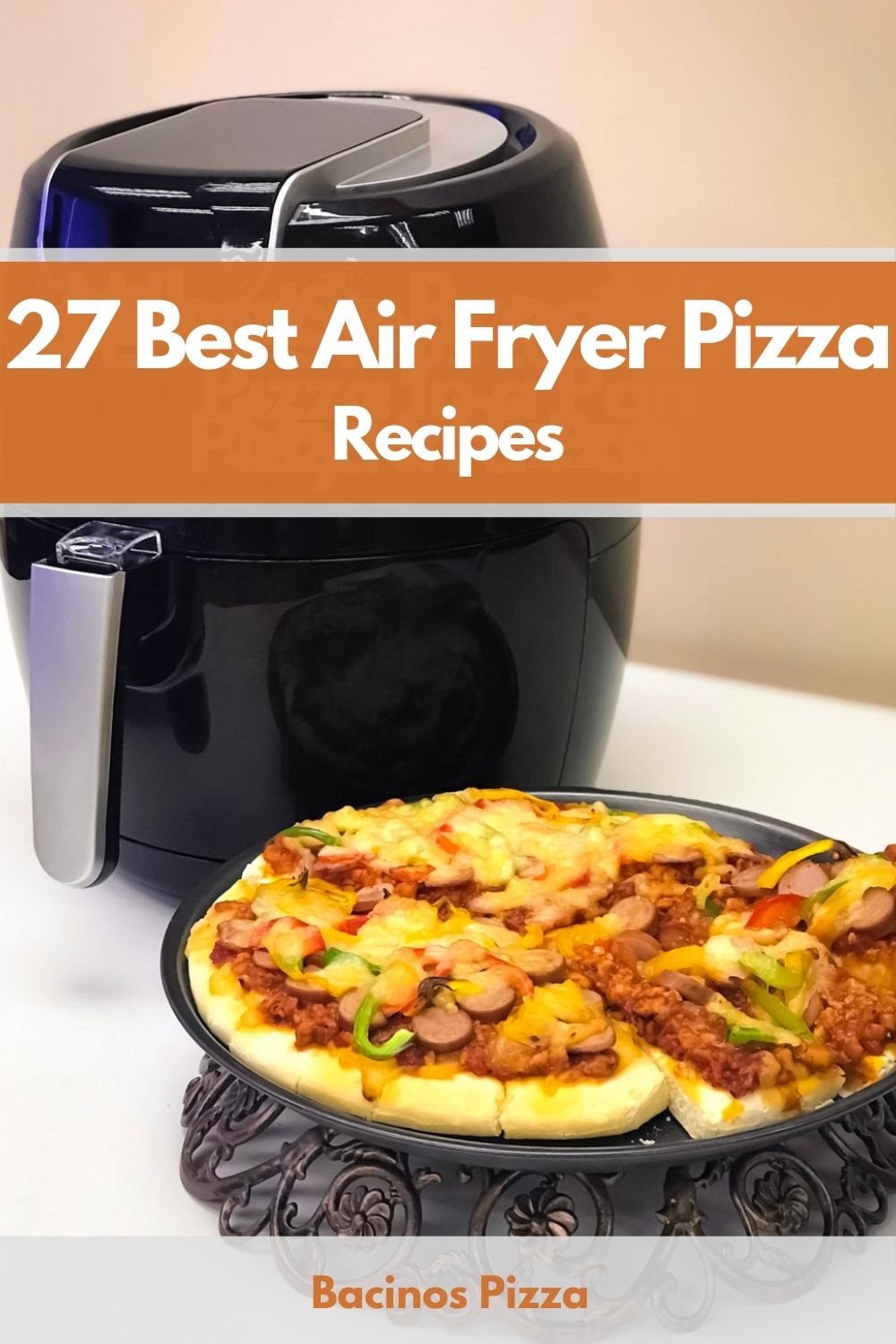 For anyone who wants to try making pizza in an air fryer, we've had a look online to see what other people have been trying – and as a result, here are our top 27 recipes for air fryer pizza you might like to have a go at replicating at home.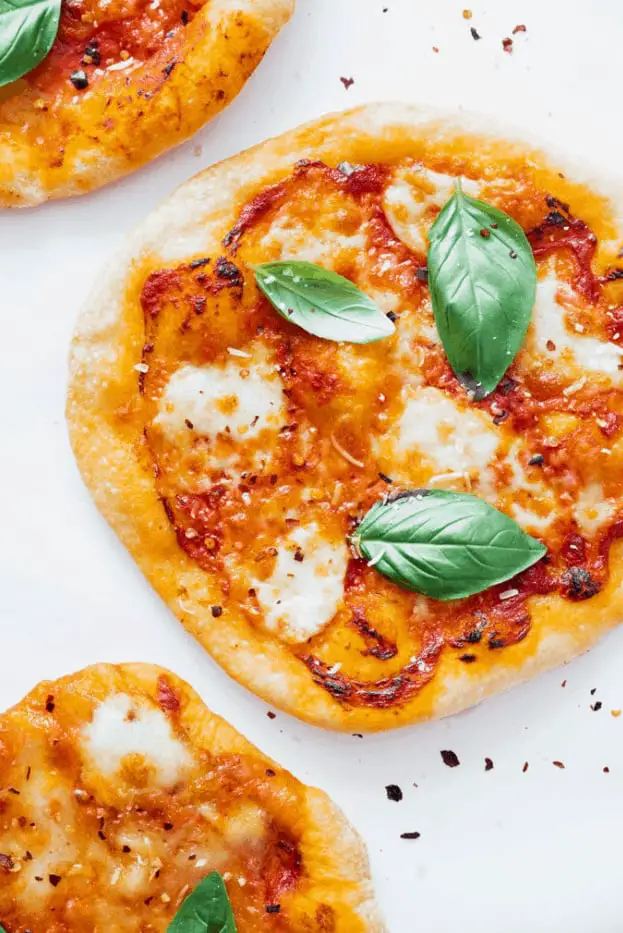 If you have an air fryer but haven't tried using it for pizza yet, this post should convince you to give it a go. As this blogger writes, it's quicker than cooking pizza in a regular oven, and it's also easier to achieve that often elusive crispy bottom that proper pizza should have. Sound like something you'd like to try? Then give this blog a read for more info!
2. Air-Fried Thick Crust Pizza from Lazy Awesome Dad
Making a mini-pizza from scratch can be super-easy, and cooking it in an air fryer can produce great results. If you want to learn how to do it, this video tutorial is a great place to start since it takes you through the whole process, showing you how to make several tasty different versions. Check it out and see which is your favorite.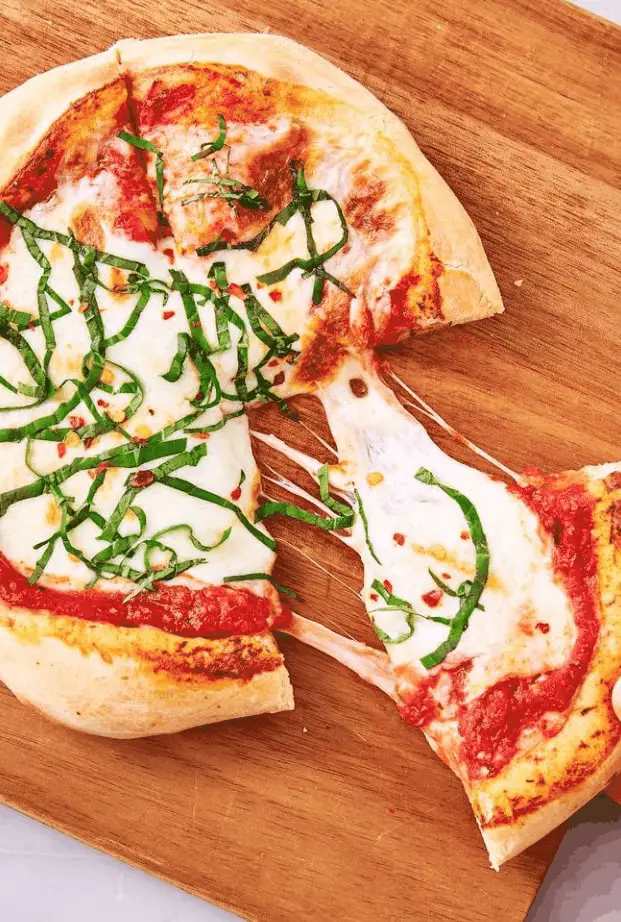 As this blogger tells us, she used to think making great homemade pizza was difficult – until she discovered the air fryer method. It comes out with a crust that's airy in the middle yet crispy on the outside, and this post gives you all the tips you need to achieve similar results. But is it as good as pizza from a wood-fired oven? We'll leave that for you to decide!
4. Air Fryer Pepperoni Pizza from Amy Learns to Cook
At the beginning of her video, this YouTuber explains that she accepted a challenge to make a pizza in an air fryer. She tried a few different ways before she worked out the best technique, but then she hit upon the perfect method. As you can see, it's possible to make great pizza in an air fryer, but if you want to skip the trial and error phase she went through, her tutorial shows you how to get it right first time.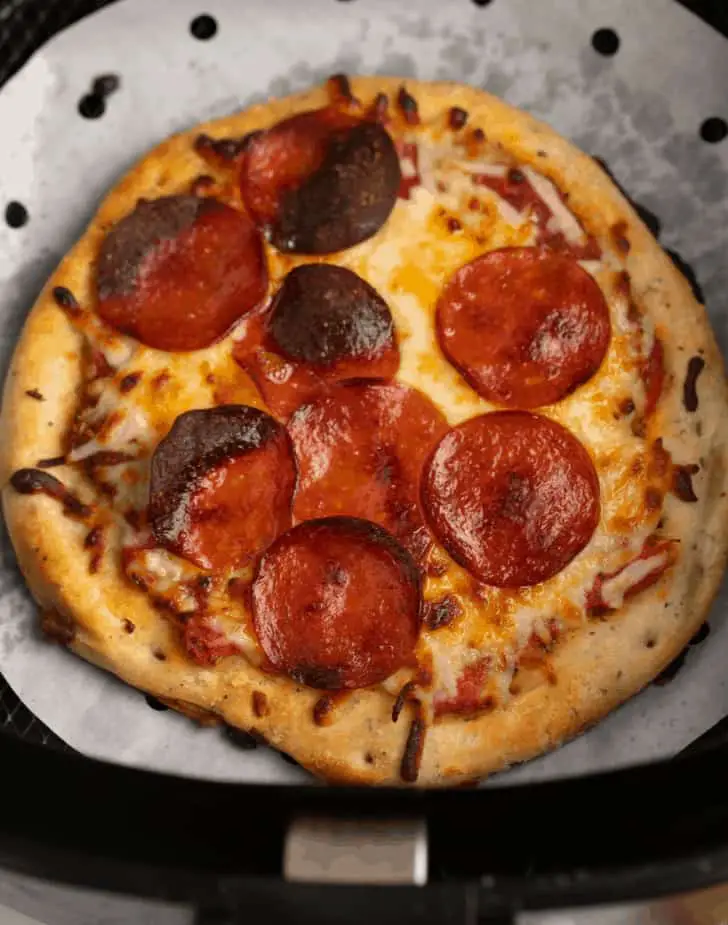 Air fryer pizza can be ready in no time, as this 10-minute recipe demonstrates. Once you know the correct method, you can customize pizzas just the way you like them, but you need to know how to do it right first. Fortunately, this blogger shares all her tips and tricks, allowing you to make air fryer pizza as good as the one in the photo.
6. Best Air Fryer Pizza Recipe from Becky Excell
We love the way the pizza in this video looks – with the melted cheese, sizzling pepperoni and crispy crust, you would hardly guess it was made in an air fryer. It's certainly an impressive creation, and for anyone who wants to know how to do it, this YouTuber takes us through how she did it, making it simple for anyone to copy her ideas at home.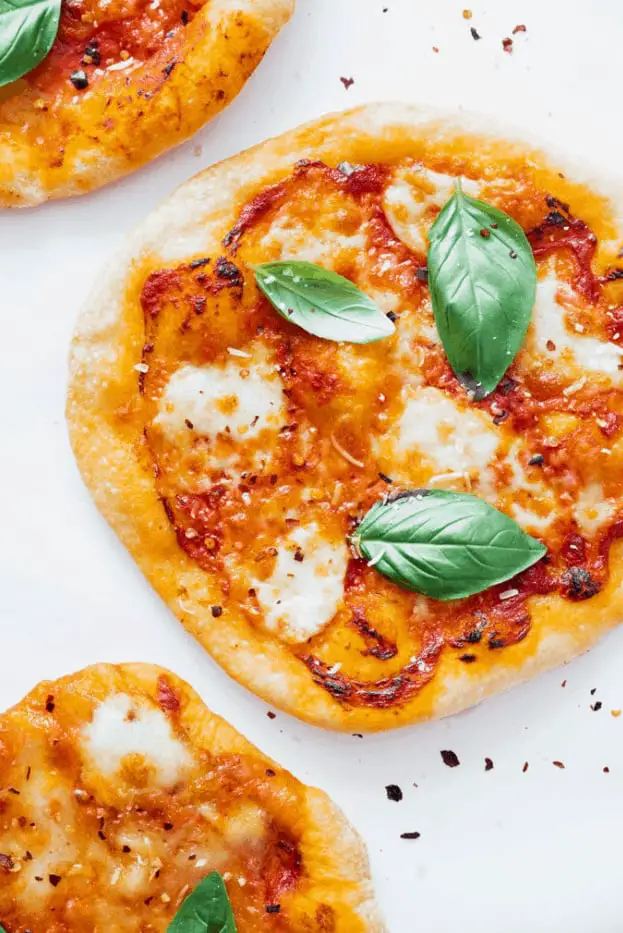 Air fryers are such a great invention, but not everyone would think of using one to cook a pizza. However, if you know the right way to do it, you can produce pizza that's easily as good as pizza cooked almost any other way.
This recipe teaches you how to make a pepperoni version, and it also gives you some all-important tips for ensuring you obtain the best results – for example, cheese on first! For more suggestions, head over to the blog and give it a read.
8. How to make Pizza in an Air Fryer from Passion 2 Cook
For fans of deep-pan pizza, the version in this video is sure to appeal. It's covered in all kinds of toppings, and that fluffy, chewy crust looks sublime. It's easy to make too and hardly takes any time, so if you want to cook one just like it, this video is well worth a watch.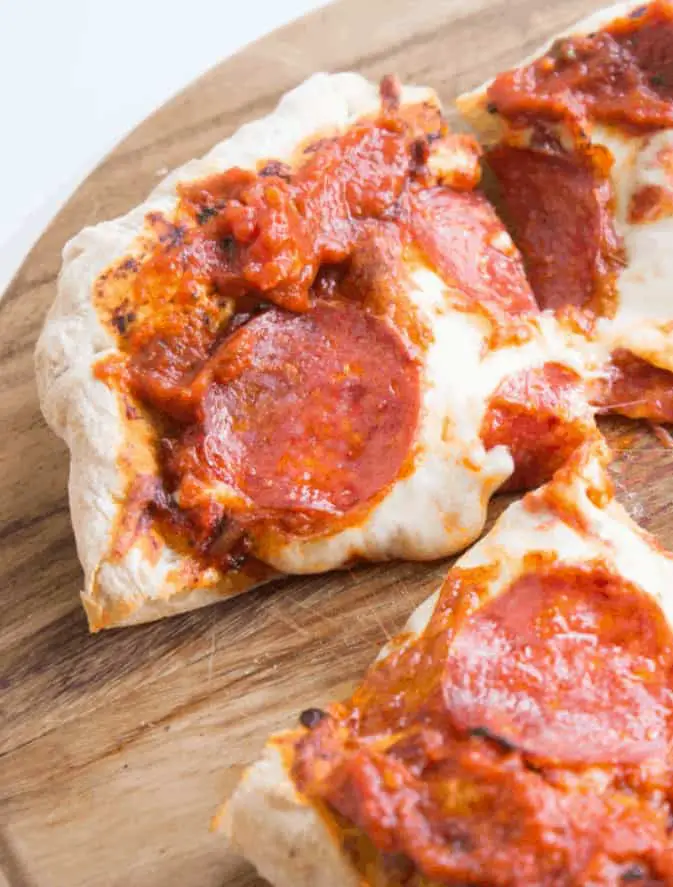 Pepperoni pizza is one of the all-time favorites for a reason. The tomato base, melted mozzarella and pepperoni pieces complement each other perfectly, making this one of the most popular toppings there is. If you're also a fan and want to try making one in an air fryer, this is the recipe for you – and as the photos show, the result is something to savor.
10. Super Delicious Air Fryer Pizza
There are plenty of reasons why cooking pizza in an air fryer makes sense, but a big one is how little time it takes. This recipe shows you how to make one in just ten minutes, which means you can have a delicious meal on the table in short order, even when you don't have the time to cook something more elaborate.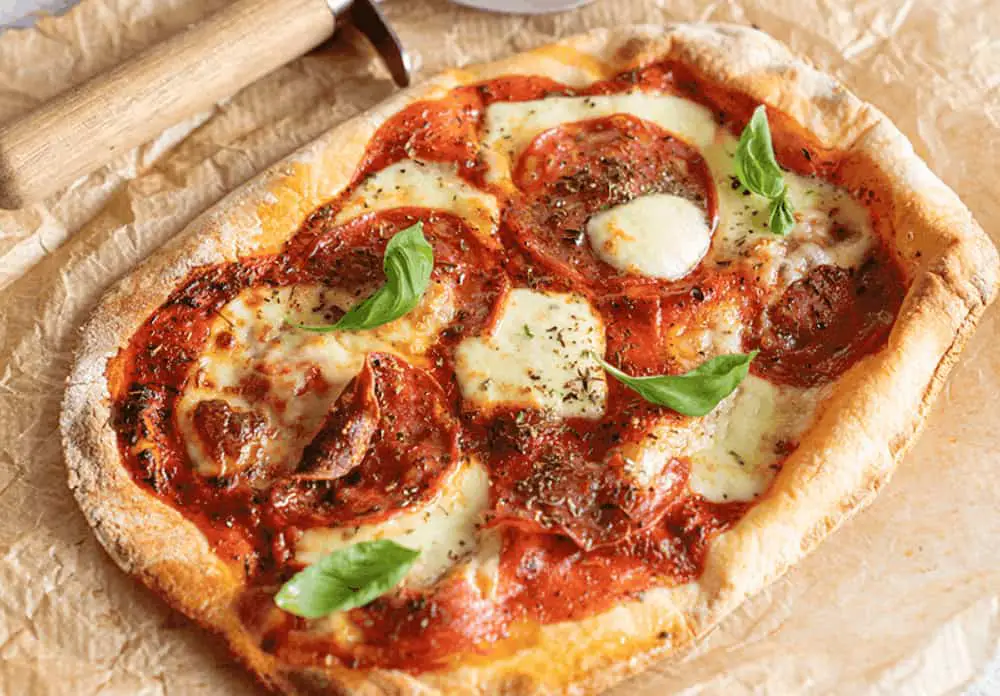 One of the best things about homemade pizza is that it allows you to customize the meal the way you like it – so if you're a vegetarian or vegan, you can still make pizza with ingredients you can eat. This recipe teaches you how to make a pizza from scratch in only 30 minutes, and with dairy-free and vegan options, it's easy to adapt it to a range of dietary requirements.
12. Perfect Pizza Recipe in an Air Fryer
The pizza this YouTuber shows us how to make is topped with chicken cooked in lemon juice, which sounds fantastic. She makes the dough from scratch before preparing the topping, and once it's all ready, the whole thing goes in the air fryer – and comes out looking super-yummy. If that sounds interesting, give her video a watch to see how she did it.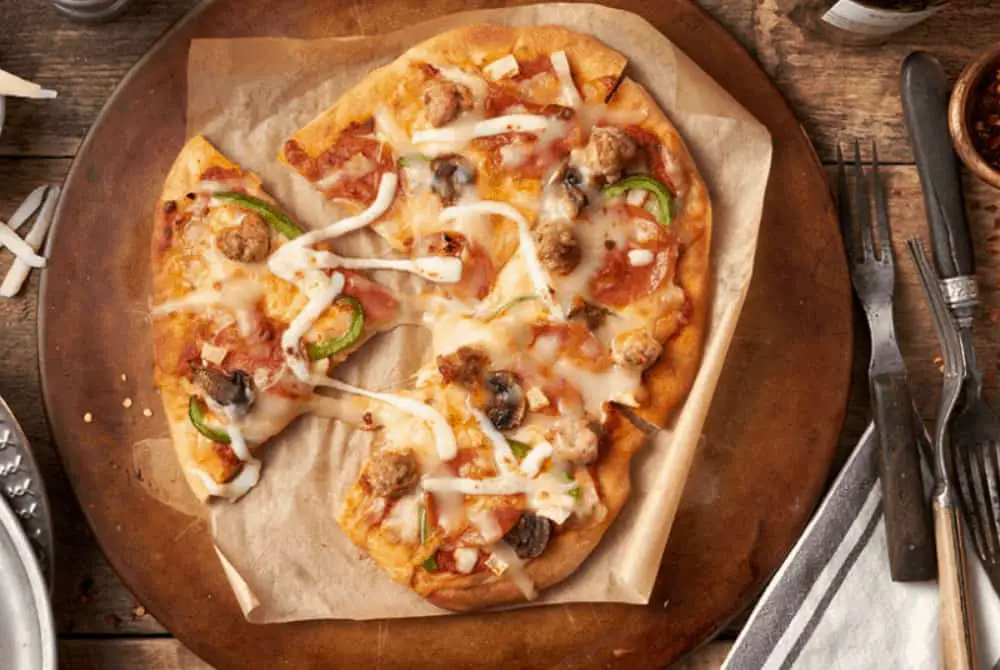 If you don't want to spend time making pizza dough yourself, you can just as easily use bought dough, and if that's more your style, this is a recipe that will show you how. The topping consists of Italian sausage, pepperoni and mushrooms, although of course, you're free to use whatever other ingredients you like too.
14. How to Air Fry a Frozen Pizza Fast and Simple
If you don't even want to take the time to assemble your own ingredients on ready-made pizza dough, you can also use an air fryer simply to cook a store-bought frozen pizza. It's the ultimate lazy meal, but the results can be impressive – and if you need help getting it right, this video will show you what to do.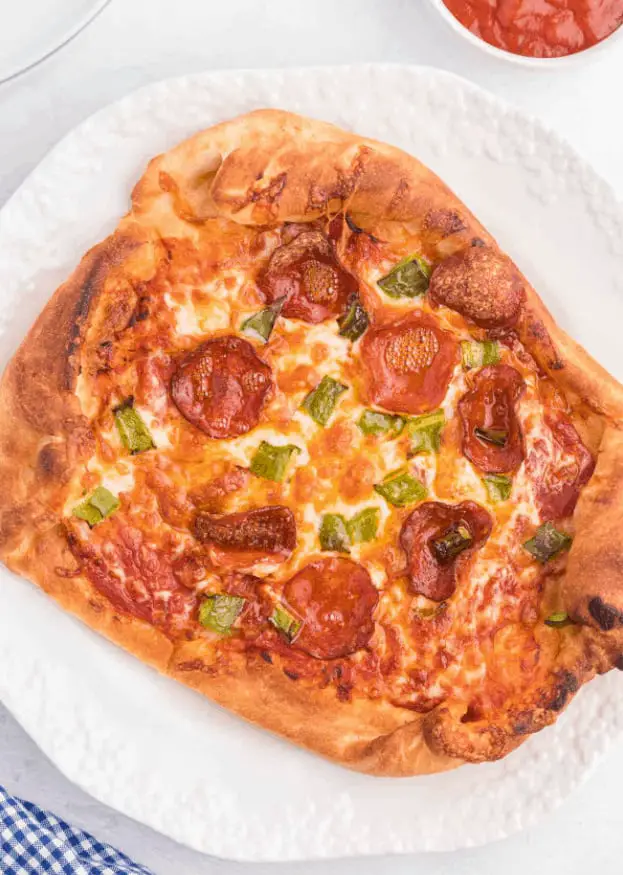 This blogger claims that by using ready-made pizza dough and cooking it in an air fryer, you can produce pizza that tastes better than the ones that come from the delivery place. Perhaps that depends on the quality of your usual delivery options, but if you want to put it to the test, this post will teach you how to do it.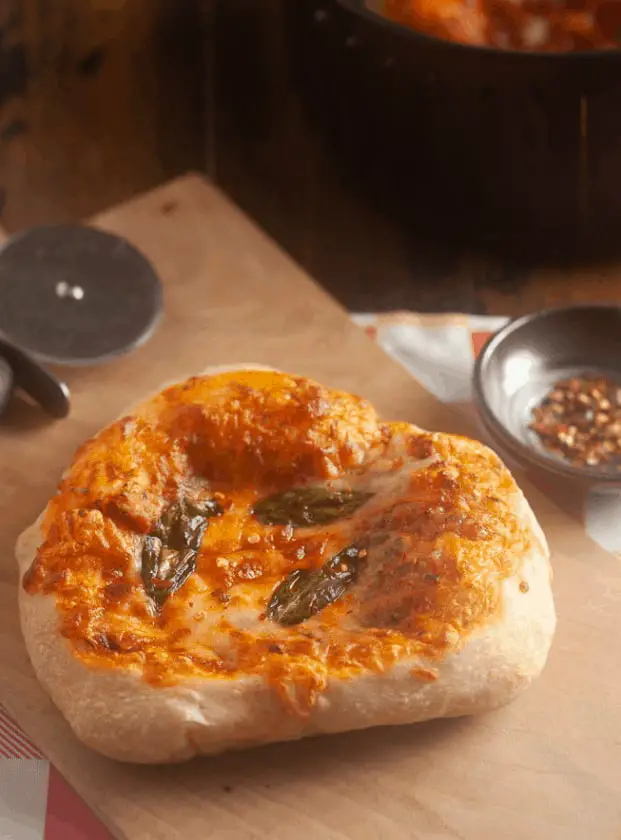 If you're curious about why air fryers are so well suited to cooking pizza, this post explains that it has to do with the way the intense heat helps the dough rise quickly, much like in a traditional pizza oven. The post then goes on to give you some tips for achieving the best results – and then finishes with a complete recipe for a delicious pizza that will be ready to serve in only 15 minutes.
17. Air Fryer Pizza from Mobile Home Gourmet
In this video, we get to see how this YouTuber got on when he decided to experiment with making his favorite pizza in an air fryer. The ingredients he used include mozzarella cheese, pepperoni, Italian sausage, sautéed mushrooms and onion, and as you can see when it's done, the finished pizza looks incredible.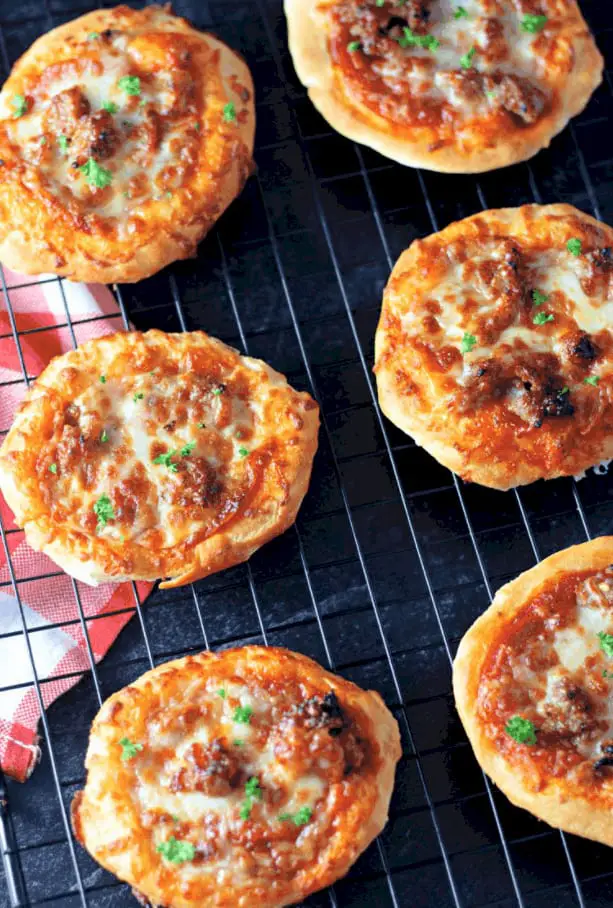 As this blogger writes, using an air fryer to make these cute mini-pizzas makes her family's pizza night a whole lot of fun. They only take four minutes to cook, and everyone can add the toppings of their choice, allowing everyone to get creative – or just stick to their tried and tested favorites. Give her post a read to see how they do it!
19. Air Fryer Pizza from Scratch 2 Ingredient Dough
This is a tutorial for making air fryer pepperoni pizza from scratch, and one slightly unusual addition is the use Greek yogurt in the mix for the base. It works well though, and after the tomato, cheese and pepperoni are piled on top, it comes out of the oven looking utterly delicious. And if you want to try something similar, his method could hardly be easier to copy.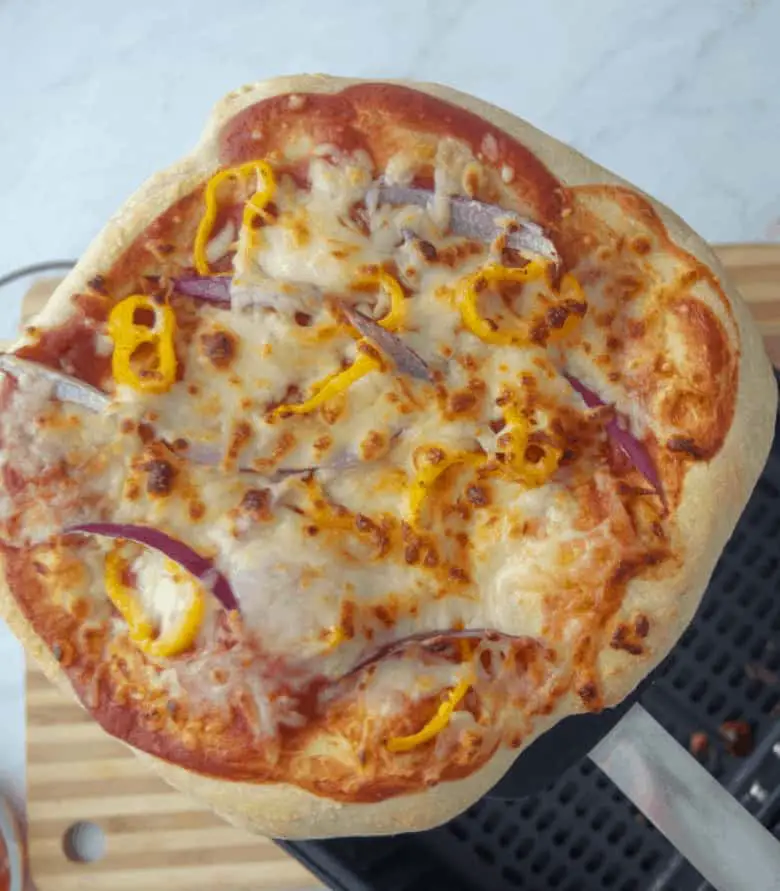 Whether you use ready-made dough or use a homemade version, cooking your pizza in an air fryer is quick and easy and gives reliably excellent results. There's not much to it once you know the right way, but to make sure you get off to a good start, this post has all the info you need.
21. Air Fryer Frozen Pizza Recipe from Melanie Cooks
Here's another video for the lazy cooks out there – because it shows you how to heat up frozen pizza in an air fryer. Perhaps if you try copying her ideas, you might be tempted to create your own homemade version next time you try, but if not, at least this gives you a method for getting the most out of the pizzas you buy from the store!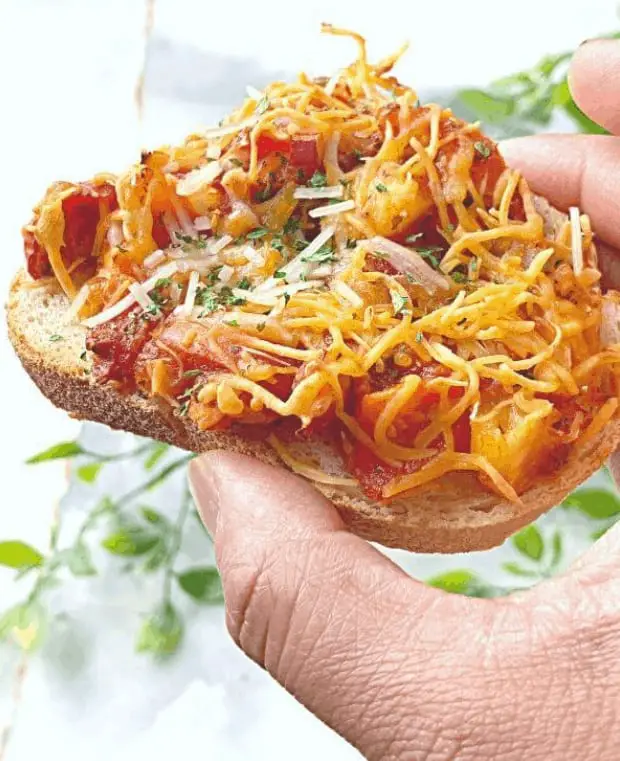 If you want a recipe that will allow you to knock together a meal with whatever you have in the back of your cupboard, this option for vegetarian bread pizza could be just the thing. Since it uses slices of bread instead of pizza dough, prep time is minimal, making this a great option if you need a meal quickly and you don't know what else to cook.
23. Air Fryer Oven Thin Crust Pizza
As this YouTuber explains, if you buy ready-made thin pizza crust and spread it over the tray without stretching it, it will cook evenly all the way through. This means you're practically guaranteed perfect results, so all you need to worry about is piling it up with all your favorite ingredients. Enjoy!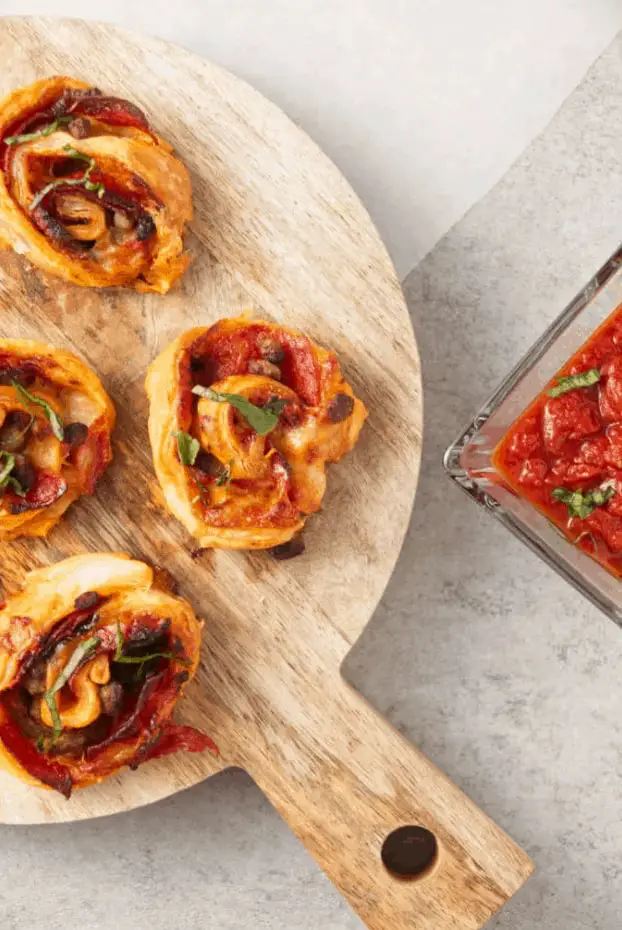 Pizza rolls are great to serve at parties, but did you know you can cook them in an air fryer? What's more, they are possibly even more delicious than pizza rolls cooked in a regular oven, and this blog post shows you how to make them.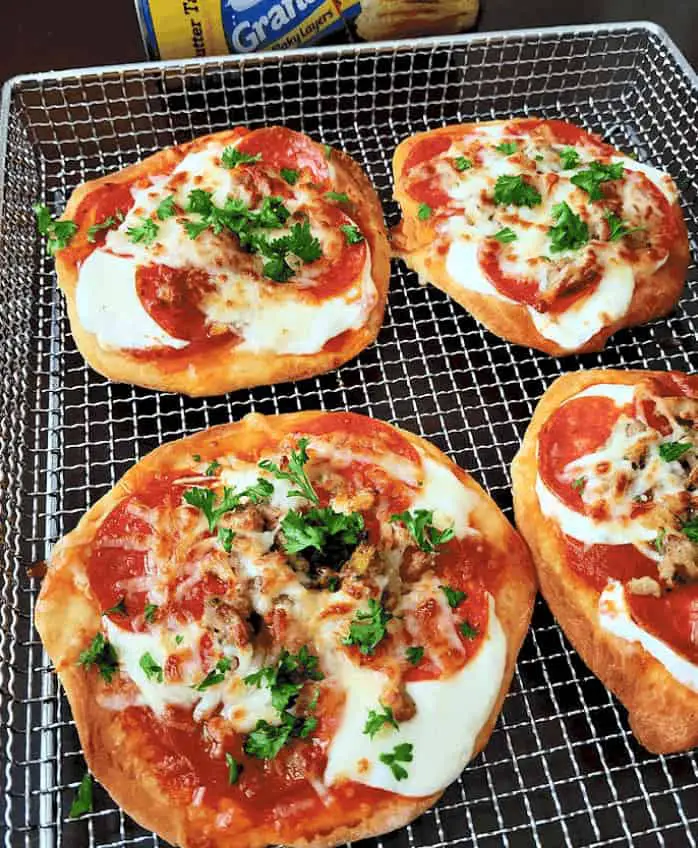 The mini-pizzas in this recipe are made using store-bought biscuit pizza bases, which means you can make a whole batch with a range of different toppings. It's a great option for a party – or just if you want to try a few different flavors at the same time. In any case, it's an idea we enjoyed – check it out and see if you agree.
26. Air Fryer – Homemade Margherita Pizza
This YouTuber claims the margherita pizza is the best there is, and if you're of the same opinion, you should enjoy his video. In it, he teaches us how to make one in an air fryer. It's simple, elegant and delicious – so why not have a go at copying his technique?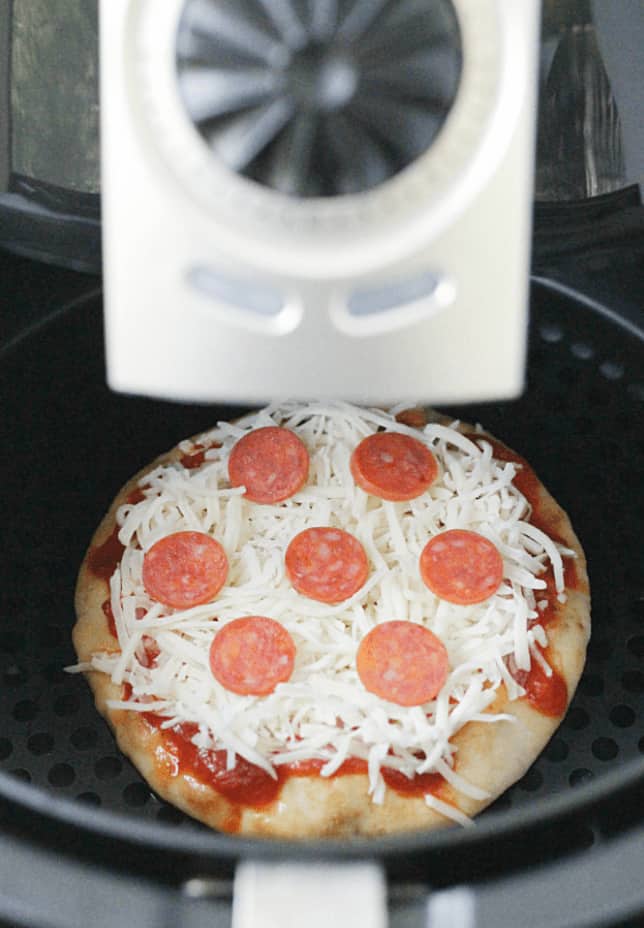 Air fryers are particularly well suited to making personal pizzas because you can keep putting more in until everyone's full. That way, you can sample as many different toppings as you like, making your pizza night an interactive event for the whole family to enjoy. And this post tells you everything you need to know to do it.
Loads of irresistible recipes
As you can see, there's no shortage of irresistible recipes for air fryer pizza, giving you plenty of options to experiment with.
We've enjoyed collecting these recipes for you, so we hope you've enjoyed reading and watching them too. And above all, we hope we've helped you find the recipe you needed for making delicious air fryer pizza of your own.
27 Best Air Fryer Pizza Recipes
Ingredients
Air-Fried Thick Crust Pizza From Lazy Awesome Dad

Air Fryer Pepperoni Pizza From Amy Learns To Cook

Best Air Fryer Pizza Recipe From Becky Excell

How To Make Pizza In An Air Fryer From Passion 2 Cook

Super Delicious Air Fryer Pizza

Perfect Pizza Recipe In An Air Fryer

How To Air Fry A Frozen Pizza Fast And Simple

Air Fryer Pizza From Mobile Home Gourmet

Air Fryer Pizza From Scratch 2 Ingredient Dough

Air Fryer Frozen Pizza Recipe From Melanie Cooks

Air Fryer Oven Thin Crust Pizza

Air Fryer – Homemade Margherita Pizza
Directions
Select your favorite recipe.
Organize all the required ingredients.
Prep the recipe in 30 minutes or less!