If you love pizza but prefer to stick to a vegan diet, there's no need to sacrifice quality and taste as long as you have the right recipes and the best ingredients – and a big part of that is making your own flavorful and healthy pizza sauce.
For anyone who's interested in having a go, we've scoured the internet to see what other people have been trying – and as a result, here are our favorite 27 vegan pizza sauce recipes you can easily recreate at home.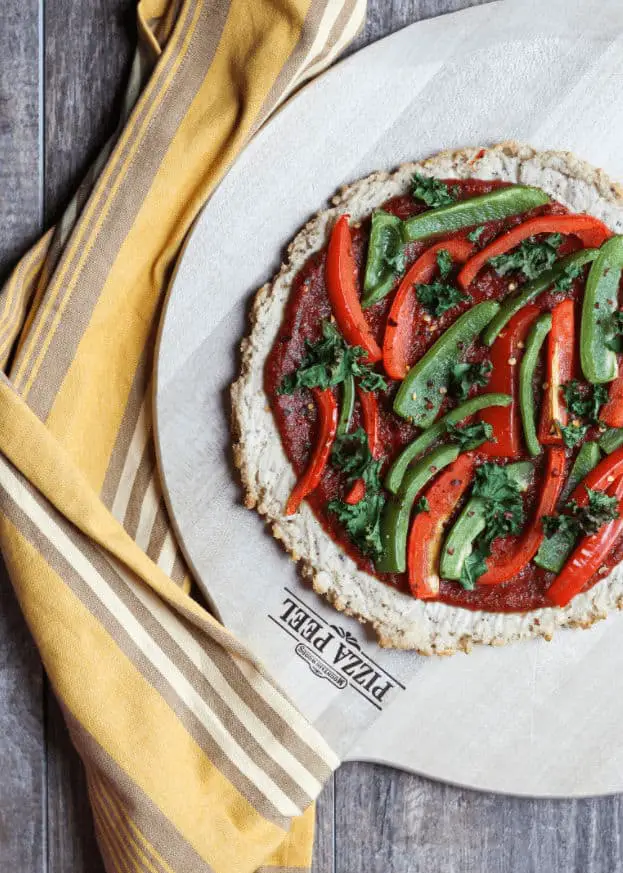 There's everything to like about this recipe – it's ready in five minutes, it only includes healthy vegan ingredients and it will taste way better than any ready-made sauce you can buy in a store. Want to know how it's done? Then head over to this blog post and give it a read!
2. Pizza Sauce from The Vegan Corner
The sauce in this recipe is so simple, mainly consisting of tomatoes and a special Italian herb mix. However, with the addition of a little baking soda, you can reduce the acidity of the tomatoes, ensuring it tastes just perfect. It's such an easy recipe to copy and hardly takes any time to make, so we're sure it's an idea plenty of people will want to try.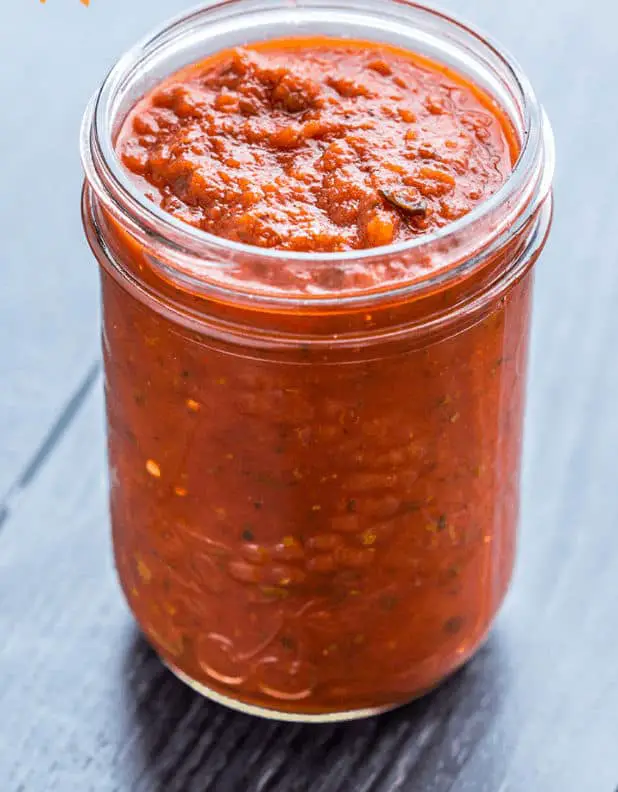 If you don't want to spend money on pizza delivery and have no motivation to go out and pick the pizza up in person, the other option is to make pizza yourself. However, to do that, you need the right recipe for the sauce – and in that case, here's a delicious vegan version that will take your pizzas to the next level. It's super-easy too, so anyone will be able to manage.
4. How to Make the Best Pizza Sauce from The Mushroom Den
Here's an interesting recipe for pizza sauce that incorporates roasted peppers to reduce the acidity of the tomatoes. You'll also need some chopped garlic and plenty of oregano, and after that, it's up to you which of your favorite vegan pizza toppings you throw on before it all goes in the oven!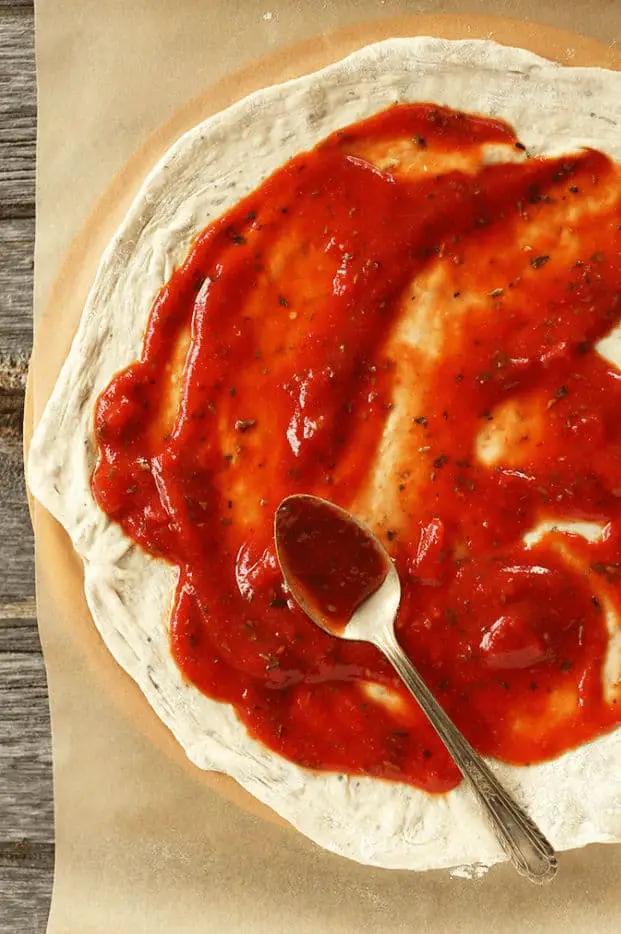 This is a recipe for a whole vegan pizza, but as part of that, it also teaches you how to make the sauce, so we thought it deserved a place on our list. It also gives you plenty of great advice about making the most delicious vegan toppings – including using vegan parmesan – which makes it doubly worth a look.
6. Tomato Sauce for Vegan Pizza
The key to great vegan pizza is being able to make a vegan pizza sauce that is up to standard, and this video tutorial shows you how to create one that won't let you down. As well as being vegan, it's also 100% biological, so you can rest assured that you're only using healthy and beneficial ingredients. Enjoy!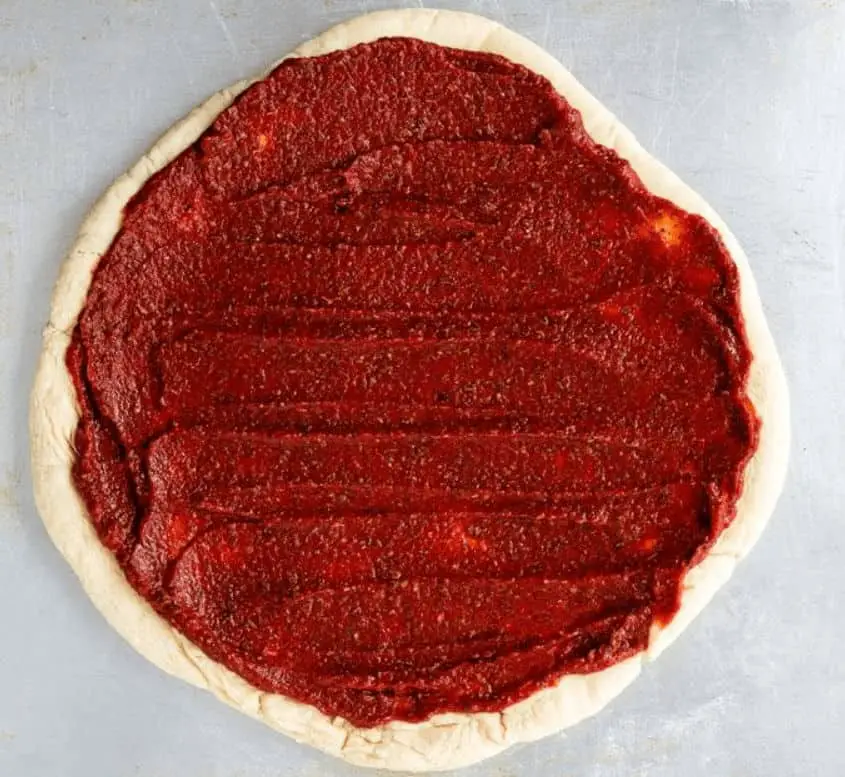 If you want a quick and easy yet irresistible homemade sauce to go on your pizza, this one should be of interest. It includes nine ingredients, takes no longer than five minutes to make and is gluten-free, paleo-friendly, dairy-free, and 100% vegan. As this blogger writes, it's much more fun than ordering pizza, and it's way healthier – so why not give it a try?
8. Vegan Pizza Sauce Recipe from Well Your World
As this YouTuber tells us at the start of his video, this pizza will take a little bit of extra work – but it's worth it. His version of pizza sauce is quite original and includes a few unexpected ingredients, so the video is a fascinating watch just for that, but he also includes tips for making the dough and an amazing vegetable-based topping, so this is a video you need to see.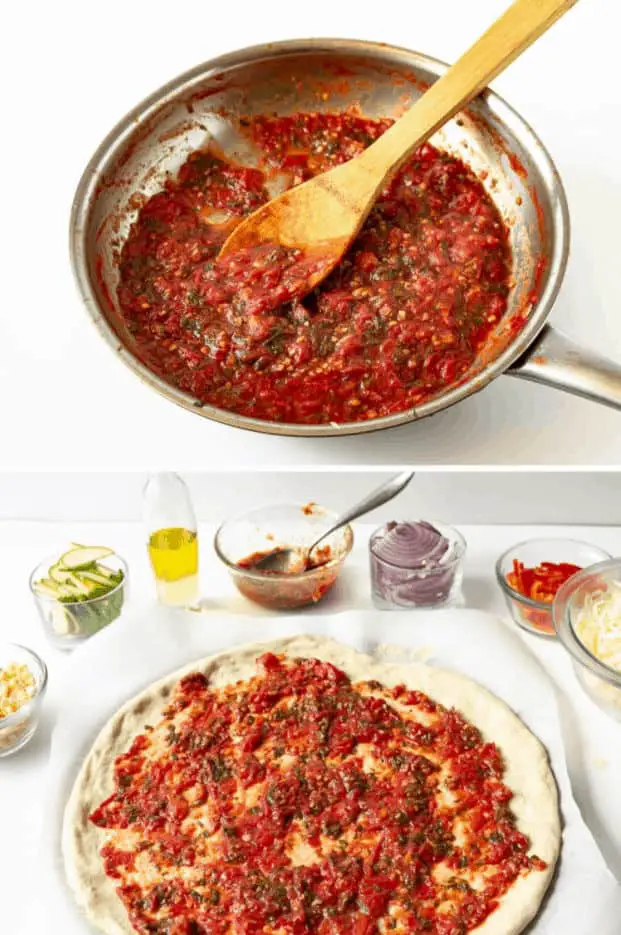 This blogger starts her post by saying this is hands-down the best vegan pizza sauce you'll ever make, which is quite a claim – but when you see how she does it and how it looks, you might think she has a point. However, with only five ingredients and taking no longer than five minutes to make, it's also incredibly easy to replicate at home, so why not give it a go and see if it's as good as she tells us!
10. Plant-Based Alfredo Sauce and Easy Pizza Dough Recipe
If you're looking for something a bit different to try, this video should be of interest because in it, this YouTuber gives us her special recipe for vegan alfredo pizza sauce. Most people think of red tomato-based sauce as being a quintessential part of a pizza, but there are other options too – and this blog will give you an idea of what else is possible.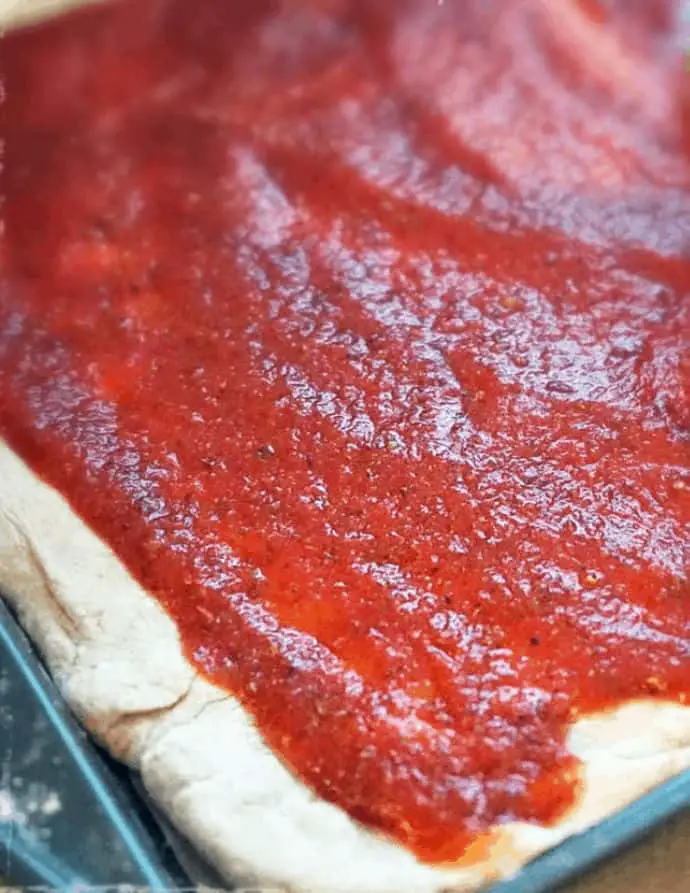 Here's a ten-minute recipe for vegan-friendly pizza sauce that will be the perfect accompaniment to all your favorite vegan toppings. It includes quite a few ingredients, giving it a more complex flavor than many other versions we've seen, so if you want something rich and sophisticated, this could be just the thing!
12. Cheesy Vegan Pizza Recipe!
The sauce in this recipe contains nothing more than onion, garlic, tomato paste, agave syrup and canned tomatoes, which just shows you can make great sauce without overcomplicating things. The recipe also teaches you how to make the dough and some yummy vegan toppings, so you can follow it to make a vegan pizza yourself from scratch.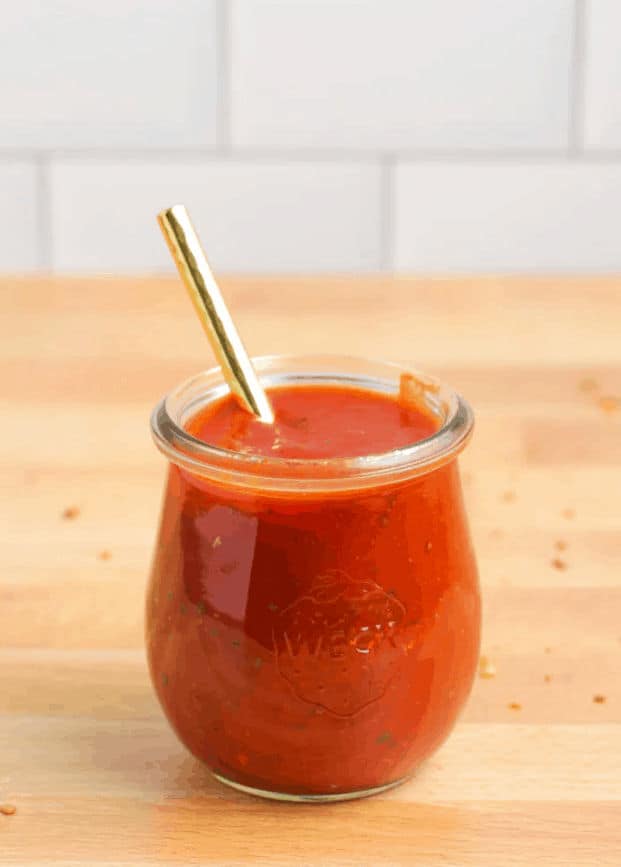 Pizza sauce is something of an unsung hero – you don't really notice the sauce itself, but a pizza with sub-par sauce just seems to taste bland and uninteresting without you really being able to put your finger on why. The sauce in this recipe includes garlic powder and chili to liven it up a bit, bringing out the flavors of the toppings you use and making your pizza taste noticeably better.
14. The Ultimate Vegan Pizza from Scratch
As this blogger explains to us, vegan food doesn't need to be expensive if you know how to make it yourself from scratch – and that's what he then goes on to teach you, including a guide to making vegan mozzarella as well as the pizza base. The instructions for the homemade tomato sauce are included in the description, so you can follow his ideas and make an amazing vegan pizza just like his.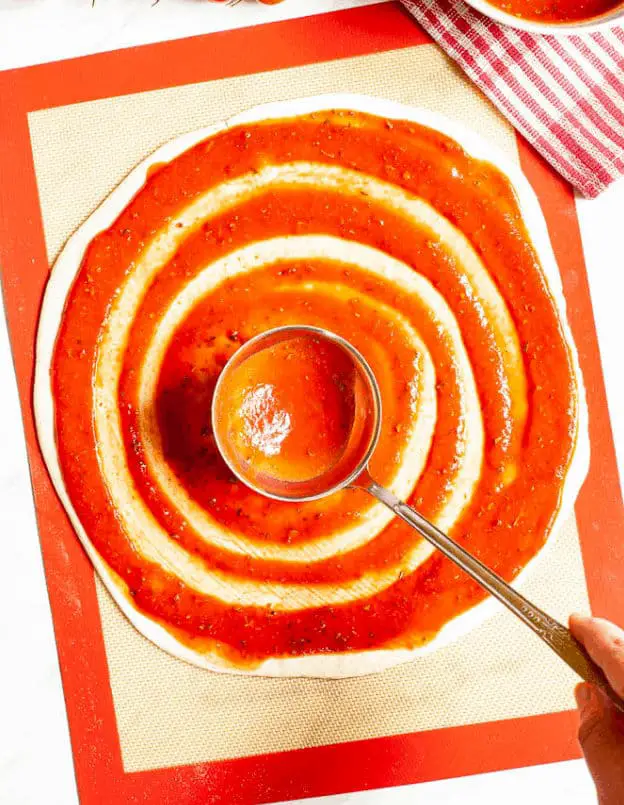 If you don't want to mess about with difficult or time-consuming recipes, this one could be a great pick. It takes no longer than five minutes to make, and you don't even need to cook anything. It will be ready to go on your pizza in no time, which means you can spend less time preparing your food and more time eating it!
16. How to Make Vegan Pizza – 3 Recipes
In this video, you don't get just one recipe – you get three. As this YouTuber explains at the beginning, one of her favorite recipes is for gluten-free vegan pizza, and she then goes on to show how to make it, including a couple of enticing options for vegan pizza sauce.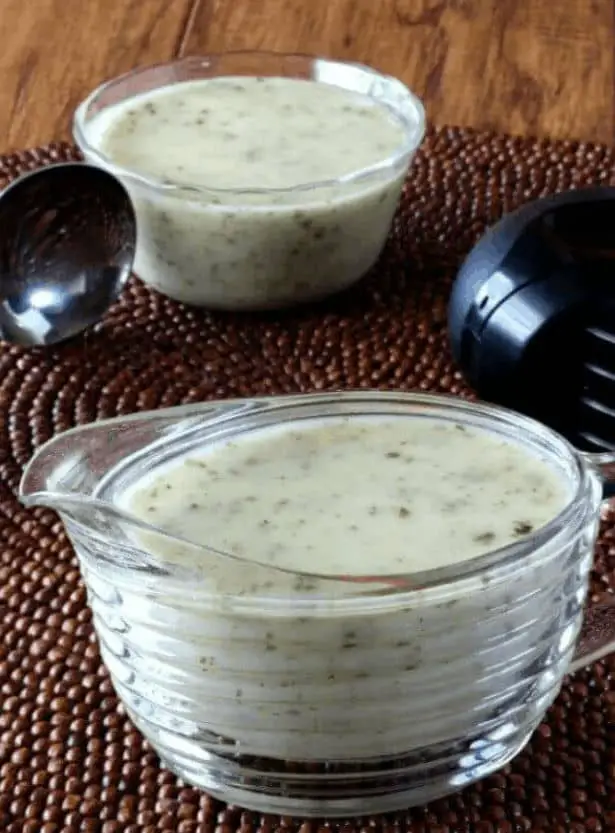 This blogger describes her vegan white pizza sauce as being tangy, garlicky and flavorful, so just the kind of thing you need to give your pizza a bit of a lift. Even better, it's suitable for freezing, so you can make a big batch and then have it ready to defrost whenever you feel like eating more pizza!
18. How to Make Vegan Pizza Sauce at Home
The pizza sauce this YouTuber teaches us to make is tastier than store-bought versions and is also free of unnatural preservatives. It's extremely simple to make using only a few basic ingredients, and it's gluten-free, dairy-free, paleo-friendly and vegan, so it's suitable for people with a range of dietary requirements.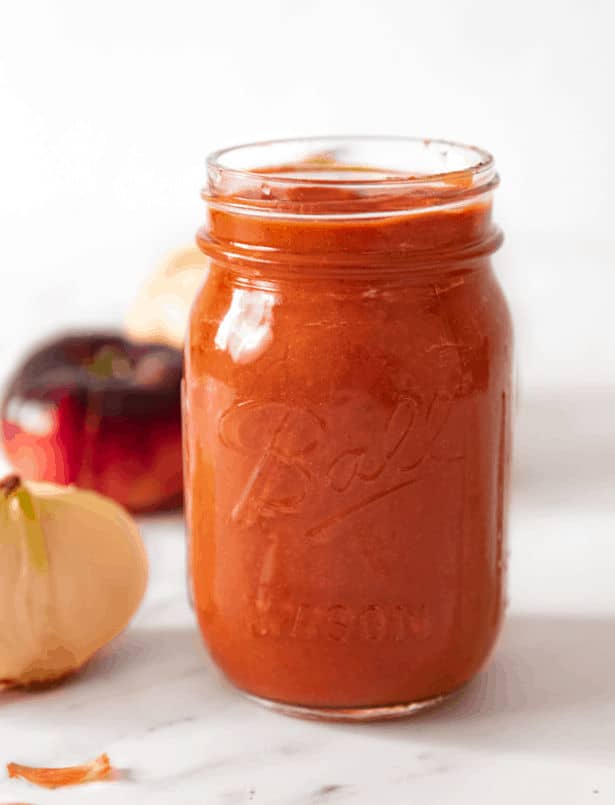 As you learn from this blog post, making pizza sauce is not difficult and consists mostly of blending the ingredients together. With this recipe, you don't even need to cook it, so you can prepare it quickly whenever you need some, which is ideal if you suddenly realize you don't have anything else to cook for dinner.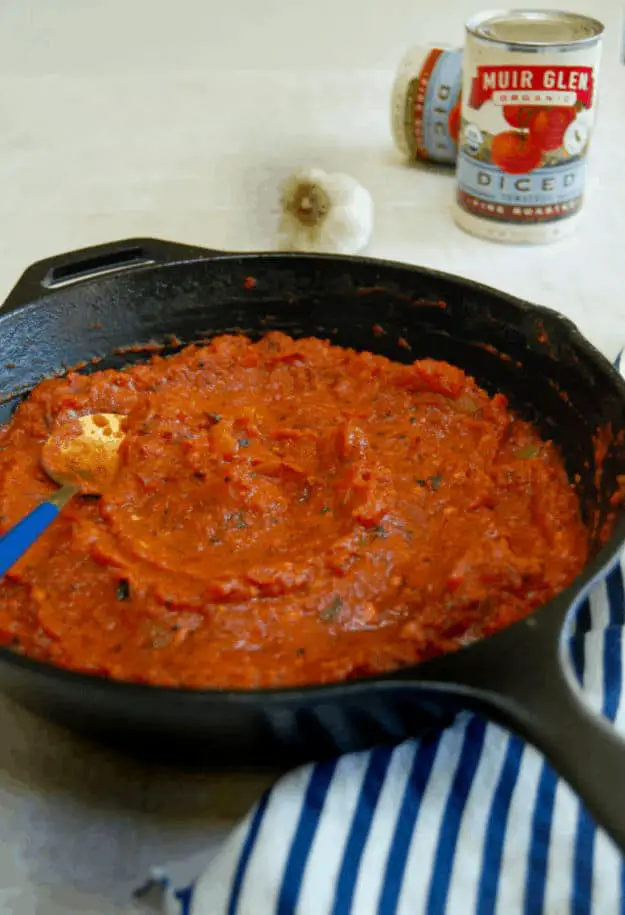 The secret ingredient in this delectable vegan pizza sauce is chipotle, which gives it an irresistible smoky tang. It only takes around fifteen minutes to make, and it will give your pizza a slightly unusual and original flavor – so expect your family to request this one over and over again!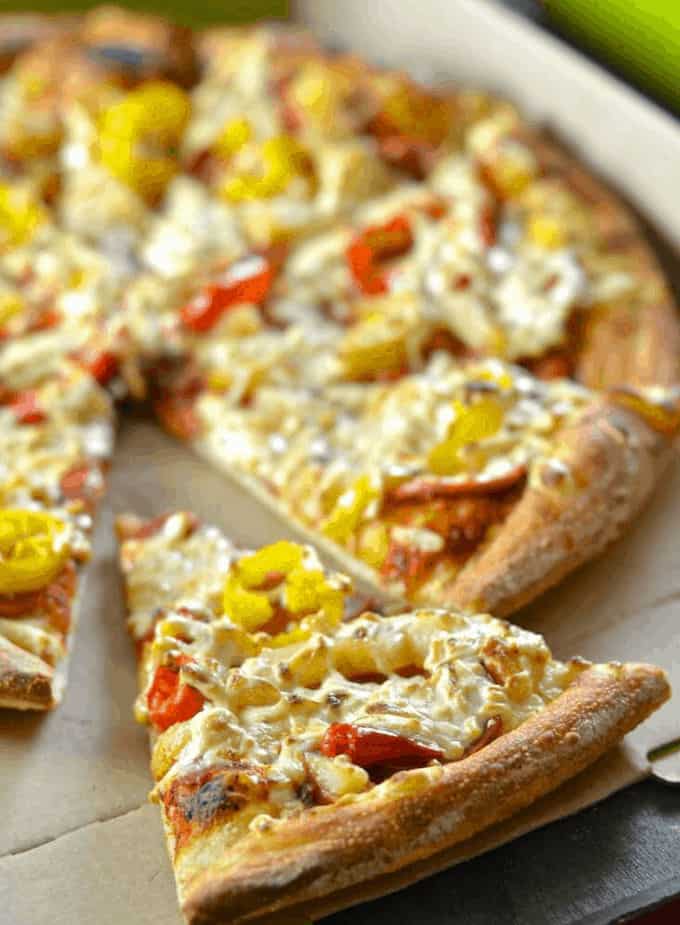 If you're looking for suggestions for all kinds of things to try when it comes to vegan pizzas, this post has got you covered. It also has a great recipe for a rich, flavorful, thick and delicious vegan pizza sauce – it takes a bit longer than a lot of the others we've seen, but it looks like it's worth all the extra effort. Give it a read and see if you agree!
22. Vegan No-Cook Pizza Sauce in 5 Minutes
For those who don't have the time for something like the recipe in #21, here's a five-minute version that doesn't even require any cooking. Just combine a few basic ingredients in a bowl and you're ready to go!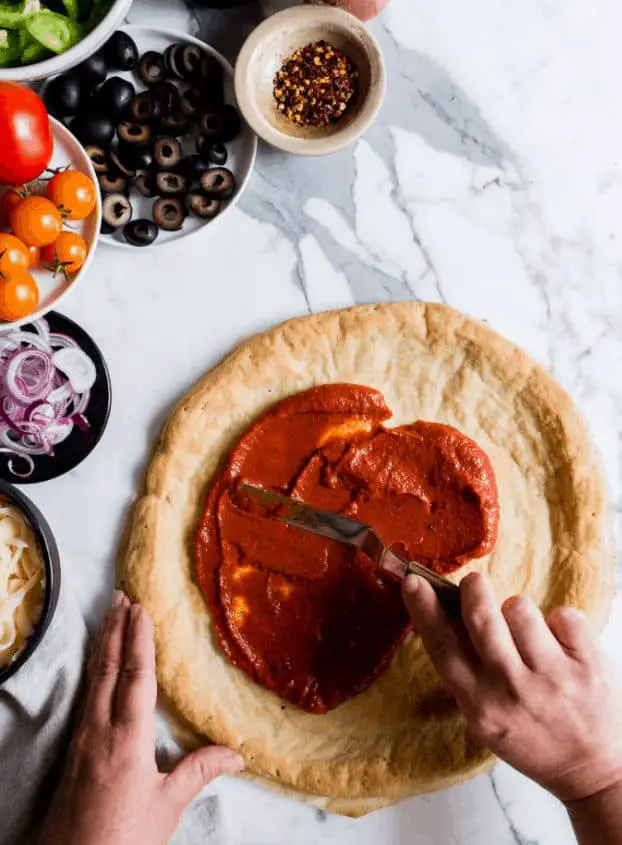 This blogger tells us at the start of her post that her family have weekly pizza nights – which means it makes sense to make pizza sauce in larger quantities and then freeze it. It's an extremely easy recipe too since all you need to do is throw all the ingredients into a blender, allowing you to prepare your batch ready for whenever you need it.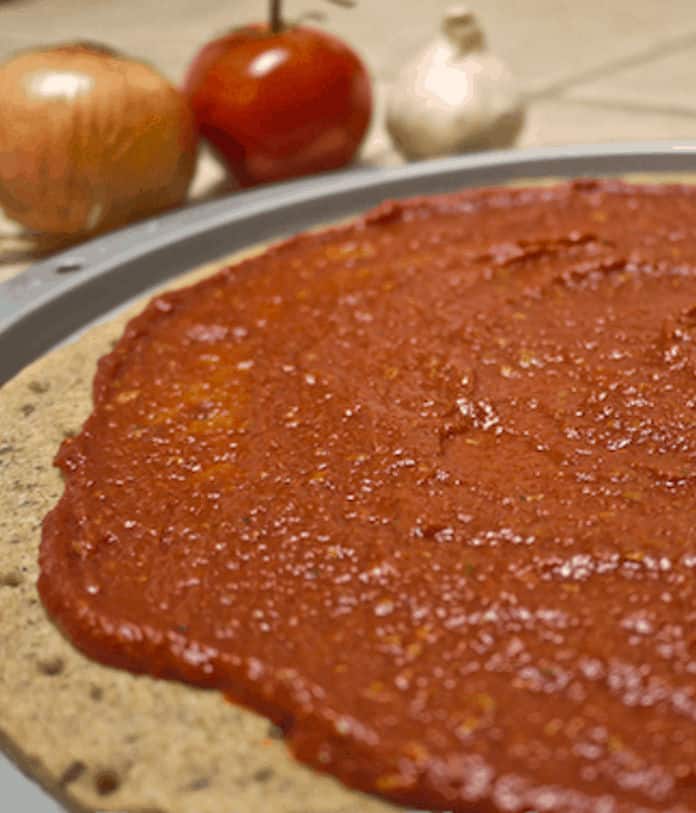 This blogger makes the valid point that many low-fat healthy pizza crusts can be a little dry, so the answer is to use a thicker, richer sauce. The post then goes on to explain everything you need to do to make one, allowing you to start enjoying delicious pizza instead of settling for the uninspiring and bland options some people may resign themselves to eating.
25. Easy Vegan Pizza Sauce at Home from Gharelu Recipes
The thick, rich vegan pizza sauce this YouTuber shows us how to make looks amazing, and we can just imagine how good it must taste with all our favorite vegan toppings spread over it. What toppings do you think would go well with it? Give the video a watch and then you can decide!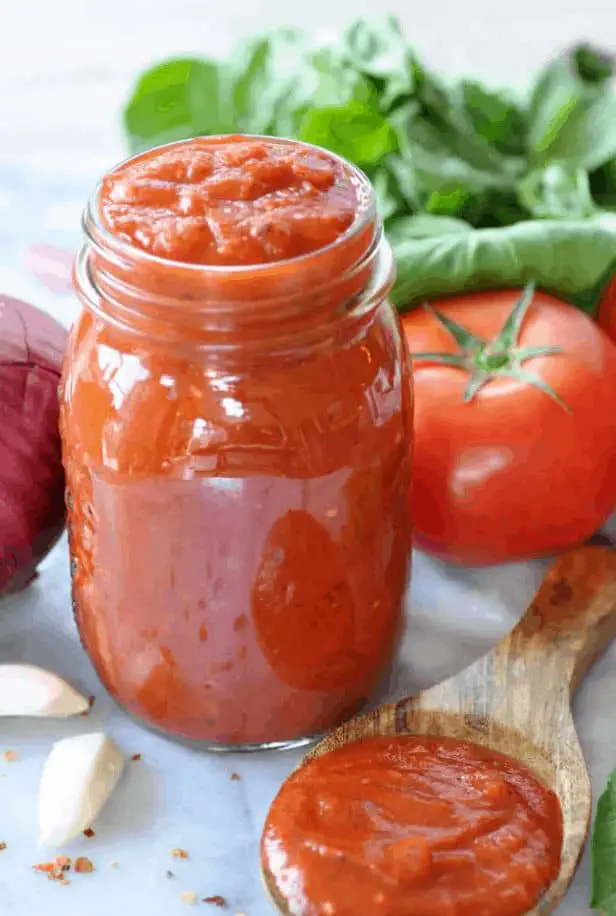 The blogger who created this recipe claims "there really isn't anything easier or more delicious than four-ingredient homemade vegan pizza sauce", and she could well be right. Sometimes, you don't need to make things any more complicated than necessary, and this is the proof of how true that is!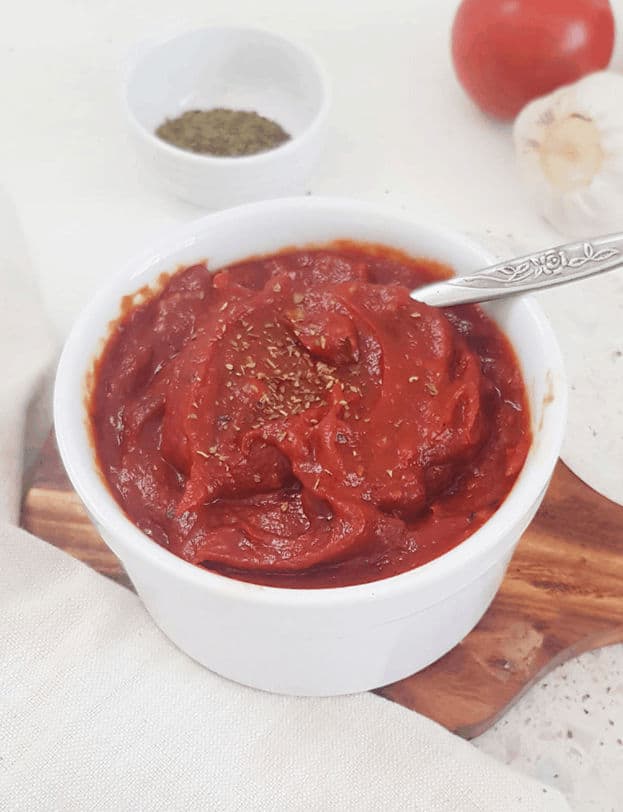 If you want to take your homemade pizzas to the next level, this is a vegan sauce that will help you do it. It takes 30 minutes to prepare, but it will be a labor of love for those who appreciate high-quality pizza. And if that includes you, this is a recipe you need to see!
Loads of recipes for vegan pizza sauce you'll enjoy making and eating!
As you can see, there's no shortage of great recipes for delicious vegan pizza sauce that you will have almost as much fun making as you will eating, from simple classic versions to options with a few more surprising ingredients.
We've enjoyed collecting these recipes for you, so we hope you've enjoyed reading and watching them too. And above all, we hope we've helped you find the inspiration you needed to make a vegan pizza sauce of your own.
27 Best Vegan Pizza Sauce Recipes
Ingredients
Pizza Sauce From The Vegan Corner

How To Make The Best Pizza Sauce From The Mushroom Den

Tomato Sauce For Vegan Pizza

Vegan Pizza Sauce Recipe From Well Your World

Plant-Based Alfredo Sauce And Easy Pizza Dough Recipe

Cheesy Vegan Pizza Recipe!

The Ultimate Vegan Pizza From Scratch

How To Make Vegan Pizza – 3 Recipes

How To Make Vegan Pizza Sauce At Home

Vegan No-Cook Pizza Sauce In 5 Minutes

Easy Vegan Pizza Sauce At Home From Gharelu Recipes
Directions
Select your favorite recipe.
Organize all the required ingredients.
Prep the recipe in 30 minutes or less!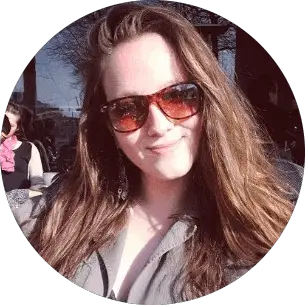 Barbara is an enthusiastic food-exploring person that goes through different culinary experiences. She got inspired by creating a pizza blog post after she tasted one of the best-selling pizzas in Toledo.