You might be wondering if all pizza recipes require an oven. The answer is no. You can also make pizza in a microwave or in a skillet. And – of course – ovens differ.
There are various types of ovens, including clay kilns, compact metallic ovens, and large commercial-scale ones. Not to forget, there are tons of other things you can make in pizza ovens – not just pizza! Let's explore a few top pizza oven recipes.
1. Wood-Fired Bread
Regular ovens can get up to maybe 450°F but with a pizza oven you can get up to 800°F. Especially if it's a wood-burning pizza oven. So it's perfect for baking bread. And this video shows you how to load and light the brick oven. The recipe is yeasty bread and while the wood-oven heat makes it crisp and dry, that thick, smoky flavor elevates every slice.
Wood stoves are great, but gas-powered ovens have their place too. You can control the heat more easily so you get greater cooking flexibility. Try baking this pizza in your gas oven – the dough takes less than an hour to make. (Dough takes 2 to 3 hours on average, so this is 'flash dough'.) This hand-stretched dough has semolina and olive oil. Use toppings of your choice.
3. Bhavna's Homemade Pizza
Pizza was born as Italian street food. But if you like your food spicy, you can't go wrong with its Mexican or South Asian interpretations. In this video, In this video, the host Bhavna talks you through the entire process, from making homemade dough to simmering sauce. Her colorful creation has sweet pepper and jalapenos on a dough infused with (optional) garlic powder and Italian herbs.
Fish! Yes, you can bake or roast fish in a pizza oven. And once you've tried these smoked delicacies you'll never look at canned sardines again. Soak your pizza oven wood overnight to get the right aroma from your smoke. And the wood should be untreated to avoid unwanted flavors. Use food-grade baking nails to stake the sardines on the wood. Roast for 6 minutes.
5. Barbeque Chicken (With Skin)
Constructing a pizza oven in the backyard is easier than you'd think. And you can order firewood from a weekly supplier – some will deliver and stack it for you as well. Once the oven is up and burning – pun intended – try this chicken recipe. It cooks over lower heat, so you want glowing embers rather than roaring flames. The barbeque sauce recipe is easy too.
Who says wieners must always be boiled? Get adventurous with these gourmet pizza oven recipes for hotdogs. And you can bake the hotdog rolls in the pizza oven too! It's a drawn-out process that involves caramelizing onions and pickling cress and mustard seed. When baking the hotdog rolls, brush them in milk. Grill the sausages separately before loading the rolls.
7. Garlic Roasted Potatoes
We all agree oven-made potatoes are healthier than fried ones. And they can taste just as satisfying. This batch is served with eggs, sunny-side up. Cut and roast the potatoes with their skin but parboil for 10 minutes in salted water and baking soda. Use larger pieces and 'rough them up' in the pan so they're crisp and crunchy outside but soft and mushy inside.
You know those old-timey cartoons where someone would see a bird walking on the street and have daydreams of walking roast? This standing chicken is a lot like that. It roasts upright on an open beer can (with beer still in it). Wood-burning pizza ovens are best for this recipe. You need a whole chicken. Rub it with brown sugar and spices. Roast for 40 minutes.
9. Neapolitan Pizza
We have to sneak in a few pizza recipes here for sure. And this Neapolitan is baked in a metallic Ooni wood-burning oven but any pizza oven will do. You can light this one with lighter cubes and control its heat levels. The simple sauce is canned San Marzano tomatoes and salt. The pizza is baked with a mix of charcoal and wood chunks for extra flavor. [30 Best Neapolitan Pizza Recipes]
Bananas are the potatoes of the fruit world. Because they're so versatile. In this pizza oven recipe, the bananas are grilled then serve with homemade salted caramel and homemade vanilla ice cream. The recipe has instructions for all three. Mix honey with butter and melt them in the oven. That'll take about 20 minutes. Brush the bananas with this and grill.
11. Brick Oven Ratatouille
You don't get many pizza oven recipes that show you how to construct the actual oven. This one does. And it's pretty easy. And it shows you how to light the wood oven too. So if you're looking for a fun weekend activity, try this build-and-bake project. This simple ratatouille recipe uses sliced spirals of tomatoes, zucchini, cucumbers, and eggplants on marinara.
Yes, these are typically toasted over a campfire. Or maybe a dorm room candle. But if you roast them in a pizza oven … especially while your pizza (or something else) is baking, you can get a rich mix of smoky flavors. You could skewer them or an extra-long stick and reach into the flames. Or you could arrange them on a sheet pan and bake for 2 or 3 minutes.
13. Home Oven Pizza
When we talk about pizza oven recipes, you might assume we mean commercial metal ovens. Or maybe igloo-shaped kilns. But you can bake pizza in a regular household oven too, no stones needed. This pizza is made directly on electric pizza grates. And because the oven is huge, you can make the pizza oval rather than round. Pizza cooks much faster on a grate.
This recipe was prepared using a Morso Kamino open-fronted oven. It's shaped like a cognac bottle that's open at the front. But any pizza oven can achieve this dessert dish. Cut pineapples into wedges and cook them on a pre-heated oven grate for 2 to 3 minutes per side. For the basil cream, grind basil leaves with caster sugar, lemon zest, and mascarpone cream cheese.
15. Multi-Course Pizza Oven Meal
Fancy a full course meal? This pizza oven recipe has it all – deliciously greasy pork, sizzling starch, fresh toasty veggies, and a selection of desserts. The menu includes roast pork loin, home-baked baguettes, green peas, potatoes, peach cobbler, and blueberry cobbler. But the pork and potatoes in first while the oven is hottest. Make the desserts last with glowing coal.
If you speak any French, you probably know it's pronounced 'ta-ta-ta' (or something similar). And this pizza oven recipe will flood your kitchen with an irresistible syrupy aroma. But making this dessert is easier than it sounds. Melt the sugar in a pan and add anise and butter until it bubbles. Pour this over your plums and cover it with puff pastry. Bake for 15 minutes.
17. Jamie Oliver's Wood-Fired Pizza
Do TV chefs make pizza the same way we do? Let's hear from Jamie. He recommends pushing your burning logs to one side of the often so that the flames lick the roof of the pizza and create a grilling effect. (We say 'broil' instead of 'grill' on this side of the pond, so don't be too puzzled!) He prefers cheese dollops and bacon waves to our home shreds and crumbles.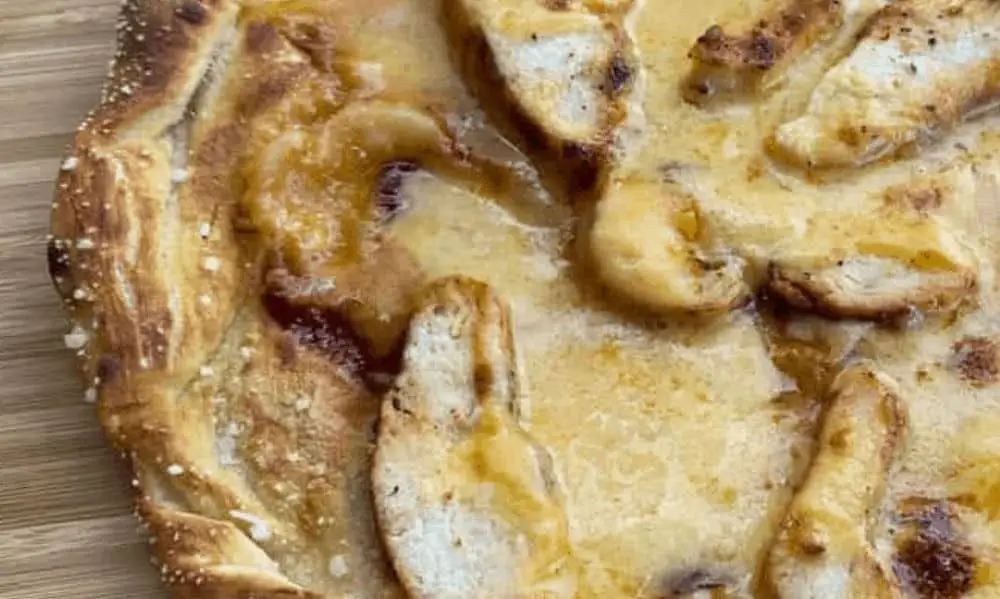 This recipe has cream, beer, chicken, cheese, and pretzels. What else could you ask for? Let the dough sit overnight if you can – it needs at least 8 hours of proofing. Stir the butter, cheese, mustard, cream, and beer in a pan then cool and set it in the fridge for at least two hours. Brush your baking soda solution along your pizza dough edges to form a pretzel crust.
19. DIY Back Yard Pizza Oven
We've seen a DIY pizza oven made of stacked bricks and metal sheets. Now check out this one made of repurposed oil barrels. It needs a lot more skill than the brick one we saw earlier. And you get to use a blowtorch! Luckily the pizza process is less complex than the oven – just make and bake! In this video, they settled on a colorful square pizza with olives.
The secret to pulled pork is to cook it low and slow with lots of smoke. Marinate the pork in brine, leaving it overnight in the fridge. Your spiced brine can have anything you like – brown sugar, molasses, even beer! The next day, pat the pork dry and rub it with a mix of coffee, orange zest, brown sugar, and spices. Bake the pork in the pizza oven for 8 hours.
21. Baked Sandwiches
Italy gave us square pizza (they eat theirs with knives and forks!) and fried pizza (they look le mandazi aka African doughnuts, but with pizza fillings). And now … the joy of sandwiches baked in a pizza oven! This flame-cooked pizza-dough bread is called Puccia and originated in Apulia. Bake the bread in the oven on high flames and stuff with your preferred fillings.
Portioning homemade dough is a bit like cooking pasta. In the sense that some people just 'get it' and the rest of us think it's rocket science. So if you've baked your pizza and have dough leftover, slice it into strips, brush it with seasoned butter, and bake it into flatbread. Beyond garlic, you can spice your butter with thyme, parsley, and other herbs you enjoy.
23. New-York Style Home Pizza
This recipe helps you tweak your homemade pizza to achieve pizzeria-level results. How? More sugar and oil in the dough to brown it at low(er) temperatures (since home ovens don't get as hot as commercial ones). Check if your yeast is still viable. Use bread flour – it's higher in protein. Use cold, low-moisture mozzarella and cold dough. Don't pre-cook the sauce.
You can cook this aptly named slab of meat right on your pizza oven floor. As long as your pizza oven is clean, that is. Or put the meat right on the glowing coal. It's still helpful to use some kind of receptacle for the food's fluids. Alternatively, use a grate that lets the juices drip onto your hot coals. This releases flavored smoke that infuses back into your cut of meat.
25. Chicago-Style Home Pizza
New York-Style pizza has a wide base and a thin crust. Chicago-Style pizza has a thick base and is baked in deeper dishes (rather than pizza stones or pizza steels). And the marinara sauce goes on top of the cheese, rather than sitting on the base. The thick, chewy dough has all-purpose and cornmeal plus tartar. Top with sliced cheese and bake in a cast iron pan.
Lots of seasonal comedy is based on holiday turkey fiascos. Someone forgot to thaw it. Or dropped it frozen in hot oil. Or ordered a turkey too big for the oven. Try making your bird in a pizza oven instead. More space, less fuss, and you'll soon find yourself seeking turkey outside the holidays. Why? Because it tastes so good and cooks so simply in pizza ovens!
27. Homemade Deep Dish Pizza
Here's another pizza oven recipe for thick crust pizza. It's baked in the Chicago stuffed style. Meaning the whole base is stuffed, not just the rim. Make your dough then lay cheese slices directly on the base. Go heavy – at least two layers. Put raw sausage meat over the cheese then top that with marinara sauce. A mild sprinkling of parmesan finishes everything off.
Italians (and the rest of us) have pizza. Franco-Germans have Flammkuchen. It looks a lot like pizza, with its round, crispy base and its shredded bacon toppings. One significant difference – no cheese. Instead, it uses crème fraiche, a sort of sour double cooking cream. This flame cake aka tarte flambee was always cooked in high heat wood-fired ovens.
29. Spatchcock Chicken
Usually, when you're baking or roasting a whole chicken, you stuff and cook it unbroken. With spatchcock chicken, you still use the whole chicken, but you take its spine out so you can coo it flat. This gives you more even results. This version is basic – rub the chicken with thyme, salt, and pepper, then make a gravy from its juices, veggies, and white wine or vermouth.
This dish uses thinly sliced potatoes baked in butter, cream, and stock. Clay baking dishes work best. Arrange your potato slices in layers, dolloping batter between the sheets of potatoes. Put in the cream and stock last, then sprinkle cheese on top. Cover the dish and bake for an hour. Remove the lid (or tin foil cover) and bake for 10 more minutes to brown.
31. Pizza Oven Lamb Chops
The last pizza oven recipe on our list will have you looking sideways at pan-fried lamb chops. You'll never want your mutton any other way! And it's easy enough that it was shot in one take by someone who admits he's 'never tried it before'. Rub the lamb with spices and lay it in a bed of vegetables. Deep pans work best. Leave the lamb in the oven for at least six hours.
What's your favorite pizza recipe and what do you love about it? Tell us in the comments!
31 Homemade Pizza Oven Recipes
Ingredients
Wood-Fired Bread

Bhavna's Homemade Pizza

Barbeque Chicken (With Skin)

Garlic Roasted Potatoes

Neapolitan Pizza

Brick Oven Ratatouille

Home Oven Pizza

Multi-Course Pizza Oven Meal

Jamie Oliver's Wood-Fired Pizza

DIY Back Yard Pizza Oven

Baked Sandwiches

New-York Style Home Pizza

Chicago-Style Home Pizza

Homemade Deep Dish Pizza

Spatchcock Chicken

Pizza Oven Lamb Chops
Directions
Select your favorite recipe.
Organize all the required ingredients.
Prep the recipe in 30 minutes or less!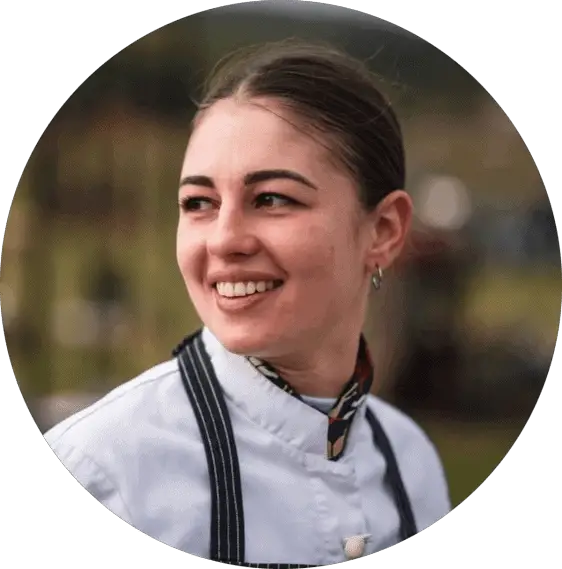 Julie has five years of experience in the restaurant industry, she decided to share her knowledge about her liking and fondness for food and pizza, of course, cooking as her love language. She's very passionate about what she's doing, making all the things she writes regarding pizza recipes, very amazing!