You've likely heard of the adage about the doctors and apples. It's so worn out we don't have to write down the whole saying. Kidding aside, apple pizza recipes are underrated. They need more appreciation, like their cousin – apple pie. It is healthy and refreshing, making it suitable for any time of the day.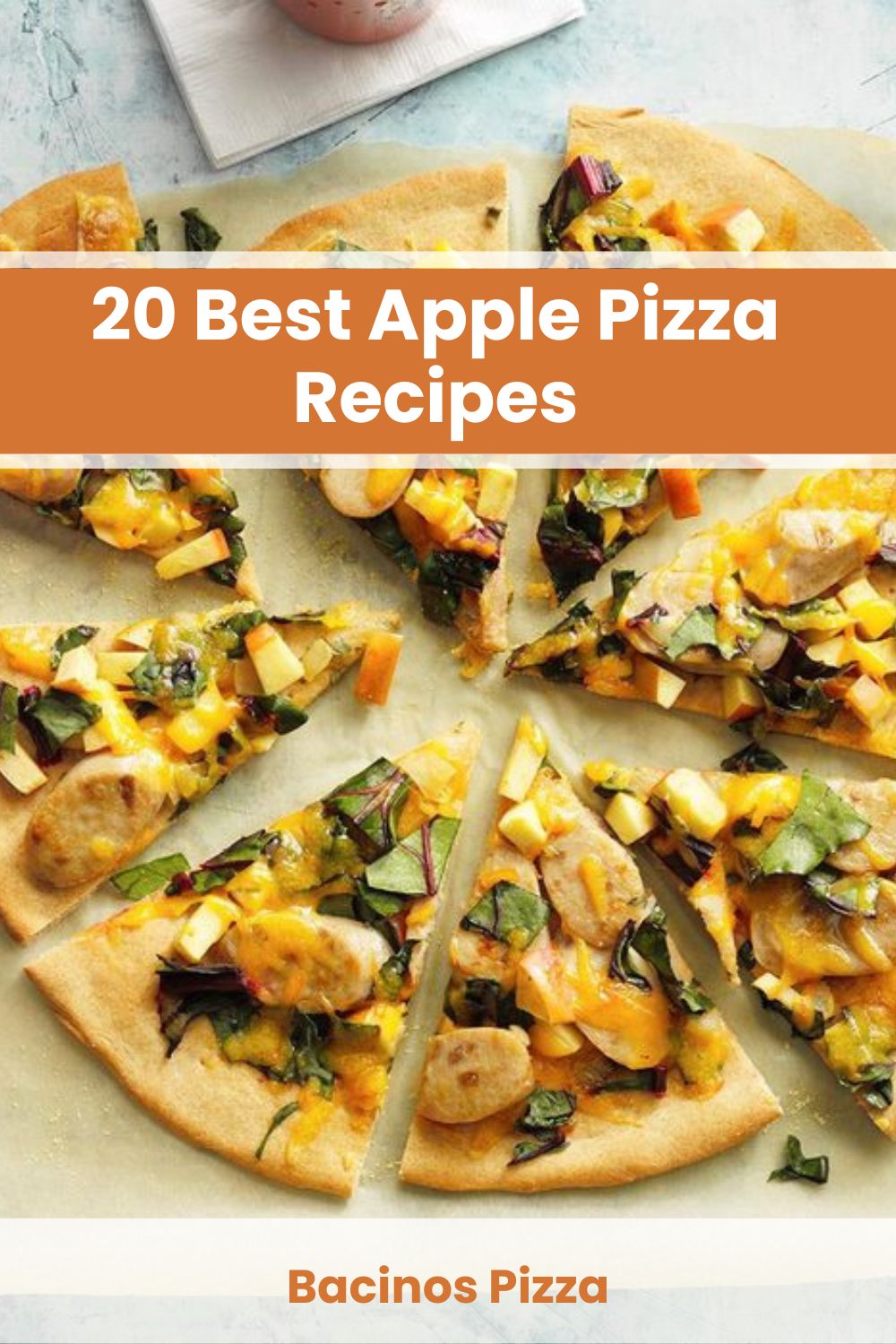 Today, you'll witness the versatility of the well-loved fruit. From a cookie crust base to a BBQ apple pizza, this list has it all in store for you. And if you're a newbie to apple pizza making, expect unique combinations that will take you aback. But we're sure you'll love it once you get a bite of the pizza!
Apple, Honey, and Walnut Pizza
Do you have leftover dough from last night's pizza party? For a change of atmosphere, why not try this dessert pizza? You'll learn a dough-shaping technique at the beginning to achieve a flat and chewy crust. On top, you'll find the marrying flavors of apples, earthy walnuts, and fragrant honey. For the finale, the apple pizza cooks in a blazing Marinara Wood-Fired Oven. Buon Appetito!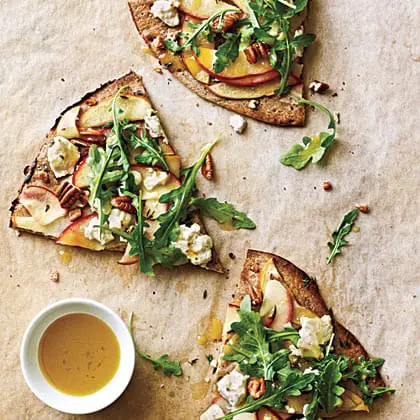 Take the road less traveled with this adventurous apple pizza recipe! Sitting atop a six-grain pizza crust are sliced Fuji apples, goat cheese, toasted pecans, and fresh herbs.
All are melding in a tantalizing flavor blend that is unique yet pleasing to the palate. Aside from baby arugula and goat cheese, you can also try red-leaf lettuce and crumbled feta. Serve this during weeknight for a small-size family.
Ultimate Hot-Honey Smoked Apple Pizza
You know it's the ultimate recipe if Patio Pizza picks apples straight from the farm! Plus, lemon ricotta from scratch. This pizza has four key ingredients: honey-smoked apple, cheddar, crispy bacon, and ricotta. Can you imagine the flavor bomb you'll get in every bite? Here's what to expect: a balanced dish with savory and sweet notes. Try it and feel like a pro after recreating this recipe.
Reading the name alone gives away that it's going to be a sweet, delightful treat. Can you guess the base of this pizza? If sugar cookie dough is your first thought, you're not mistaken! Atop, you'll find layers of cream cheese mixture, Granny Smith apples, and chopped peanuts. Top it with caramel ice cream and serve this after meals or as a quick snack for your kids.
Caramel Apple Crisp Pizza
Are you looking for a delicious, comforting treat to cap off a hearty dinner? This irresistible caramel apple pizza can do the thing! The base incorporates a glob of butter into the flour mixture for a toasty crust. The top has a generous amount of spiced apples, streusel mixture, and caramel drizzle. Serve it with vanilla ice cream on the side for a powerful combo.
Consider this healthy pizza recipe suitable for breakfast, lunch, and even dessert! But be warned, this is not your typical pizza with dough for a base. Instead, you'll find a 5mm slice of apples with peanut butter spread and fresh fruit toppings. It is easy to prepare, and the best thing is no heating is required. So if you want an all-natural pizza (literally), try this unique fix.
Apple Dessert Pizza With Sweet Icing Drizzle
Not everyone has access to fresh apples in the market every day. That's why this easy and quick apple pizza recipe is here to save you from your sudden cravings. With an in-can apple pie filling, you can store it in a pantry and grab it whenever needed. A ready-made pizza also makes this whole prep a breeze. In a nutshell, it is an ideal recipe for beginners.
Have you tried adding beets to pizza? It does sound skeptical, especially to those who find beetroot unpleasant to taste. But this apple pizza recipe begs to differ. The earthy, sweet rosemary, beets, and apples create a harmonious balance against the sharp, bubbly cheddar. This recipe makes a great main dish if you're a vegetarian. Although, you can add bacon for the general guests.
Apple Pear Gorgonzola Pizza with Bacon
Be the life of the party by bringing this homemade pizza on your next family outing. It has a perfect blend of sweet and savory tastes that can allure anyone on the scene. You can expect loads of fresh fruits, thick bacon, and crumbled cheese melding gorgeously on the crust. If you think it ends there, wait until you see the garnish added after baking the pizza.
Do you find making pizza dough intimidating? Try this spelt dough moistened with linseed oil and ricotta cheese. You can toss the ingredients into the food processor for seamless dough mixing. For the toppings, it features sliced apples, fennel, and lightly crisped prosciutto sitting on a tangy sour cream. Serve it on a rustic-themed dinner with a rosé or dry white wine.
Apple Brie and Onion Flatbread Pizza
Are you on the search for a delicious appetizer that is a breeze to make and non-traditional? Try this apple brie with caramelized onion pizza. Crisp apples offer a counterpoint to the creamy brie, providing a play on texture. The caramelized onion also imparts a unique sweetness that balances all the flavors. Pair it with a glass of sparkling wine for an elevated dining experience.
Sourdough, undoubtedly, is one of the most amazing bases for a hearty pizza. Jonathon Schuhrke shares his recipe for homemade sourdough to go with roasted Brussels sprouts, caramelized onion, and diced apples.
This combination makes a great vegetarian pizza, but a sprinkle of bacon is a delicious call. To achieve a leopard spots crust, he bakes it in an Ooni Pizza, providing the same temperature as a brick oven.
Maple Apple Pizza
With an abundant gift of delicious, fresh apples comes a sweet pizza waiting to get assembled. Tony of Average Guy Gourmet shares how to make maple apple pizza in under 25 minutes. It is breaming with Italian blend cheese and blue cheese crumble that melts all around the sliced apples. The garlic and bacon also add savory notes that balance well with the sweet apple and slightly salty cheese.
Fuse a savory sausage with fresh fruits and vegetables in this mouth-watering recipe. With over 10 toppings, you can expect an explosion of flavors dancing in your mouth. The freshness of herbs, the tanginess of cider vinegar, and the oozing cheese combine into this baked goodness. Surprise the whole family for dinner with this tantalizing apple pizza recipe.
Porchetta and Apple Pizza
Are you tired of the usual bacon-apple pizza combo? If you feel like expanding the horizon of food fusion, this apple pizza is a great introduction. Porchetta has a tender and juicy flavor with citrusy and herby notes. It sits on top of a bed of mozzarella and is then drizzled with apple sauce. The sauce cut through the richness of the pork, creating a succulent pizza.
Acorn squash automatically equates to a comforting pie in many households. But have you ventured out with a squash and apple pizza? The squash roast for 35 minutes until caramelized and tender for a fuller flavor. In a pretty pattern, the apples and squash layer the crust before sprinkling with nutty gruyere cheese. And for a refreshing touch, peppery arugula is added.
Apple Pizza with Speck, Potatoes, and Cheese
Most apple pizza recipes treat apples as a topping like a pie. But have you tried incorporating it into the dough mixture? If this sounds new, try this apple pizza dough recipe topped with potatoes, cheese, and Italian speck. Speck is like its cousin prosciutto, although richer in taste and well-marbled. We can say this recipe is an art in an edible form.
Raise your hands if you're up for some sweet pizza dessert! This recipe has caramel drizzle, cream cheese, and fresh sliced apples. It is layered beautifully for an elegant impression. But what makes this the absolute best is the ricotta cheese cookie crust. Do you think this can be the next crowd-pleaser dessert in your home?
BBQ Pulled Pork and Apple Pizza
You may have heard of apples coated in chocolate, but have you tried an apple with BBQ sauce? Go all out on a grilled-themed night out with this apple pizza. It has pulled pork, caramelized onion, cheddar, and Granny Smith apples. We're sure your friends will speculate, but the taste will surprise them!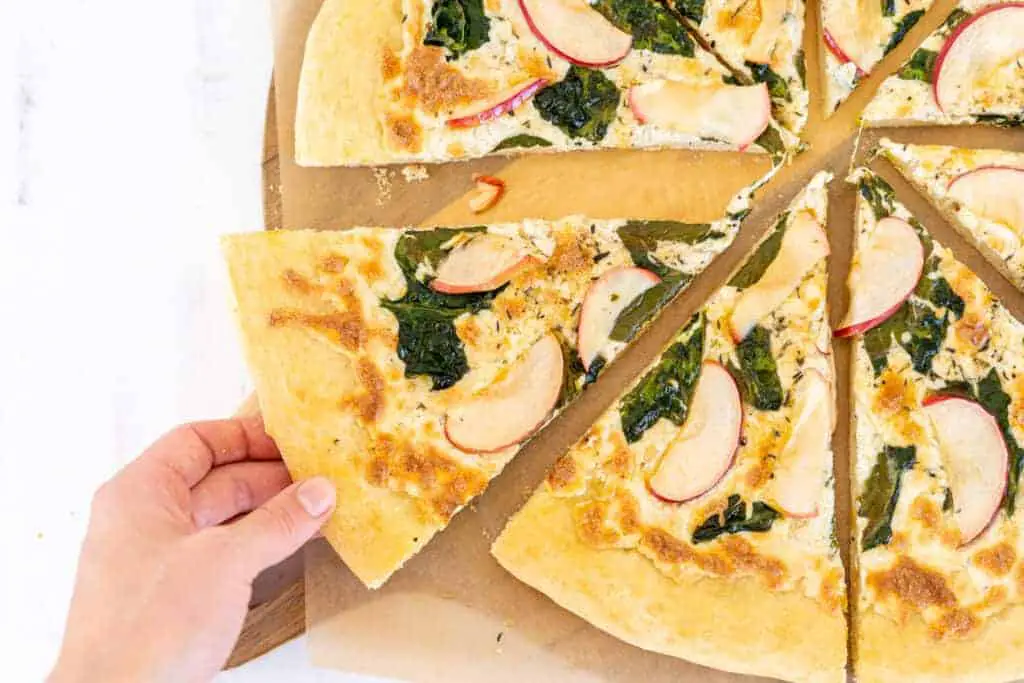 Offer a unique New England flavor on your next dinner by preparing this elevated pizza recipe. The combination of slightly tart and crisp apples with smoked mozzarella is a chef's kiss! You can also sneak in some greens like spinach for added freshness and a pop of color to the plate.
Take Away
Which apple pizza recipe sparked your interest? We'd love to know your pick!
While many got used to the apple streusel, we ensure to offer outside-the-box flavors. The list carries palates ranging from smoky to fruity sweet, so you have more options to choose from. Now, it's up to you to decide whether to stick with the classic or go all out on the recipes.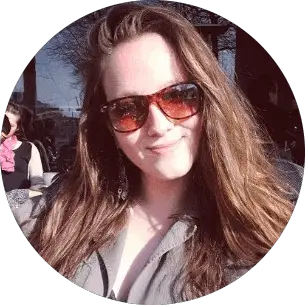 Barbara is an enthusiastic food-exploring person that goes through different culinary experiences. She got inspired by creating a pizza blog post after she tasted one of the best-selling pizzas in Toledo.