When someone says 'Pizza', we hear 'Heavenly delicious', 'Mouthwatering', 'Awesome', 'Cheesy', and all other synonyms for the word 'Delicious' available. What a coincidence! You do too?
For us, pizza fanatics, some so-so pizzerias will definitely not satisfy our cravings. It will further worsen the yearning for a good slice.
So, if you're in Connecticut and looking for a fantastic pizzeria, you're at the right place! Let's dive deep and find out 15 best pizzerias in Connecticut!
Drop by Domenik & Pia Downtown Pizzeria to take their delish dishes home. Currently, they're offering takeaway service only. And, the hours are quite limited – 10:30 AM to 7 PM on Thursdays and Fridays and 6:30 for the rest of the days. They're closed on Sundays and Mondays.
This pizzeria, loved by many Connecticuters, has an old-school New York pizzeria vibe. Both price-wise and food-wise, Domenick's is hands down one of the best pizzerias in the area.
Once you experience their cheesy slices that melt in your mouth, you'll undoubtedly be craving more. It's important to remember that this establishment only accepts cash. However, an ATM is conveniently located on the premises.
Address: 3 Brook St, Waterbury, CT 06702, United States
Contact: +1 203-753-3401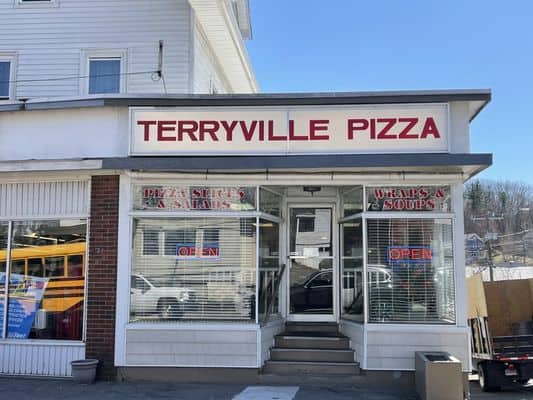 Terryville Pizza has hooked its customers on 5-star reviews. That's the perks of having kind and attentive employees, a friendly atmosphere, and, of course, serving mind-blowing foods!
However, if you're looking forward to having your pie delivered, you might want to keep looking. Terryville Pizza doesn't deliver. But they do offer to-go, in case you don't want to dine-in.
Besides Terryville's pizzas, its meatball grinders have got rave reviews. And if you're gluten-free, you should know that this pizzeria is often commended for its gluten-free Pizza. Make sure you check it out!
Address: 211 Main St, Terryville, CT 06786, United States
Contact: +1 860-582-1468
If you're not into big fancy chain pizzerias and are looking for a small local restaurant to experience Connecticut's authentic food culture and service, visit Giulia's Pizza Restaurant.
Giulia's specializes in Italian cuisines and uses authentic homemade magical recipes to give the freshest, most delicious, and high-quality food experience to their customers.
The chef at Giulia's, Chef Albion, has been creating traditional Italian cuisines for more than 25 years. No wonder why the food at this pizzeria is such finger-licking good!
The owner and staff at Giulia's are amazing and are always quick to greet their customers with a warm smile. We guarantee you a wonderful experience at this pizzeria.
Address: 199 Shunpike Rd, Cromwell, CT 06416, United States
Contact: +1 860-788-2200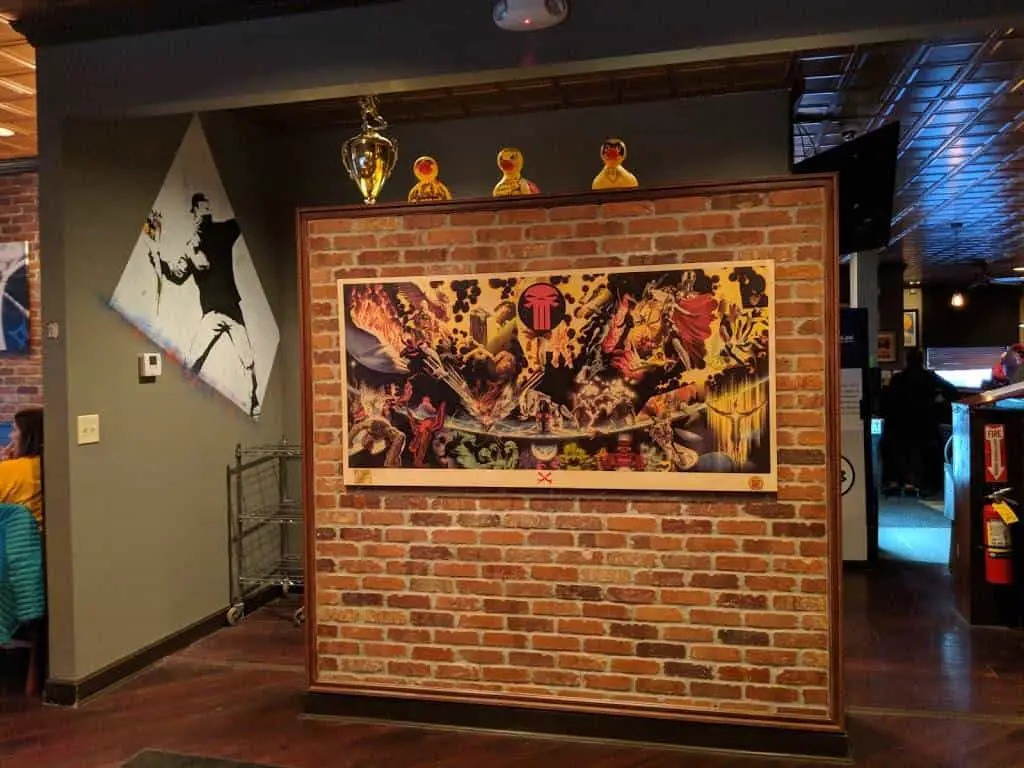 This homestyle pizzeria located in Riverdale Farm Shopping features burgers, paninis, salads, and thin-crust pies. They remain open until 8 at night except for Fridays and Saturdays, when they provide their service until 9 PM.
At Little City's, thin crispy crusts are topped with fresh cheeses and ample toppings, baked to golden perfection, and served piping hot to their customers.
We cannot begin to explain how delicious this pizzeria serves its pies. Even its basic Margharita pizza with roasted tomatoes, fresh mozzarella, and fresh basil is loved by many.
The only downside is that Little City does not carry gluten-free crusts. Worry not! You can find plenty of restaurants that offer gluten-free options in the area.
Address: 152 Simsbury Rd, Avon, CT 06001, United States
Contact: +1 860-658-4001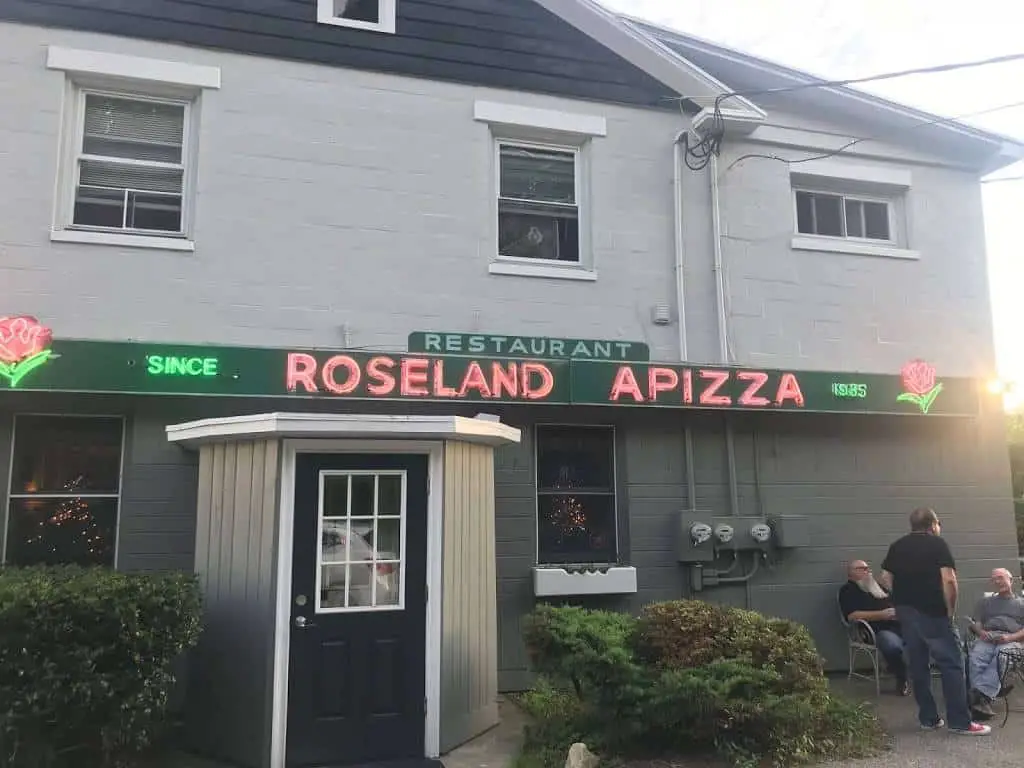 Looking for a pizzeria that delivers a pie? If yes, you might want to skip on this pizzeria. Roseland Apizza only has dine-in and takeaway options.
New Haven-style pizza, locally called Apizza, is a type of thin-crust, coal-fired Neapolitan Pizza. So, if you have 'Try Connecticut Apizza' on your bucket list, Roseland Apizza is one of the best places to check it off! Roseland's Seafood pizza is the talk of the town!
This pizzeria has been a staple for Apizzas since 1935 and also features other Italian delicacies on their menu. Lobster ravioli at Roseland's is mind-blowingly good. Don't miss out on them!
Address: 350 Hawthorne Ave, Derby, CT 06418, United States
Contact: +1 203-735-0494
Peter's Pizza serves one of the best pies in Waterbury, Connecticut. They offer pizza by the slice for pickup only, whereas you can enjoy their pies in their good-vibe ambiance or choose takeaway or delivery services.
The owner, Peter, and all his staff are amazing and willing to extra mile for their customers.  The latest this pizzeria remains open is until 9 PM, which is on Fridays and Saturdays. The rest of the days, the store closes by 7.
Peter's also offers a good selection of appetizers, sandwiches, wraps, calzones, and burgers. However, you won't find any vegan or gluten-free options in this pizzeria.
Address: 558 Chase Ave, Waterbury, CT 06704, United States
Contact: +1 203-527-6150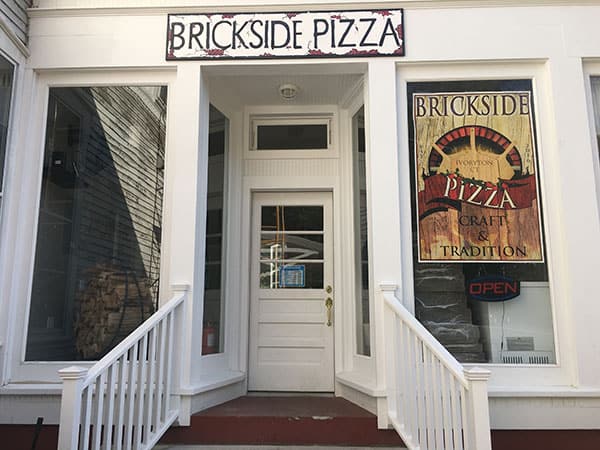 If you're craving a wood-fired pizza in the Nutmeg state, visit Brickside Pizza at Ivoryton. This pizzeria respects the quality of craft and tradition. So, you can rest assured that you'll be served dishes made with the finest ingredients and magical recipes at Brickside.
They are open from Wed-Sun from 12 to 9. Though there are some tables and benches available, Brickside is not a typical sit-down pizzeria. However, they offer fantastic takeaway and delivery services.
The pricing is decent, the staffs are friendly, and the food is amazing. What else could anybody ask for?
Address: 104 Main St Unit C, Ivoryton, CT 06442, United States
Contact: +1 860-767-2555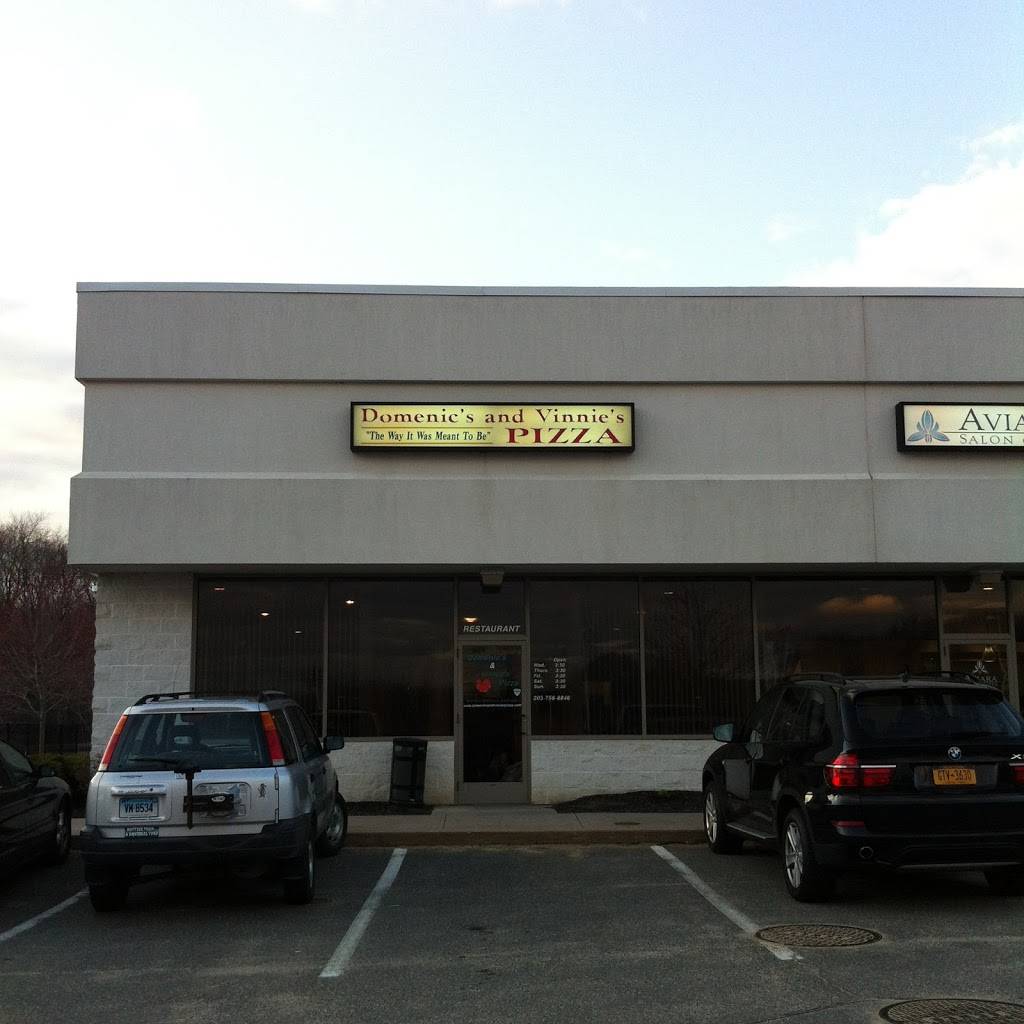 Domenic's & Vinnie's believe in doing what they are best at. That's the reason why they serve only pizzas at their pizzeria. You can also expect a few salads, and, of course, beers, as we all know they accompany pizzas greatly, don't they?
First opened at Waterbury location in 1949, Domenic's & Vinnie's has today expanded their pizzeria to two more locations; in Middlebury and in Southington. Their pizzas have been voted the Best Pizza in the Greater Waterbury area multiple times.
If you want some pizza suggestions, some of their most loved specialties pizzas are Clams Casino (cheese, clams, bacon, onions and peppers), Mashed Potato (cheese, mashed potatoes, bacon, garlic, and chives), and Buffalo Chicken (cheese and chicken on a spicy buffalo sauce).
Address: 1625 Straits Turnpike, Middlebury, CT 06762, United States

Contact: +1 203-758-8846

Address: 868 Meriden-Waterbury Turnpike, Southington, CT 06489, United States

Contaact: +1 860-621-9846

Address: 505 Wolcott St, Waterbury, CT 06705, United States

Contact: +1 203-575-4846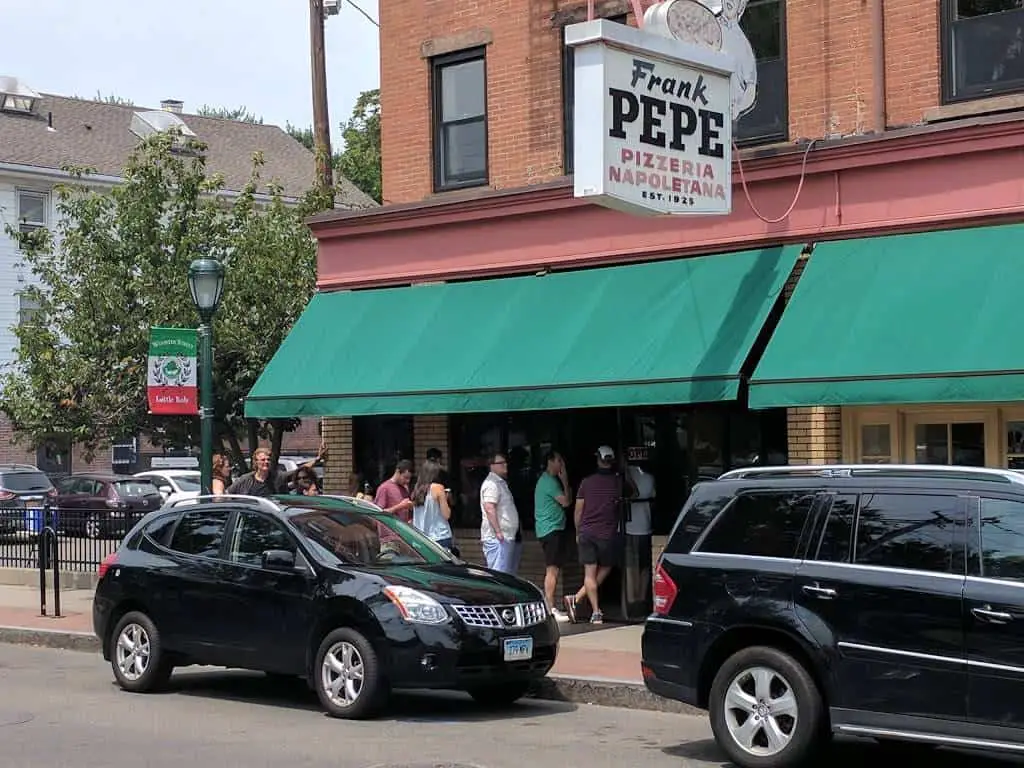 Did you know that The Daily Meal has voted Frank Pepe Pizzeria Napoletana as the #1 Best Pizza in the country? This reputed pizza chain has been serving coal-fired pizzas since 1925 and has expanded to eleven locations throughout the Northeast.
You can find their storefronts at seven locations in Connecticut, all of which serve fantastic pizzas. But the oldest one where Frank Pepe's story started is the one located in Wooster Street, New Haven.
We cannot begin to explain the beauty of a coal-fired pizza, the perfectly charred chewy crust, and the aroma that no other oven can replicate. You really have to try it yourself. Frank Pepe's cherished Tomato pie is clearly the crowd favorite.
And did you know that New-haven style pizza, Apizza, was originated at Frank Pepe's? Make sure you try it out!
Address: 157 Wooster St, New Haven, CT 06511, United States
Contact: +1 203-865-5762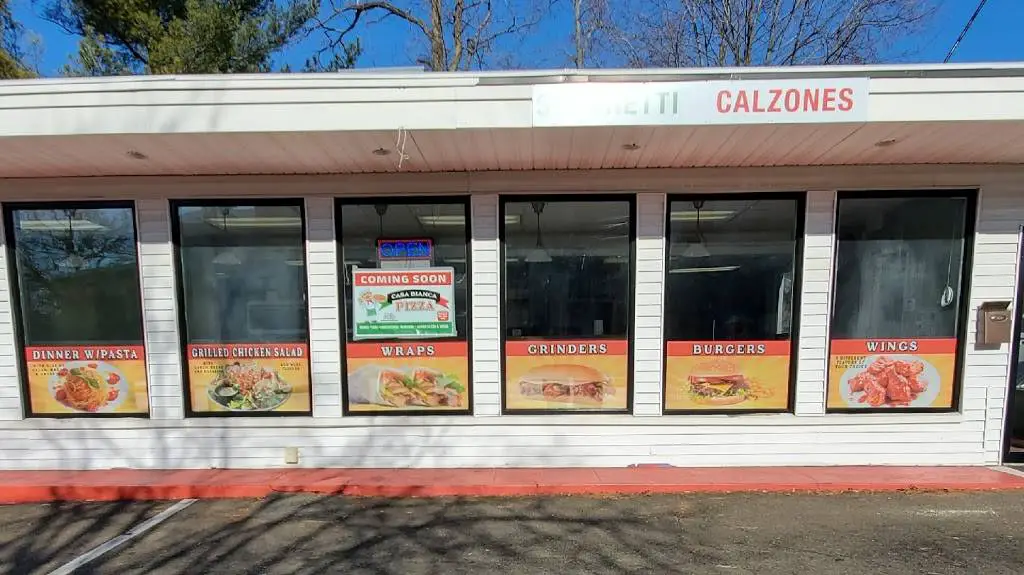 Casa Bianca is Connecticut's one of the most cherished Italian pizza chain. Casa Bianca has been feeding and supporting the community for 20 glorious years and counting.
They provide 50% off for students at Yale, SCSU, UNH, and Albertus and 10% for senior citizens, churches, and veterans. You can visit them at their New Haven, West Haven, or Ansonia location.
Delicious pies, fast service, and friendly staff – what more could you ask for from a local pizzeria?
Address: 185 Derby Ave, New Haven, CT 06511, United States

Contact: +1 203-691-7278

Address: 217 Campbell Ave, West Haven, CT 06516, United States

Contact: +1 203-931-0666

Address:  669 Main St, Ansonia, CT 06401, United States

Contact: +1 203-516-5784
The story of Modern Apizza began many decades ago. Born to Italian parents who immigrated to America from Naples, Italy, Anotonio 'Tolli' Tony opened this pizzeria in 1934. Today, they bake their Connecticut famous thin-crust pizzas in oil-fueled brick fire ovens.
If you love New Haven-style pizzas, no doubt, you'll love this place. If you've never eaten one, it's about time you try a heavenly slice of an Apizza.
Drop by at Modern Apizza for a quick slice or bring the goodness home (Dine-in and curbside pickup services only; no delivery). Their Hot Cherry Pepper apizza is off the charts! We highly recommend it.
Address: 874 State St, New Haven, CT 06511, United States
Contact: +1 203-776-5306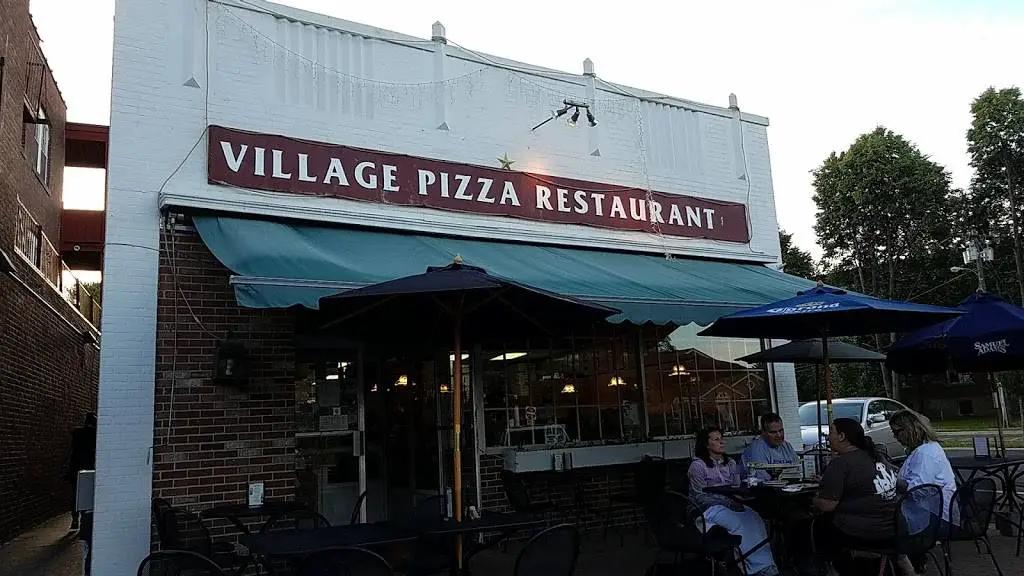 Village Pizzeria & Family Restaurant has been in the business for over 30 years. No doubt they've mastered the art of making grinders, pizzas, calzones, Greek dishes, and subs!
Village Pizzeria was opened in 1983 as a traditional Greek restaurant. More famous than their pizzas are the owners – Art and John; they really make everyone feel loved and welcomed in their pizzeria. This place also has gluten-free menu options available.
Remember that there are many pizzerias with 'Village' in the name in Connecticut. So, make sure you pick the right one.
Address: 233 Main St, Wethersfield, CT 06109, United States
Contact: +1 860-563-1513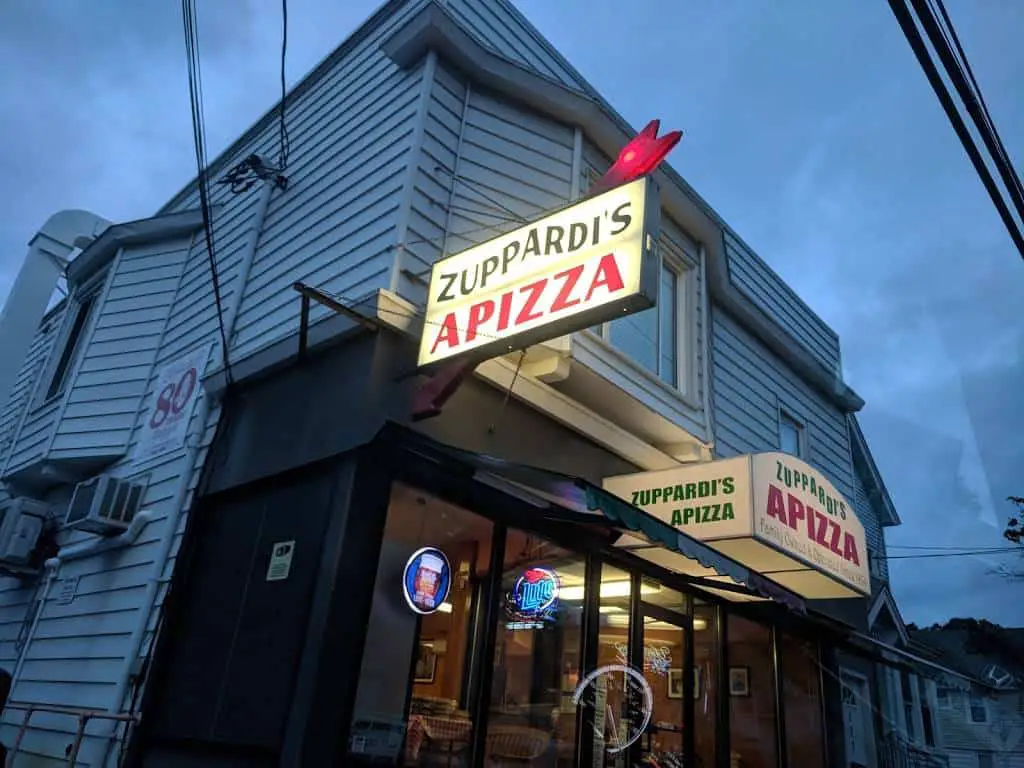 Zuppardi's Apizza is a family-run pizzeria, and Union Avenue, West Haven, has been its home since 1934. Honoring the family legacy, the children and grandchildren of the founders still believe in serving their customer with the best quality New Haven-style pies in the state.
Clam pies at Zuppardi's are seriously amazing! This white pizza is prepared with shucked-to-order littleneck clams and baked on the fresh dough with a mixture of garlic and spices.
When in West Haven, you should definitely stop by Zuppardi's Apizza for your lunch/dinner. You'll not regret it!
Address: 179 Union Ave, West Haven, CT 06516, United States
Contact: +1 203-934-1949
When it comes to pizzas, you cannot go wrong at E&D Pizza Company! Though this restaurant is fairly new, opened in 2014, it has quickly been able to become one of the local favorites.
E&D's pizza dough made using the 'Old World 48 hour cold rise' method results in spot-on thin crispy crusts. The pizzas are made using only the freshest premium ingredients available.
If you ever visit Connecticut and skip on E&D's award-winning authentic Italian pies, saying 'you'll regret it' would be an understatement! In addition to pizzas, they serve some pretty great grinders; the crowd favorite is Chicken Parm. And, try their Garlic knots – it's a must!
Address: 200 W Main St, Avon, CT 06001, United States
Contact: +1 860-255-7360
This international chain pizzeria has crossed countries and even continents to serve you the best quality pizzas. Vegan or omnivore, Sally's Apizza caters to all taste preferences! They have plenty of vegan and gluten-free starters, pizzas, and even desserts for you to choose from.
In Connecticut, find them in their New Haven, Stamford and Fairfield location. They're, without a doubt, one of the best pizzerias in these areas.
Address: 237 Wooster St, New Haven, CT 06511,  Contact: +1 203-624-5271
66 Summer St, Stamford, CT 06901, Contact: +1 203-599-0066
665 Commerce Dr Suite D, Fairfield, CT 06825, Contact: +1 203-635-5344
Summary
Without a doubt, pizza has carved out a special place in all of our hearts. Their gooey, cheesy, crispy, and cheesy slices deserve all the love and hype they get.
And you, on the other hand, deserve to enjoy the best slice available in the area. So, visit any of these 15 pizzerias if you're in Connecticut in order to satisfy your pizza craving. These places will definitely not disappoint you!
So, what are you waiting for? Go and relish the best pies in the Nutmeg state!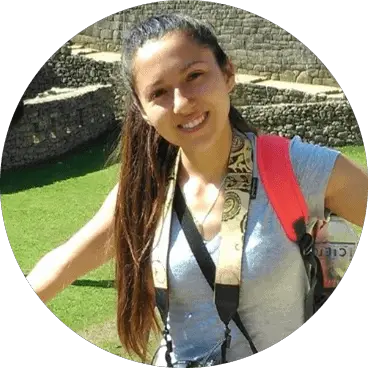 Kathryn's love for pizza started when she was still young. When she was young, she's been a picky eater–that's what her Mom used to say. The only food that she enjoyed and loved was pizza–until now! Her love for pizza turned into a passion!