Travel as far away from major pizza cities as you can and enjoy fancy seafood and sushi in the islands of Florida. But for how long? Your tastebuds will not let you forget that crispy, chewy, cheesy, and saucy bite of a pizza!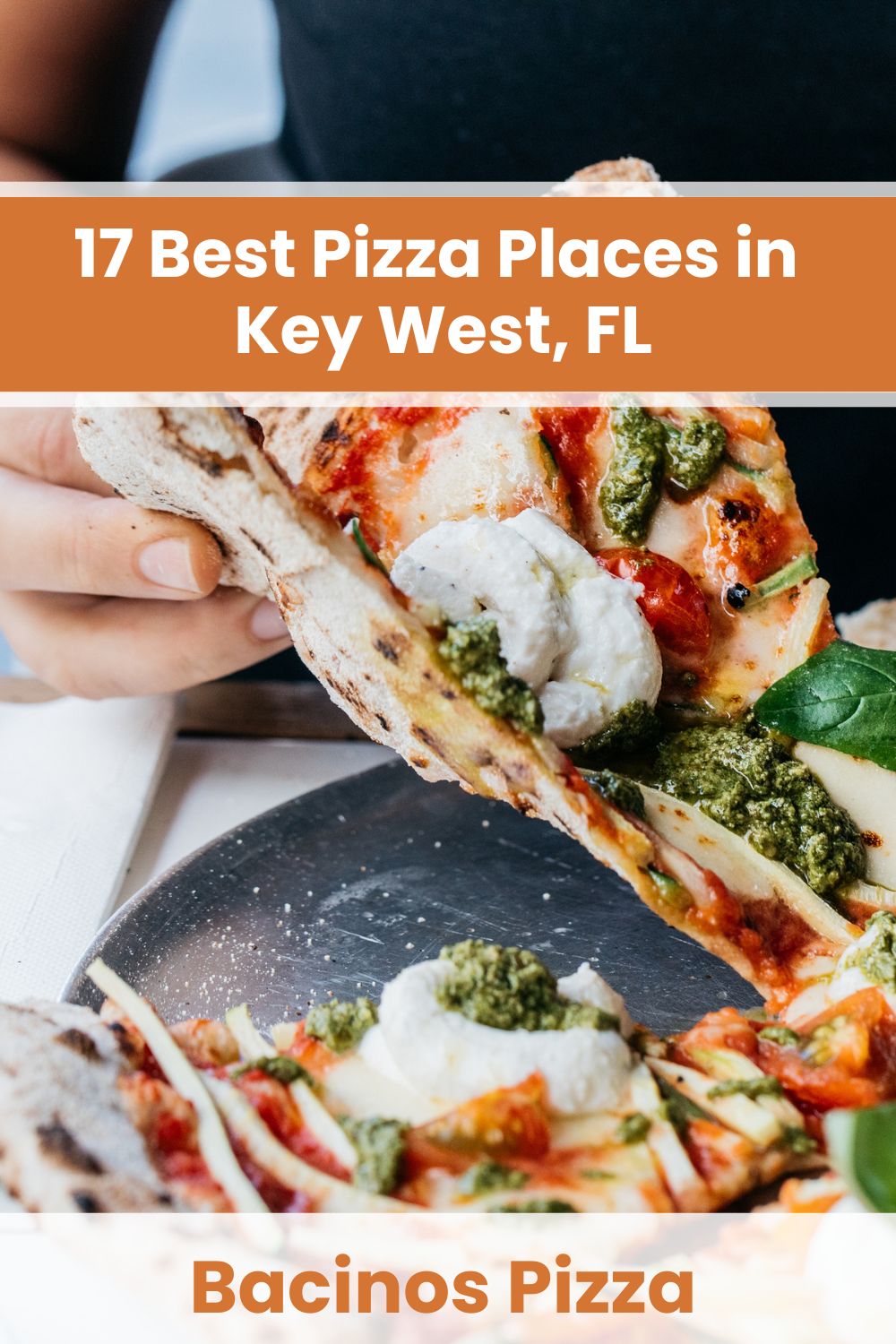 To your rescue, here's a list of 17 pizzerias and restaurants in Key West where you'll get to relish the world-class deliciousness of pizzas. So, if you've had enough seafood in Key West, let's dive deep and find the best pizza place for you!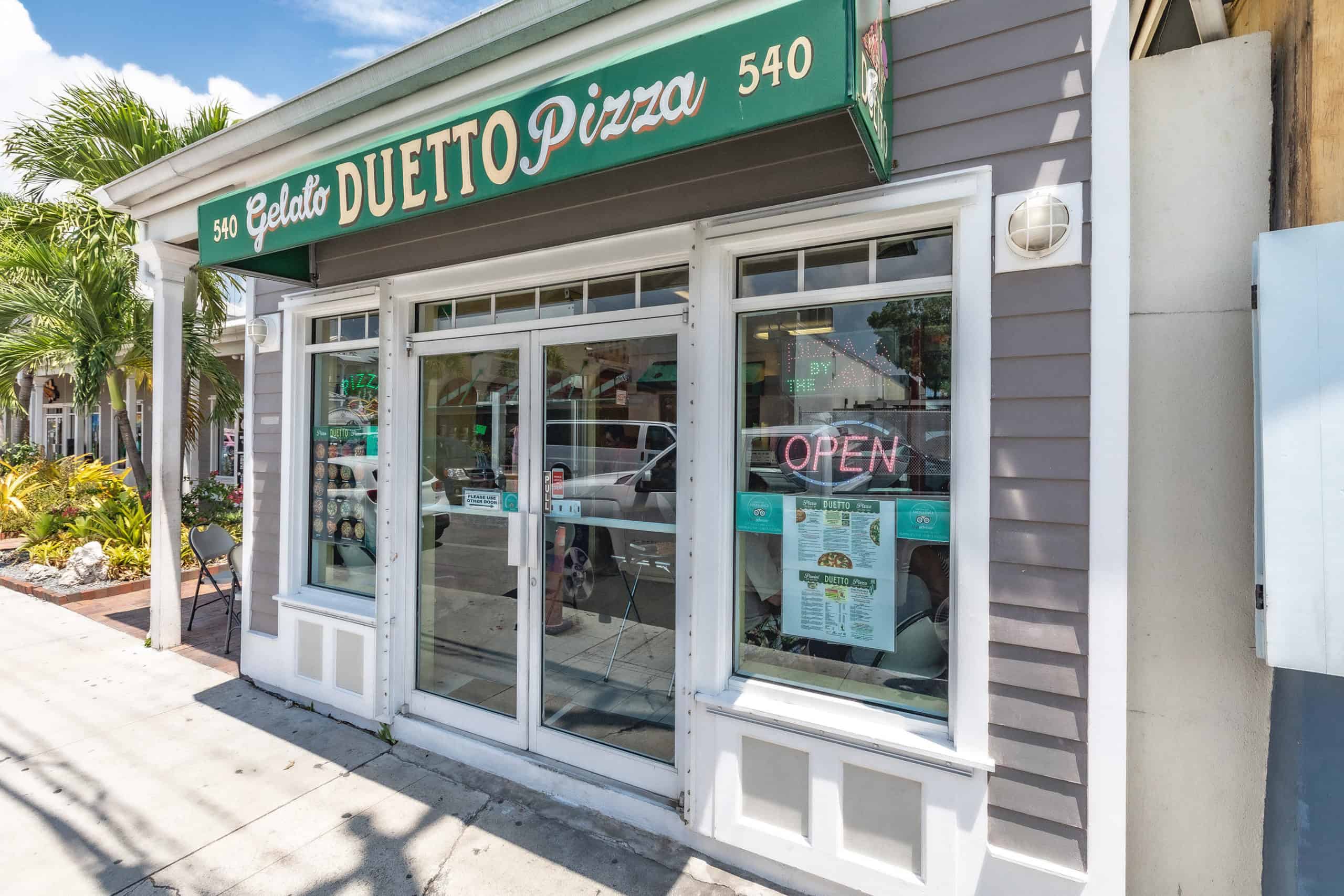 Voted as TripAdvisor's top 10 best pizzerias in America, Duetto Pizza & Gelato offers a variety of fresh and innovative salads, pizzas, and plenty of other Italian delicacies. All their pizzas are Italian style, i.e., 16-inch pies with 6 slices.
Made daily with fresh milk and ingredients, their Italian gelato with many flavors to choose from is also one of the highlights of this pizzeria.
Besides their pizzas, the welcoming and cozy atmosphere is also one of the reasons why customers find themselves being gravitated to this pizzeria again and again. The service is fantastic as well!
Duetto Pizza & Gelato is undoubtedly one of the best pizzerias on the island, if not the best. If you're craving a slice, you don't need to think twice before entering this pizzeria. Go for it! You'll have one of the best pizza experiences ever!
Address: 540 Greene St (Ann St.), Key West, FL, United States
Contact: +1 305-848-4981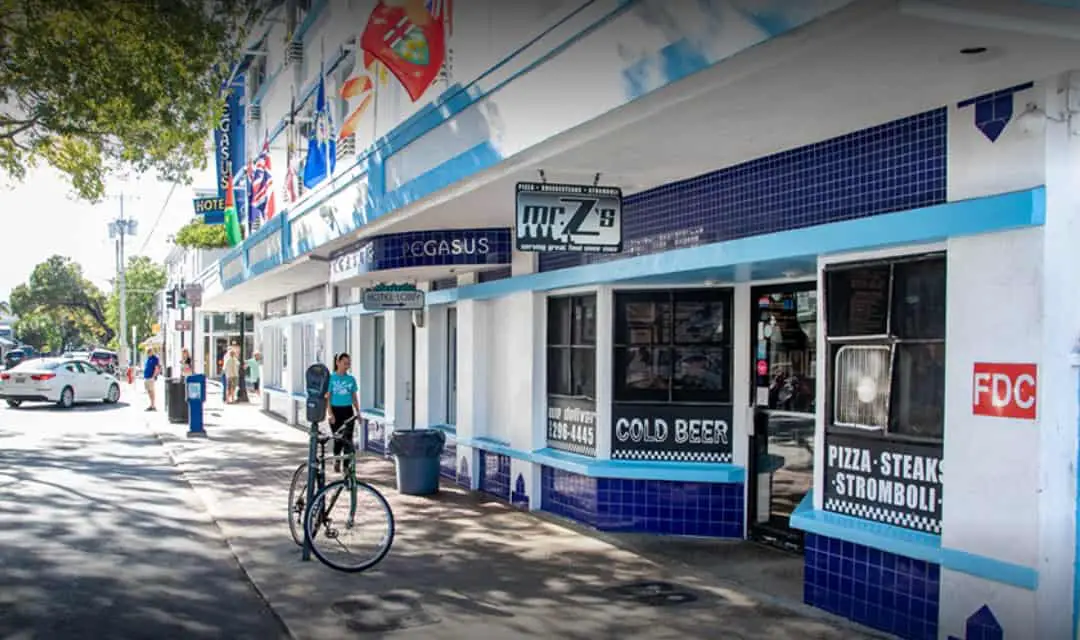 A short warning – Mr. Z's Old Town's cheesesteaks will obsess you! Don't say we didn't warn you! And the pizzas, they're fantastic too! Despite being busy, the servers and staff are polite and courteous.
It is visible from their food that they put all their care and passion into the recipes they prepare. If you're not feeling pizza or cheesesteaks, try ordering their sandwiches and cheese fries. We're sure they'll put a smile on your face.
Mr. Z's Old Town is open even late at night. However, they accept cash only. So, make sure to hit the A.T.M. before you go on to enjoy the delicacies.
Address: 501 Southard St (at Duval St.), Key West, FL, United States
Contact: +1 305-296-4445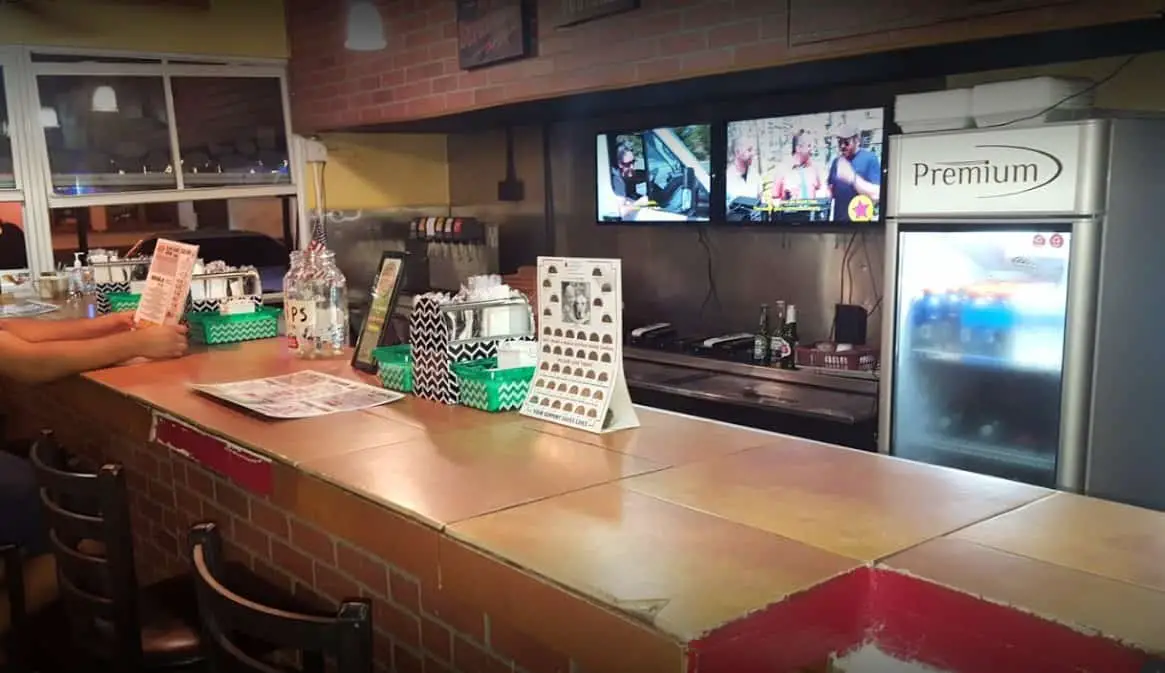 Wing Masters is famous for its wings, pizzas, cheesesteaks, fries, well, in short, everything! This Key West's hidden gem is a little out of the way but absolutely worth the walk. The pricing is also honest for one of the best wings in the town, if not the best!
Wing Masters' pizzas get lost in the conversation between wings and Philly cheesesteaks. But their pizzas are equally delicious.
You can get the smallest one for just $13.90 and with fantastic flavor too such as pepperoni, jalapeno, and cheese.  The pizza and wings combo will for sure make you come back for more!
Address: 934 Truman Ave, Key West, FL 33040, United States
Contact: +1 305-293-0750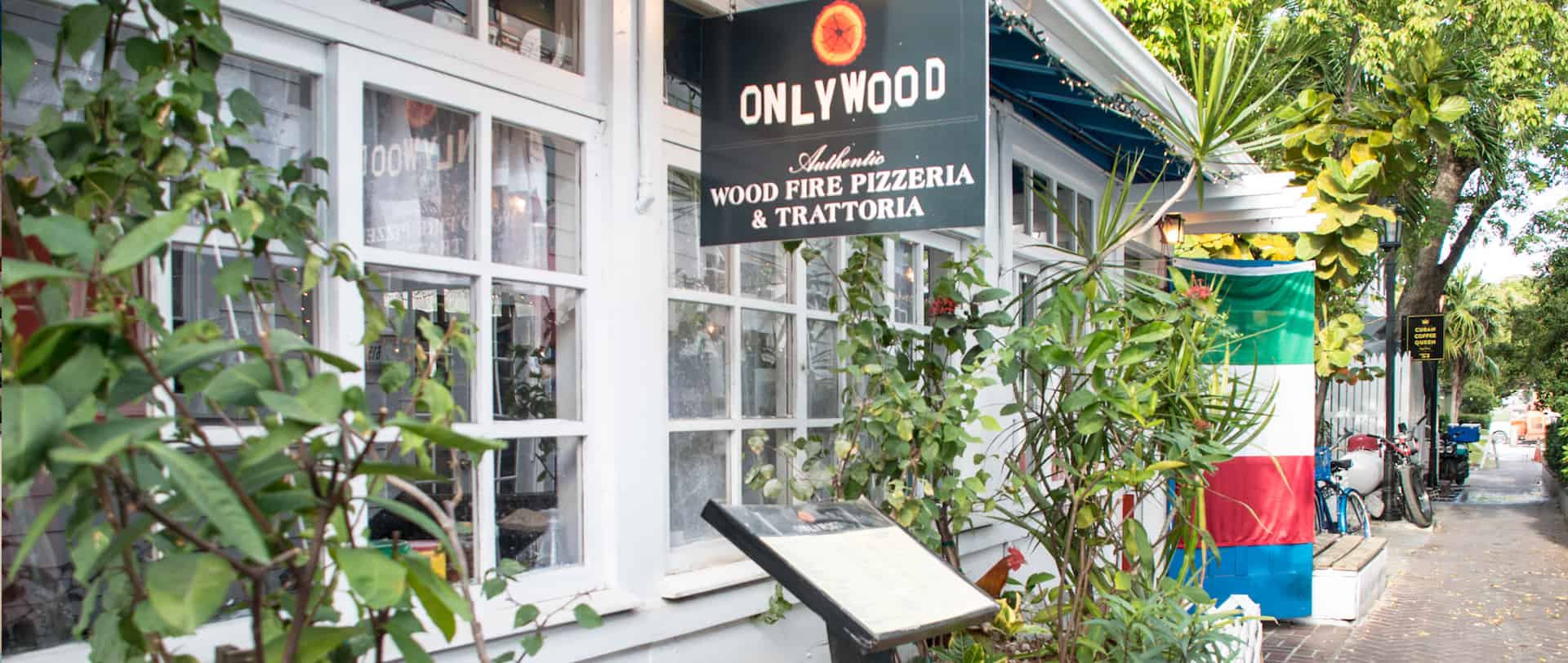 If you love pizzas and wines, Onlywood Pizzeria Trattoria is a no-brainer for you! Relish authentic wood-fired thin-crust Italian pizza at this pizzeria. Onlywood uses homemade mozzarella made using an ancient recipe in their pizzas, and they have a 4-year old starter for their dough.
Their brick oven is 100% made from lavic materials coming from the Vesuvius in Napoli. No wonder why their Neapolitan pizzas are loved by so many on the island.
Besides pizzas, they also make fantastic pasta and lasagnas. And how could they forget to cook the fresh local seafood? If you're in Key West and you don't visit this pizzeria, saying you'd be missing out is an understatement!
Address: 613 1/2 Rear Duvall, Key West, FL 33040, United States
Contact: +1 305-735-4412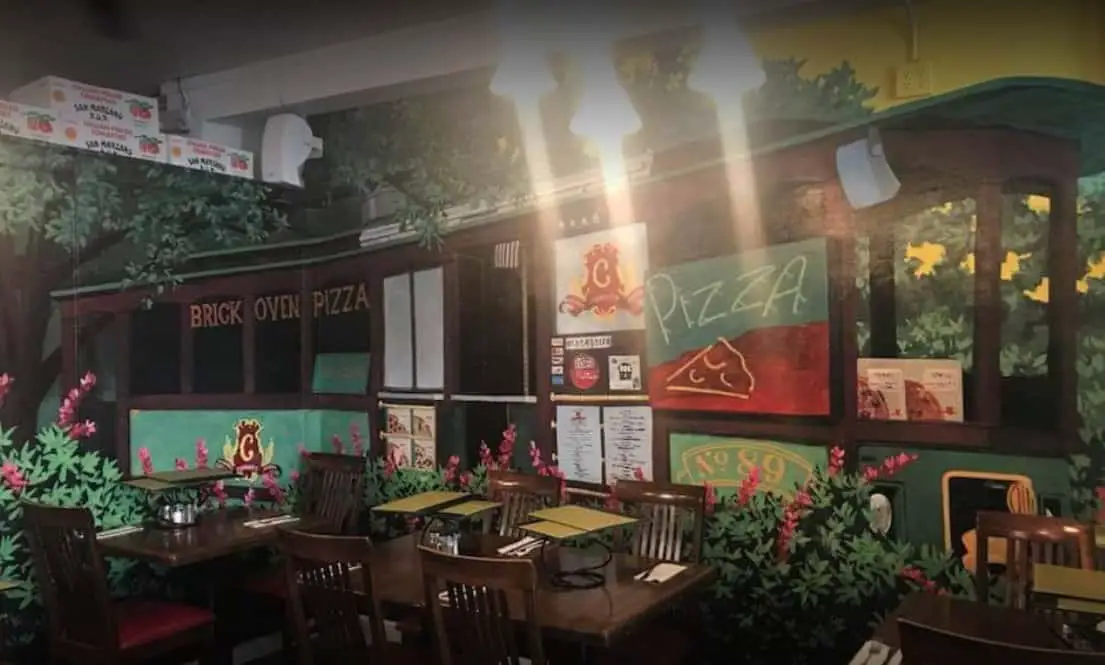 When a pizzeria knows how to make a basic cheese pizza iconic, there's no doubt rest of their recipes are fantastic as well. At Clemente's, it's given that the food and the service won't disappoint you.
The pizza crusts are thin, crispy and wood-fired; just the right chewiness and just the right crispiness! If you're not sure what to order, go for their honey bacon pizza.
Clemente's Trolley Pizzeria is also often praised for its light and crispy Sicilian pizzas. The varieties of salads and desserts they offer are truly impressive.
Address: 516 Fleming St, Key West, FL 33040, United States
Contact: +1 305-900-7035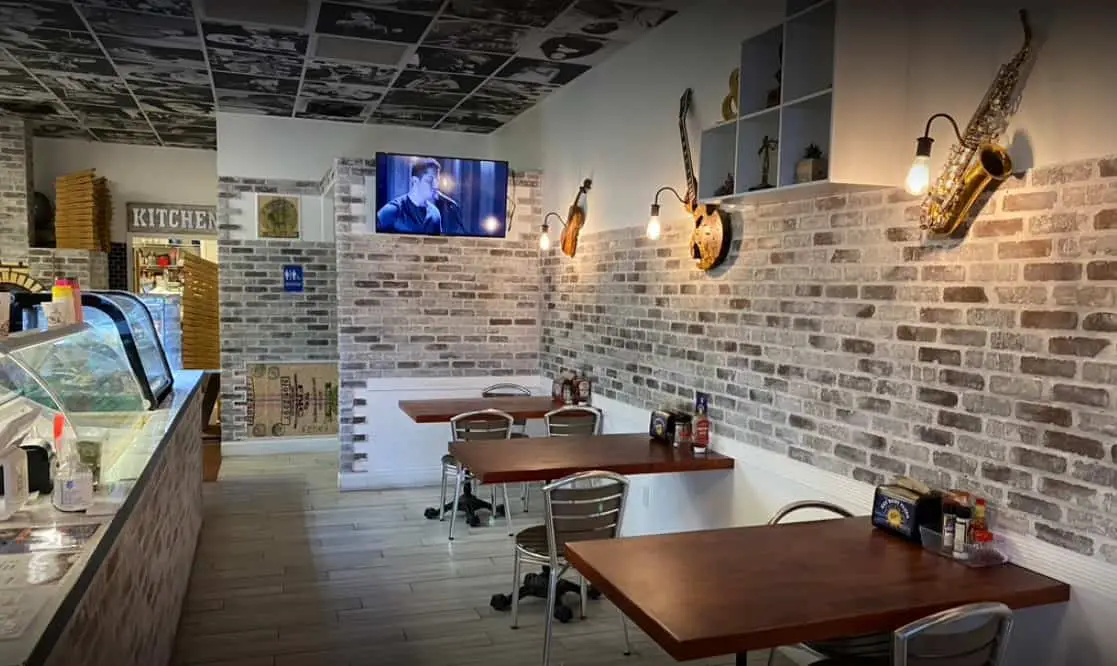 Key Best is a casual hangout café, best known for its pizzas, coffee, and, of course, music-themed décor.
Fancy island seafood baked atop a crispy pizza base, Key Best's seafood pizza, is truly where Key West's local favorite and your comfort food come together. So, if you ever go to Key Best, make sure you won't miss out on their seafood pizza.
Besides pizza, Key Best is also famous for its coffee and the friendly atmosphere of this café. The service is also phenomenal. And, how could we forget about Key Best's gelatos? They serve one of the best gelatos on the island!
Address: 1104 Key Plaza, Key West, FL 33040-4076, United States
Contact: +1 305-900-9000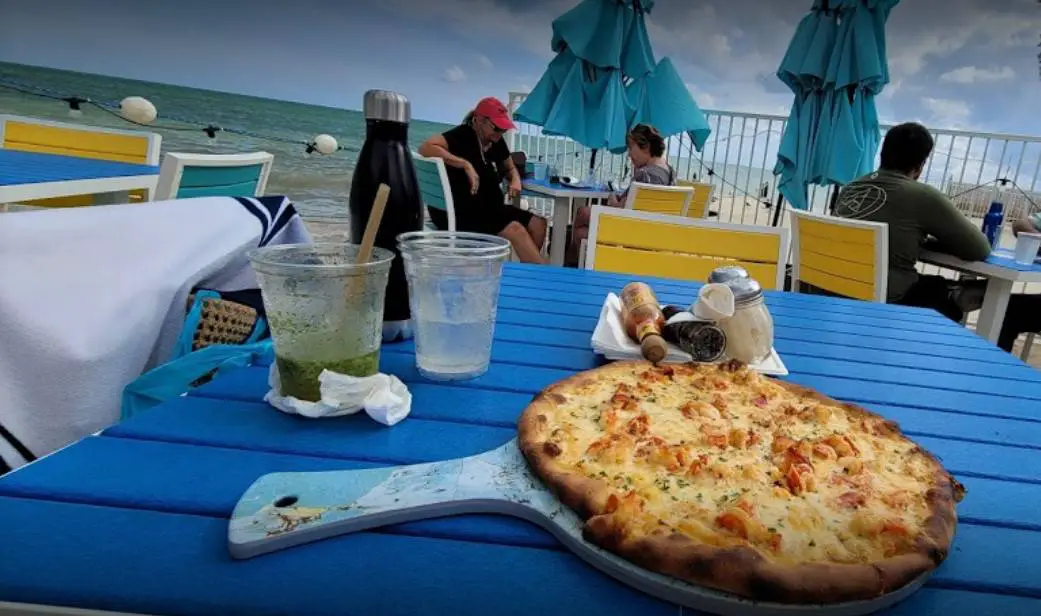 First of all, let us tell you that the view from this café is exceptional! The location is touristy, and you'll get to relish your dish with spectacular ocean views right in front of you.
Secondly, the food at Seaside Café at the Mansion is freshly prepared and will not disappoint you.
The most famous of all is their lobster pizza. If you love lobster and if you love pizza, this lobster pizza at this cafe is a no-brainer. Besides their pizzas, their lobster biscuit and coconut shrimp are equally delicious.
What's more, if you get there right on time, you can get to enjoy the mesmerizing sunset view from your table. The service is amazing, and the staff is welcoming. There's nothing not to like about this restaurant!
Address: 1400 Duval St, Key West, FL 33040, United States
Contact: +1 305-340-8167
The Café has mostly vegetarian items on its menu. For vegan and gluten-free options, just notify the staff, and you're good to go! This café is famous for its vegan pizza. Many vouch that it tastes just like the real deal!
So, if you're a vegan and confused about where to have a pizza in Key West, The Café is one of the best options for you. Besides their vegan pizza, their watermelon sangria is also loved by many. If not watermelon, order any of their sangrias. We're sure you won't be disappointed.
Address: 509 Southard St #6835, Key West, FL 33040, United States
Contact: +1 305-296-5515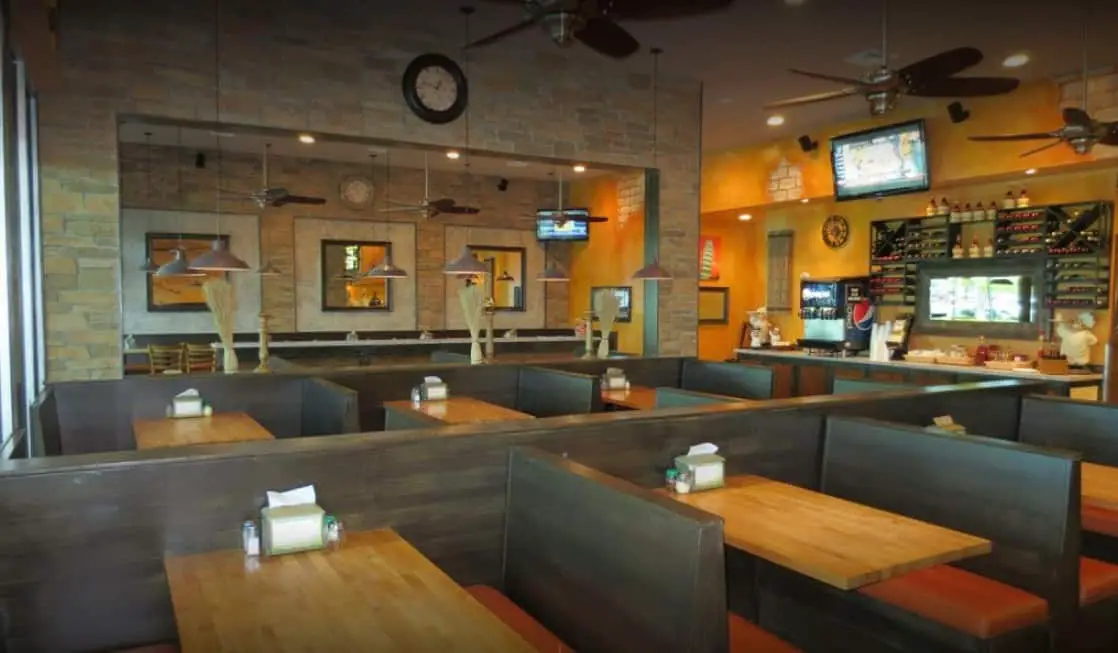 Though not as famous as its fellow pizzeria on the island, Big John's pizzas are no less! This restaurant often gets commended for its fast delivery service and reasonable pricing. Besides their impeccable New York-style pizzas, Big John's garlic rolls are to die for!
If you love full-flavored pizza, try Big John's Buffalo Chicken pizza. You can also find vegan pizza options in this restaurant, and they taste equally good. Likewise, this place is also great for salads, always fresh, and a proper amount of dressings!
Address: 1103 Key Plaza Key West, FL 33040, United States
Contact: +1 305-293-9576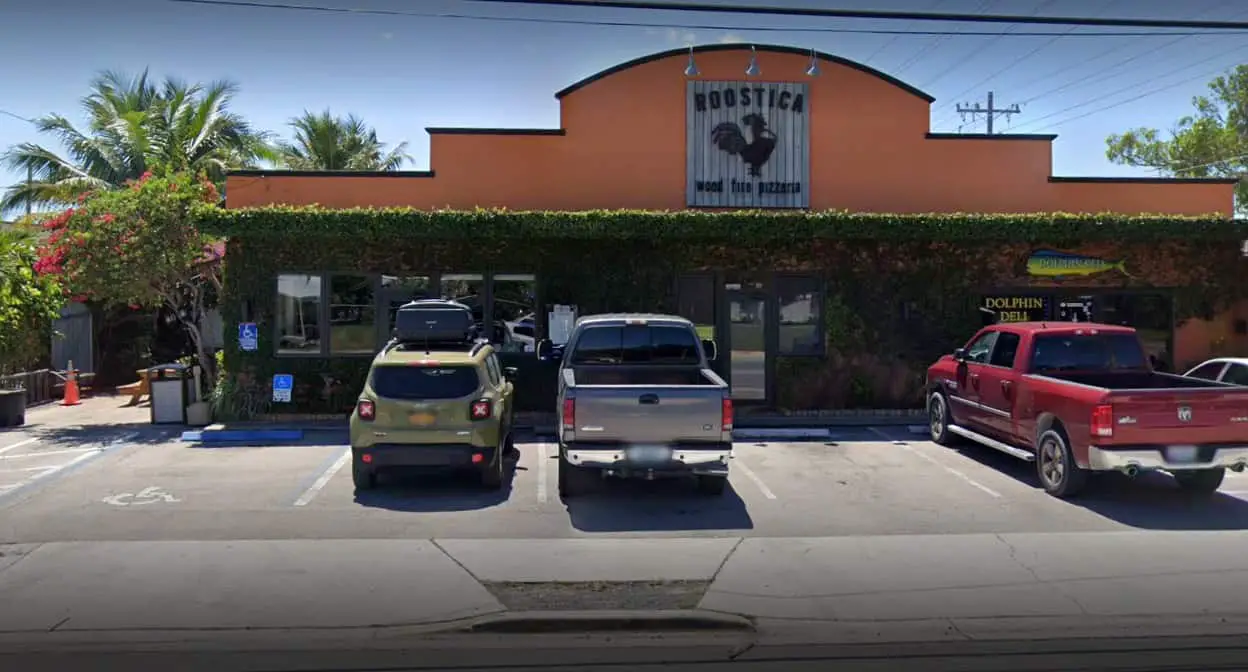 Cooked in a traditional wood-burning oven at around 900 degrees, Neapolitan pizzas at Roostica are D.O.C. certified. The crusts are slightly crispy on the outside and chewy on the inside, and you can even taste the smoke in the crust.
Roostica is undoubtedly one of the best pizzerias in the Keys to enjoy authentic Neapolitan pizzas. Gluten-free crust options are also available. Besides pizza, Roostica's wood-fired wings are also one of their most sought-after dishes.
For dessert, we'd recommend their key lime pies. Many vouch that Roostica offers one of the best key lime pies on the island.
Address: 5620 MacDonald Ave, Key West, FL 33040, United States
Contact: +1 305-296-4999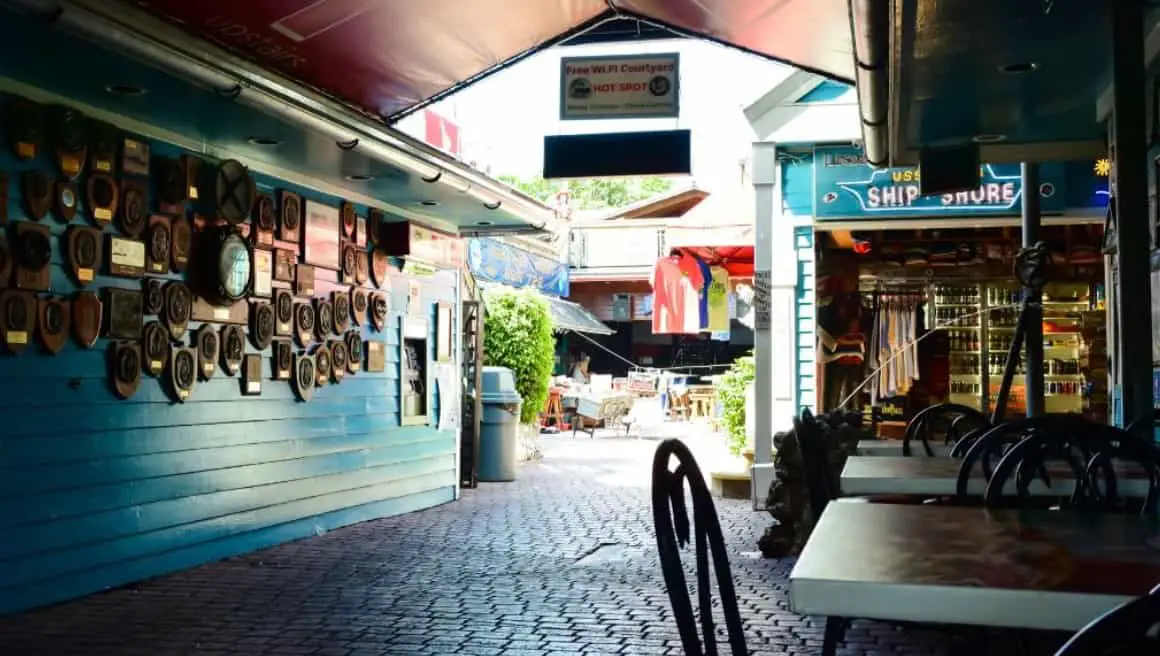 If you're craving New York-style pizzas, Angelina's Pizzeria is your place! Located at the heart of Downtown Key West, the atmosphere of Angelina's Pizzeria is fun and vibrant, the staffs are friendly and welcoming, and the pricing is pretty honest.
You can get your pizza by the slice or even order an entire pie for your friends/family. If you don't feel like pizza, Angelina's offers lasagna, calzone, salads, and wings as well. Order as per your mood!
Address: 208 Duval St Ricks & Durty Harrys Complex, Key West, FL 33040, United States
Contact: +1 305 296 3600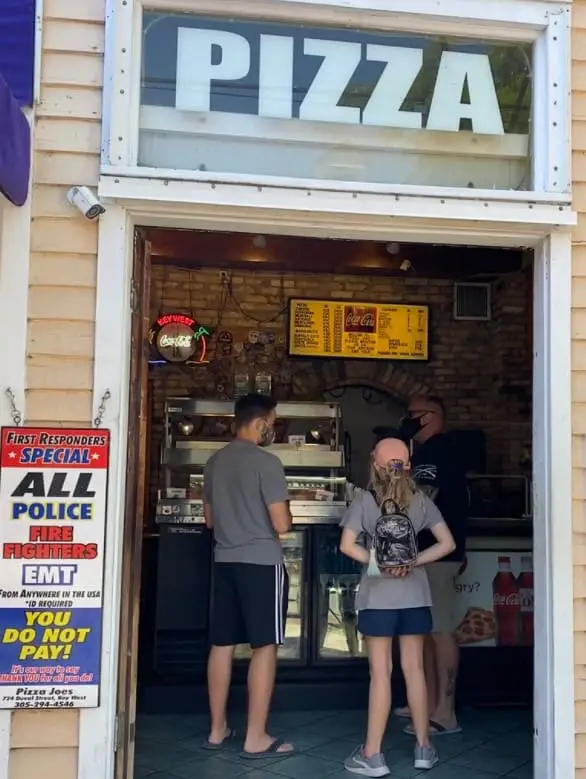 Pizza Joe's is within a 3-minute walk from the Ernest Hemingway House. Hands down, this is one of the best pizzas by the slice in Key West. The best part about Pizza Joe's is that they offer free pizzas to first responders. What a way of expressing gratitude, truly commendable!
By now, you might have guessed that the service in this place is fantastic. Their New York-style thin-crust pizzas are fantastic, and most importantly, the pricing is very decent.
Address: 724 Duval St, Key West, FL 33040, United States
Contact: +1 305-294-4546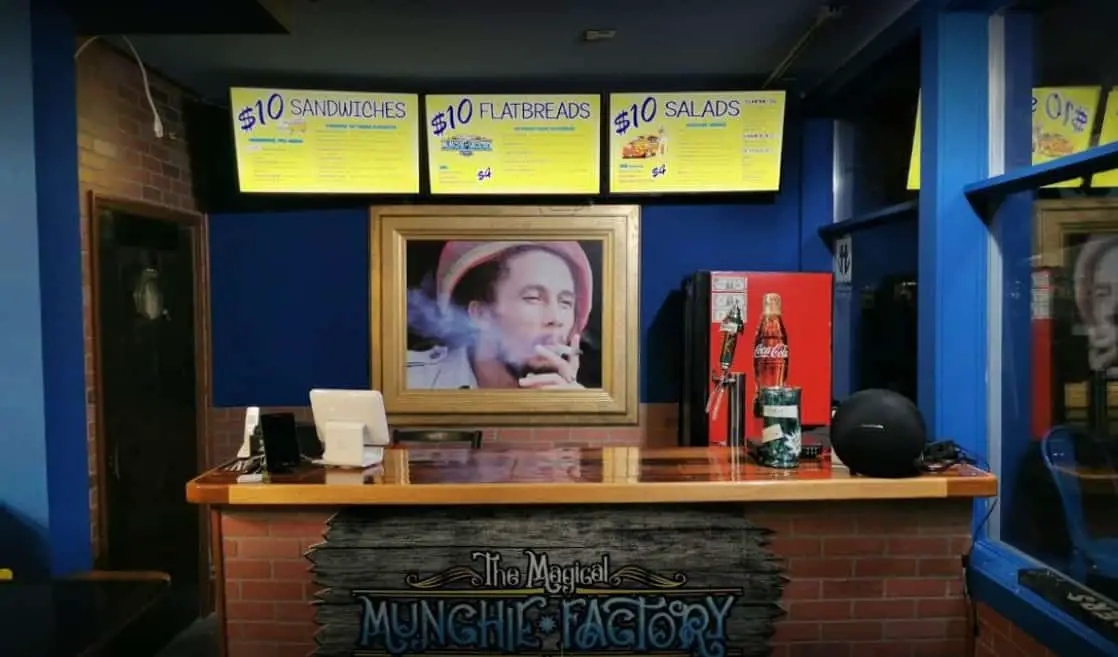 Famous as a sandwich shop, Munchie Factory also offers you a variety of pizzas, gyros, flatbreads, and salads. The staff at Munchie Factory are committed to providing authentic, delicious flavors to their customers by using the best ingredients available.
Excellent customer service, friendly staff, and welcoming atmosphere is another reason why you should visit Munchie Factory at least once when you're in the keys.
This gyro restaurant cooks each of their recipes with utmost care and attention to provide the best experience for their customers. And the best part is that the pricing of this restaurant is very reasonable considering the location.
Address: 508 Southard St STE 101, Key West, FL 33040, United States
Contact: +1 863-663-2606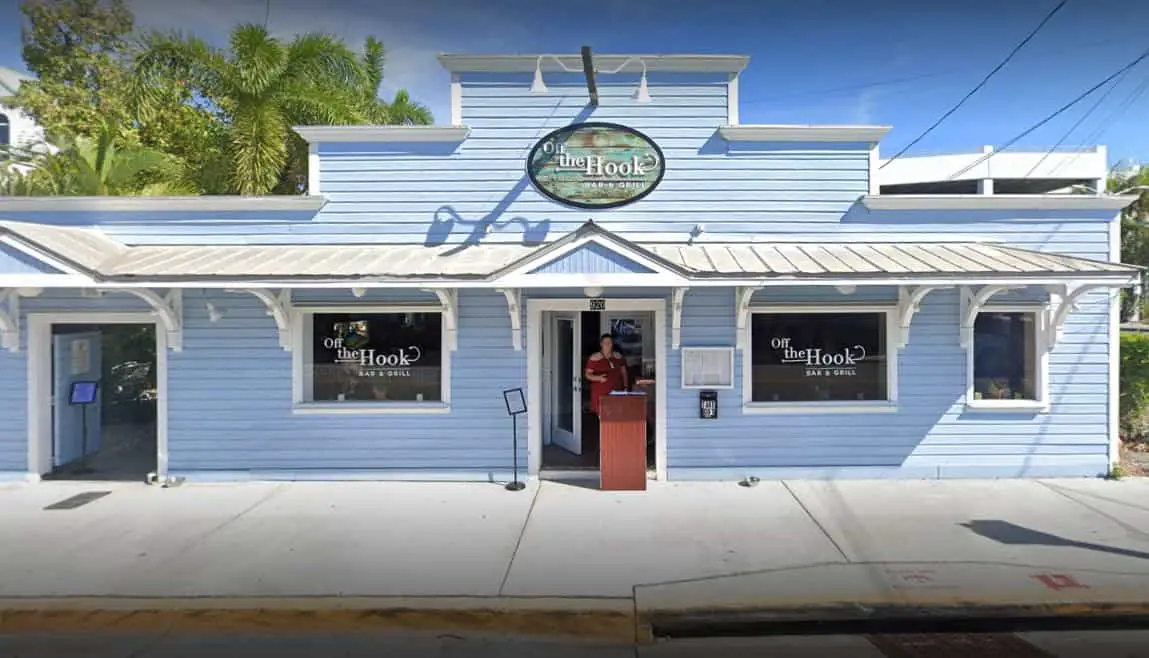 Be it locally sourced seafood or pizzas, here at Off the Hook, you'll get to enjoy them all in one place.
They have a long menu list with plenty of food options to choose from. You can also find plenty of gluten-free pizza options. For some of you, the choices might feel overwhelming. Well, you have nothing to worry about as we'll give you some insights into some of their best dishes.
If you love lobster, you'll not regret ordering their lobster pizza, lobster roll, or lobster mac and cheese. Likewise, scallops over the pork belly and fried green tomatoes are another favorite among Off the Hook's customers.
And finally, for dessert, go for blueberry mint key lime pie. You'll love it!
Address: 920 Caroline St Stop #1 on the Duval Loop, Key West, FL 33040-7475, United States
Contact: +1 305-741-7980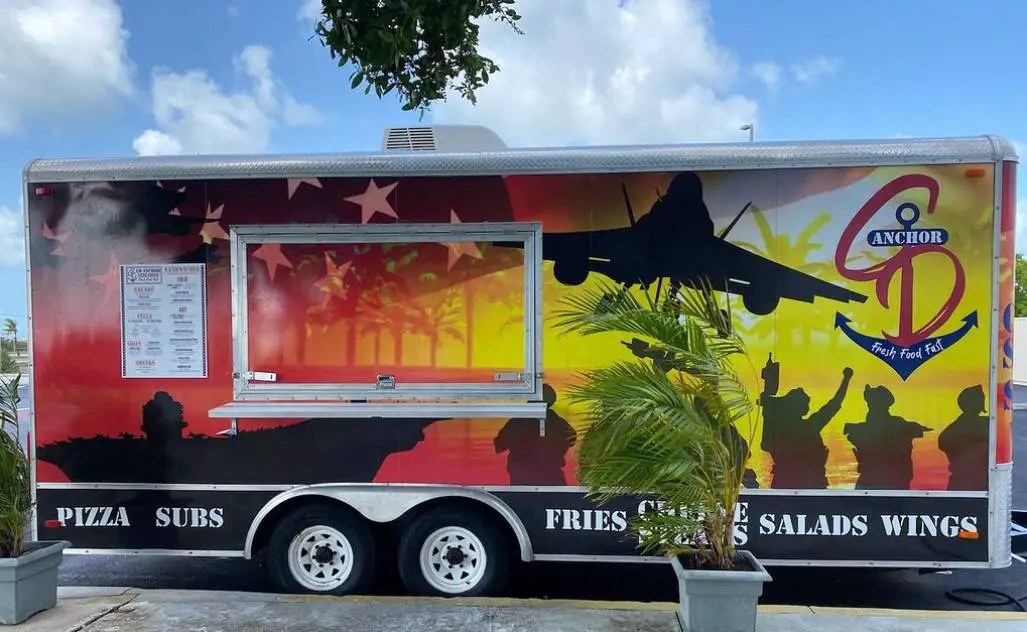 This family-owned food truck is one of the most loved food trucks in the Keys. Whatever you order from the menu, you'll get delivered fresh, healthy, and, obviously, delicious dishes. If you're craving some Dippin' dots, they have it too!
Some of the dishes that the CD Anchor Food Truck best serves are Philly cheesesteaks, bacon, egg and cheese pizza, buffalo chicken wing fries, and burgers. They also serve fresh and healthy salads.
Likewise, many prefer their wraps as well. One of their famous wraps is bacon avocado wrap. Tasty, healthy, and on a budget! If you're in Key West, you've got to try this place at least once. We're sure you won't regret it!
Address: 815 Sigsbee Rd, Key West, FL 33040-6700, United States
Contact: +1 305-834-6125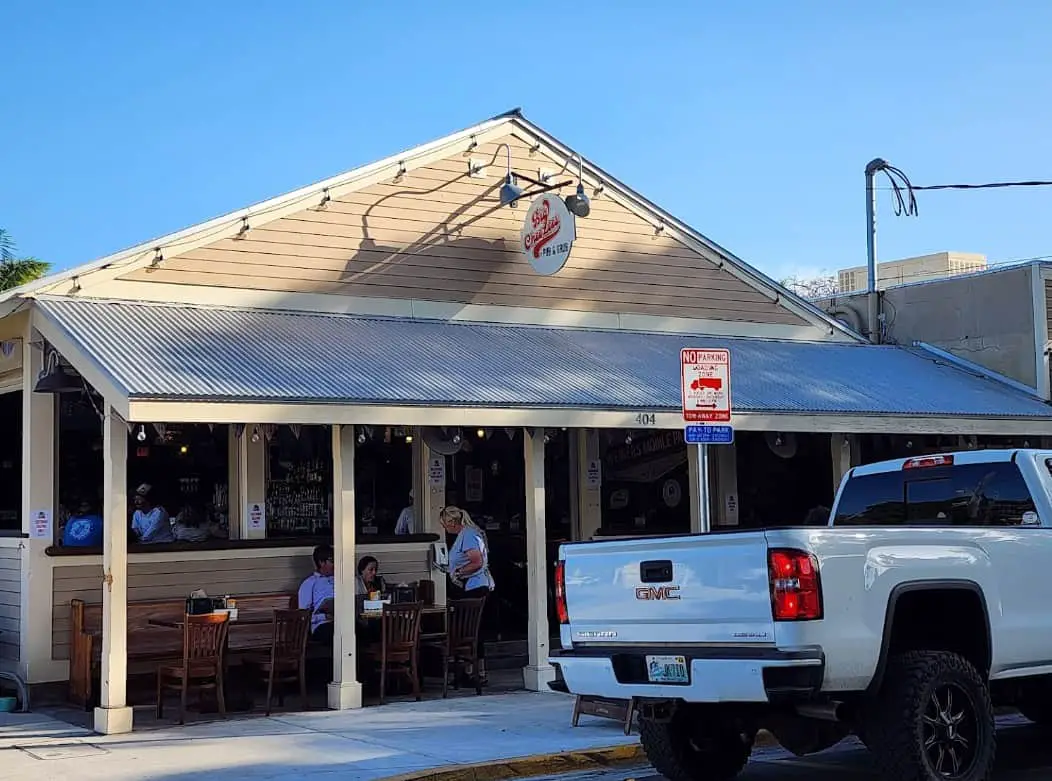 Who does not want some alcohol and pizza? With Big Cheezes Pub and Grub, you can have both at a very affordable price! Especially if you catch the time slot for their happy hours.
This joint is very popular across White Street locally, being affordable with delicious pub dishes and fizzy drinks. However, one of their mainstays is their pizza.
Since this pub focuses on meat, with Big Cheezes Pub and Grub, you know you can get meaty pizza fresh from the oven! You can taste it with their popular best-sellers pepperoni and Mexican-inspired Tex-Mex pizza!
Address: 404 Southard St, Key West, FL 33040
Phone: +1 305-741-7113
Bring your pup along for the ride—Fido is welcome to join you at an outdoor table at Bruschetta Francesca, an Italian restaurant near Key West, Florida! So, if you're looking for a pet-friendly pizza joint, this is the place for you.
Start your voyage with appetizers, including deep-fried calamari and grilled octopus. But, don't forget the main course—their excellent pizza!
Since 2021, the dish has been part of their menu, ranging from classic flavors such as pepperoni and cheese. If you want a taste of authentic Sicilian resto, then this is the place for you.
Address: 112 Fitzpatrick St, Key West, FL 33040
Phone: +1 305-440-2845
Summary
After days of eating seafood in fancy restaurants on the Keys, if you want to return back to your comfort food, we get that! Pizza does that to all of us!
With these 17  pizza places at your service, you've got nothing to worry about. Enjoy delicious Key West pizzas any time of the day!
If you've ever been to any of these restaurants, which is your favorite? And why? And are there
any more hidden gems in the Keys? Let us know!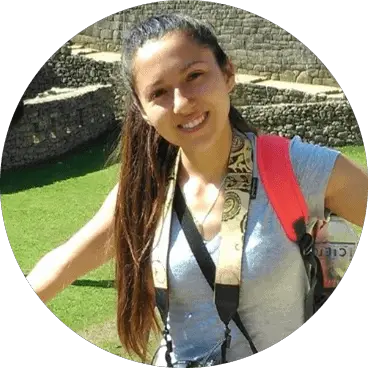 Kathryn's love for pizza started when she was still young. When she was young, she's been a picky eater–that's what her Mom used to say. The only food that she enjoyed and loved was pizza–until now! Her love for pizza turned into a passion!