Norfolk, Virginia, is often rated among the top booming downtowns. This old city has a lot to offer, including a vibrant dining scene. Pizza is a favorite go-to, and whether you prefer an old-school chain restaurant, quaint Italian trattoria, or a contemporary pizzeria, this city will not disappoint. Here are a few places from where to grab the best pizza in Norfolk.
Ideal for quick lunch or dinner, the Bakehouse at Chelsea opened its doors in 2014 and has already made a name. Brick oven-baked breads and pastries are staples, but their pizza is a clear winner.
This spot specializes in artisan pies, and you can tell the ingredients used, including the cheese and herbs, are freshly sourced. They also use organic, hand-shaped dough. The Margherita pizza with a dash of fresh basil sprinkled over the melty cheese is a crowd-pleaser. The White Pizza Salami Aragula, Chorizo Poblano, and Marinara, are excellent options too.
Location: 1233 W Olney Rd, Norfolk, VA 23507
Contact: (757) 644-6939
Chain restaurants don't always have the most amazing pizza. But, there are some exceptions, and Jet's is one of them. The pizzeria is your typical counter-serve spot with no option for dining in. The upside is that it is quite clean and tidy for a chain restaurant, and there is enough parking out front.
Jet's serves deep-dish pizzas and regular Detroit-style square slices with an option of stuffed or flavored crusts. The deep-dish pan pizza thick crust is neither too heavy nor chewy. The toppings are quite generous, with plenty of cheese to go.
Two corners are probably enough to fill you up for a quick lunch. When you combine the tasty pies with the quick service, it does feel like you get value for your money.
Location: 4402 Princess Anne Rd, Virginia Beach, VA 23462
Contact: (757)- 67-4700
Benny Domato's espouses everything you'd want in a street-side pizza spot. Laidback seating, no-frills cutlery, and humongous pizza slices.  The folks here serve pizza by the slice, cooking yours when you order, so you have it right out of the oven and onto your plate.
There are a few seats outside and inside to host a small party, making it an excellent little spot for a downtown lunch with friends or a late dinner. The winning feature is the outstandingly large pizza slices and a generous amount of toppings and cheese.
The thin crust lets you savor the flavorful toppings and infused seasonings. At Benny Damato's you get good and super large artisanal pizza slices for a great price.
Location: 131 Granby St b, Norfolk, VA 23510
Contact: (757) 395-4696
Marco's Pizza is a chain restaurant, and the one on Hampton Boulevard is quite new but is already making a good impression. Being a neighborhood spot, this particular Marco's is small and welcoming, and the staff is eager to please.
The eatery specializes in Italian-style pizza; you can build your own or choose from the many specialty options on the menu. If you opt for a custom pizza, there is a choice of thick, thin, and lite crust, which you can load with your preferred toppings.
Popular toppings include Italian sausages, pepperoni, ham, arugula, mushrooms, black olives, and bacon. Each pie comes with Marco's delicious house sauce and a blend of three cheeses.
Location: 7721 Hampton Blvd, Norfolk, VA 23505
Contact: (757) 227-5888
Cogan's Pizza at Ghent is a small joint with a big passion for great pizza. This casual neighborhood pizzeria is an excellent hangout for Saturday pizza and beer. They have a fantastic selection of beer, pastas, and pastries, but their pizza is clearly the star.
The slices are just the right amount of crisp on the outside and slightly chewy inside. The size is slightly smaller than the standard sizes offered in most other places, but the generous portions of toppings and fresh mozzarella make each slice worth it.
The crust is infused with traditional Italian seasoning, and every single bite unleashes a burst of flavor. Cogan's intentionally a small space—there is a nice patio out front and upstairs sitting, all knit together in a tiny street corner for an intimate and cozy feel.
Location: 4311 Colley Ave, Norfolk, VA 23508
Contact: (757) 627-6428
Granby's has an old-school vibe and is all about bringing New York-style pizza to Virginia. Along with pizza slices, you will get pasta and subs, Stromboli and calzones, burgers, and salads. You can get pizza by the slice or order the entire pie to go.
What you get here is authentic Italian pizza complete with a thin crust baked to perfection, with fresh premium toppings sprinkled generously on the pizza. In addition to the friendly staff, the place is clean, well-kept, and not as crowded. This doesn't mean that their food isn't a crowd-pleaser—it certainly is.
Location: 235 Granby St, Norfolk, VA 23510
Contact: (757) 622-5084
If you crave a warm, family-friendly, and cozy spot to enjoy your pizza, Fellini's is it. This restaurant has a pleasant European atmosphere, and even though it is a bit pricier than the more casual pizza spots, you truly get value for your money.
The family-run business has been around for more than 30 years, so they know how to please their customers. You'll get freshly made Italian-style salads, appetizers, sandwiches, pasta dishes, and hamburgers, but pizza is Fellini's specialty.
There is a nice variety of gourmet pizza, with the Thai pizza being a big hit. You will also score great deals on some days where there's a discount on individual pizzas.
Although they don't overemphasize their bar area, you will find an impressive variety over there, from wines to popular American and European beers to wash down your pizza.
Location: 3910 Colley Ave, Norfolk, VA 23508
Contact: (757) 625-3000
When you are short on time or tired and want something familiar in the Norfolk area, California Pizza Kitchen is a safe bet. As the name suggests, this chain restaurant specializes in California-style pizza.
The pizzas are a combination of New York-style and Italian-style with a thin crust and non-traditional toppings. You'll find topping options such as artichoke hearts, chicken, peanut sauce, avocado, and goat cheese in place of the usual mozzarella and pepperoni.
There's also a bar where you can sit and enjoy a wine or beer with your pizza. The service is fast and friendly, and the prices relatively good given the large portions served here.
California Pizza Kitchen offers quite a relaxing atmosphere for a chain restaurant and is a pleasant place to bring friends and family.
Location: MacArthur Center, 300 Monticello Ave Ste. 149, Norfolk, VA 23510
Contact: (757) 622-7190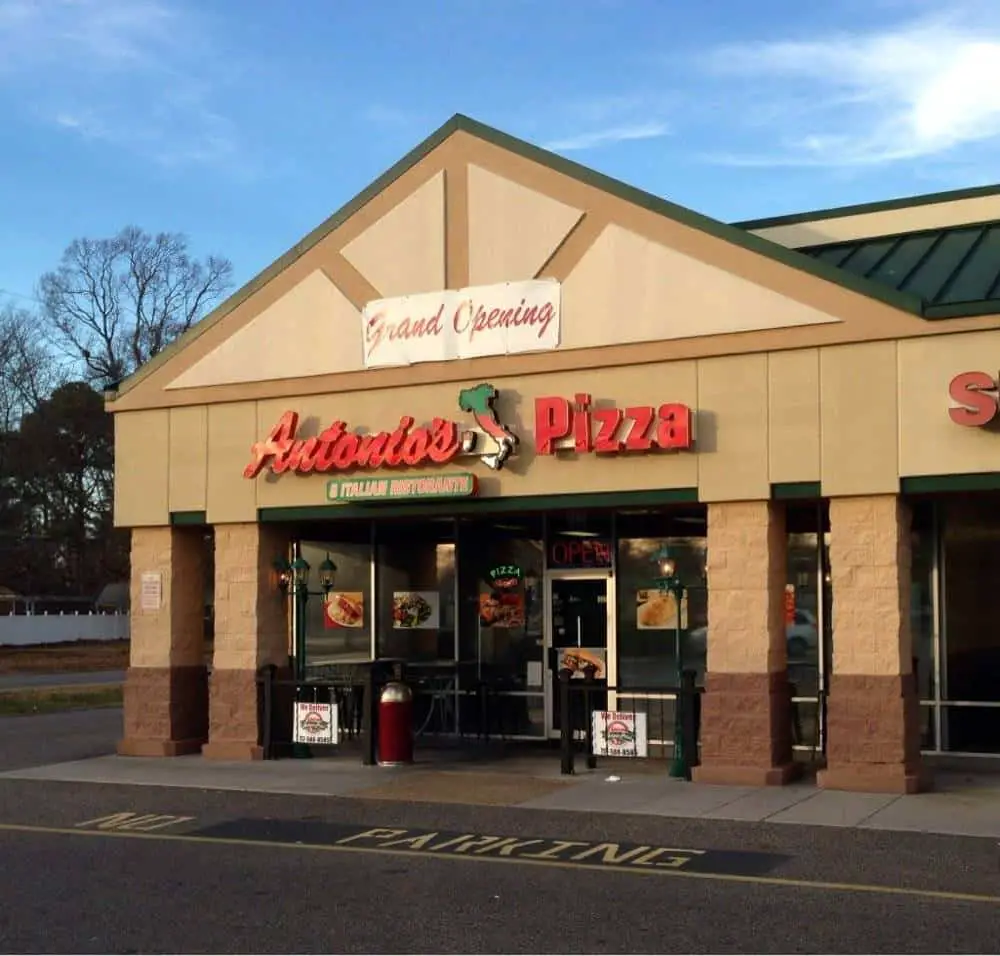 Located in Little Creek Square, Antonio's is a crowd-pleaser, attracting locals with its high-quality, tasty Italian delicacies offered at pocket-friendly prices. The space is rather small for the crowd of customers coming in, but it is a great spot if you are looking for a relaxed, informal ambiance.
You can order pizza by slice or pie with traditional and gourmet options. Popular choices include the Deluxe Pizza with classic toppings such as mushrooms, green peppers, onions, Italian sausage, and Pepperoni.
True to their Italian roots, Antonio's gourmet pizzas are made with garlic, olive oil, and ricotta, parmesan, and mozzarella. Vegetarians will love the Bianca range of pizzas with fresh topping combos such as spinach, broccoli, fresh tomato, and garlic sauce. 1710 E Little Creek Rd Ste 101 Norfolk, VA 23518,
Location: 1710 E Little Creek Rd #101, Norfolk, VA 23518
Contact: (757) 588-8585
Unassuming and old-school, Del Vecchios is one of the very few spots in Norfolk specializing in traditional stuffed Chicago and New York Style pizza. Each of these styles is stuffed 2 inches deep with tasty toppings such as Italian sausage and ground beef, mushroom and spinach, ham and pepperoni, and grilled chicken and ranch.
The Chicago-style stuffed pizza is topped with a flavorful, full crust, while the New York-style stuffed option comes with a lattice crust. Traditional New York pizza is also available if you are craving a good ol' regular pie.
Choose from toppings such as Canadian bacon, Feta, Eggplant Ricotta, and Pineapple. Whether you want the 12-inch personal pizza or the 24-inch deluxe to devour with family, you will enjoy the same authentic Italian flavors that set Del Vecchios apart.
Location: 1080 W 47th St, Norfolk, VA 23508
Contact: 757-440-9300
The origins of the famous Chicago deep-dish pizza can be traced to the original Pizzeria Uno, established in 1943 in Chicago. Many years later, the original restaurant still exists at the same spot, but many other UNO eateries have opened up worldwide.
The one in Norfolk is homely and low-key, but there is always a hungry crowd there, which says a lot about the quality of Italian cuisine you will find here. Choose from one of their Chicago-style deep dish pizzas such as the Prima Pepperoni, Four Cheese and Pesto, or Meatballs and Ricotta.
There is also a gluten-free, vegetarian option topped with homemade sauce, vegan mozzarella, mushroom, and Dorati cherry tomatoes.
Location: 5900 E Virginia Beach Blvd, Norfolk, VA 23502
Contact: 757-466-0923
If you are in the East Little Creek Rd area and are looking for a relaxed spot for homemade meals, Regino's would be a perfect pick. An eclectic combination of old-school booths and chic dining tables make Regino's the quintessential Italian eatery.
The pizza selection here is small but special. Tease your taste buds with the Santorini, a rich pizza loaded with ham, sausage, bacon, pepperoni, salami, onion, green pepper, tomato, garlic, meat sauce, and mushrooms.
Or opt for the simple but sophisticated Olympus with tomato, feta, garlic, artichoke, olives, and spinach. The pizzas at Regino's are not cheap, but you do get value for your money with the high quality of ingredients used and perfect coal-fired crust.
Location: 3816 E Little Creek Rd, Norfolk, VA 23518
Contact: 757-588-4300
Airy, well-lit, and contemporary Ynot is a family-friendly spot serving scrumptious pasta dishes, sandwiches, calzones, and pizza. Relax in the cozy booths indoors or enjoy the quiet, intimate, and breezy outdoor seating.
The eatery specializes in custom-made pizzas and you can build your own with the freshest ingredients such as Italian fried chicken, ranch, ricotta, spinach, and mushroom, and more.
Alternatively, you can go straight to the house specialty pizzas such as the 5-Cheese pie with a blend of five cheeses, fresh garlic, olive oil, ricotta, or the popular Italian with roasted red peppers, capicola, pepperoni, and salami.
Location: 1517 Colley Ave, Norfolk, VA 23517
Contact: (757) 624-9111
Nestled in the heart of Ghent, Baker's Crust is a new chain restaurant specializing in wood-fired pizzas, sandwiches, and artisanal entrees. The perfect spot for dinner with family, there's plenty of cozy indoor seating and a small outdoor area out front for a quick lunch.
Baker's specialty is Neapolitan pizzas, served hot from their decked coal-fired oven. House options include Pepperoni, Sausage and Mushroom, Fennel Sausage and Sweet Onion, Prosciutto, and Arugula, to mention a few. The thin, crispy crusts combined with fresh from the farm ingredients will keep you coming back to Baker's Crust, whether for a quick slice or an entire pie. 330 W 21st St, Norfolk, VA 23517,
Location: 330 W 21st St, Norfolk, VA 23517
Contact: (757) 625-3600
Azalea Inn is a chic, adult-y, little spot for a relaxed lunch or romantic dinner. There's a long menu of pasta dishes, meats, burgers, and their star gourmet pizza. A lot of the pizza spots in the Norfolk area are mostly New York or Italian style. But, the ones at Azalea have a  strong Greek influence.
The slices are large, and the crust is more savory than salty, which might be a bit different, but it is worth a try. You can tell the toppings are fresh, and the cheese is well tapered—not too watered down and not too rich.
The service at Azalea is quick and friendly, and the owners are usually around greeting customers and ensuring that everyone receives good service. 2344 E Little Creek Rd Norfolk, VA 23518,
Location: 2344 E Little Creek Rd, Norfolk, VA 23518
Contact: (757) 587-4649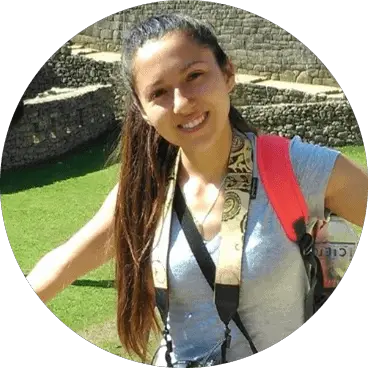 Kathryn's love for pizza started when she was still young. When she was young, she's been a picky eater–that's what her Mom used to say. The only food that she enjoyed and loved was pizza–until now! Her love for pizza turned into a passion!