Savannah is the county seat of Chatham County and the oldest city in the U.S. state of Georgia. Today, the city of Savannah serves as an important industrial center and Atlantic seaport.
Being Georgia's fifth-largest city, Savannah is home to numerous stellar pizzerias and restaurants. For those new to the city of Savannah, you deserve only the best pizza shops with top-notch pies and services.
But then again, how do you distinguish the best from the lot? The simple answer is to use the business history, customer reviews, ratings, complaints, satisfaction, cost, trust, and general excellence.
The following are the 15 best pizza places in Savannah, GA, that meet our rigorous and multifaceted inspection criteria. Take a look!
Address: 2411 De Soto Ave, Savannah, GA 31401, USA
Phone: +1 912-417-3002
Located in the heart of Starland District, Pizzeria Vittoria is a unique pizza shop constructed from shipping containers. Despite its relatively humble setting, it offers something new and refreshing in Savannah, taking its cues from Italy's Slow Food movement.
Pizzeria Vittoria has taken Savannah by storm with their sustainable Neapolitan pies. Pizza lovers are flocking there every day to try their authentic versions of Italian-inspired pies. The restaurant makes its leopard-spotted pies using fresh dough and quality ingredients.
Owner Kyle Jacovino, a chef himself, says he sells more than 400 extraordinary pies a day. Of course, Pizzeria Vittoria offers a handful of ways to get your pie in Savannah, Georgia. You can opt for delivery, takeout, or outdoor seating.
Order their La Diavola crust topped with Calabrian chilies and sausages. And for a leisurely meal, I suggest sitting in their breezy courtyard. You'll enjoy fire pits and live music wherever you sit. Seriously, this joint has all the fine things in one place!
Address: 11 W Liberty St, Savannah, GA 31401, USA
Phone: +1 912-495-0705
Mellow Mushroom has a long-standing history of serving handcrafted pies in Savannah, Atlanta, Marietta, Tucker, Columbia, and more locations. For over 40 years, the pizzeria has gained popularity for using only the freshest ingredients in their kitchens to produce the best pizzas on the planet.
Try their delicious Magic Mushroom Soup Bowl, Oven Roasted Wings Munchies, or Spinach Artichoke Dip. Their specialty menu items include Cheese and Gluten-Free Pizzas, Pacific Rim, Kosmic Karma, Half and Half Pie, Funky Q Chicken, and so much more.
Mellow Mushroom also offers Kids' menus, online orders, and Gift Cards. For those planning a party or corporate event, this pizza place provides catering services. All you need to do is fill out their online form to let them know some details about your event –they'll take the wheel from there!
Mellow Mushroom's happy hour is arguably the most sought-after in Savannah. And their friendly, laid-back staff reminds guests it's OK to smile. More importantly, Mellow Mushroom serves their deliciously creative pies in a groovy environment.
Address: 317 W Bryan St, Savannah, GA 31401, USA
Phone: +1 912-233-6394
Vinnie Van Go-Go's is an award-winning City Market pizzeria known for its generous slices and thin-crust pies. It's hands down a veteran in the Savannah pizza scene and beyond.
Their delicious, freshly baked pies are available by the slice or whole pie. Even on busy nights, this cash-only pizza parlor keeps your favorite meals coming quickly.
The dough is made nightly, and the cheese is freshly grated. Their specialty New York-style pies may be topped with either freshly grated parmesan or mozzarella cheese. Their sauce is so rich that you'll feel happy and warm inside.
No matter the toppings, Vinnie Van Go-Go's pies have a pillowy, thin crust. Additionally, they are crispy and very tasty. You can eat your pie with your favorite beer at this joint. Plus, they offer FREE downtown delivery throughout the week.
Address: 110 Bryan St, Savannah, GA 31401, USA
Phone: +1 912-234-2433
Your Pie Pizza is a convenient pizza place with two locations in Savannah – in the Sandfly neighborhood near the Isle of Hope and on Ellis Square in the Historic District. It also has stores in Athens, Watkinsville, Clemson, Bethlehem, Nashville, and Greenville.
The reason I love this pizza chain is that dinners choose what goes into their pie. As a result, you get to choose your dough, sauce, cheese, and toppings. Alternatively, you can go with the restaurant's unique creations.
At Your Pie, pizzas are cooked in brick ovens to produce perfectly crisp crusts with smoky, earthly flavors. The famous Slider Pie features hand-tossed dough with white cheddar cheese, roasted garlic oil, red onions, yellow mustard, pickles, and red onions.
Customized Paninis, calzones, salads, and craft beer also make for a fantastic dining experience. Planning to take the kids to Your Pie? This is the perfect place to be. Ellis Square's free interactive water and light fountain will have your kids entertained the whole day!
Address: 513 E Oglethorpe Ave STE P, Savannah, GA 31401, USA
Phone: +1 912-236-2744
If you're in the mood for thin-crust pizza loaded with fresh toppings, Screamin' Mimi's is your kind of place. A New Jersey transplant owns this counter-service spot.
From pizza to pasta and everything in between, the pizzeria's menu is never limited. As a matter of fact, it's better than lots of pizza places in Savannah.
Besides their classic pizza options, it's best to try something new, such as the White Tomato Basil Pizza. Because of the addition of fresh basil, the White Pizza packs a ton of flavors.
Screamin' Mimi's offers a lunch special: two huge slices of cheese and a drink. All this goes for only $5.95. Surely, tell me another pizza joint that can beat that price!
Note that their updated COVID-19 services include takeout, sit-down dining, delivery, outdoor dining, and indoor dining. Go there, eat pizza, and enjoy the wonderful experience!
Address: 5975 Ogeechee Rd, Savannah, GA 31419-7510, USA
Phone: +1 912-662-5074
Riverboat Pizza Company may not have an official business website. However, it's not to be taken for granted.
This is a full-service pizza restaurant located across from Walmart Supercenter on Highway 17/Ogeechee Road. It's a modern pizzeria owned and run by the husband/wife combo.
The owners are super friendly and attentive. Plus, the pizza here is absolutely delicious. You can't go wrong no matter your cravings.
As an easygoing, family-owned locale, Riverboat Pizza Company serves numerous specialty pies and brews. I suggest ordering the Riverboat Supreme Pizza for a vamped-up classic experience.
Looking to take your pet with you? This is one of the few pet-friendly restaurants in Savannah. The joint also has excellent patio seating for fair-weather dining.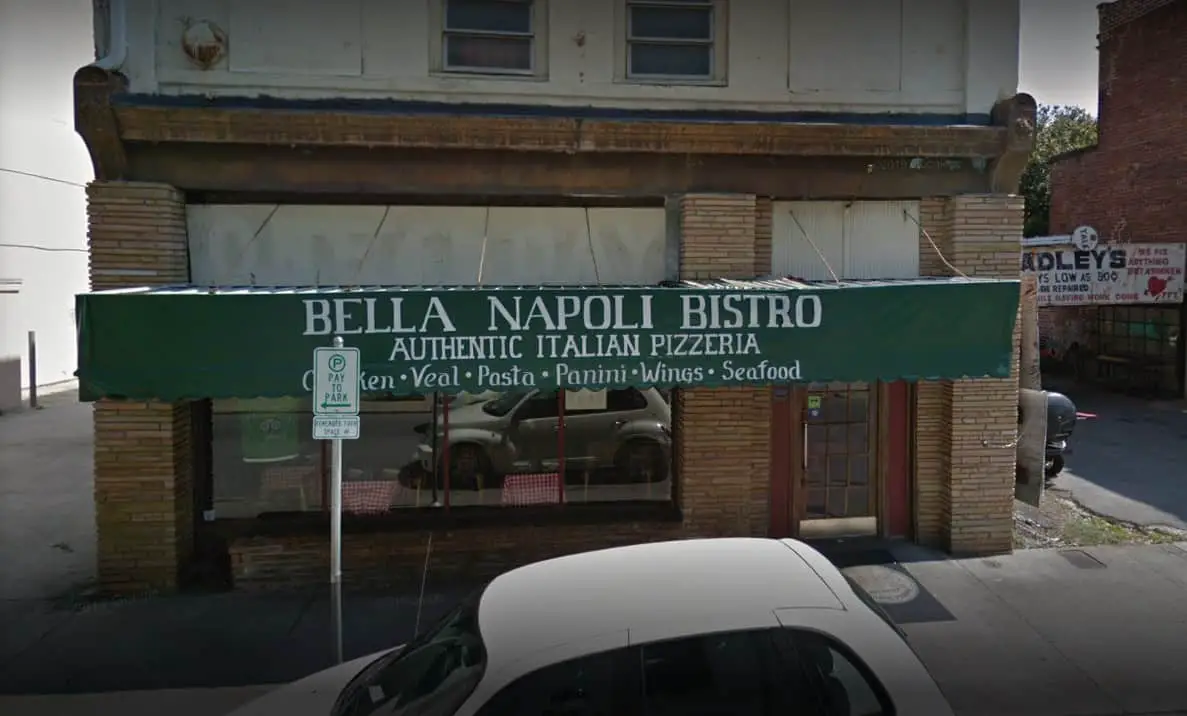 Address: 18 E State St, Savannah, GA 31401, USA
Phone:  +1 912-495-5124
Bella Napoli Italian Bistro has been voted the best Italian restaurant in Savannah. This is not an ordinary pizza joint – it's a cozy spot for classic Italian cooking.
Owner chef Gary has cultivated a passion for the kitchen, the customers, and the dining experience in Savannah.
At this pizza place, you'll be treated to a whole new culinary experience that's both beautiful and inviting. From pizza and calzones to appetizers and salads, you won't miss anything at any time of day.
Bella Napoli Italian Bistro's Neapolitan pies are out of this world. Moreover, the service is magnificent, while the ambiance is worth the splurge!
Address: 1557 Pooler Pkwy, Pooler, GA 31322
Phone: +1 912-988-3381
Green Fire Pizza is an established pizza parlor known for its authentic wood-fired brick-oven pizza. Many people are obsessed with this pizzeria because it focuses on all-natural, non-GMO, and locally sourced ingredients.
Their chefs bake all types of pizza in a beautiful wood-fired pizza oven made and imported from Italy. This particular oven creates a perfectly crispy crust with a flavor to die for!
Whether it's the specialty, vegetarian, or gluten-free pizza, you'll get it all right here. And you get it any way you want it, including takeout, dine-in (outside patio seating available), and delivery.
This pizza parlor has 20-inch large screen TVs and a projector large TV screen. You can watch your favorite TV shows and big games as you indulge in your mouthwatering pizza.
Address: 103 W Congress St, Savannah, GA 31401, USA
Phone: +1 912-298-0201
Going to Savannah for a conference? Kay's Pizza has got you covered. They've been serving the local community for nearly two decades, so you can depend on them to cater to your conference needs.
Kay's Pizza offers more than just pizza. You'll find pasta, sandwiches, and other side dishes at affordable prices. This lively counter-serve pizzeria also offers burgers and BBQ along with beer and coffee.
For late-night bites, look no further than Kay's Pizza. They open at 11 AM and close late into the night, ideal for those holding late-night meetings and events.
Need curbside pickup instead? Kay's Pizza makes picking up a meal easier than ever. And perhaps the best part is that they occasionally offer deals for an even more affordable dining experience. The pizzeria accepts payment by credit card, which is a plus!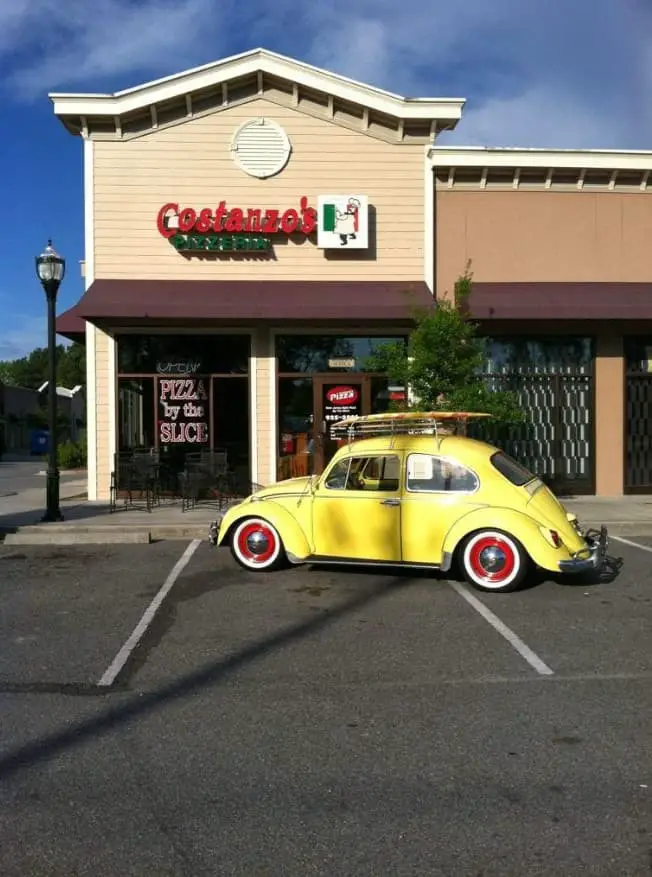 Address: 101 Little Neck Rd, Savannah, GA 31419, USA
Phone: +1 912-925-2006
If you'd like to get away from the historic district, head over to Costanzo's. This is a perfect pizza joint located off of 17 and Little Neck Road. They serve the cheesy and piping hot New Jersey-style pizza.
The dough is made fresh daily, and it tastes chewy and delicious. The crust may range anywhere between two and eighteen inches, depending on your needs and budget.
Want to try something other than pizza? Costanzo's also offers delicious calzones, wings, strombolis, salads, and breadsticks. You'll be delighted from the moment you bite into one of these dishes.
Stick to carry-out special made of an 18-inch pie and 1 topping. This goes for just $9.99. You can also try the family special with 2-16″ pie, 1 topping, breadsticks, and a 2-liter drink at just $21.99. Or better yet, order their pizza of the month.
Address: 500 W River St, Savannah, GA 31401, USA
Phone: +1 912-373-9060
Graffito is an authentic Neapolitan-style pizzeria with an open kitchen concept, culture, and experience. That's the reason it's a favorite gem among Savannah locals and guests alike.
Graffito's isn't just an everyday type pizza joint. The pizza here is yummy, made from fresh and high-quality ingredients.
At this joint, the atmosphere is fun, and servers are prompt and friendly. Even though they tend to be busy, dashing inside and out often, you can rest assured the services are on point.
If you want to have an unforgettable culinary experience, this is the place to be. It is the place where the authentic Neapolitan pizza meets high-energy and high-style for an out-of-this-world experience!
Address: 1100 Eisenhower Dr, Savannah, GA 31406, USA
Phone: +1 912-495-5372
Stoner's Pizza Joint is well worth your hard-earned money. They put a customer's satisfaction above all else. The staff is friendly, the atmosphere is relaxed, and the food is indescribable.
Here, chefs prepare the food when order so it can reach the customer while still hot. They also use only the freshest ingredients and spices to guarantee the deliciousness you deserve.
Stoner's Pizza Joint has partnered with Uber Eats, DoorDash, and Grubhub to bring you the freshest pizzas. Plus, they do offer specials and give an accurate wait time.
Don't leave this pizza chain before you try their calzones and wings. These are my personal favorite menu items. And I'm sure you'll love them too!
Address:  10 Berwick Blvd SW B, Savannah, USA
Phone:  +1 912-2396064
Husband-and-wife team Mike and Marian Illitch founded Little Caesars way back in 1959. So, it's probably older than your grandpa. In fact, the franchise has expanded all over the nation.
Little Caesars' prices are among the least expensive in the entire pizza food industry. However, the restaurant offers fewer choices on its menu compared to the competition.
Apparently, this is how they keep their prices so low. One large topping Hot-N-Ready pizza goes for as little as $5. As a result, it's an ideal place for those on a budget, especially students.
More importantly, it's easy to score free pizza from Little Caesars. How, you ask? Stop by any participating Little Caesars between 11:30 AM and 1 PM local time and claim a combo, which features four slices of deep dish pepperoni and a 20oz drink from the Pepsi family.
Address: 3016 E Victory Dr, Thunderbolt, GA 31404, USA
Phone: +1 912-352-2933
Coach's Corner is one of Savannah's renowned and beloved places for digging into some good handcrafted pizza. It's also popular among folks who enjoy listening to live music and watching big games.
Their outdoor dining area is expansive, and they have TVs everywhere for patrons to enjoy. If a classic, game-filled sports bar with a patio sounds good to you, try Coach's Corner.
At this bar, guests enjoy a wide variety of pizzas in a fun and appealing setting. Their pizzas and burgers are fantastic.
You'll love how this great local restaurant combines good comfort food with tremendous sports coverage in a comfy, casual environment. Go to the Coach's Corner joint today and enjoy lively moments with your buddies!
Address: 2218 Bull Street, Savannah, GA 31401, USA
Phone: +1 912-335-7873
Squirrel's is an elegantly casual eatery nestled in the eclectic midtown district of Savannah. It specializes in serving crispier, wood-fired versions of Neapolitan-inspired pizza.
Unique to this semi-swanky eatery is the use of pecan wood to live-fire the custom-built Pavesi oven. It is for this reason that Squirrel's provides one of the South's most extraordinary pizza experiences.
Chef-owner, Chris Dickerson, draws inspirations from his Italian culinary experiences to create distinct Neapolitan and Roman-style pies. The ingredients are often made in-house, resulting in a crisp yet airy crust.
I recommend trying their delicious selection of sandwiches, salads, and flavorful bites before leaving this joint. I bet you'll love their food as well as their equally alluring environment.
Wrapping Up
Up to this point, I believe you've already selected the best pizza in Savannah. As you can see, the choices are endless. So take time analyzing each joint before choosing your favorite. Good luck!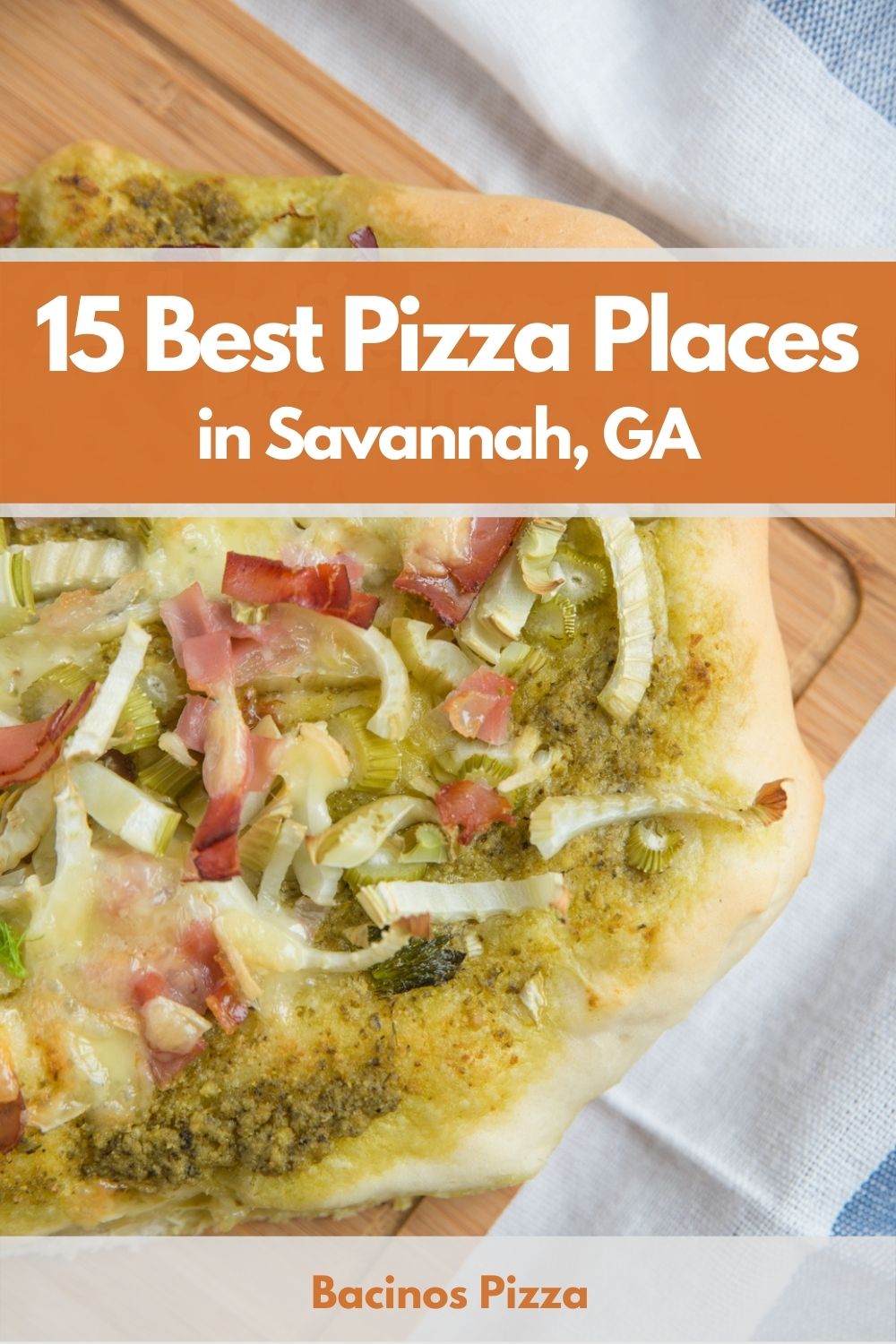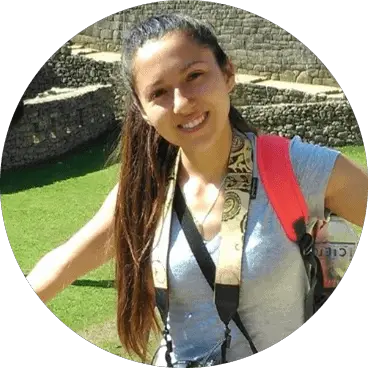 Kathryn's love for pizza started when she was still young. When she was young, she's been a picky eater–that's what her Mom used to say. The only food that she enjoyed and loved was pizza–until now! Her love for pizza turned into a passion!