In case you haven't heard of it yet, a Big Green Egg is a specialty ceramic kamado-style charcoal grill. It broils, smokes, roasts, bakes, and more. Below are easy pizza recipes you can create on your Big Green Egg. Then you can graduate to more complex dishes.
First, a few tips for your BGE. Fill the fire bowl to the top for better circulation and easier heat control. You can use the brand's charcoal lumps or just buy regular charcoal.  Read the instructions carefully so you can get the best pizza settings. Venting is especially important.
1. Chef Jason's Big Green Egg Margherita
Getting recipes from a hardware store may seem weird. But Ace Hardware knows how to get the best results from Big Green Egg pizza. Chef Jason makes a Margherita with fresh basil, mozzarella, parmesan, specific herbs, and an 80/20 cornmeal/polenta mix. He recommends double-zero dough. The 600°F heat range promises pretty leopard spots on your pizza base.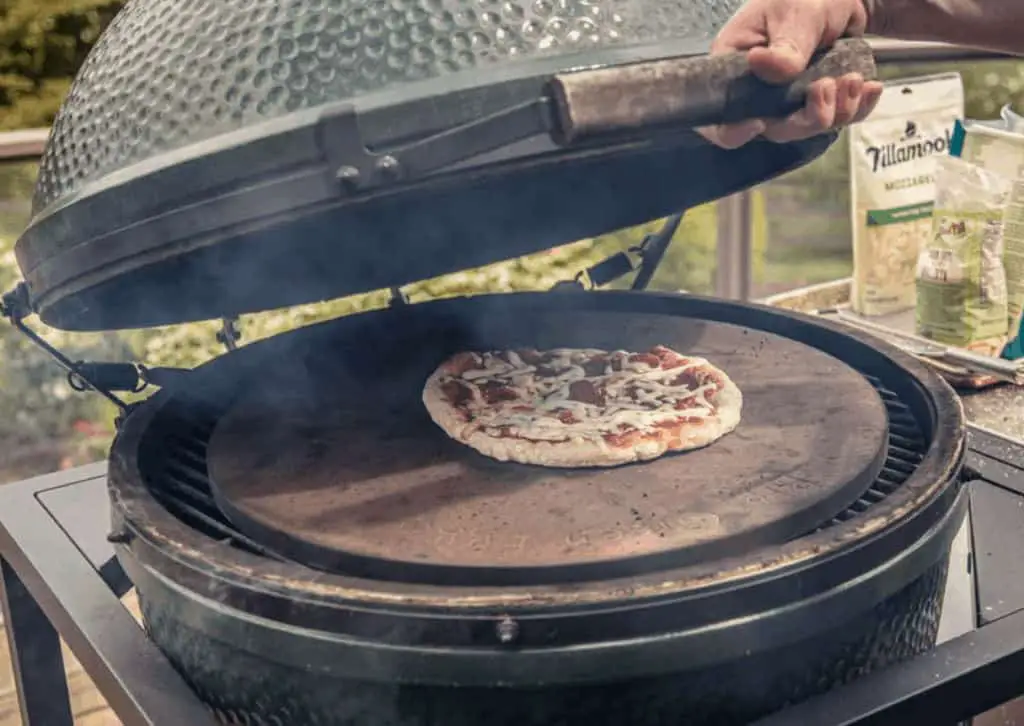 The difference between grilling, roasting, and baking is the direction of the heat source. With grilling, heat comes from below the food, while roasting has heat surrounding the food. Baking has heat from all sides. This pizza is grilled on a pizza grate at 500°F. The conveggtor (convector plate) is placed with its feet facing up to facilitate slightly lower cooking temperatures.
3. Full Philled Big Green Egg Pizza
When you're cooking pizza on a Big Green Egg, you want to use a pizza stone plus a convection plate, with or without a grilling grate. Cornmeal (or parchment paper) stops the pizza from sticking to the stone. Use big charcoal chunks so the air flows better. This pizza has pepperoni toppings and the conveggtor feet face down to give you more heat (700°F).
The best place to get Big Green Egg pizza recipes is from the manufacturers themselves. Here, they guide you on every step – though they do cross-sell their accessories. The garlic oil – for example – is prepped in their branded dutch oven. But the red sauce contains tomatoes, olives, basil, and cherry tomatoes. The said sauce is cooked in the Big Green Egg as well.
5. BGE HQ Pizza Recipe
We've just seen a Big Green Egg branded recipe from their European office. Here's one from their headquarters in the US. You don't need all their accessories, but do get their branded pizza stone and a stainless steel grid. This pizza has a cooked tomato sauce and two types of cheese. If you have more toppings, put them under the mozzarella so they don't burn.
This low-heat recipe has a few unique touches – beer dough, fresh basil, balsamic glaze, and a mix of fresh and shredded mozzarella. Don't forget to 'burp' the BGE each time you open it. This avoids explosive flames burning you. To burp, lift the lid just a little to let the hot air out, then open it all the way. If you don't have a conveggtor, try half-moon baking stones.
7. Flaming Rooster BGE Pizza
Docking pizza is when you poke holes in the pizza crust with a fork, toothpick, or pizza docker. It releases air to prevent the pizza dough from bubbling. Many Big Green Egg recipes require leoparding and bubbling, so you can skip the docking if you prefer. Use a charcoal chimney and add fruitwood chunks towards the end if you want a rich, smoky flavor.
Yes, buffalo mozzarella is made from water buffalo milk. Also, get double-zero dough and oak + hickory charcoal. But whether you're using store-bought dough or making your own from scratch, let the dough rest for an hour outside the fridge. This lets the gluten settle so your pizza is softer and the protein is more easily accessible to your digestive system. Enjoy!
9. Born to Egg BGE Pizza
BGEs have convenient built-in thermometers. You can check, raise, or lower the temperature using the top and bottom vents. When both vents are open, that's maximum heat because more air is coming in to ignite the charcoal and make the fire hotter. Rob lights his BGE with paper towels dipped in used deep-frying grease. So don't dump that used oil down the drain!
Big Green Egg pizza recipes cook in 5 to 10 minutes. If you want it smoky, cook with the lid down and both vents closed. Pre-heat both the conveggtor and the pizza stone before laying on the pizza. You can use a pizza screen too if you like. Keep your cheese and sauce cold, and top the pizza immediately before it goes in the cooker. If it sits outside too long, it gets soggy.
11. Bill McFadden's BGE Pizza
You probably think the more cheese and sauce you use, the better your pizza. At the top, yes. But on the naked base, use sparing amounts of sauce and cheese. If you put too much, your pizza crust will end up raw or soggy. And nobody likes mushy pizza! Also, yes, cornmeal keeps the pizza from sticking, but it also makes the bottom of the pizza base extra crispy.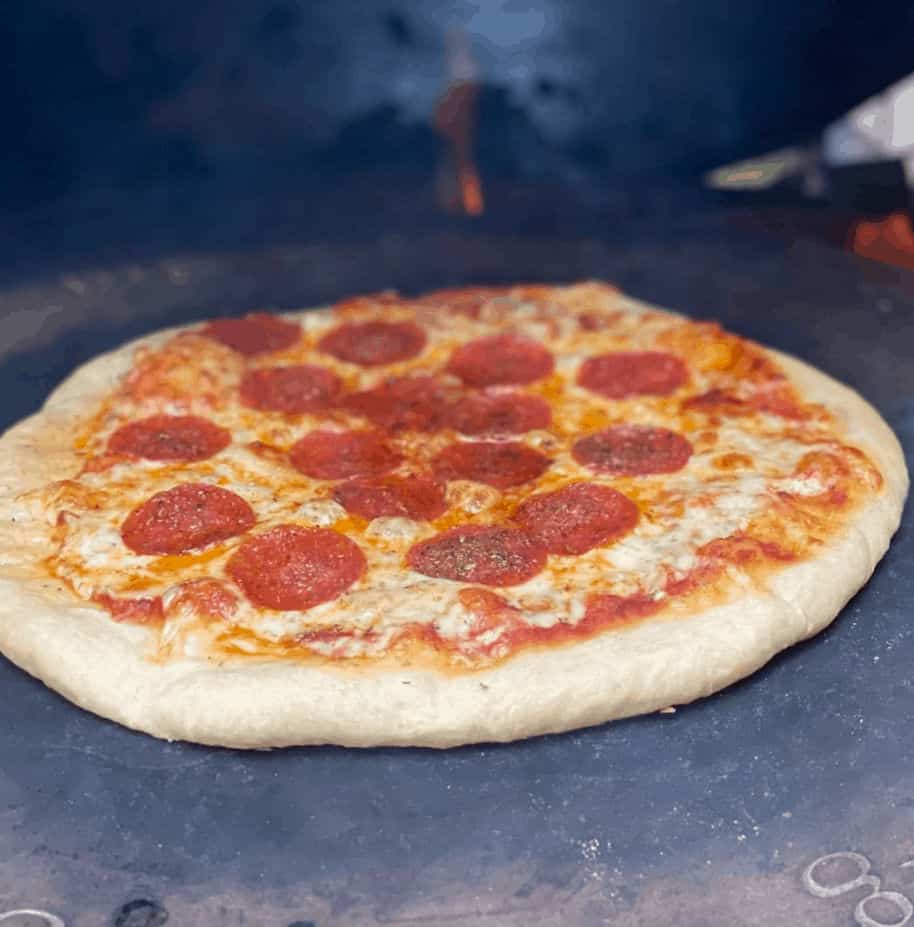 The simplest Big Green Egg pizza recipes don't use red sauce at all. You can get away with using raw tomatoes, whether they're crushed, canned, or fresh and whole. Use them plain or season them with basil and oregano. You can brush the crust with Italian seasoning mixed in olive oil. This New York pizza is topped with sausage, pepperoni, mozzarella, and pepper.
13. Papa Murphy's Pizza
 In Italy, flour is graded based on its refinement level as 1, 0, or 00. Double-Zero dough is best for Big Green Eggs because of the high heat and quick cooking. Also, you want the pizza as high as it can sit in your BGE, so use grates, wire baskets, and Eggspanders as needed. Crumpled tin foil works too – stack it under your cooking grate to raise it. This pizza bakes a bit longer – 12 minutes at 425 °F.
Venting is the easiest way to control the temperature of your Big Green Egg. But if you want to raise your heat, add more charcoal. This limits airflow and reduces the temperature. But never fill above the notches at the top of the firebox. You can also use an infra-red temp gun to test the temperature of the pizza stone. BGE branded stones can withstand up to 2700 °F.
15. Outdoor Home BGE Pizza
As you fiddle with the heat levels on your BGE focus on the top vent. It's easier to control and access. So leave the bottom vent open (for high heat) or closed (for medium heat) then just toggle the top vent. The branded pizza stone is ideal because it's made of the same ceramics as the BGE itself, meaning it can match its cooking temperature degree for degree.
You don't have to clean your Big Green Egg every time you use it. But leftover ash does absorb heat, so empty the ashtray before you start your pizza recipe. Otherwise, it will interfere with your heat settings. Thin dough bakes better because BGEs cook so quickly. This recipe uses mushroom rub rather than whole mushrooms. It bakes indirectly (legs up).
17. Pitmaster BGE Calzone
The Big Green Egg is an outdoor ceramic cooker. Meaning it can withstand the same high temperatures as a traditional brick pizza oven. But because of the vents and grids, it's easier to adjust your cooking temperature. BGE also has branded accessories, like its calzone press. But with over 200 Eggcessories, try before you buy or they'll get dusty in the drawer.
The trick to safe pre-heating is to start early and go slow. As soon as you light your BGE, place the conveggtor or half-moon baking stones. Then immediately follow with your pizza stone. If you put a cold stone on a hot grate, it could crack. Try the branded stone since it can handle heat better. This wedding gift is a firm household fave among the Reavers, so try it.
19. Fogo Charcoal Pizza
You might know the Big Green Egg comes in seven sizes from Mini to 2XL, so as you choose BGE recipes, check that it'll fit your unit. The temperature range is the same for all sizes, but the dome depth and conveggtor diameter will affect what you can cook (e.g. pork roast vs sliced veggies). This pizza uses a can of plain crushed San Marzano tomatoes as its red sauce.
The best fuel for a Big Green Egg is natural lump charcoal. BGE sells a branded version in 10lb and 20lb bags. Never use briquettes because their chemical content can damage your ceramic cooker. You want pure wood-based charcoal. This stacked set-up cooks pepperoni pizza with the conveggtor legs down. Use the eggspander system or jerry-rig a version of your own.
21. Executive BGE Chef Pizza Ideas
You already know you should remove the ashes before baking. Ash rakes and ash pans are great for this. But you should also wiggle the charcoal grate and poke through the holes from the upper side. This dislodges lumps and clears the airways. Remove visible stones or rocks as well. And it helps that these elevated recipes are safe (and fast) enough for impatient kids!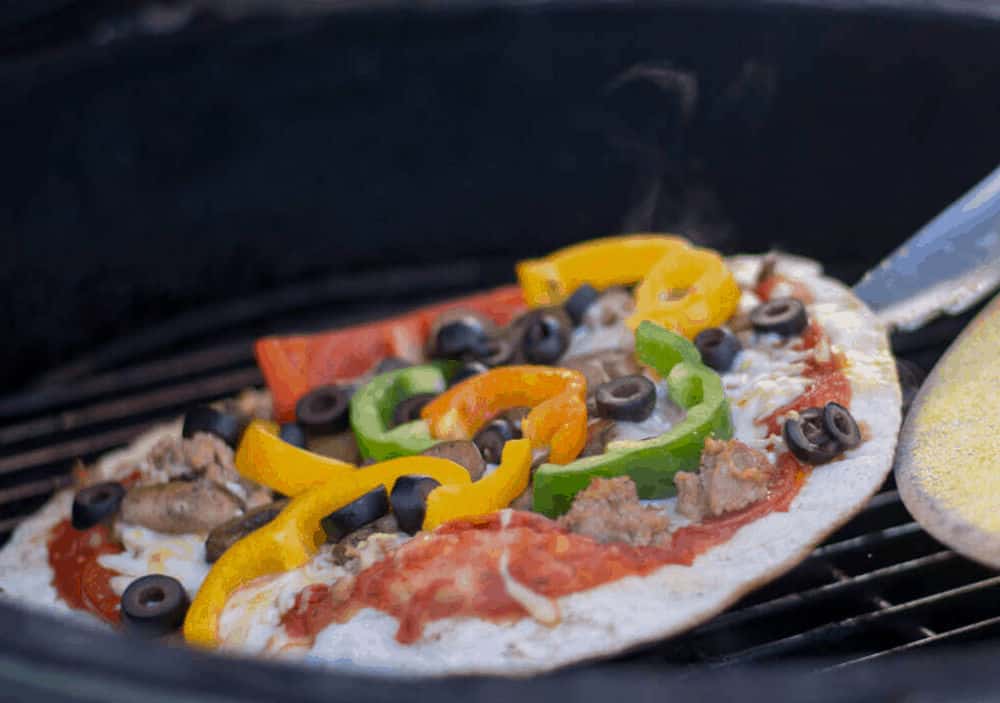 Lighting a BGE is easier than you'd think. You can use a charcoal chimney, lighter cubes, a blow torch, a weed burner, or BGE's branded charcoal starters. If you're using a live flame, light the charcoal at four positions until it glows (north, south, east, west … or 12, 6, 3, and 9 o'clock).  This recipe uses low direct heat on a pizza grill, so 350°F without the conveggtor.
23. White BGE Chicken Spinach Mushroom Pizza
BGEs are quite versatile. You can even use them for 'stovetop' cooking. In this demo, they've used a cast iron skillet to cook the toppings on the BGE before adding them to the pizza crust. Leave the lid open so you can stir the toppings as they sauté. Next, skip the red sauce and just brush the base of your docked pizza with plain oil followed by minced garlic.
You might be using a Big Green Egg Pizza recipe that calls for smoky flavors. That's fine but only use a few fruitwood chunks. Using wood as the primary fuel source will clog your grates and void your warranty. If you're cooking with kids, be sure they can safely 'turn off' the BGE. In this case, the pizza cooks on top of a metal grid with the conveggtor feet up.
25. Big Green Shawn's BGE Calzone
Sometimes, a Big Green Egg pizza recipe may puzzle you. Here's a quick clue. If the recipe says to cook indirectly, it means the conveggtor sits with its legs facing up, leaving a gap between the heat and the pizza stone. Direct cooking means the legs face down and the pizza stone sits right on the conveggtor. And if you have a calzone press, that's even easier!
Lighting a BGE with lighter cubes is simple, but you do need to place them strategically. Put three cubes at three different spots amid the charcoal. Then light them up, close the lid, and wait ten minutes or so. To 'turn off' close the top and bottom vent then leave the cooker alone for half an hour until all the fuel cools. You can re-use the cold charcoal next time.
27. Aldi's Frozen Flatbread BGE Pizza
The main advantage of ceramic conveggtors (sometimes called plate setters) is convenience. They're self-cleaning. Just leave them in a lit BGE and all the germs burn off! But off-brand ones are brittle, so handle with care. Especially when they're hot. You can also get cast iron or stainless steel grids. So take your frozen pizza straight out of the box and into the BGE.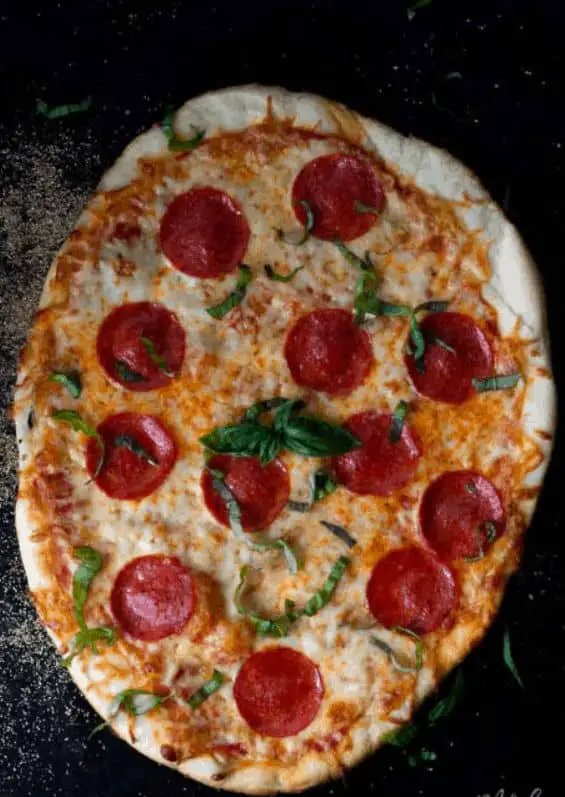 What do you do if your Big Green Egg pizza recipe uses half-moon baking stones or grids instead of a conveggtor? Well, the stones come with a wire basket to hold them. But you may also need an Eggspander kit (sold separately) to adjust your cooking height. Also, if you're unsure whether your recipe works with a BGE, if the recipe says 'grilled pizza', that's a yes.
29. Fogo's BGE Calzone
Did you know you can adjust the heat on your BGE within specific degree ranges? Read the instructions or find videos online. They show you how to play with the daisy wheel at the top and the bottom vents, right down to the degree. Also, with the right accessories, seemingly complex pizza recipes (like calzones) become much faster and easier, so try these out.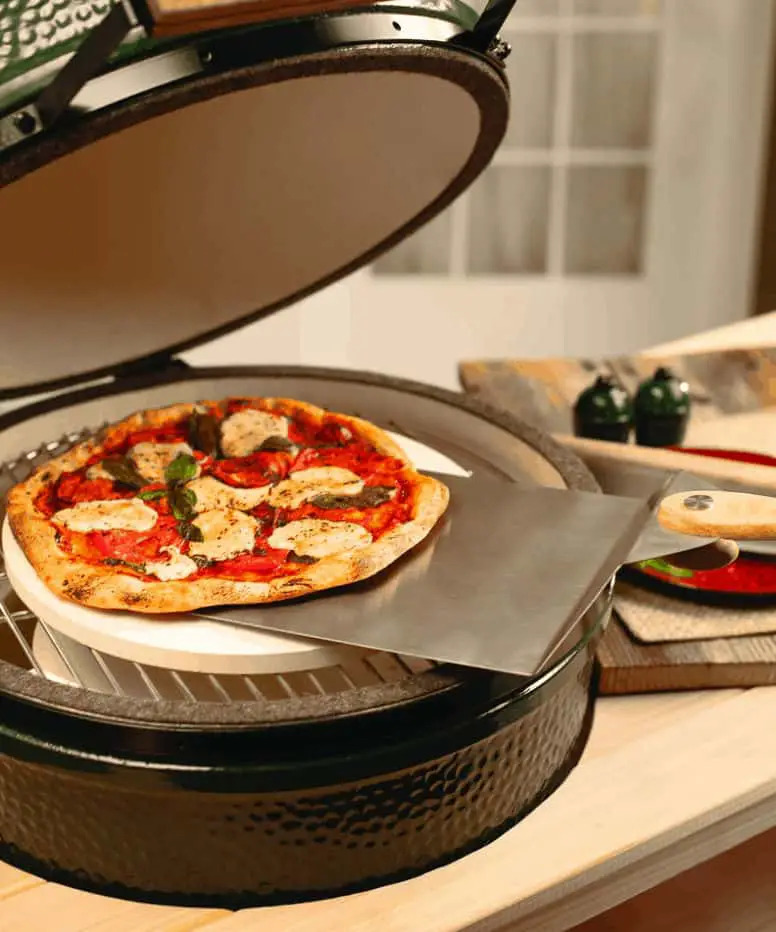 Older BGE models have a cast iron daisy wheel that can easily rust. So after you're done cooking, put the daisy wheel inside the cooker, close the lid, and close both vents. This will douse the fire, clean the cap, prevent rust, and safely preserve unused charcoal for your next dish. For prosciutto pizzas, put the deli ham last as a 'garnish' since it doesn't need to cook.
31. Ole Smokin Steve's Big Green Egg Pizza
As we wind down, you may be wondering how to clean your BGE. Just do a 'clean burn'. Open the bottom vent and let your BGE burn at the highest temperature until the charcoal dies out. Then shake the grate and empty the ashes. Done and done, no soap or water required. And as our final Big Green Egg pizza recipe, an EGGspander ensures even baking.
What's your favorite big green egg pizza recipe? Tell us how to make it in the comments!
31 Best Big Green Egg Pizza Recipes
Ingredients
Chef Jason's Big Green Egg Margherita

Full Philled Big Green Egg Pizza

BGE HQ Pizza Recipe

Flaming Rooster BGE Pizza

Born To Egg BGE Pizza

Bill McFadden's BGE Pizza

Papa Murphy's Pizza

Outdoor Home BGE Pizza

Pitmaster BGE Calzone

Fogo Charcoal Pizza

Executive BGE Chef Pizza Ideas

White BGE Chicken Spinach Mushroom Pizza

Big Green Shawn's BGE Calzone

Aldi's Frozen Flatbread BGE Pizza

Fogo's BGE Calzone

Ole Smokin Steve's Big Green Egg Pizza
Directions
Select your favorite recipe.
Organize all the required ingredients.
Prep the recipe in 30 minutes or less!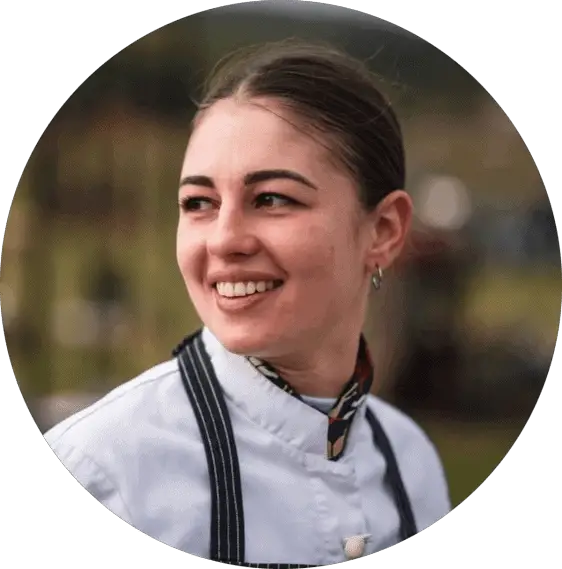 Julie has five years of experience in the restaurant industry, she decided to share her knowledge about her liking and fondness for food and pizza, of course, cooking as her love language. She's very passionate about what she's doing, making all the things she writes regarding pizza recipes, very amazing!