Who doesn't love some extra cheese on their pizza? Although you can add more cheese to any pizza, a cheese pizza is an actual thing. The trick lies in using a generous amount of cheese and achieving the perfect, chewy crust.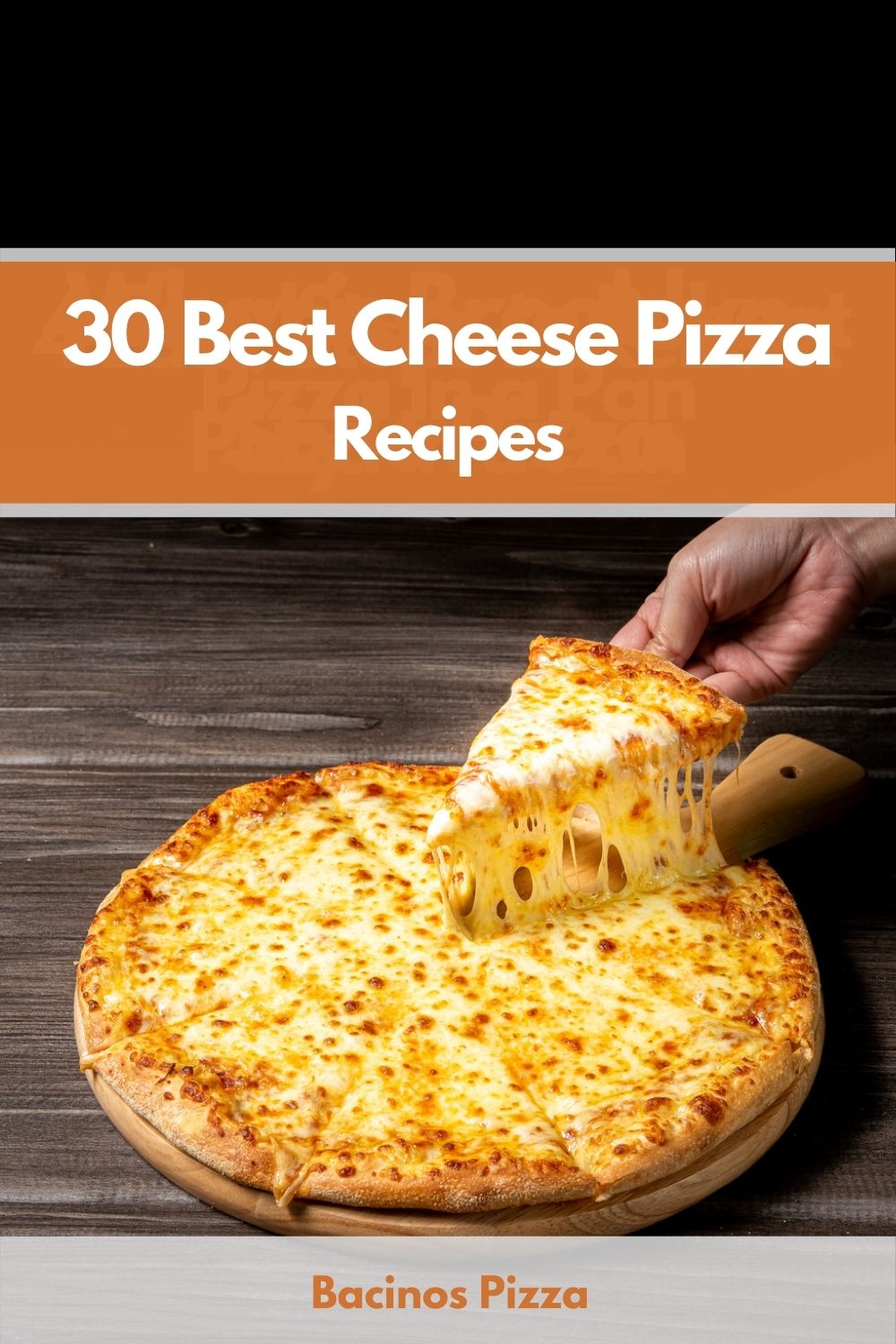 It's even safe to say that it tastes better than delivery pizza, so why not try it? Making this one from scratch is easy and doesn't take too much skill or time. Take a look at some of the best cheese pizza recipes you can try today.
1. Homemade Cheese Pizza
Sonja and Alex make some excellent pizza, and we're sure you won't be disappointed by this recipe. They took ten years to develop what they call the perfect pizza dough that works for many different pizzas. Plus, the couple suggests using both fresh and shredded mozzarella to enhance the texture and flavor of the cheese layer. You'll also need garlic powder, kosher salt, and dried oregano.
2. Margherita Cheese Pizza
Nabeela gets straight to the point, showing you how to make this delicious combo of Margherita and cheese pizzas. She makes the dough from scratch, making it easy to follow the recipe by looking at how she does it. There's a reason why cheese pizza is a classic – the toppings are simple, but nothing can beat the gooey taste of melted cheese.
3. Sally's Extra Cheese Pizza
This recipe is easy to follow, even if it's your first time making any pizza at all. It's extra cheese because it calls for sliced and shredded mozzarella and parmesan. On top of that, you'll need some sauce, ground basil, and/or Italian seasoning. The dough is easy to make with basic ingredients like flour, yeast, water, salt, and sugar.
4. Four-Cheese Pizza Recipe
The easiest way to learn how to make any pizza is to watch a professional do it. And by professional, we mean anyone who's made it successfully at least once. Homeless Chef shows this easy-to-follow recipe that's simple enough for beginners to try when making this delicious pizza. Oh, and the cheese! You'll need cream cheese, grated cheese, mozzarella, and parmesan that'll all melt together.
5. Basic Cheese Pizza
Basic might sound dull in some cases, but not in the case of cheese pizza. Many people love plain pizza that has nothing else but sauce and lots of cheese. The recipe calls for classic ingredients you probably already have at home, so you can make this one when craving some cheesy pizza at night. It also doesn't take long to make.
6. Extra-cheesy Cheese Burst Pizza
This is a bit different than your classic cheese pizza as it requires some tucking and packing the cheese in. Still, the process is simple and results in the most amazing cheesy explosion in your mouth. The dough recipe is pretty basic, but the process of adding the cheese is quite unique. Follow the recipe using these cheeses, and we're sure you'll love it.
7. Thin Crust Three Cheese Pizza
Although this one takes an hour and a half to make, we're sure you'll love it. It calls for three cheese types – mozzarella, parmesan, and cheddar. Once all of that melts, you'll have the cheesiest pizza that simply melts in your mouth. The recipe is quite detailed, showing every step of how to make the dough from scratch before topping it with these few ingredients.
8. Double-cheese Pizza
Who doesn't love the stretchy cheese that we usually enjoy with dishes like macaroni, especially when it's on a pizza? Everyone's a fan! Well, you can now achieve the same thing on your pizza. The trick is to add the cheese later during the baking process so that it doesn't melt all the way. Also, Chinny is using meat which isn't typical for cheese pizza, but why not?
9. Averie's Three Cheese Pizza
This is another variation of a pizza loaded with multiple cheeses, made conveniently with store-bought dough. It's an easier version since it doesn't involve making the dough, which is often the most complicated part for most people. She also used several different kinds of cheese like Grana Padano, Fontina, and Quark. Of course, there's mozzarella, too.
10. No-Yeast Cheese Pizza
Pizza with no yeast? Yes, it's possible. Magic Touch Recipes show how to make pizza dough even if you don't have any yeast or have you just noticed it's expired. Instead, use baking powder and baking soda, which will help the dough rise equally well. For the toppings, you won't need much more than sauce, mozzarella, and some oregano.
11. Quick Classic Cheese Pizza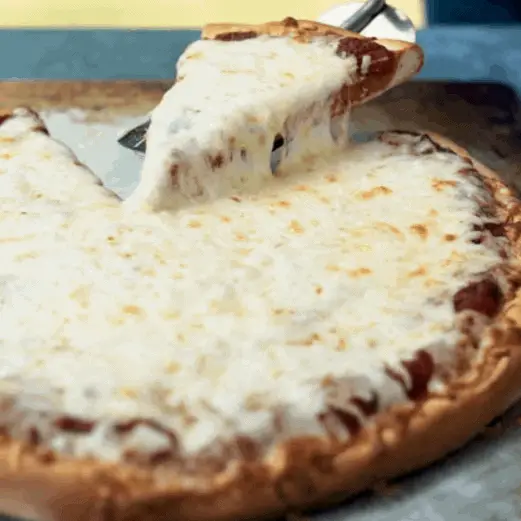 This quick recipe is ideal when you don't have much time but want some cheesy pizza. It explains how to use store-bought dough to create the perfect crust for your toppings. The trick is in brushing the olive oil over it before you add anything else. You can even use canned sauce, and nobody will be able to tell you didn't spend hours on this cheesy delight.
12. Plain Cheese Pizza
Sometimes, it doesn't take much to create a delicious meal. This simple (plain) cheese pizza is ideal if you don't have much time. Although it's not in English, you probably won't struggle to follow the process since it only takes a few steps. Plus, she's using pre-made dough, making everything even easier to whip up.
13. Malinda's Homemade Cheese Pizza
Do you feel like making the dough from scratch? You'll need several ingredients like flour, yeast, salt, oil, water, and a pinch of sugar to feed the yeast. A few things you'll need for this fantastic recipe: tomato sauce, tomato paste, mozzarella, cheddar, and parmesan. Follow the recipe for precise instructions and a more detailed list of ingredients.
14. Blue Cheese Pizza
Yes, this one calls for some early preparation since the dough should rest during the night. Although this might sound daunting, it really does give the best taste and texture. She shows three ways to make this with different toppings to choose from based on your cravings. Have you ever had blue cheese on pizza? Well, now might be the time.
15. Crispy Cheesy Pan Pizza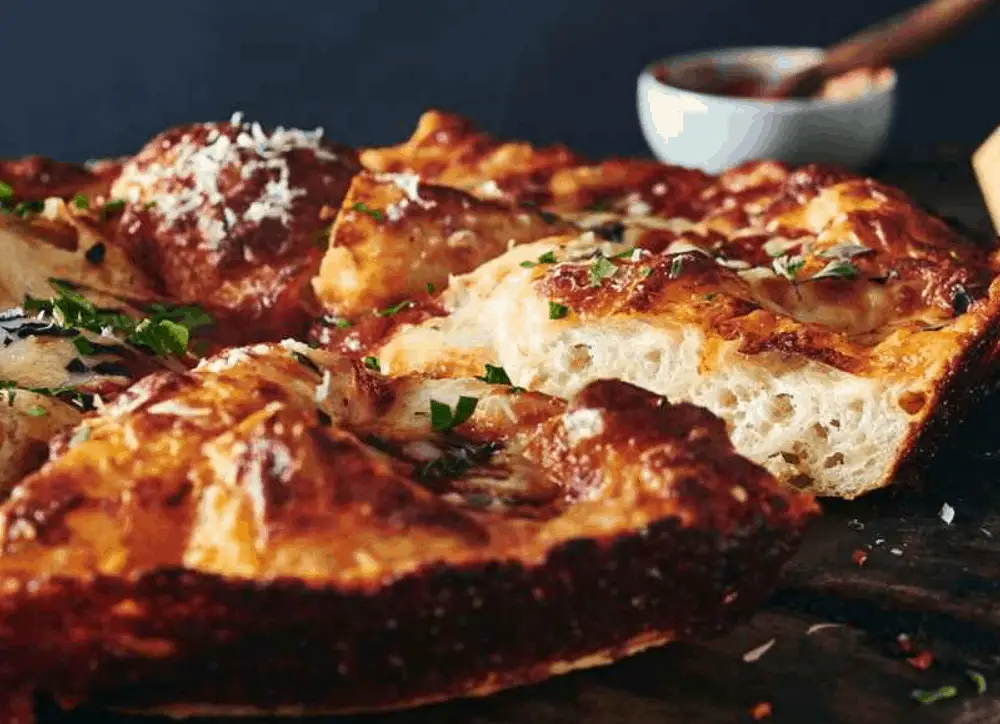 There's nothing better than a crispy crust and a cheesy topping on a homemade pizza. Although this one takes a total of 16 hours with preparation and all – it's worth it. The layer of cheese is gooey, while the crust has the perfect texture thanks to all the attention put in the making.
16. Culinary Page Cheese Pizza
This is a different way to make cheese pizza. Although the ingredients are common for this type of pizza, there's a trick to help the process. A key technique is placing the baking stone in the oven as it heats, which helps create a crisp crust. This helps to create a crisp crust that everyone loves so much. Add cheese on top of that, and you have the winner.
17. Betty's Easy Cheese Pizza
Let's say you don't have the time or the patience to make your pizza for several hours. That's understandable – very few people do. Still, that doesn't mean you can't enjoy delicious pizza whenever you want to. Follow the recipe to learn how to make it, using a baking mix, pizza sauce, and mozzarella cheese. You'll have your pizza in front of you in half an hour.
18. Simple Margarita Cheese Pizza
Yummy Treats shares this simple recipe for a Margarita cheese pizza with a few basic ingredients. You'll learn how to make the dough from scratch – and without eggs. It takes about half an hour to rest and rise, after which you can roll it out in the shape of a pizza. Top it with sauce and mozzarella, and it's ready for enjoyment.
19. New York Style Cheese Pizza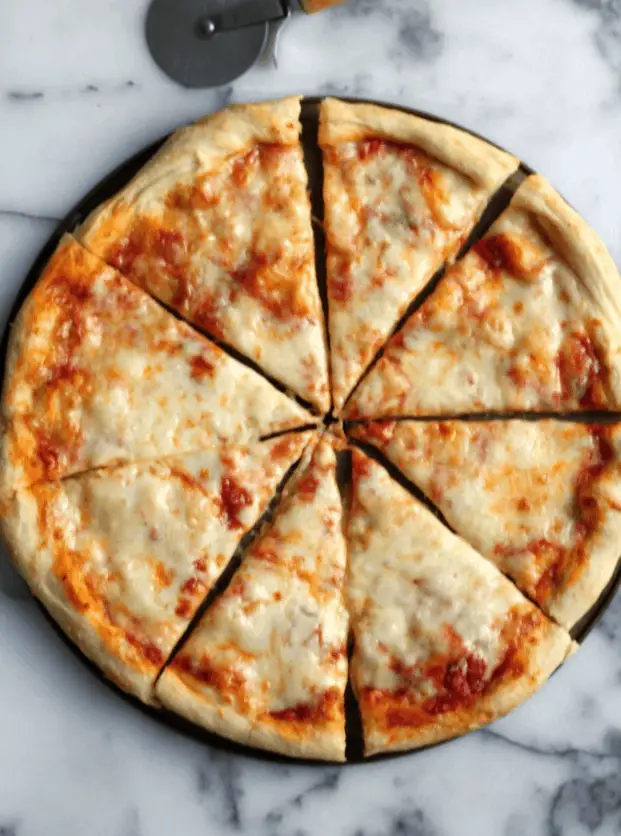 Have you ever tried pizza in New York? The city is well-known for its pizzas, and this cheesy version might steal the spotlight. This is one of the most detailed recipes that offers more than just a step-by-step guide. It provides plenty of details on how to get everything perfect, especially when choosing the right cheese. It is for one pizza only, so make sure to adjust it if you're having guests.
20. BBQ Guys' Kid-Friendly Cheese Pizza
Wondering why it's called kid-friendly? It's packed with veggies in a sauce you wouldn't usually use for pizza. It's an excellent way to trick kids into eating some healthier food. The recipe goes into detail, showing everything from how to make the sauce and the dough. Once it's rolled out, it's ready for mozzarella, Provolone, Colby-jack, and smoked gruyere cheese.
21. Sam Sifton's Cheese Pizza
Do you have some leftover sourdough, or you want to make some specifically for your cheese pizza? Either way, this recipe shows how to create a cheesy delight on a perfectly airy crust. You'll need some mozzarella, heavy cream, taleggio, parmesan, and black pepper. Don't forget to heat your oven for at least an hour to get it as hot as possible.
22. Chicken and Cheddar Cheese Pizza
Who doesn't love some chicken on their pizza? This recipe shows how to make the perfect chicken for your cheese pizza, adding it along with cheddar, mushrooms, tomatoes, and some sweet corn. It's delicious thanks to the marinated chicken, so why not try it if you want to step away from the plain cheese pizza?
23. Cheesy Cheese Pizza
What's better than cheese? That's right – cheesy cheese! This version of the classic recipe calls for mozzarella, Colby-Jack cheese, and possibly some Italian seasoning if you're a fan. The dough is easy to make with well-known ingredients like yeast, water, flour, sugar, and salt. And the best thing is that it takes only fifteen minutes to complete.
24. The Cookbook Cheese Pizza
This is a classic Margherita you can whip up in about an hour. It shows how to make a quick sauce, which gives it a unique taste. You'll need some spices like oregano and paprika, along with mozzarella cheese. It takes about fifteen minutes to bake in a preheated oven, so make sure to keep an eye on it. Oh, and this one is quite large, so it's fit for sharing.
25. ThePioneerWoman's Cheese Pizza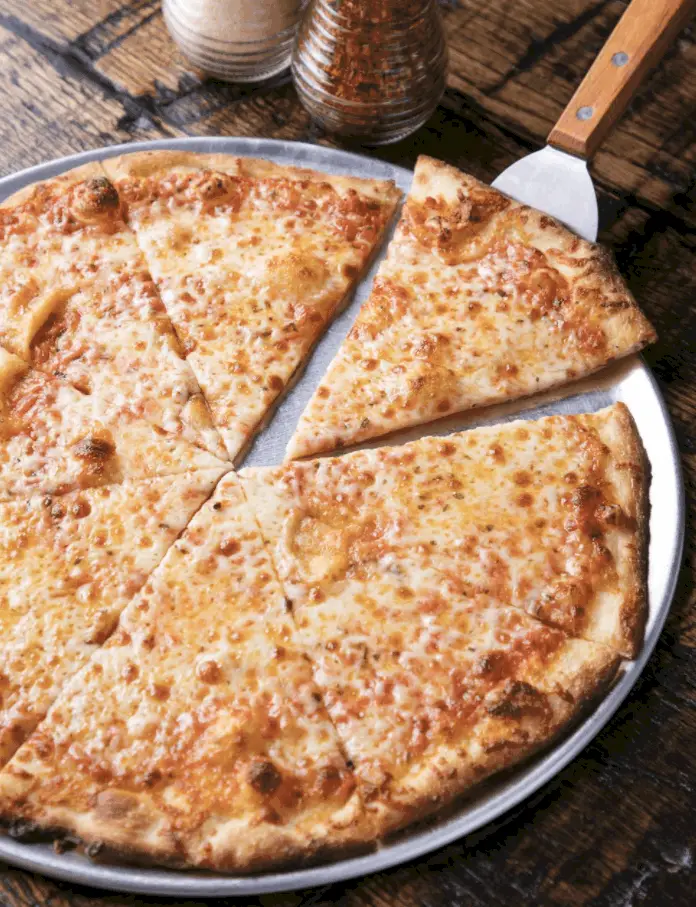 If you have two hours and are ready to have cheesy and crispy pizza – this is the right recipe for you. The preparation takes only a little over thirty minutes, thanks to the simple dough recipe. For toppings, you should use mozzarella, parmesan, and provolone cheese. Heat your oven to 500° until you prepare everything so that the toppings don't sit on the fresh dough for too long.
26. Cheese Pizza Without an Oven
This is another excellent recipe showing how to make this delicious pizza without an oven. Sometimes people don't like preheating their oven to make a small pizza. This is where a frying pan comes in. Follow the recipe for making the dough and topping it with sauce and mozzarella. She's also using white sauce that she shows how to make. It adds quite a lot to the cheesy flavor.
This unique take on a classic cheese pizza might become your new favorite. It takes only thirty minutes to make a total of eight slices. For more, you should adjust the recipe accordingly. Also, it says here to use the pre-made dough as you won't have to wait for it to rise. Spread some garlic, Romano cheese, mozzarella, plum tomatoes, and spices mentioned in the recipe.
28. Double-cheese & Chicken Pizza
If you like both chicken and cheese, this pizza is perfect for you. It's still a cheese pizza as it has double the cheese for the extra gooey texture. Plus, the chicken is cooked in yogurt and spices for a unique flavor you'll love. The recipe shows every step from making the dough to baking it when it's done and topped with ingredients.
29. Taste & Tell 1-hour Cheese Pizza
There's something about putting effort into making your pizza. It makes everything more special, especially if you'll share it with friends and family. What's unique here is that it doesn't call for pizza sauce but garlic and rosemary-infused olive oil. It's meant to replace the classic sauce, giving this version a whole new taste without losing the cheesiness.
30. Four-Cheese Wood Fired Pizza
Do you have a wood-burning oven? If so, this is the perfect recipe that shows how to make perfect pizza using that oven. He shows how to make the dough and how to rotate the pizza so that you don't burn the cheese. You can use any four kinds of cheese you want, although he's using mozzarella, gorgonzola, Grano Padano, and provolone.
Have you ever made cheese pizza? Which one of these recipes do you like the best? Tell us all about it in the comments.
30 Best Cheese Pizza Recipes
Ingredients
Margherita Cheese Pizza

Four-Cheese Pizza Recipe

Extra-Cheesy Cheese Burst Pizza

Double-Cheese Pizza

No-Yeast Cheese Pizza

Plain Cheese Pizza

Blue Cheese Pizza

Culinary Page Cheese Pizza

Simple Margarita Cheese Pizza

BBQ Guys' Kid-Friendly Cheese Pizza

Chicken And Cheddar Cheese Pizza

The Cookbook Cheese Pizza

Cheese Pizza Without An Oven

Double-Cheese & Chicken Pizza

Four-Cheese Wood Fired Pizza
Directions
Select your favorite recipe.
Organize all the required ingredients.
Prep the recipe in 30 minutes or less!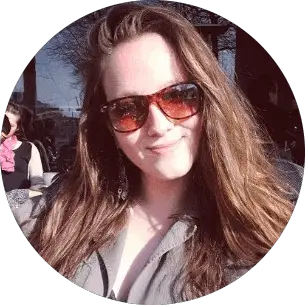 Barbara is an enthusiastic food-exploring person that goes through different culinary experiences. She got inspired by creating a pizza blog post after she tasted one of the best-selling pizzas in Toledo.