Pierogi (pronounced 'pyeh-roh-ghee') is a popular Polish dish. They are essentially dumplings filled with potato, cheese, or other fillings, and are typically served with butter or sour cream.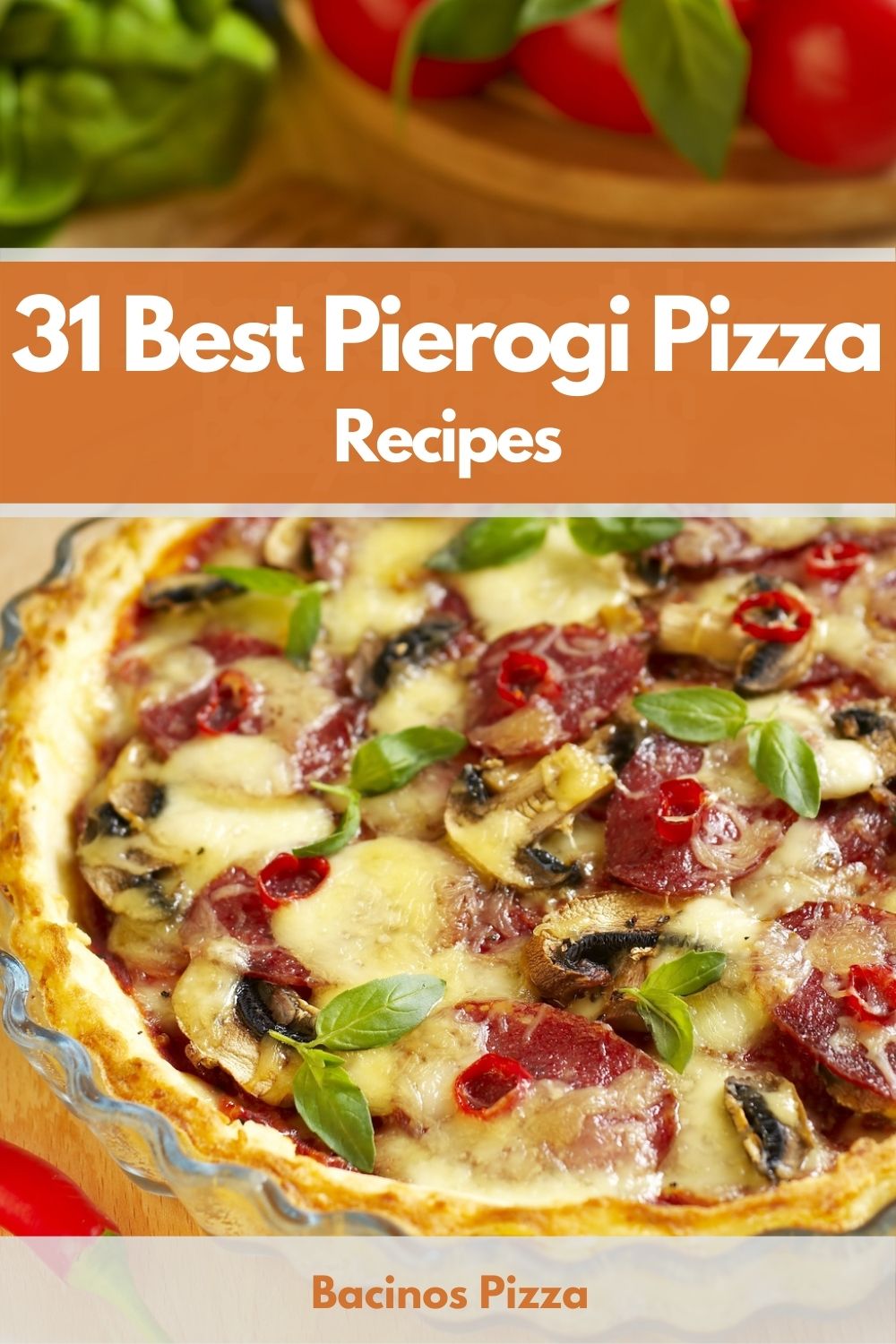 So in pizza form, expect lots of potatoes and cheese in your pierogi pizza recipe. Let's look at 31 interesting variants you can try at home. This is a hybrid pizza so feel free to experiment!
This first recipe specifies that you should use potato varieties that are good for baking or roasting, such as Russets. Before putting them on the pizza, bake or roast the potatoes (with jalapenos) until they're tender but not cooked through. Other toppings include mozzarella, cheddar, and bacon. For this pierogi pizza, sour cream replaces pizza sauce, both on the crust and top of the pizza.
2. Mike Oski's Pierogi Pizza
Pierogi pizza generally uses thinly sliced potatoes. But you can also make it with mashed potatoes, as Mike does here. (Technically, mashed potato pizza is called pagach or pagash rather than pierogi, and it's a Slovak dish.) Mike's pizza also has sliced kielbasa – a Polish sausage. Caramelise onions in butter, then add cheese and onions to the warm potatoes.
This city is known for its pierogi pizza. Their local signature is creamy potatoes, splurges of cheese, caramelized onions, and sometimes sauerkraut. This recipe offers two filing options. Pizza #1: the creamy mashed potatoes are mixed with caramelized onions and cheese. For Pizza #2, the potatoes are mixed with sauerkraut and sour cream. You can add bacon as well.
4. Should I: Pierogi Pizza
The type of potatoes you select will play a huge role in your pierogi pizza recipe. Thin slices are best, but many Americans prefer the convenience of mashing. This recipe uses red potatoes. They make a good chunky mash but are tough to slice. The recipe also has three types of cheese (cheddar, mozzarella, and parmesan) plus garlic butter and yellow onion.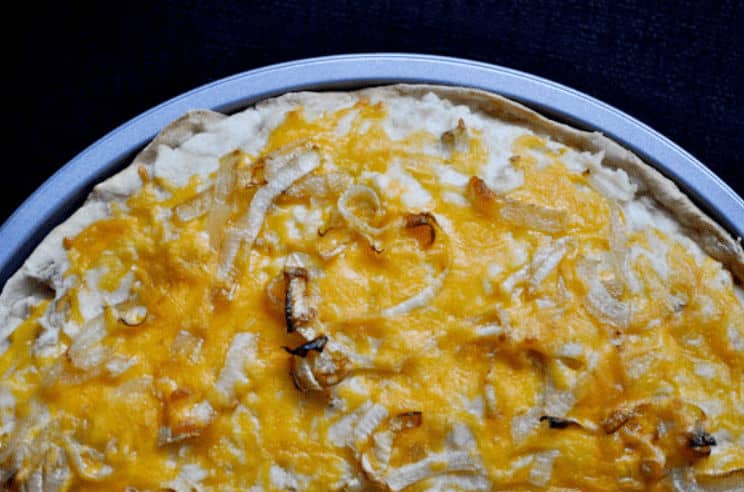 Here's another Pittsburgh resident with her take on pierogi pizza. Because the potatoes are mashed, you don't need to pre-bake them. But it's helpful to bake the raw dough for a few minutes first. Reason being the toppings are thick so heat may not reach the base evenly and its center may stay raw. Add milk and butter to your potatoes to keep them fluffy and light.
6. Windsor Pierogi Pizza
Here's a flavourful version of pierogi pizza. It uses sliced potatoes. Boil them in water seasoned with garlic salt, garlic powder, paprika, parmesan, and chili powder, onion powder for 10 to 15 minutes. Use sour cream instead of pizza sauce. Spread a thick layer on the dough then follow with potato slices, more sour cream, shredded cheese, and bacon bits.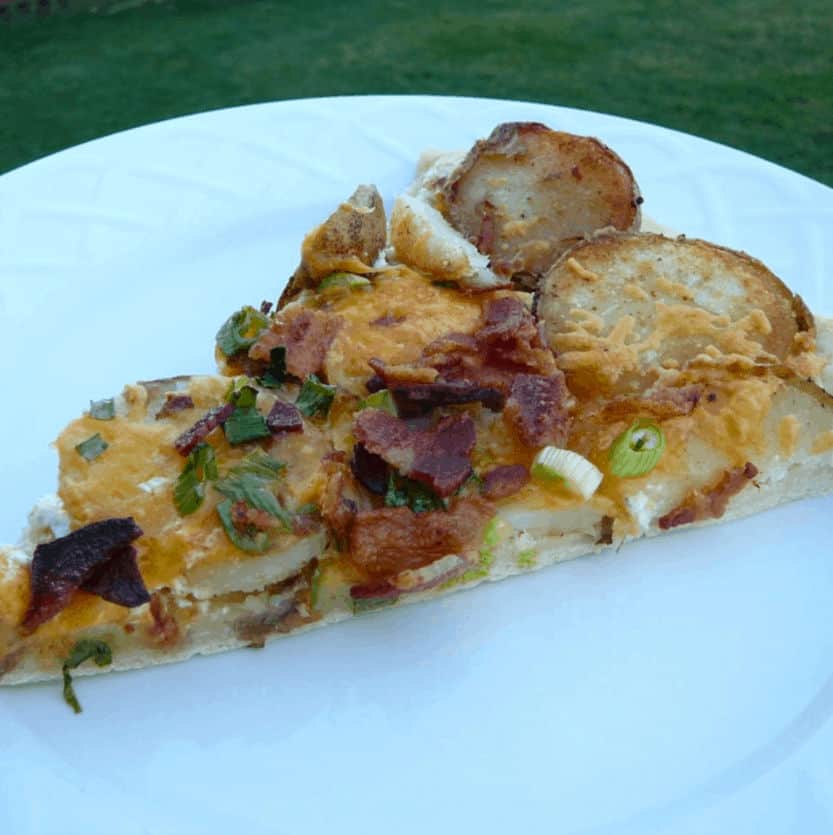 This recipe uses green onions as an alternative, in case you don't like the taste of red or green ones. It also uses marbled Monterey Jack. For toppings, use thinly sliced potatoes with their skins on. Scrub, slice, and parboil the potatoes then fry them in olive oil. Use a pizza dough that has sugar baked in. Spread sour cream on the base, add potatoes, cheese, and bacon.
8. Nepa Pagash Pizza
Technically, we've already tried several pagash recipes (because the potatoes are mashed). But this North-Eastern Pennsylvania Pagash daddy-daughter recipe will win you over. Traditional Slavic Pagach is mashed potatoes fried with cabbage. The pizza version uses onions instead. Always put a layer of cheese between the dough and the mashed potatoes.
If you like color in your pierogi pizza, try this recipe. The dried herbs add speckles of green to your cheesy pizza bed. The garlic potatoes are mashed with oregano, basil, and fried turkey. Your pizza layers start with pizza dough sour cream, cheddar, mashed potatoes, more cheddar, and a final layer of mozzarella on top. Broil or grill the pizza to get those heat dots.
10. Double Meat Pierogi Pizza
Pierogi pizza is a heavy dish. You're basically eating potatoes on bread, so it's a bit like having a French fry sandwich. And while the cheese provides protein, you may want to balance out the dish with more meat. This pierogi pizza recipe adds green onions, sausage, and bacon to the standard cheese topping. It uses store-bought pierogi instead of potatoes.
Most pizzerias and home bakers opt for mozzarella. Its gooey, stretchy texture works well as a topping. But for pierogi pizzas, the sharpness of cheddar offers a better contrast to mashed potatoes and caramelized onions. The rich yolky color on this version comes from a pizza blend containing cheddar, low-moisture mozzarella, and parmesan – all shredded or grated.
12. Bar S Pierogi Pizza
Here's another highly colorful version of pierogi pizza. Start with lightly toasted pizza dough – the dark brown striations on this one just add to the visual beauty of the pizza. Spread sour cream on the base – it's the standard 'sauce' of choice in pierogi pizza recipes. Add shredded cheddar them mashed potatoes and bake. Finish with green onions and bacon.
For the average pizza lover, pierogi pizza is a go-to. Just slather sour cream, add last night's mashed potatoes, drizzle with cheese, and done! But when you're on the Food Network, your pizzas are spiced way up! This kaleidoscopic version has red chili flakes, bacon, sweet onions (slow-cooked for 10 hours), minced chives, garlic mashed potatoes, and Greek yogurt sauce.
14. Boston's Spicy Perogi Pizza
Generally speaking, pierogi pizza recipes are ridiculously simple. So simple that you can reproduce this version from Boston Pizza just by watching the commercial. Well, you can replicate the look at least – the taste may need more effort. This version uses cactus-cut potato slices over a creamy sauce, topped with cheddar cheese, bacon, and green onions.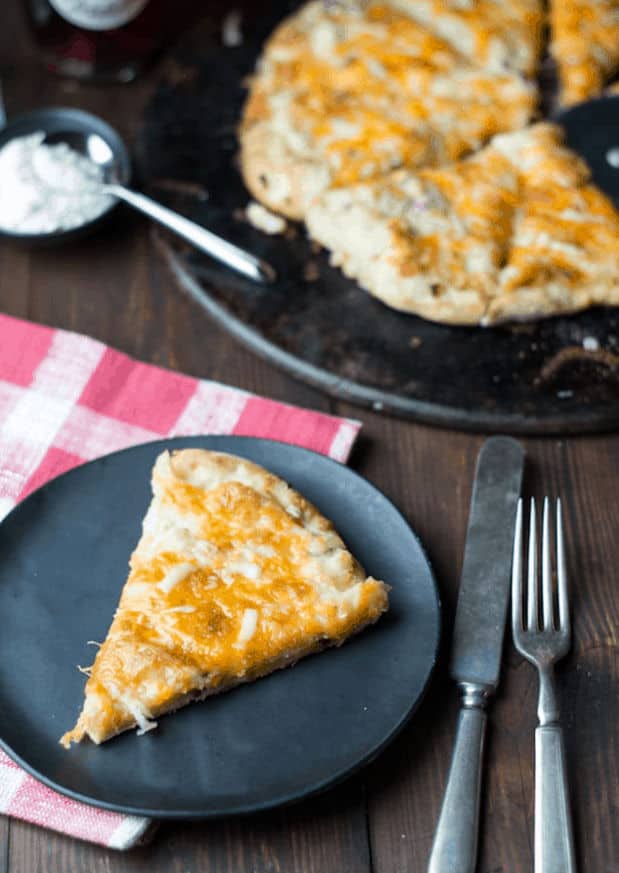 Why is pierogi pizza so popular in Pittsburgh? It's probably because there's a large Polish community there, as well as generations of East Europeans. So they're unlikely to love the shortcut of splitting open store-bought pierogi. Instead, this recipe uses freshly mashed potatoes, red onions, and a three-cheese mix of cheddar, parmesan, and mozzarella.
16. Pagash Stuffed Pizza
Pierogi pizzas – sometimes sold as pagash or pagach pizzas – need thicker crusts to hold up all that cheese and mash. So you may see it more as a stuffed potato pie than a pizza. Or at least this recipe does. It used the leftover dough from Hawaiian diner rolls (milk, potatoes, flour, lots of sugar) as the base dough. The 'pie' is then filled with potatoes and cheese.
17. Khana Zamana's Pierogi Pizza
South Asian takes on regular recipes can drastically enhance the dish. Expect hot spice and lots of garlic. This version has sliced potatoes (with skin), sour cream, bell peppers, chicken strips, sriracha, mushrooms, green onions, and cheese. The recipe audio isn't English but the captioned instructions are so you're good. The chicken is sliced like pepperoni or salami.
We've established that pagash is a Pittsburgh staple, but it's also popular in other parts of North East Pennsylvania. Especially among Polish and Slavic families. Use store-bought pizza dough and russet potatoes or Yukon gold potatoes. You'll want to boil and mash your potatoes, then add the bulk of cheese and onions to the mash. Leave a little for 'garnish'.
19. Shaz Pierogi Pizza
This recipe is on the darker side for pierogi pizza. The extra color comes from dark greens and red onions (which – despite their name, and just like red cabbage and red grapes – lean closer to purple). The recipe uses store-bought pierogi as the base, skipping the dough completely! Boil, drain, season, and toss before baking your doughless pizza in a bowl.
We've already browsed one of Sunny Anderson's pierogi pizza recipes. Here's a second one. And this time it's even greener! Her previous recipe used mashed potatoes. This one uses frozen pierogi topped with spinach. The creaminess comes from the spinach – of course – but also two types of cream and Italian blend cheese. Don't forget the chili and bacon!
21. Grywalski Family Pagash
Pierogi pizzas are often 'uncovered'. But when we move into pagach territory, the 'pizza' is sometimes made as a potpie with an extra sheet of dough on top. Pagash dough is sweetened to balance the saltiness of cheese and potatoes. This dough has sugar, butter, eggs, yeast, and milk. Stuff the pagach, fold it into a wonton, then roll flat and bake. Toppings are optional.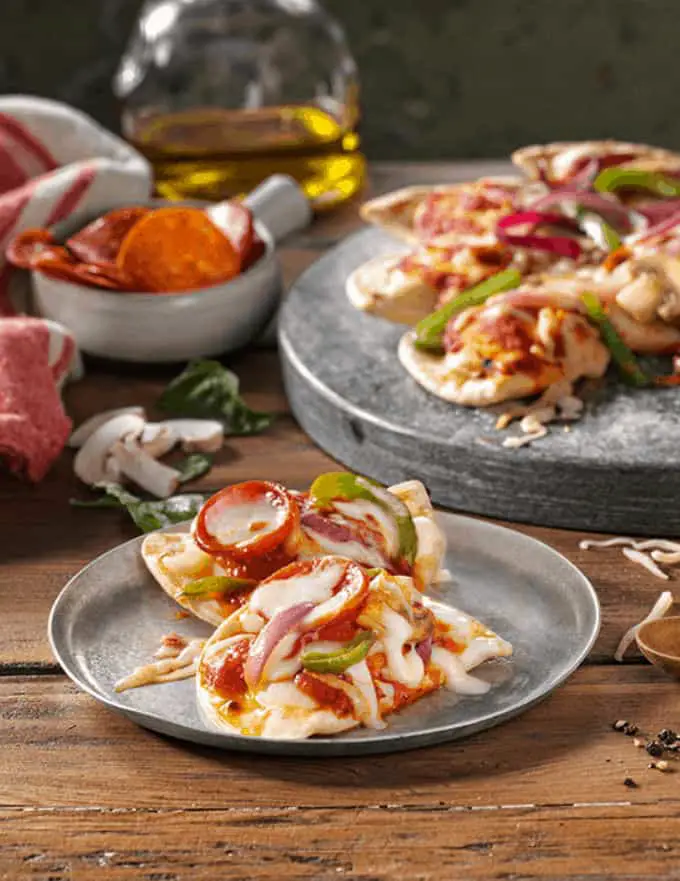 No, not that Mr. T … (Though wouldn't it be cool if it was?) That aside, this is a flour-free pizza so your 'pizza base' could be Mrs. T's branded pierogi (boiled) or Mrs. T's Savory-5-Cheese-Blend (romano, asiago, swiss, parmesan, and cheddar pre-mixed with whipped potatoes). Arrange the base on the pan and top with pizza sauce, pepperoni, and mozzarella.
23. Cookat Mashed Potato Pizza
Pierogi pizza got its name because even when it doesn't use split pierogi, it has the same toppings used to stuff pierogi. But the twist here is the mashed potatoes (mixed with a cup of flour and nutmeg) are the base rather than the topping. In this recipe, the mashed potato base is followed with tomato sauce, cheese, black olives, sweetcorn, onion, bacon, and shrimp.
We've seen a stuffed pagach recipe that had potatoes and cheese stuffed into flattened dough. Here's a puffy version of the same concept. And yes, they do call it pierogi pizza. Pagach was mostly cooked for lent, and some pierogi pizzerias follow that rule. This variant is filled with potatoes, egg, sauerkraut, chives, and cheddar. The fluffy dough is made with scalded milk.
25. No-flour No Oven Potato Pizza
Does it still count as a pierogi pizza if there's no dough beneath the potatoes? Technically, yes, because the name comes from the 'cheese and potato' fillings. This version uses julienned potatoes fried, patted down, and flipped to form a crispy crust. The potatoes are topped with ketchup or marinara, hotdog slices, green onions, and cheese. Cook on a pan.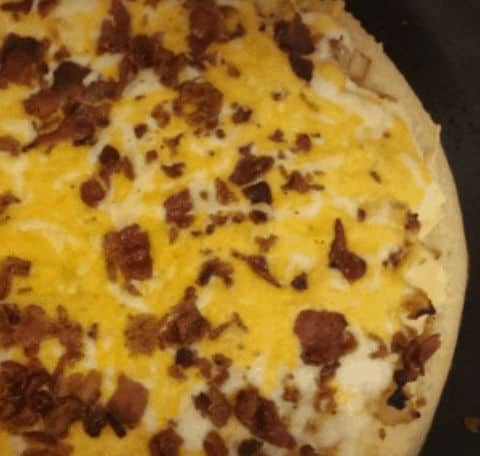 Let's go back to more … traditional styles of pizza, pun intended. Start with a typical base of store-bought pizza. Lay the toppings directly on the bare buttered base. These will include minced garlic and chopped onion. Sauté and place them on the crust – it's the closest you'll get to a sauce. Add mashed potatoes, cheese, and any toppings you like (chicken, bacon, etc.).
27. Ethan Chlebowski's Belish
As long as we're modifying recipes, try this belish. It's a family recipe that's based on pagach … which we already know is based on pierogi. Add some pizza sauce as a dip and this falls safely in that pierogi pizza category. Make the dough with milk, egg, and yeast, stuff it with cheese and potatoes (and bacon?). Roll it flat, bake, brush with butter, and dip in marinara.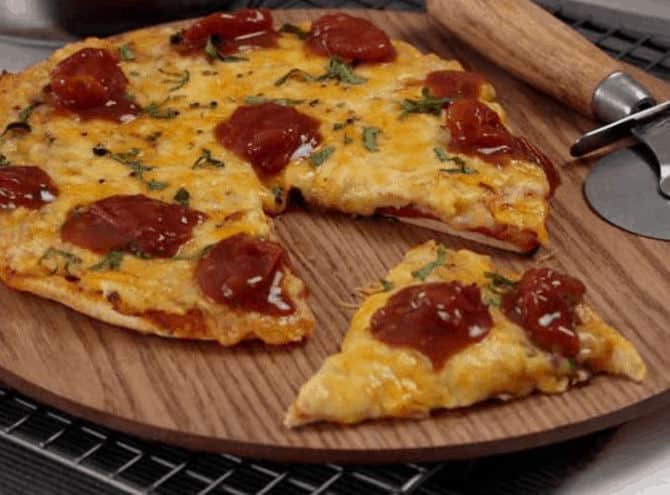 TV chefs (and mommas passing their recipes down) often use fresh or dried spices. But us regular folk would sometimes rather reach for the packaged stuff. Like Maggi mash, spices, or gravy. This pierogi pizza recipe bakes Maggi Mash potatoes on pizza dough with onions, garlic, cheddar, mozzarella, parmesan. Serve with the Maggi roast tomato gravy in the recipe.
29. Another Fate's Pagachi Calzone Pizza
Here's one more Slavic comfort food recipe passed down from Mike's Gram. It's a father-son favorite for Mike and Rich. This is a more traditional variant with cabbage stuffing. Chop the cabbage in a food processor and salt it to dehydrate. Squeeze out the liquid and fry in butter and onions until brown. Put it on half the dough, fold over, pinch shut, and bake.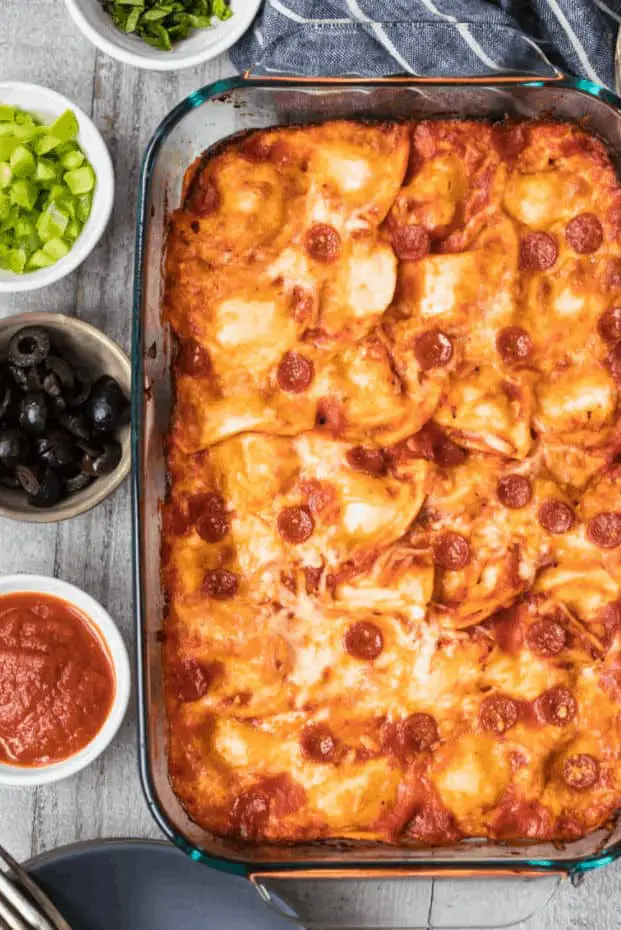 This recipe for pierogi pizza casserole is a true delight. It has pepperoni, olives, basil, and bell peppers. The pagach base is Mrs. T's mini 4-cheese medley pierogi sitting in a bath of pizza sauce. Start with the sauce at the bottom of the baking pan. Add the pierogi without pre-boiling. Spread them out in a single layer. Add more pizza sauce and the rest of the toppings.
31. Pierogi Calzone
We've mentioned several times that you can add 'exotic' stuffing to your pagash. Or you can dip it in pizza sauce. It doesn't have to just be potatoes and cheese. And finally, we've found a practical demo! It's the perfect finish to this pizza list. It's not in English, but it's easy to follow. The stuffing for this puffy pierogi includes olives, salami, and sun-dried tomatoes.
What's your favorite pierogi pizza recipe? Show us how to make it in the comments!
31 Best Pierogi Pizza Recipes
Ingredients
Mike Oski's Pierogi Pizza

Should I: Pierogi Pizza

Windsor Pierogi Pizza

Nepa Pagash Pizza

Double Meat Pierogi Pizza

Bar S Pierogi Pizza

Boston's Spicy Perogi Pizza

Pagash Stuffed Pizza

Khana Zamana's Pierogi Pizza

Shaz Pierogi Pizza

Grywalski Family Pagash

Cookat Mashed Potato Pizza

No-Flour No Oven Potato Pizza

Ethan Chlebowski's Belish

Another Fate's Pagachi Calzone Pizza

Pierogi Calzone
Directions
Select your favorite recipe.
Organize all the required ingredients.
Prep the recipe in 30 minutes or less!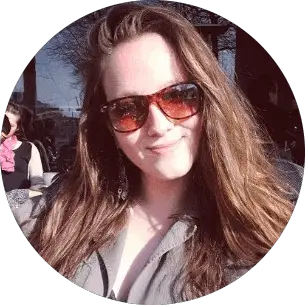 Barbara is an enthusiastic food-exploring person that goes through different culinary experiences. She got inspired by creating a pizza blog post after she tasted one of the best-selling pizzas in Toledo.