Cast iron pans are in-demand cookware nowadays because of their advantages in the cooking process. These magical cookwares are durable and primarily non-stick, which creates a much presentable dish. But, more than that, cast iron pans heat up quickly compared to other utensils made with different materials, which can retain a significant amount of heat even for an extended period.
These benefits are why some bakers and Pizzaiolos prefer to use cast iron skillets in their recipes. For pizzas, cast iron pans help for faster baking, creating a crispier crust. The hotness of the pizza subsides slowly too, which signifies that you can take your time eating it.
With all this good news about cast iron pans, we are happy to present the 19 cast iron pizza recipes that prove this cookware's terrific. Watch out for these delicious recipes!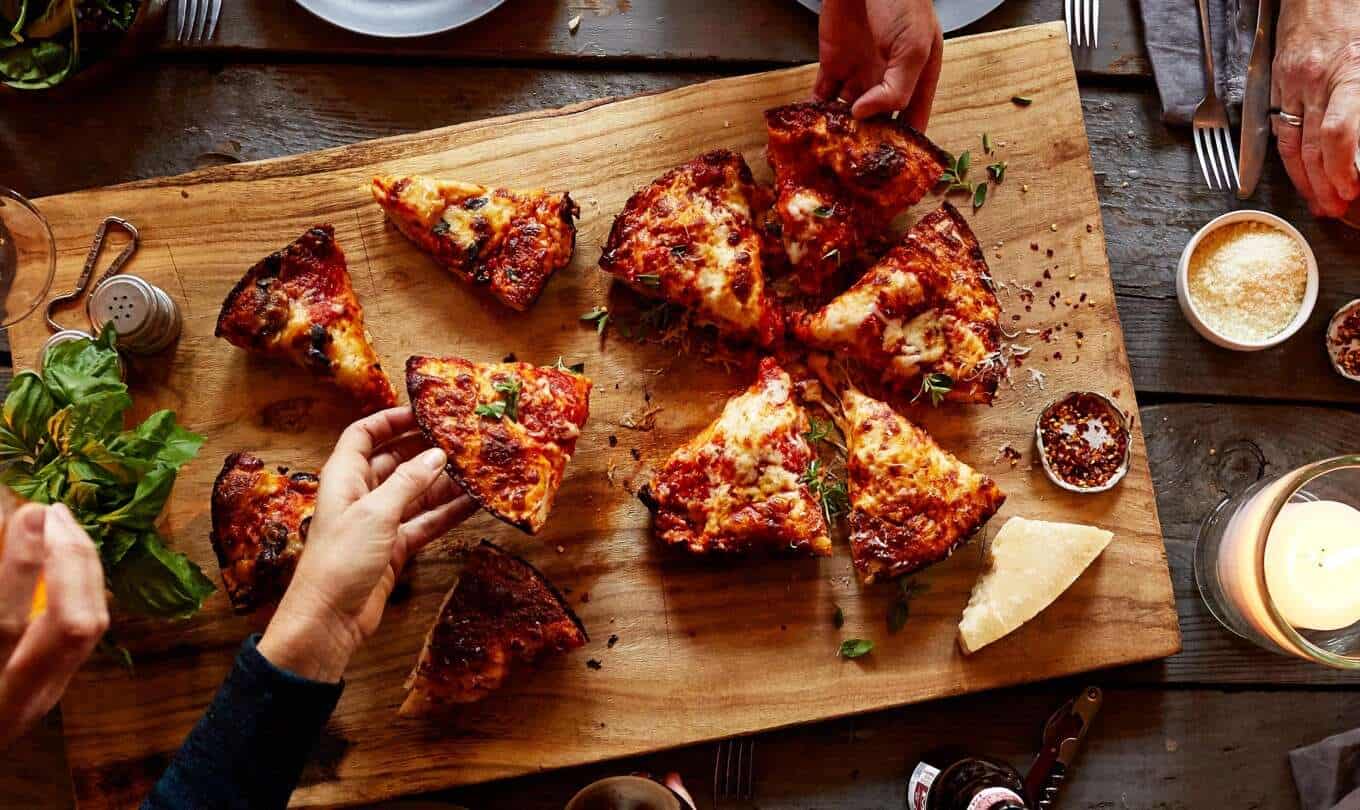 Are you craving a pizza with lots of cheese? If yes, this recipe is the right one for you! This is a basic recipe with only 5 primary ingredients. Moreover, the pizza itself has excellent texture and a delicate crust!
This crispy, cheesy cast-iron pizza is made using 4 basic tricks: no-knead folding of dough, overnight refrigeration, use of cast iron pan, and unique cheese layering.
2. Basic Cast-Iron Pizza
From the name itself, basic cast-iron pizza has few ingredients– this can be made at an affordable budget! This is also a quick recipe to serve at last-minute dinners.
The toppings of this recipe are minimal– just jalapeño slices and mozzarella cheese. The trick in making this perfect pizza is to let the dough rise and use a burner that fits the cast iron to prevent burning the crust.
This pizza recipe can be made in just 30 minutes, but the time making the dough is not yet included in that; you have to prepare it ahead of time.
Now, for the quality of the pizza itself, know that it doesn't have an outer crust; hence the toppings can go from one edge to another. This recipe yields a delicious pizza with a chewy inside and crispy bottom.
Cast iron buffalo chicken pizza is one of the unique recipes for a pizza simply because it doesn't have the usual red tomato sauce. This pizza version uses blue cheese dressing. If you don't like tomatoes, this is an excellent alternative!
The critical technique in making this is to fry the chicken properly; make it crispy. Also, let the parmesan sit for a while after removing it from the oven.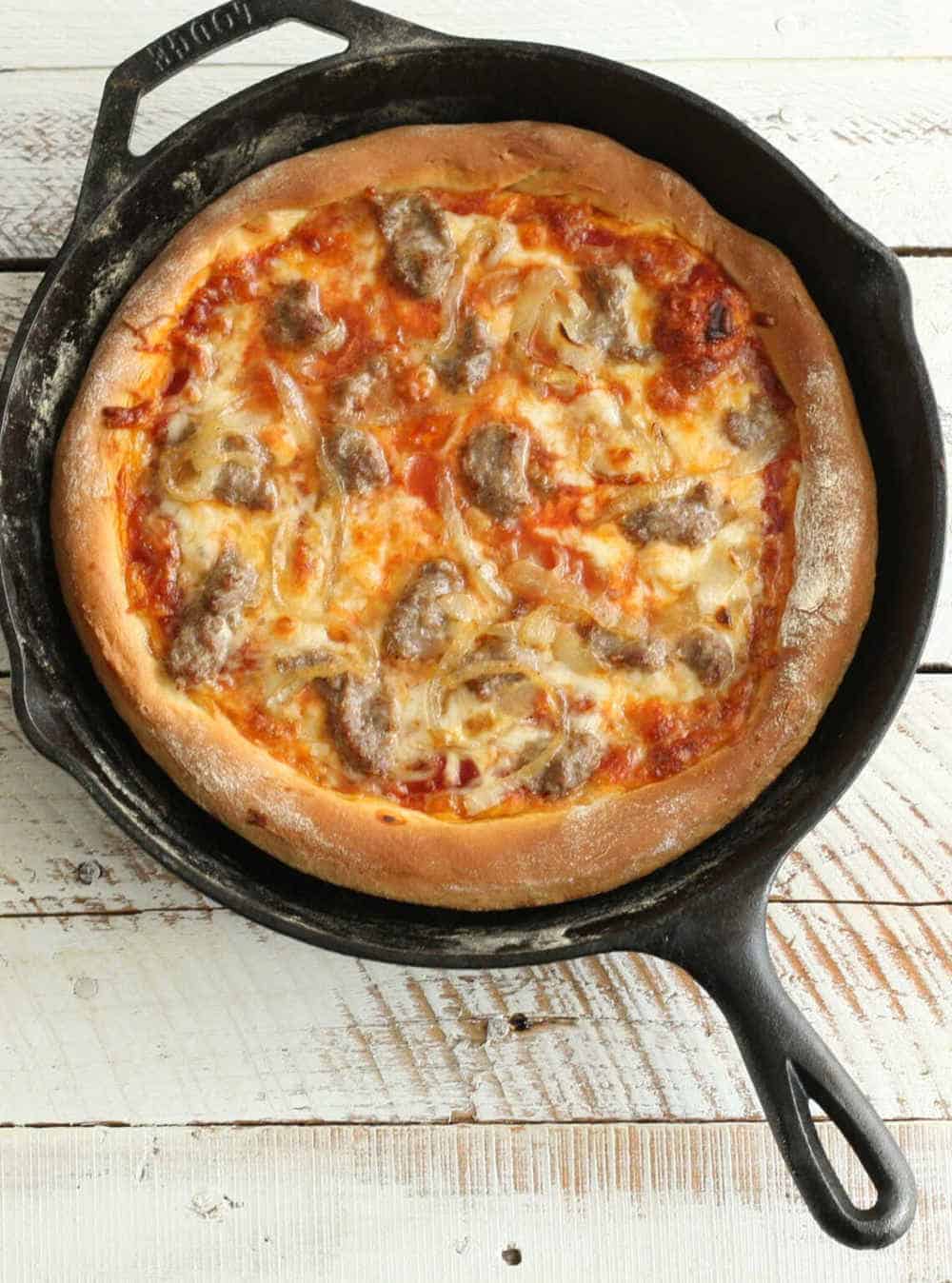 This cast iron pizza from Farmgirl's Kitchen is the perfect deep-dish pizza you could ever get your hands on! It is chewy on the inside and has a buttery crust that will surely suit your palate.
This is a straightforward and versatile recipe since you can buy ready-made pizza dough. For the toppings, use the ones you prefer. Specifically, this recipe used sausages and hamburger slices.
6. Mushroom BBQ Pizza
This mushroom BBQ pizza is an excellent alternative to an authentic meaty pizza as it is also substantial because of the mushrooms. This has the right flavors to complete every family dinner or gathering.
For this one, you will need Gouda cheese and have to par-bake the dough before topping it. This will result in an excellent and well-cooked pizza.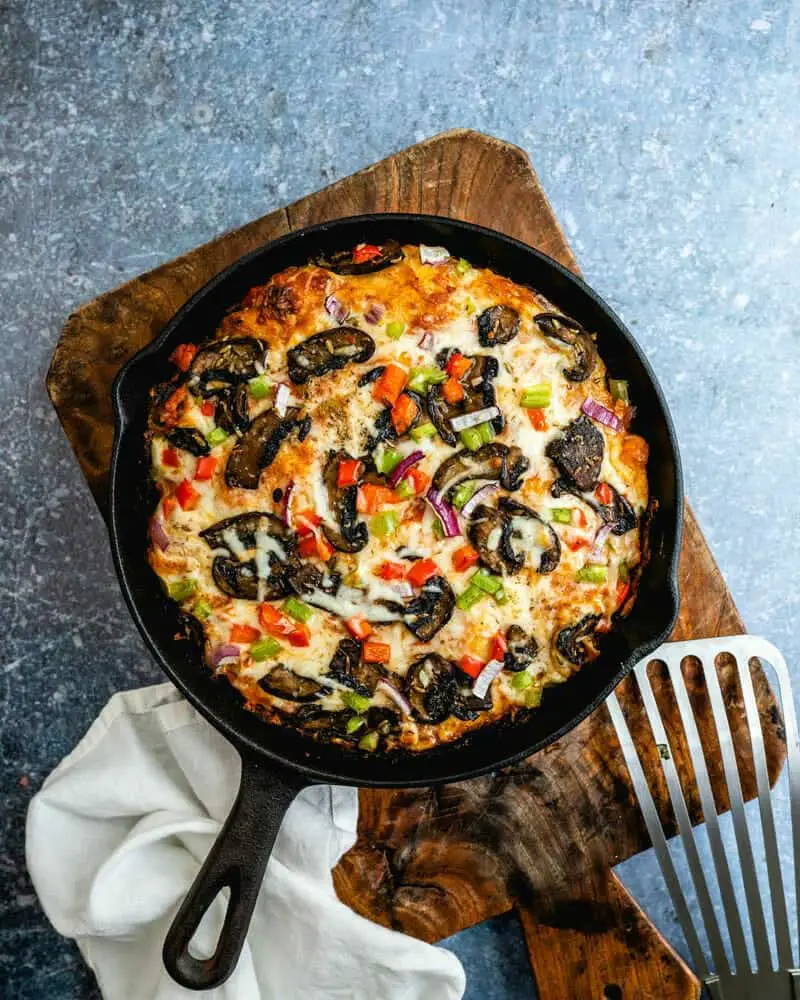 Here is an epic American-style cast iron pizza that you can indulge in! This recipe is a real top-tier, not only with the colorful toppings but also because of its taste and nutritional benefits. As per the health benefits, this American-style pizza has vitamins B, D, C, A, and B6. It also has Potassium, Calcium, Iron, and Protein.
8. Bon Appetit's Cast Iron Pizza
Our following cast iron pizza recipe has Italian sausage as the main topping. This one is a unique recipe because of the unusual ingredients added to it, which include fresh fennel seeds and garlic. Its rich and porky flavor is an excellent complement to salads as well.
One tip to make this delicious pizza is to add cheese on the edges, too, so the edges will be crispy!
This No-Yeast Prosciutto pizza is delicate because the ingredients are carefully chosen to best fit picky eaters. For the homemade dough, you will use Greek yogurt for better moisture. While for the toppings, you will need low-moisture mozzarella cheese, arugula leaves, and Prosciutto for the perfect balance of salty and fatty flavors.
But, the procedure is not as challenging as finding the ingredients; this is still a beginner-friendly recipe!
10. Cast Iron Margherita Pizza
Margherita Pizza is one of the typical pizza styles you can find, but have you ever made it in cast iron? This recipe will teach you an easy-to-do Margherita pizza that you can serve any time of the day. This recipe is reliable as it is owned by Chef Gordon Ramsay.
The only ingredients you'll need are Passata, mozzarella, rosemary, and homemade dough to make this.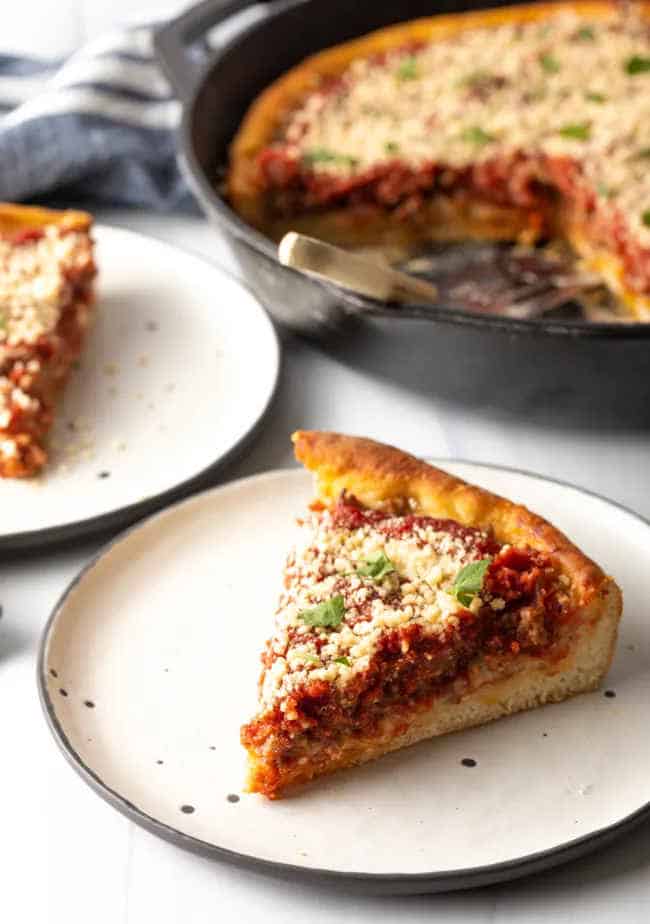 This recipe is Chicago-style pizza, which is loaded with cheese, tomato sauce, and sausages. However, unlike other Chicago-style pizzas, this one also used cornmeal for added texture and flavor in every bite. This exact recipe has numerous ingredients, but you can always change them.
This pizza has high edges, which can hold lots of toppings. A slice of this is enough to satiate hunger!
12. Hawaiian Cast Iron Skillet Pizza
Here comes the known Hawaiian pizza style! This one uses layers of cheese, ham, and pineapple slices. Although most people don't like pineapples in pizza, this will always be a must-try.
This version has a very crispy crust; plus, you can savor the cheesy and meaty toppings in every bite. Pineapples can balance all the flavors well with their tart and sweet taste.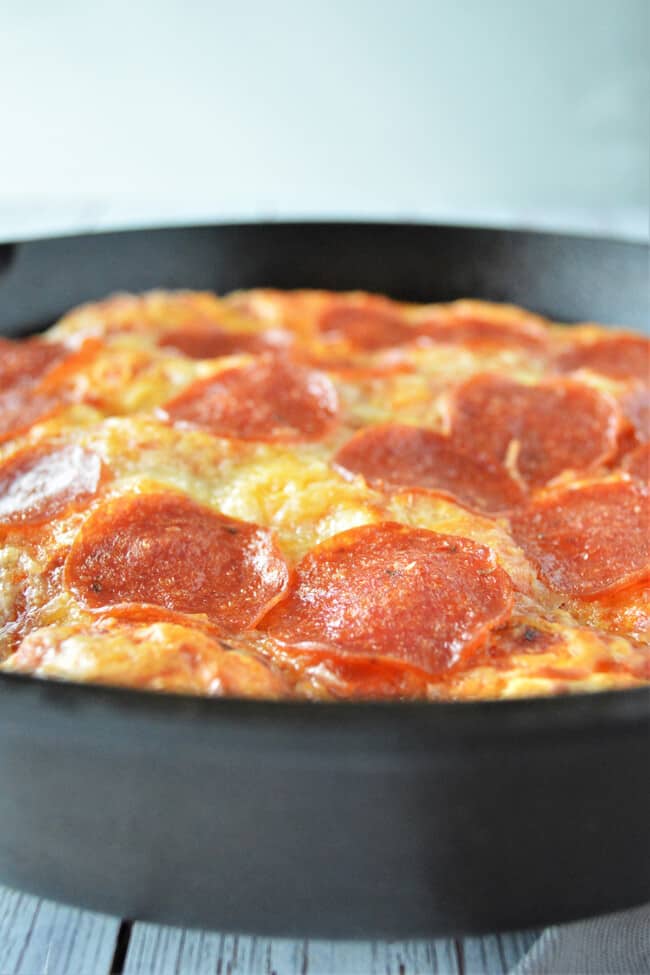 If you want a pizza you can efficiently serve to your family, here it is! This Pepperoni Bubble Pizza is fun; you will enjoy making and eating it. It can capture the heart of people, especially children.
In making this bubble pizza, arranging the refrigerated biscuits is best to prevent overcrowding the crust base. You can make this in only 35 minutes.
14. No Knead Crust Pan Pizza
Here is a very healthy version of cast iron pizza. This recipe requires desiccated vegetables and defatted pepperoni to stay true to the healthy pizza theme. Don't worry; this recipe has a trick for removing moisture and fat from these ingredients.
Additionally, the dough used here is not kneaded. However, you need to let it rise for about 20 hours to have the expected result.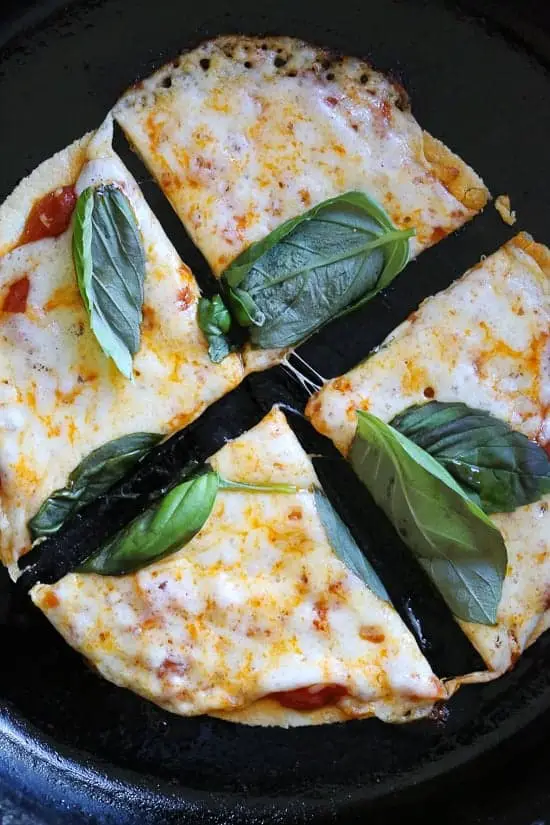 Our following recipe is made out of innovation because this one used tortilla instead of ordinary pizza dough. Tortilla is a creative alternative for dough. A pizza made in a tortilla is also fun to eat since most of these flatbreads are more crunchy than pizza dough.
Indeed, this pizza in a tortilla recipe will become one of your obsessions. Especially since this is a healthy snack too!
16. Shrimp & Crab Cast Iron Pizza
Heads up for this shrimp & crab cast iron pizza! Even if you are not fond of seafood, this will amaze your palate and might leave you asking for more.
This shrimp & crab pizza is unique because it doesn't use tomato sauce. Instead, its white and creamy sauce is made from heavy cream. It also has the right amount of lemon juice, creating a tart that perfectly balances seafood.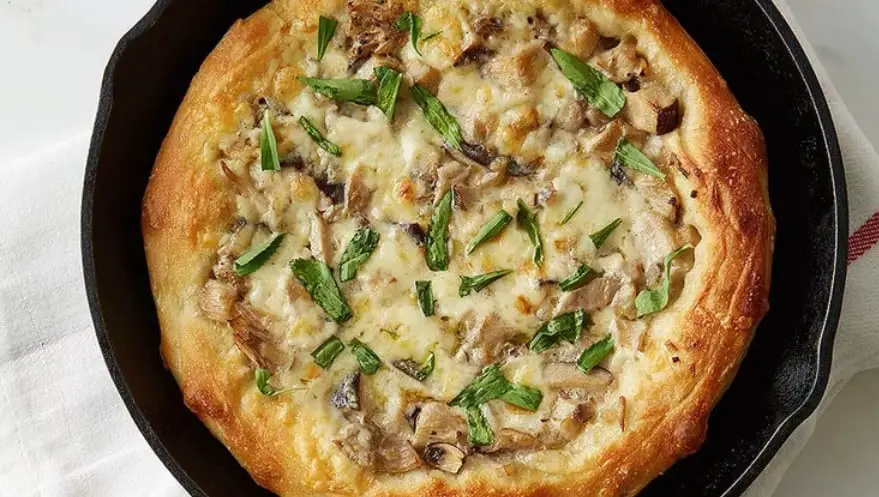 This wild mushroom skillet pizza is cream-filled with a deep and crispy crust. This recipe requires enough budget since you will need a dry wine like Sauvignon Blanc, Fontina cheese, heavy cream, and Tarragon leaves. These ingredients are expensive and challenging to find. Hence, this wild mushroom pizza is excellent for special occasions and events.
18. Low-carb Crustless Pizza
We will not end this list without a healthy pizza! This Low-carb crustless pizza is a game changer for everyone, especially if you plan to switch to a more nutritious diet but can't let go of pizza.
This uses melted mozzarella as a crust or base. After melting it in a pan, arrange all the sauce and toppings and wait for it to cook. That's how simple this dish is!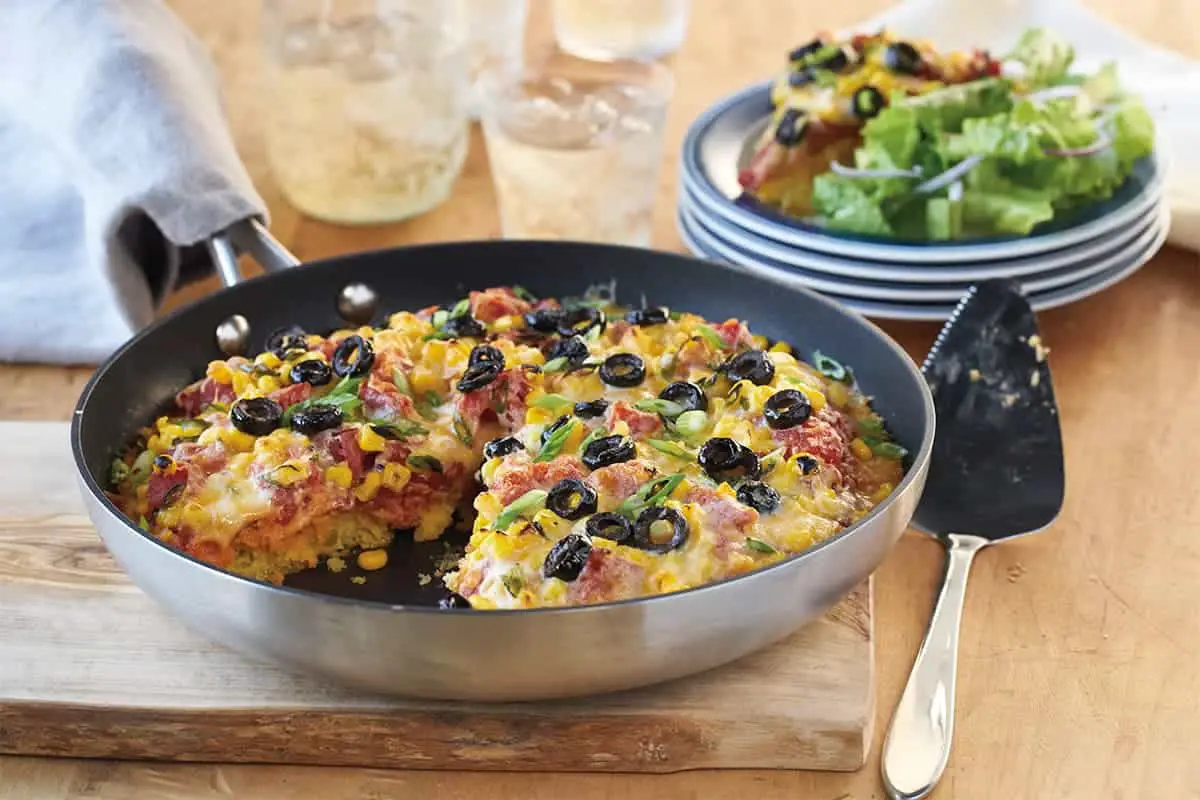 Here is a cast iron pizza recipe from the reputable Del Monte Foods Incorporation. Try this Mexican skillet pizza recipe which can be done in just 40 minutes. Follow the exact measurements in this recipe and feed 8 people.
You can use taco sauce as an alternative to tomato sauce to stay true to the Mexican flair. Use Mexican spices, too, if possible.
Final Words
Although the cooking style is the same for these 19 cast iron pizza recipes, we are confident they all have their own greatness that will surely attract you! One of these is the various ingredients used for each one. Some only have basic toppings like mozzarella and peppers, while some have meat, seafood, and special spices. No matter what, these cast iron pizza recipes are worth the try!
19 Cast Iron Pizza Recipes To Try At Home
Directions
Select your favorite recipe.
Organize all the required ingredients.
Prep the recipe in 30 minutes or less!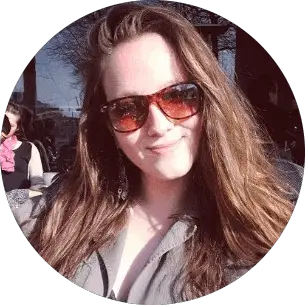 Barbara is an enthusiastic food-exploring person that goes through different culinary experiences. She got inspired by creating a pizza blog post after she tasted one of the best-selling pizzas in Toledo.