Yeah, yeah…Pizza Dip! If there is one pie that's befitting for the fall, that should be the hot pizza hip. And the spicy pizza soup with a drizzle of crushed red pepper flakes for a little heat (whew!). If you serve me this when the weather outside is frigid, I promise, we'll be best friends forever!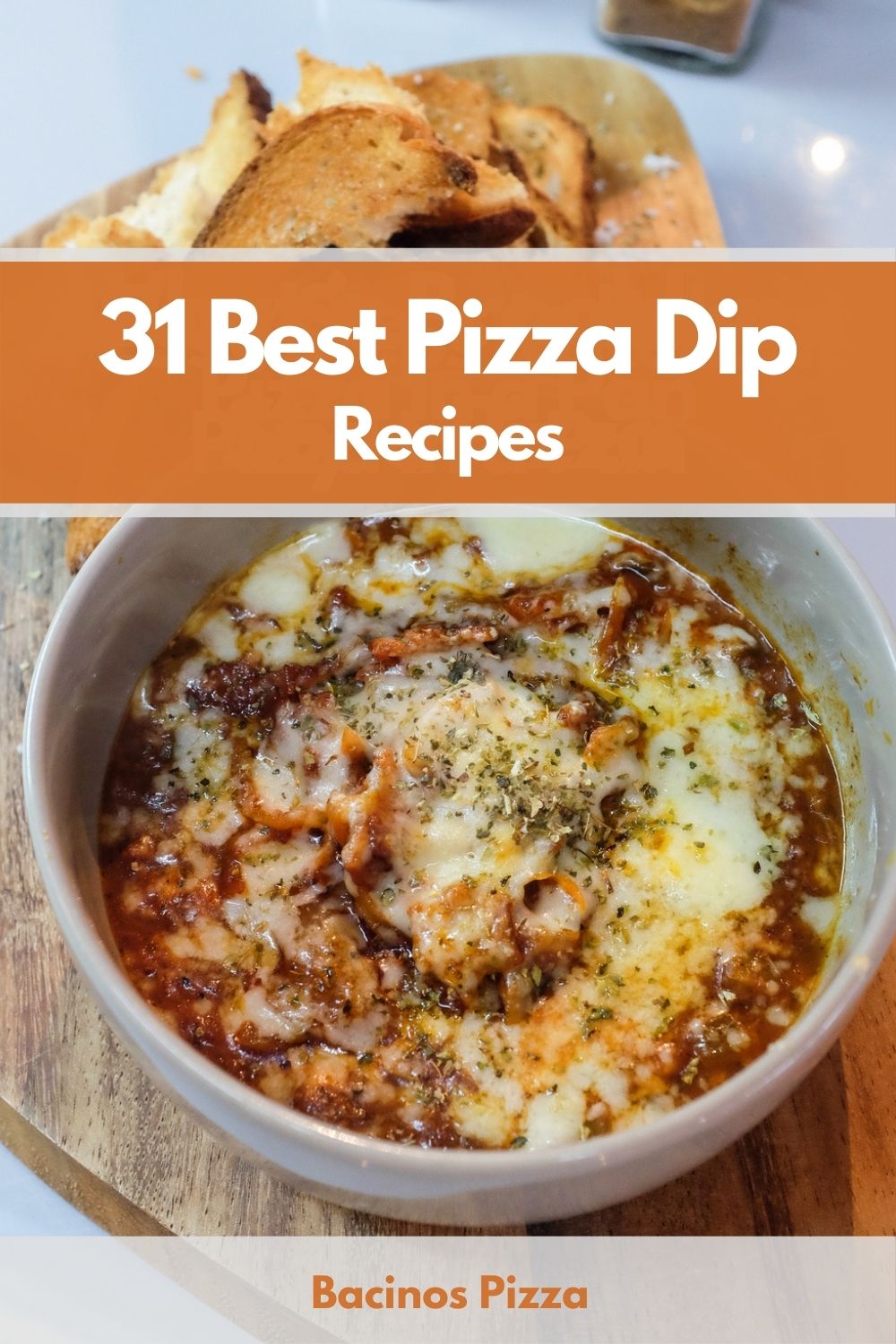 Baked up to a golden brown perfection, the warm and cheesy pizza dip is a great twist on your favorite pizza. Over and above, pizza dips have no bounds! They can go with crackers, bagel bites, breadsticks…you name it…even veggies! Here's a list of 31+ pizza dip recipes you might want to try at home:
1. Easy Hot, Baked Pizza Dip – The Stay At Home Chef
A crowd pleasing appetizer it is! Karen Riordan, one of my favorite Stay At Home Chefs, combines all the flavor of pepperoni in one wonderful dip. If you have no problem with your calories, give it a shot. The Easy Hot Pizza Dip has a cream cheese base. Toppings include marinara sauce, plenty of gooey cheese, and pepperonis.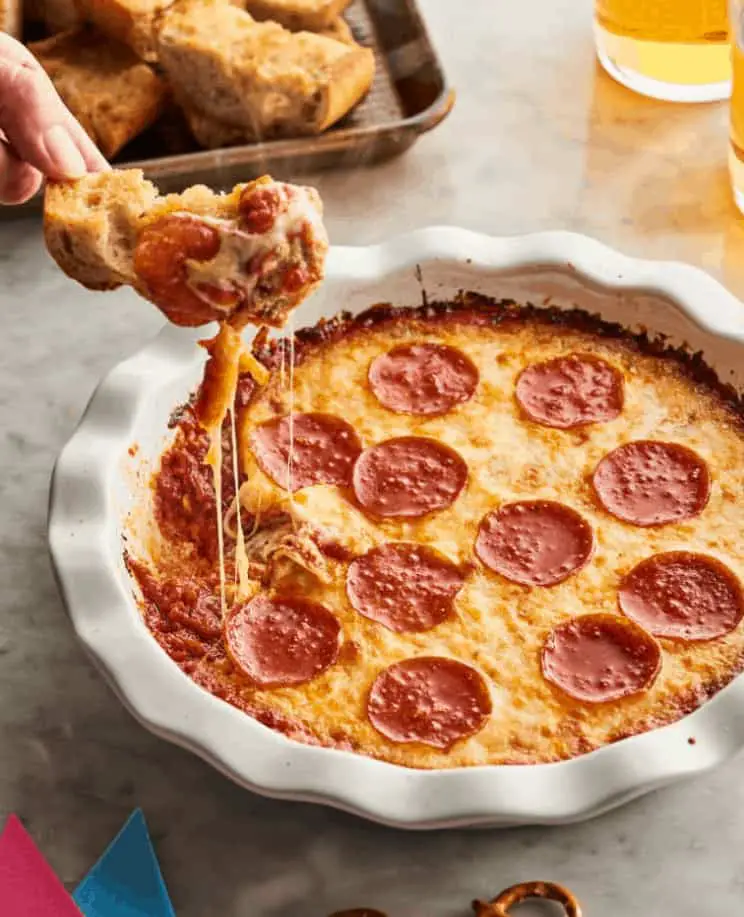 For the cheese fanatics in the house, there is something to smile about. The Easy, Cheesy Hot Pizza Dip is a hit on those must-have-cheese-now situations, from family-friendly weeknight dinners to parties and gatherings. Serve this cheesy, saucy pizza dip pizza with garlic bread or breadsticks. Those are my personal favorites….by try them anyway. Then let me know how it goes!
3. Pepperoni Pizza Dip with Garlic Knots
I know….I know! There is a good chance that you fancy pizzas with gourmet toppings. But switching to a classic pepperoni pizza from time to time doesn't hurt….does it? Try the Pepperoni Pizza Dip with Garlic Knots on a game day or movie night. If there are friends around, let them come. Dive together into the cheesy goodness. Y'all…It'll be AMAZING. Seriously! [15 Most Popular Pizza Toppings In The USA]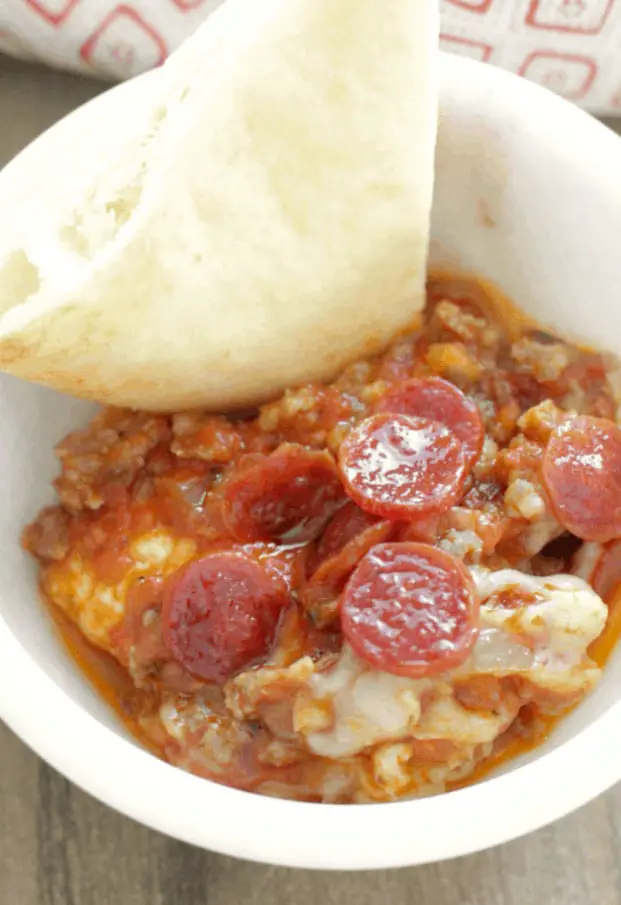 The Ultimate Pizza Dip includes pepperoni, cheese, and spicy sausage. This any-time comfort food befits a small get-together or a cozy night in. The secret to the delicious pepperoni is the slow cooker! This helps crisp up the pie in the skillet and drain the grease. The end result? A not soggy, not greasy pepperoni pizza. Now, that's the ultimate, right?
5. Garlic Bread Pizza Dip – Delish
Biscuits as crust! Sounds good, no? The Delish team never disappoints, and has never disappointed, for that matter!  The Garlic Bread Pizza Dip is just but a ring of pull-apart garlic bread with an addicting cheesy dip. Top with mozzarella, marinara sauce, and mini pepperoni….you're all set for game day! And with a ring of biscuits around the dip….what could be better!
Served with Ritz crackers and assorted cut-up fresh veggie dip, this proves the point. PHILLY'S Cheesy Pizza Deep can be stacked up depending on one's liking. Need to substitute the peppers for chopped Romas? Fine…go ahead. Just make sure you soften the cream cheese correctly –microwave on HIGH for 15 sec! Then continue with the rest of the recipe to make the saucy, cheesy pizza dip.
7. Loaded Pizza Dip – Show Me the Yummy
The Loaded Pizza Dip wows gusts with a cream cheese base. It's often topped with loads of cheese. Then completed with pizza sauce, sausage, pepperoni, and veggies! Bake the dip to perfection. And serve it hot with tortilla chips or crackers. My man! You will never forget this fare! What's more, you can make an all-veggie pizza dip for your vegetarian guests.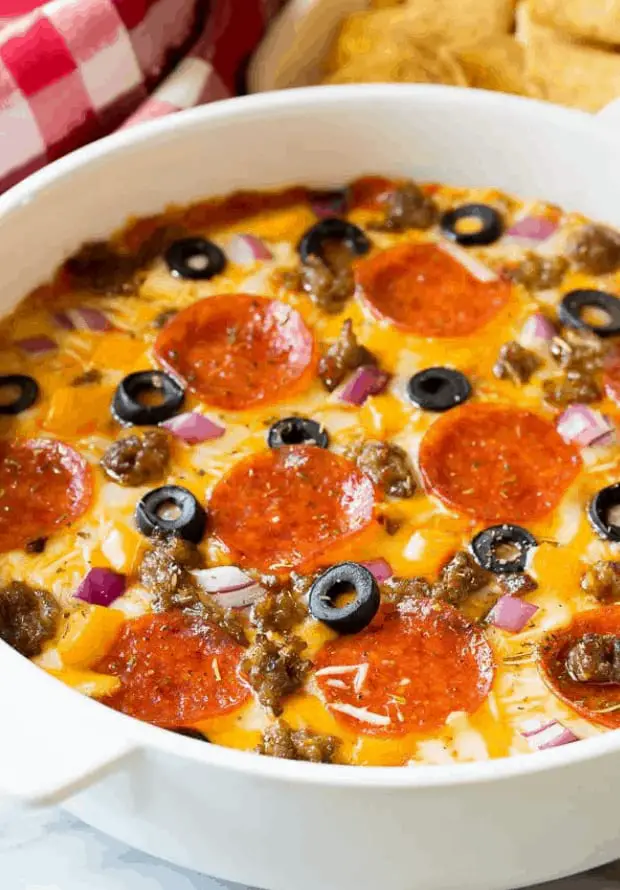 A loaded pizza in supreme form, this is packed with 10 easy ingredients. And, you have the liberty to load it with all your favorite toppings. Banana peppers, ham, thick chicken sausage….the sky is the limit! For this recipe, Sommer suggests dipping into layers of molten cheese, zesty sauce, more cheese, pepperoni, sausage, and veggies.
9. Nadine's Cold Pizza Dip – Rise Wine & Dine
Everyone has their own specialty pizza dip recipe…but this seems to be many people's favorite. This, in part, is because it can be made ahead of time and refrigerated. So, it's best for when you're going to a function and would love to bring a dish with you. Again, it can be loaded with all sorts of toppings. You a vegan? Fine— omit meats and continue with the recipe.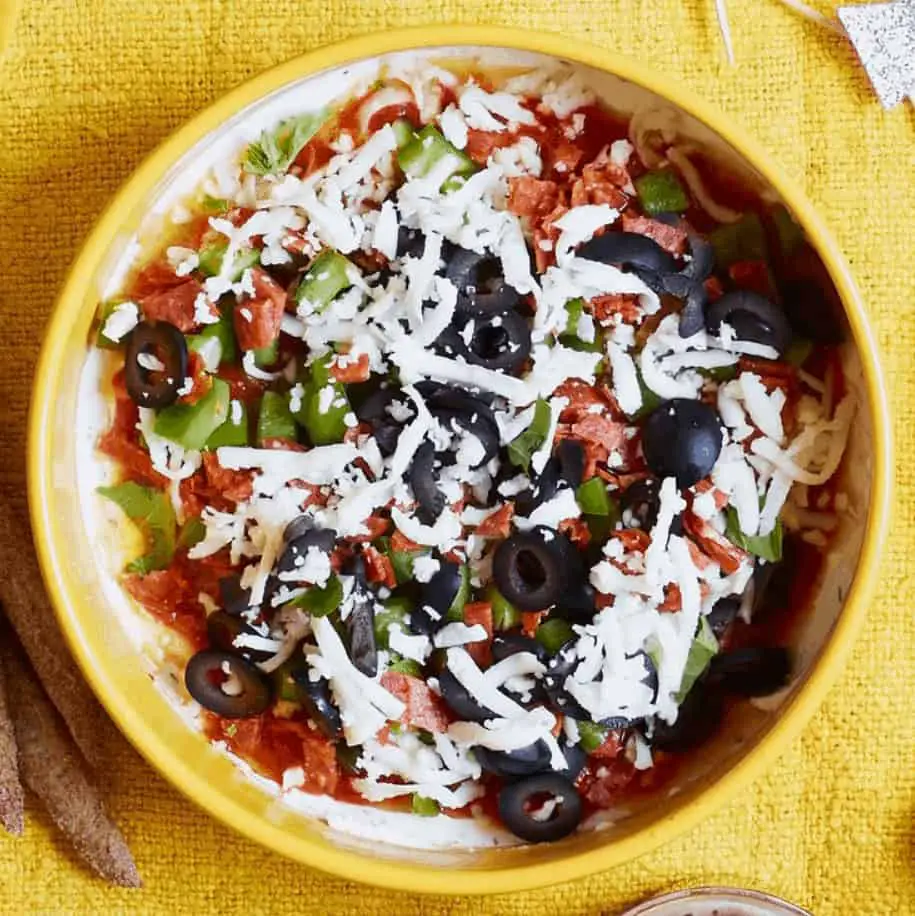 This snacking-good pizza dip is sure to warm up your holiday party. The Seven-Layer Pizza Dip is a hot, cheesy dip that's a lot better than a regular pizza. It has seven layers of cheese, sauce, and toppings. For best results, layer the ingredients and store wrapped in the fridge up to 24 hours ahead. Leave at room temp for a few minutes before baking. Serve with Fritos!
11. Easy Keto Pizza Dip – The Keto Dad
This Keto Pizza Dip is an easy, warm, and savory dip that's great for a movie night at home. It has everything you crave in a pizza….without the added carbs, glutens, and calories! It's SO EASY to make…grab a few simple ingredients. Mix them together. Transfer to a baking dish. Top the cream cheese mixture with sauce, then mozzarella. Find your fave toppings. Bake. And you're done!
As the name suggests, this is a whole new version of pizza. Ever seem a pizza that looks like a volcano erupting with cheese and goodies? I bet not! This is a sight to behold…a must for every party. If desired, serve with cooked meatballs, baby carrots, cherry tomatoes, broccoli florets or Italian bread cubes for dipping.
13. Taco Pizza Dip for the Super Bowl – Good Morning America
Tons of meat in a pizza! No doubt, this is the best ooey gooey taco pizza dip you'll ever have. The Taco Pizza Dip can be a quick party appetizer, a game-day snack, or a meal to serve unexpected guests. The secret: use low-fat ingredients, such as low-fat Cheddar and low-fat sour cream to serve even the most health-conscious folks!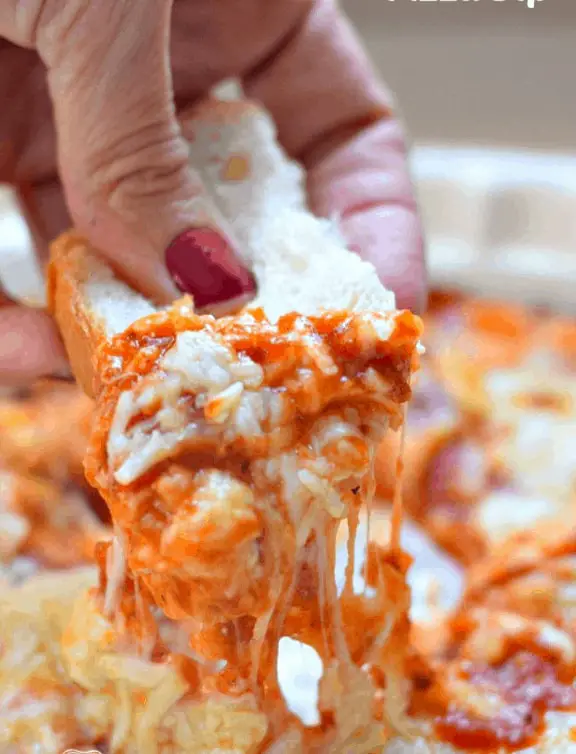 Who doesn't love the classic, simple and delicious recipes? No one! And I mean….no one! Whether it is game days or holidays, these will be a guaranteed hit. And now, Melissa's brings you a refurbished version of a hot pizza dip. This is layered with a delicious cream cheese mixture, cheese, sauce, and then more cheese!
15. Pizza Dip Bread Bowl – Shared Food
Just looking at how this YouTuber makes the Pizza Dip Bread Bowl makes me salivate. Literally! It appears to have all the ooey gooey goodness. A cheese lover's dream…perhaps! Save all the center of the bread that you cut to make the bowl. You'll place that around the pizza dip for guests to dip and enjoy!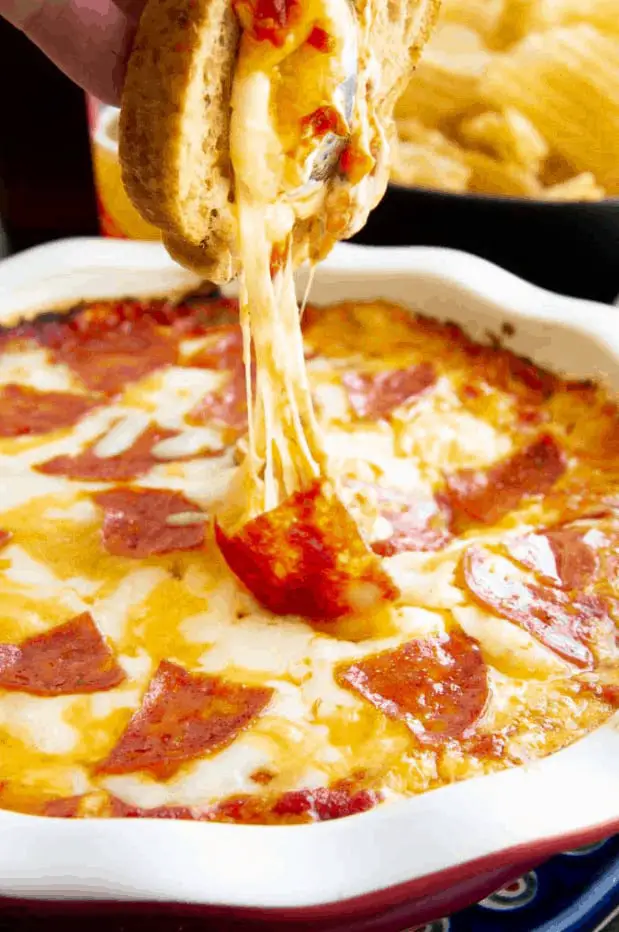 Are you surviving the holidays? And when I say "surviving", I mean consuming too much gingerbread loaf laced with cream cheese frosting! If that's the case, you need to get your hands on Michelle's Pepperoni Pizza Dip. A family favorite – this has everything being hyped about pizza: gooey cheese, savory crust, and crispy pepperoni. A perfect snack on a Friday night!
17. B.B.Q. Chicken and Pineapple Pizza – 2 Aussie
What a great pizza and pineapple! You can't go wrong with BBQ sauce, chicken, pineapple and ranch dressing. This combination is delicious and full of flavor. The pineapple adds a little sweetness – and the combo is just perfect. You can use drained canned pineapple as it also works just fine. So don't restrict yourself if you can't get fresh stuff.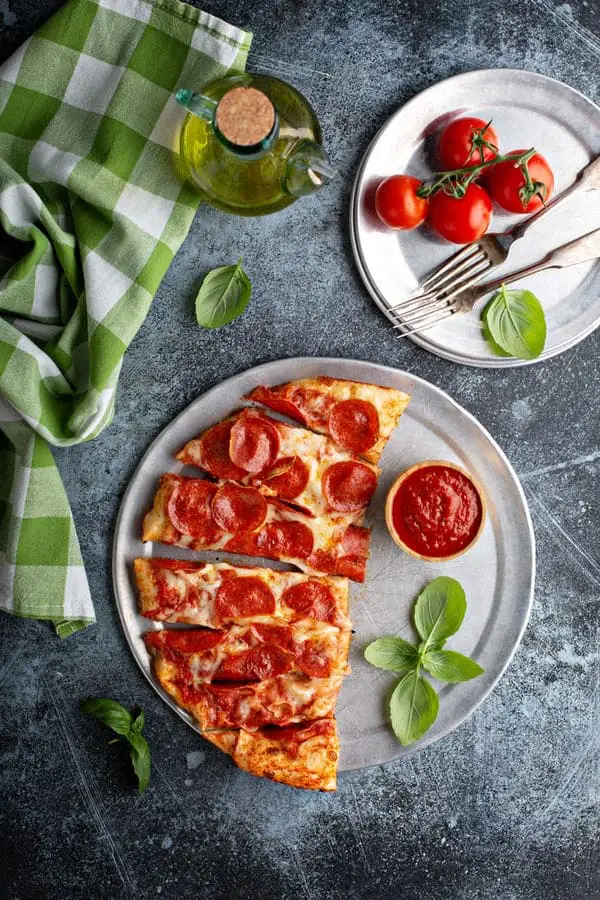 Microwave Layered Pepperoni Pizza Dip is a rich, creamy, delicious snack that gets done in just 5 minutes. Whether it's a game day, movie day or a study day, there is no way your obsessed foodie friends will say no to a piping hot bowl of creamy, delicious pepperoni pizza dip. Plan ahead – this dip needs at least 1 hour chilling time before microwaving.
19. Guy Fieri's Pepperoni Pizza Dip – Food Network
Guy Fieri's Pepperoni Pizza Dip recipe is ideal for when you're craving pizza but have limited time. Trust me. Guy Fieri's a legend when it comes to these things! Look at how he's getting the dip onto his pizza sticks! AMAZING is an understatement, right? Anyways, I recommend doubling or tripling the sauce portion of the recipe for parties or get-togethers!
The Ultimate Sausage Pizza Dip is going to make you the hero at your next birthday party. Loaded with cooked sweet Italian sausage, cream cheese and gooey mozzarella, this dip is sinfully delicious. (Healthy? Mmh…not quite so! But let's leave this discussion for another day!). Make sure to bake it all together in a medium skillet and enjoy!
21. Amazing Pizza Dip Recipe – Burning Cereal
What's better than a regular pizza dip? An Amazing Pizza Dip, of course. Serve this appetizer on your Thanksgiving and it will be the greatest hit. Super cheesy. Super flavorful. Super fun! Actually, this pizza dip smells and tastes like delicious pizza without the crust. And, you can do with your favorite marinara or red sauce.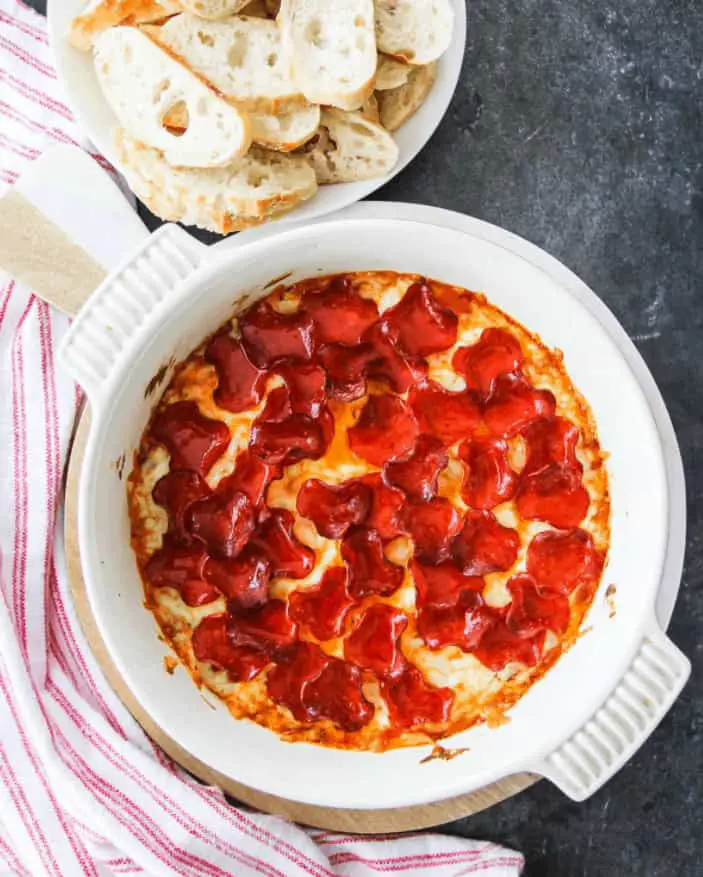 A lot of the dips and charcuterie plates don't appeal to kids and teens. But Jo-Anna's Hot Pizza Dip isn't one of them! I mean…everyone loves it, but kids and teens top the chart. Great for parties and potlucks, too! When doubling the recipe, it's OK to use a larger dish to bake. Or, better still, separate batches for a better consistency.
23. Skillet Pizza Dip Countdown Clock Recipe – Hungry Happenings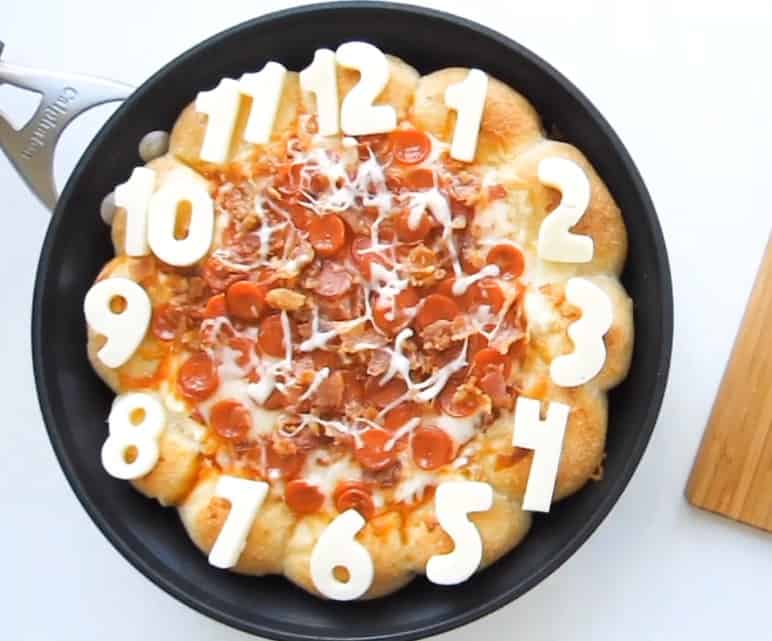 The Skillet Pizza Dip is perfect for those times when you're craving pizza but want something different. An impressive-looking appetizer, the dip is loaded with 3 different kinds of cheeses: parmesan cheese, mozzarella and ricotta cheese. Bacon and pepperoni make up the toppings….but there are no restrictions to pizza toppings!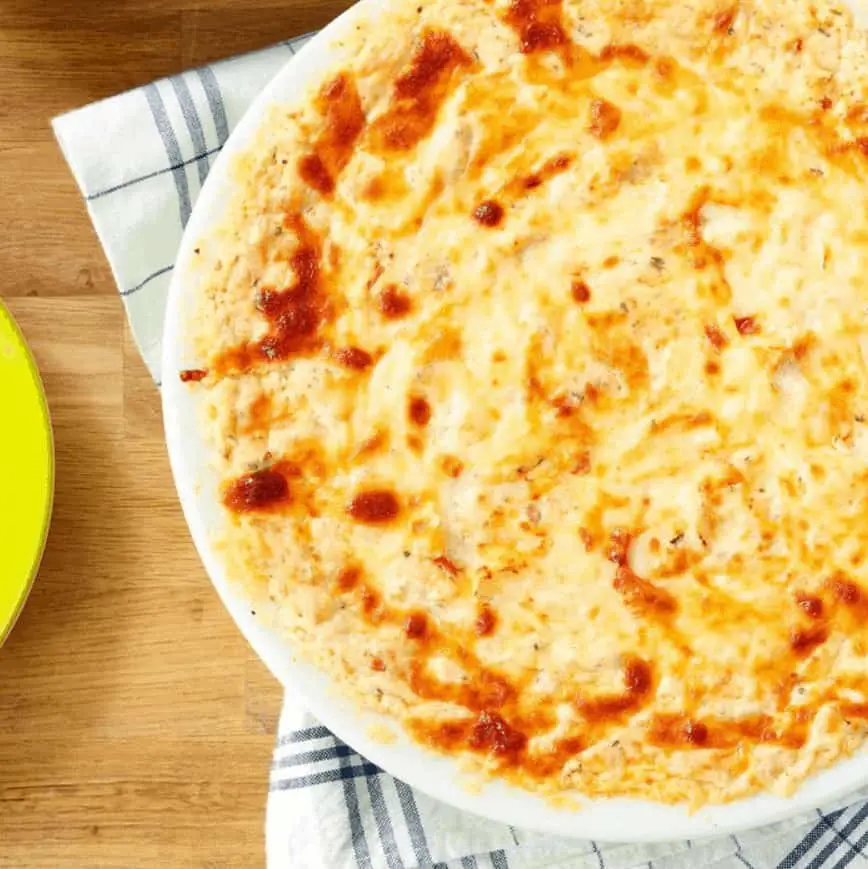 Ooey, gooey, and oh so delicious! The Easy White Pizza Dip is a sure-fire crowd pleaser that befits game days and Super Bowl parties. Bake, uncovered, until bubbly. And serve warm with baguette slices. It will disappear pretty first!
25. Easy Keto Pizza Dip – Keto Connect
Kelsey and Megha have done an impressive job with this Easy Keto Pizza Dip recipe. Pepper strips and zucchini rounds for dipping! Who can resist that? The sauce's name is Ray-o's…very popular in New York restaurants. It's so dangerously, deliciously addictive…and I mean every word I say, guys!
Usually, we make pesto in summer time when there is fresh basil in abundance. But as the fall/winter sets in, it doesn't hurt to taste a little bit of that summer flavor. That is where this Skillet Sausage Pesto Pizza Dip comes into the picture. Add pork sausage, kalamata olives, bell peppers, onions, and mushrooms.
27. Vegan Pepperoni Pizza Dip – Irene Coco Queen
I must admit…I'm not vegan. However, I love to cook meals involving nothing but healthy ingredients. This Vegan Pepperoni Pizza Dip has layers of vegan cream cheese topped with vegan pepperoni slices, vegan mozzarella and red sauce. It's super tasty…but even more colorful!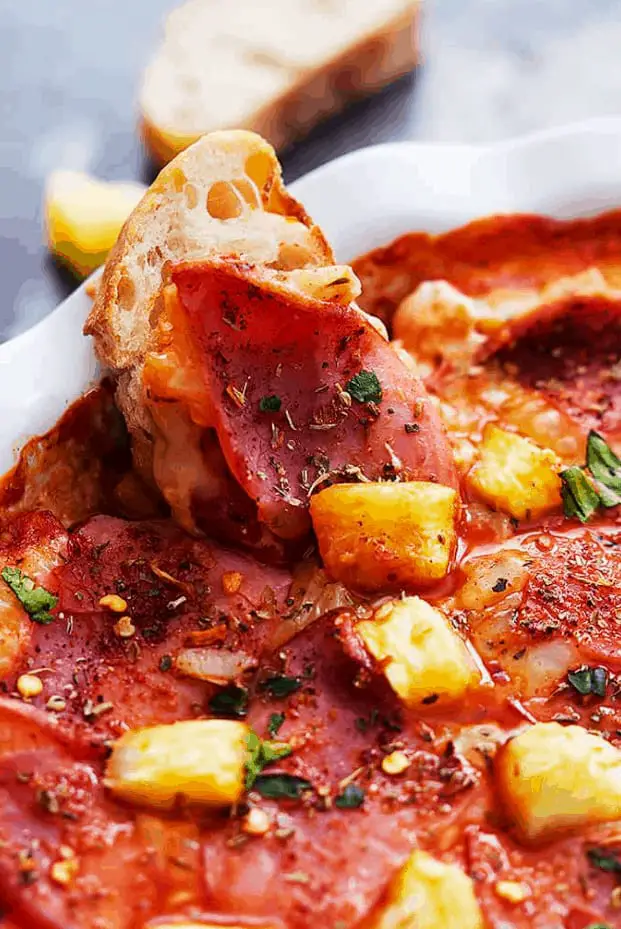 If you love everything Hawaii, then add this Hawaiian Pineapple Pizza Dip to your bucket list. With Canadian bacon, juicy pineapple, and spicy seasons, we can all agree that this dip is a gut bomb. Even better, there is a room for improvement on this decadent party plate.
29. Pepperoni and Mushroom Pizza Dip – Mission Foods
Ever come across appetizers shaped like mushrooms? This Pepperoni and Mushroom Pizza Dip is the best football-shaped food ever. It's super pizza-y, super cheesy, and super tasty. A nice combo of mozz, mushrooms, and gouda takes this pepperoni pizza to the next level!
The Bread Ring Pizza Dip recipe represents a marriage between a stuffed-crust pizza and an easy, cheesy dip. Fill the pizza dough with pockets of gooey cheese. Spread the meat sauce around to fill the spaces between the dough. Dollop the ricotta mixture atop the meat sauce. Cover the top of the ricotta mixture with pepperoni. And that's it!
31. Creamy Spinach Dip Pizza Recipe – Yummy PH
A white pizza with balls of creamy white cheese and spinach isn't something strange. But you need a few hacks to make a pizza like no other. If you've got more time on your hands, I suggest using the no-knead pan crust, which has to be started the night before.
Make the spinach dip from kangkong leaves or water spinach. Top with 2 kinds of cheese along with gooey mozzarella. The dip will turn out rich, with Ping-Pong ball-sized mound to serve 2-3 people.
31 Best Pizza Dip Recipes
Ingredients
Easy Hot, Baked Pizza Dip – The Stay At Home Chef

Pepperoni Pizza Dip With Garlic Knots

Garlic Bread Pizza Dip – Delish

Loaded Pizza Dip – Show Me The Yummy

Nadine's Cold Pizza Dip – Rise Wine & Dine

Easy Keto Pizza Dip – The Keto Dad

Taco Pizza Dip For The Super Bowl – Good Morning America

Pizza Dip Bread Bowl – Shared Food

B.B.Q. Chicken And Pineapple Pizza – 2 Aussie

Guy Fieri's Pepperoni Pizza Dip – Food Network

Amazing Pizza Dip Recipe – Burning Cereal

Skillet Pizza Dip Countdown Clock Recipe – Hungry Happenings

Easy Keto Pizza Dip – Keto Connect

Vegan Pepperoni Pizza Dip – Irene Coco Queen

Pepperoni And Mushroom Pizza Dip – Mission Foods

Creamy Spinach Dip Pizza Recipe – Yummy PH
Directions
Select your favorite recipe.
Organize all the required ingredients.
Prep the recipe in 30 minutes or less!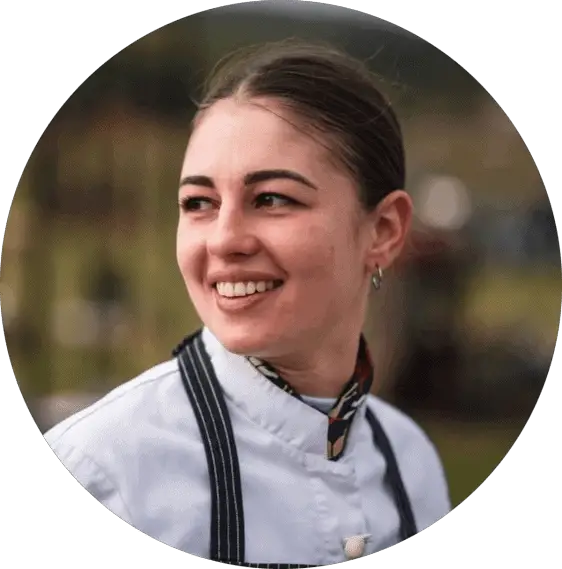 Julie has five years of experience in the restaurant industry, she decided to share her knowledge about her liking and fondness for food and pizza, of course, cooking as her love language. She's very passionate about what she's doing, making all the things she writes regarding pizza recipes, very amazing!