The business of pizza is super competitive. With several brands to choose from, customers are definitely spoilt for choice. Unsurprisingly, pizza chains are hard at work to keep their customer base satisfied and loyal. They are doing this by offering an array of innovative pizza options from the toppings to the crusts, sauces, spices, and accompaniments.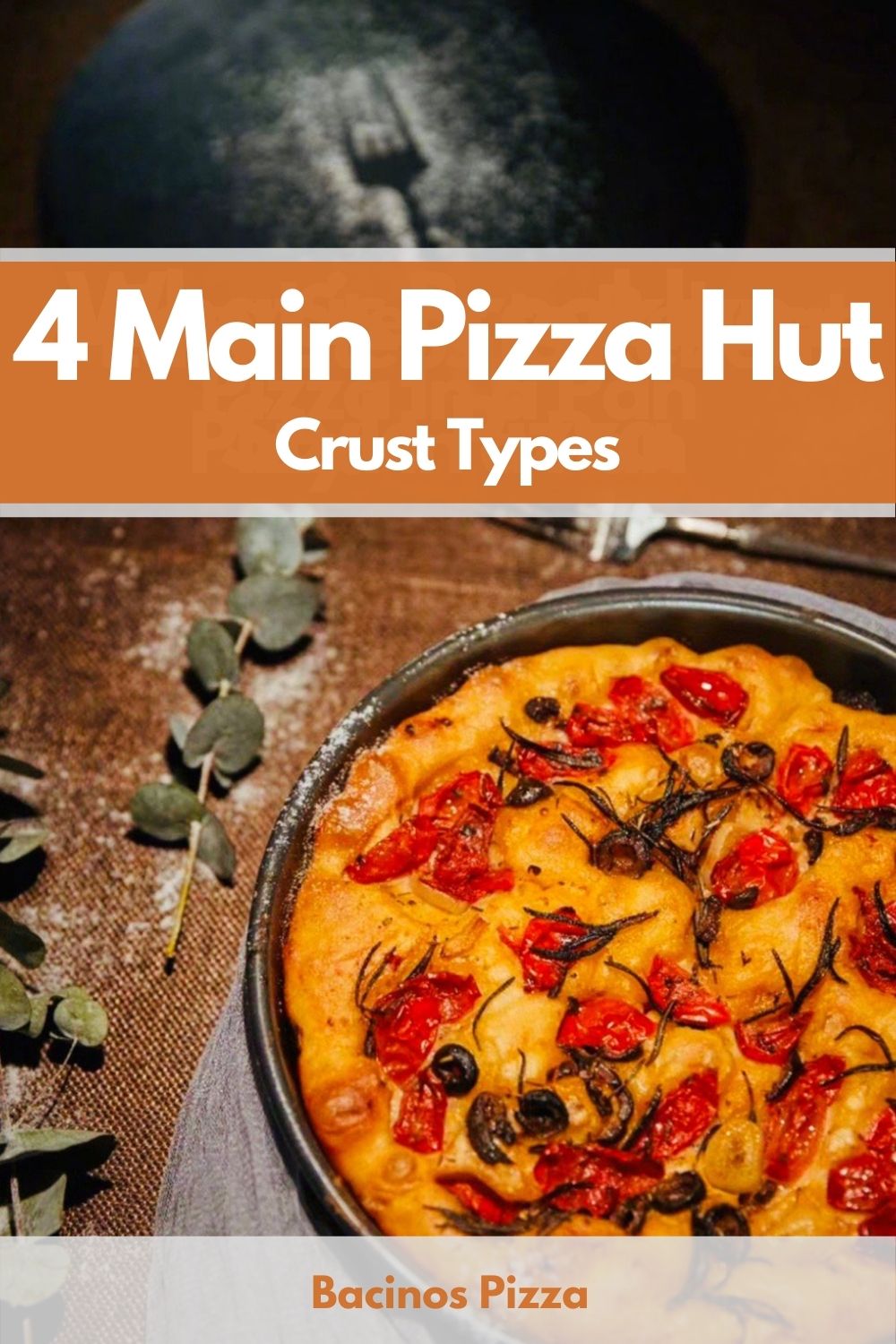 Pizza Hut is no stranger to innovation and a relentless drive for more customers. This American chain restaurant, with an international reach, is known for its 'firsts,' such as the Pan Crust and Stuffed Crust pizzas, which other pizza joints have tried to replicate.
Whether you have only recently discovered Pizza Hut or are just curious about their variety of pizzas, you've come to the right place. I will take you through the classic Pizza Hut Crust types. The brand has several variations and seasonal offers, but these are usually just an enhancement of the original classic pizzas. Read on to find out more!
Which Pizza Hut Crust Is The Best?
Pizza Hut offers four types of pizza crusts. The best one will depend on what you are looking for in a crust. The restaurant tries to cater to different palates. So, whether you want a chewy pizza, a thin one, or a crispy one, there's something for you.
Without further ado, let's take a look at the four pizza hut crust types:
Main Pizza Hut Crust Types
1. Pan Crust
The Pan Crust was the first crust type Pizza Hut offered when the restaurant opened its doors to the public in the 1950s. As the name suggests, the crust is made by deep-frying dough in a shallow pan. The pizza is commonly referred to as a deep dish, which is baked to create its thick base and high edges.
Deep frying the dough gives the crust's edges a deep golden color and signature taste. Despite Pizza Hut introducing other crusts to their menu over the years, the Pan Crust has continued to be an all-time American favorite. By the way, you can learn how to make Pizza Hut-style pan pizza.
According to Pizza Hut, they had initially wanted to make their pizzas thin with a bit of crunch. But, after some market research, they discovered that 40 percent of customers prefer a pizza with a thin center and a thicker crust.
The classic Pan Crust is doughy, chewy, and thick. If you are in a pinch or new to Pizza Hut's variety of pizzas, the Pan Crust is a safe bet. Some people find the thick crust to be a bit too doughy that it takes away from the toppings' flavor.
In most locations, the Pan Crust pizza is available in three sizes: personal, medium, and large.
2. Hand-Tossed Crust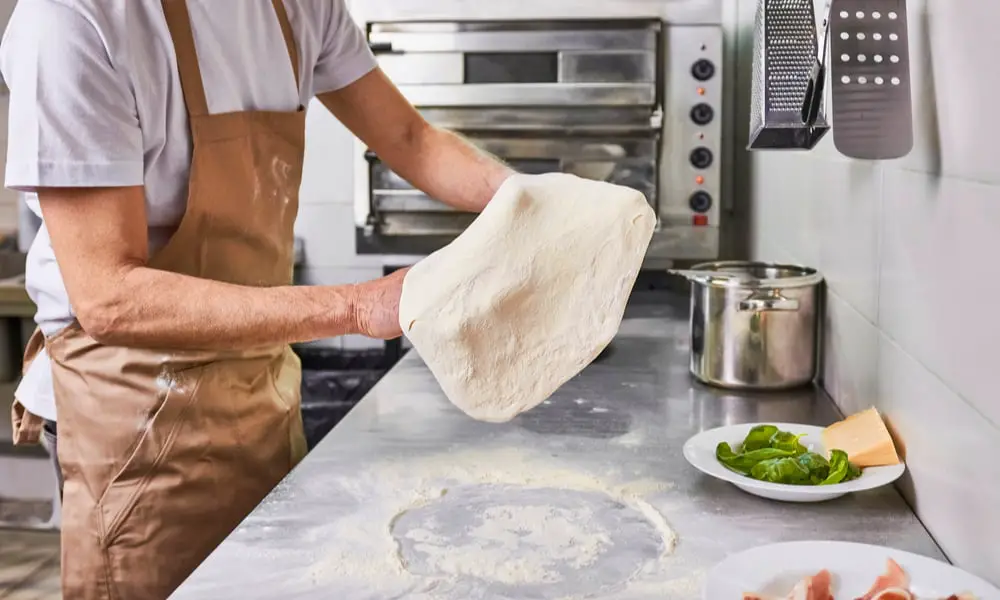 If you are into all things artisanal, you might love the hand-tossed crust. Traditionally, hand-tossed Pizza was made by actually tossing the dough in the air to create air pockets in the crust. The result would then be a lighter, fluffier, and more airy pizza base.
Many small artisanal pizzerias and authentic Italian restaurants still hand-toss their dough. But, most other restaurants use machines to create that airy, fluffy crust. I am unsure whether Pizza Hut's Hand-Tossed crust is literally tossed and shaped by hand. That said, the crust is markedly different than the Pan Crust.
As it borrows from the Italian pizza-making tradition, the Hand-tossed Crust is thinner than the Pan Crust. While the Pan Crust is dense and chewy, the hand-tossed is comparably lighter and thinner with some crunch.
Given that the Hand-tossed Pizza is made on a flat sheet instead of in a shallow pan, it has less of a fried bread taste. Some might find this crust to be a bit on the bland side, especially if you are more familiar with the deep-fried crust. The good news is that less crust usually means more toppings.
All in all, if you are after a classic, no-fuss pizza that will easily melt in your mouth, you might want to try the hand-tossed Pizza. [Hand Tossed vs. Pan Pizza: What's the Difference?]
3. Stuffed Crust
Let's face it: We all love a gooey, stretchy, cheesy pizza. The more cheese, the better. Whenever you crave an extra dose of Mozarella, Pizza Hut's Stuffed Crust is an excellent go-to.
The restaurant first introduced the Stuffed Crust option in 1995, and this Pizza has since been a hit. The innovative recipe was a way for Pizza Hut to set itself apart in what was increasingly becoming a pizza war at the time, with brands going to great lengths to woo customers.
So what is the Stuffed Crust anyway? This Pizza comes with a crust filled with warm, melty cheese. The surprising gush of cheese at the edge of every slice certainly transforms the otherwise traditional dough from meh to yeah.
The rest of the Pizza consists of familiar ingredients, including Pizza Hut's 100% marinara, pure, whole milk Mozarella, and of course, your favorite toppings. Try making your own stuffed crust pizza at home!
The Stuffed Crust is so popular that between January 5 and 7, 2021, Pizza Hut let customers (well, at least those in Dallas and Los Angeles) buy the crust only, known as Nothing But Stuffed Crust.
Yes, for a limited time, you could actually buy the circle of crust stuffed with warm cheese minus the Pizza! But, of course, customers could still buy the entire Stuffed Crust pizza with their favorite toppings if they so wished.
4. Thin Crust
Do you prefer that your Pizza be thin and crispy? Pizza Hut's got you covered, especially if the hand-tossed is not thin enough to your liking.
Even though the hand-tossed crust is indeed thinner than the Pan Crust, it still has a bread-like texture. This is probably why the restaurant introduced the thin and crispy crust. In fact, according to Pizza Hut, the Thin Crust is thinly baked so that 'you can taste more of your toppings.'
The Thin Crust is my personal favorite. Less dough means I can dig into the toppings and savor every last bit. Instead of the bread-like texture typical of the hand-tossed crust pizza,  this one comes with a cracker-style crust that is just the right amount of crispy.
Aside from letting you taste all your toppings, the Thin Crust might be a bit of a healthier option too. Less dough means fewer calories, so you can have a slice or two on your 'cheat days' without feeling too guilty.
I also like that the cracker-style crust is quite dry and frankly not as greasy as the deep-fried Pan Crust. All in all, if you like extra thin and crispy pizza, you will probably love Pizza Hut's Thin Crust.
Other than these four main ones, Pizza Hut offers many temporary or seasonal offers depending on your location. Here are some interesting ones I have seen:
Temporary or Seasonal Pizza Hut Crust Types
5. Hot Dog Stuffed Crust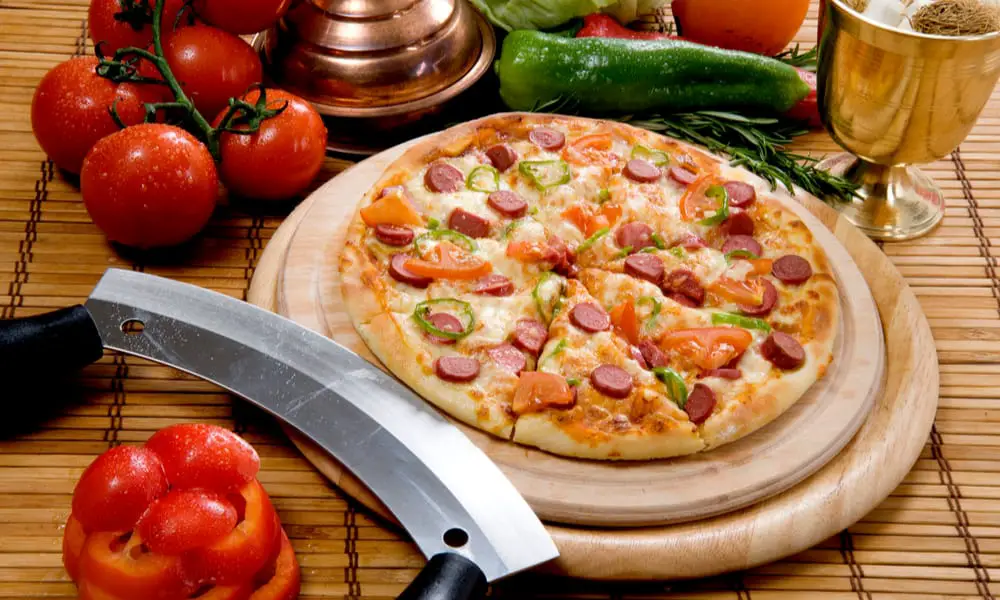 The hot dog stuffed crust is a play on the popular cheese Stuffed Crust. If you are both a hotdog and pizza lover, you might enjoy this one. As the name suggests, the hotdog stuffed crust contains chunks of German Frankfutters rolled into the crust.
The Pizza is loaded with your favorite toppings and garnished with ketchup and mustard. Every time you finish a slice, it will feel like you've just had a real hot dog!
6. Shrimp Cheese Bite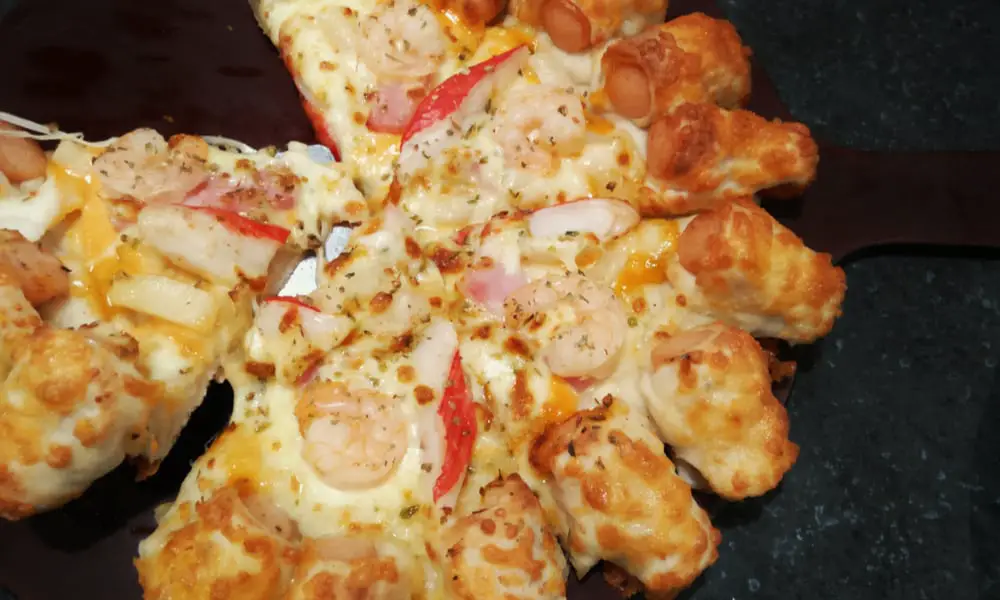 At some point, Pizza Hut offered the Shrimp Cheese Bite for the Japanese and South Korean markets. This one is also a variation of the Stuffed Crust. It isn't everyone's cup of tea, but if you don't mind seafood or you are an outright fan, the Shrimp Cheese Bite is worth trying.
7. Gluten-Free Crust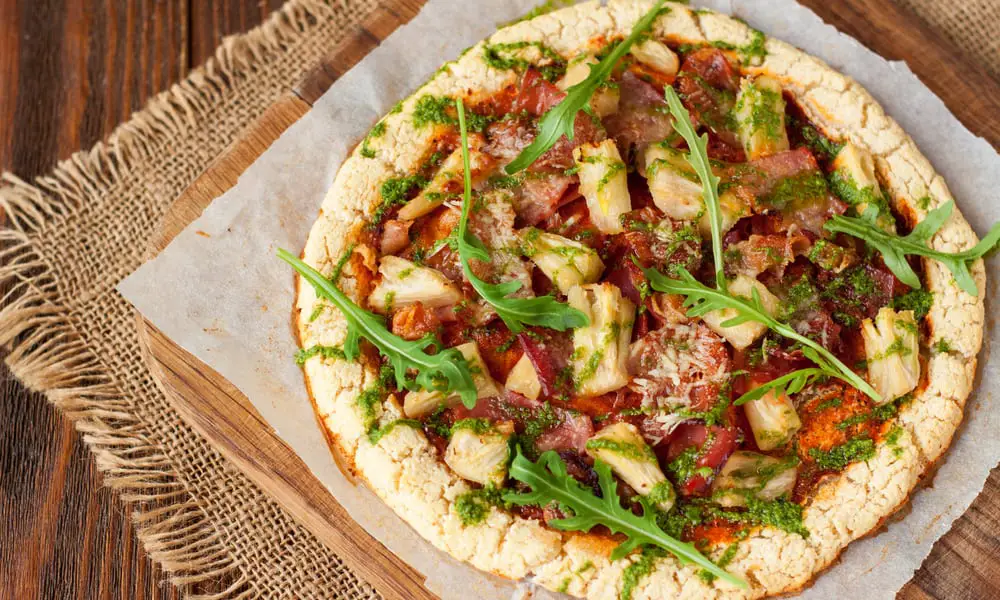 If you are on a restricted diet, there is a gluten-free crust for you. Not many pizza chains offer this option, so this is definitely a plus for Pizza Hut. The gluten-free crust is thin and just the right amount of crispy, so you don't have to sacrifice flavor for dietary needs.
No One Outpizzas Pizza Hut's Crusts
As you can see from the different pizza Hut crust types, this restaurant chain has set the pace in terms of innovation and creativity where Pizza is concerned.
If you like trying out different pizza recipes as I do, why not try to recreate some of these crust styles at home? Don't worry about making perfect Pizza Hut pies—just building those interesting crusts and enjoying them with friends and family (or alone) is definitely worth the effort!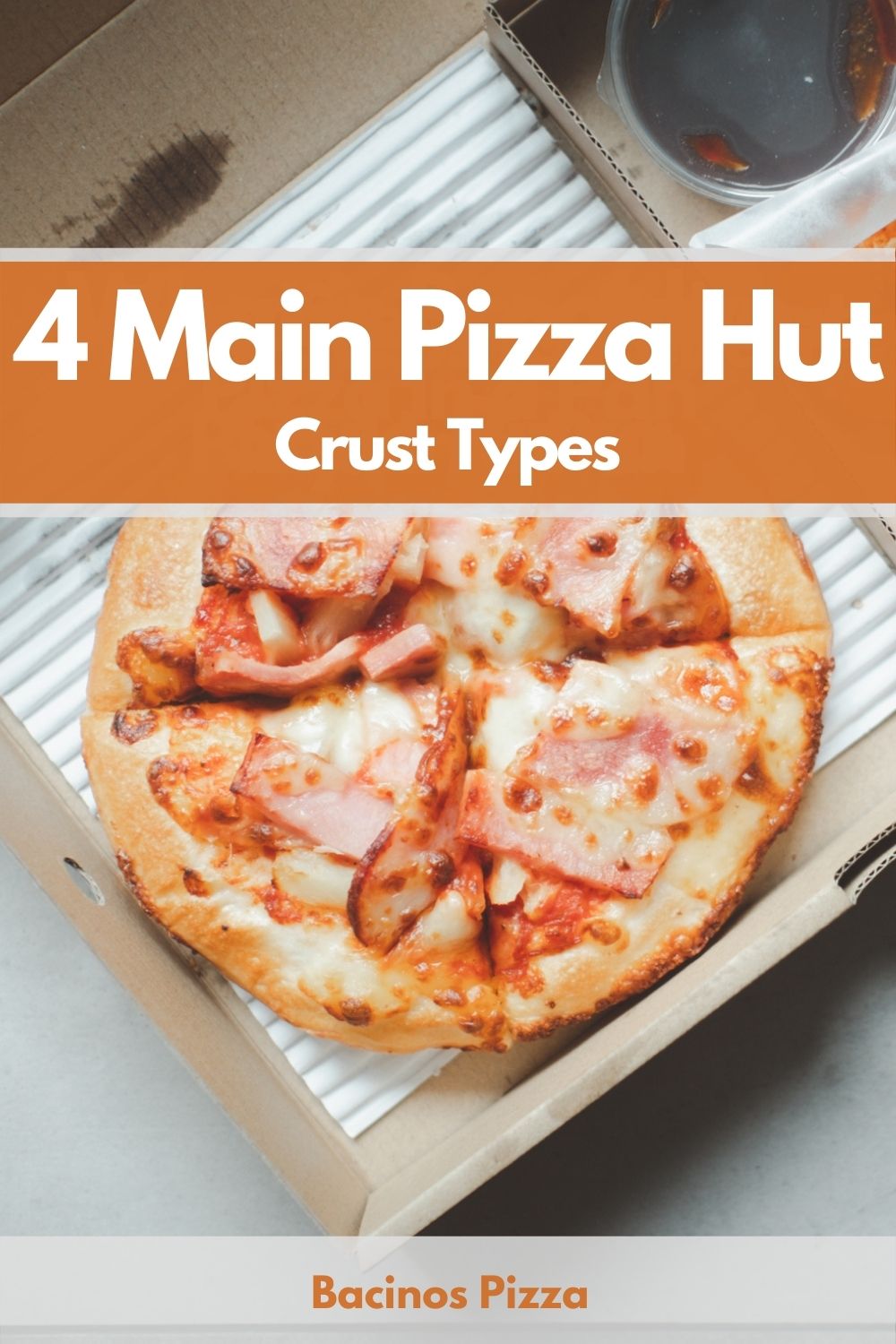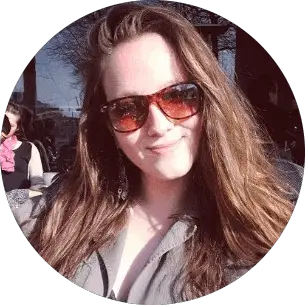 Barbara is an enthusiastic food-exploring person that goes through different culinary experiences. She got inspired by creating a pizza blog post after she tasted one of the best-selling pizzas in Toledo.