Nutella is a chocolate hazelnut spread whose soft creaminess is unbeatable. A quick Nutella spread over something as simple as a bagel slice takes it to the next level.
Imagine biting into a warm Nutella pizza slice prepared with creativity and flair. Nutella pizza is the perfect dessert for children and all other picky eaters! You can count on warm chocolate to be the ultimate pick-me-up for people of all ages.
Nutella pizzas are quick and easy to prepare. Remember to melt the Nutella before baking so that it can seamlessly blend with the hot pizza crust.
Let's dig in!
The strawberry flavors in this dish perfectly enhance the deep hazelnut chocolate flavor of Nutella.
This recipe is special because it introduces an additional layer of strawberry flavor by using strawberry honey butter in addition to fresh strawberries.You can use store-bought strawberry honey butter or make your own!
2. Chocolate Pizza
This delicious pizza starts with a creamy custard layer on top of the dough. Use this custard base to build up beautiful bursts of chocolate goodness.
The point of this pizza is the abundance of chocolate. Take this chance to add in all your favorite chocolate syrups, bars, and cookies in addition to Nutella. Serve with a scoop of vanilla ice cream for that perfect touch.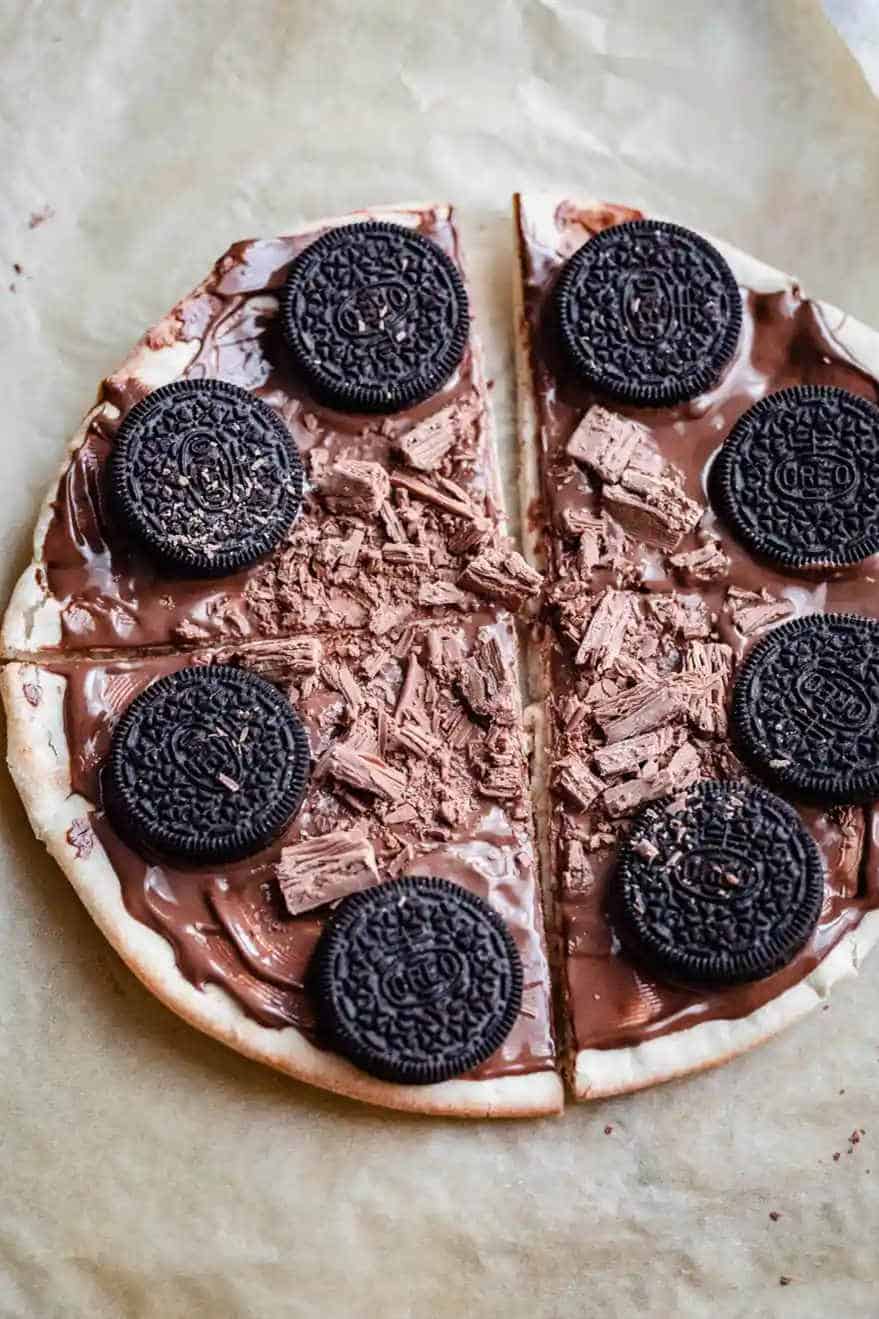 If you love Oreos, you will adore this pizza. Oreos form the main topping for a playful and exciting snack.
Making this pizza could be a fun bonding activity for you and your children. It will help them develop their fine motor skills, such as dexterity and hand-eye coordination, as well as learn their way around a kitchen.
4. Nutella Marshmallow Dessert Recipe
Marshmallows make great desserts! Add them to your Nutella pizza to make a wonderful dessert pizza.
If you are having savory pizza for your main meal, save some of the dough. Use it to make a Nutella Marshmallow Dessert pizza for a fun, quirky accompaniment to your main meal.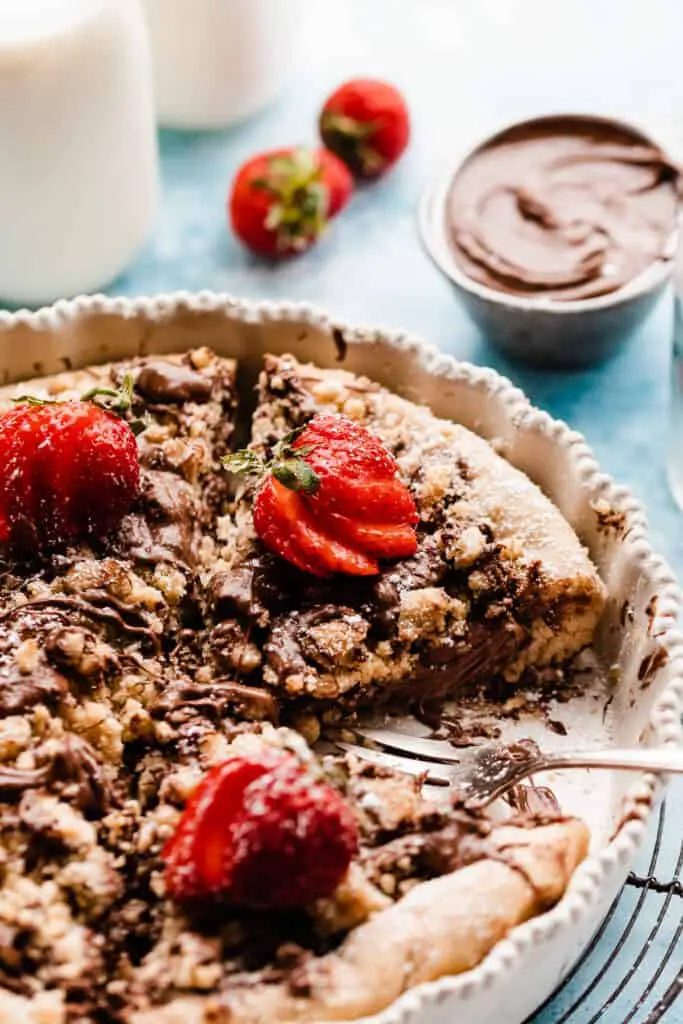 Cinnamon is a spice famous for its delicious aroma and sweet taste. It's used in all sorts of desserts because of its unique and valuable properties. All you need to elevate any sweet treat is a tiny touch of cinnamon.
Add cinnamon to the dough, and then add cinnamon streusel to the Nutella topping. Welcome to cinnamon heaven!
6. Nutella and Mascarpone Wood Fired Pizza
Mascarpone is a flavorful double-cream cream cheese from Italy. Mascarpone's soft creaminess works beautifully with Nutella's rich chocolate flavor.
These two flavors together produce an extremely sophisticated dessert. Whip this recipe out when it's time to fascinate and impress!
Mascarpone is an exceptionally fatty cheese. If you use a wood-fired oven to bake this pizza, the smokiness from the clay brick oven will wonderfully complement the mascarpone flavor in the dish.
This unique pizza is simply marvelous. The chef at Ooni HQ tried to find a new 'haute cuisine' way to make a Nutella pizza.
Frangipane is an almond filling cream originating from France. Combining it with Nutella and lightly spiced poached pears created breathtaking results.
Set aside some time to carefully follow this detailed recipe. It will be worth your wait! You may learn a few high-end kitchen tricks as well.
8. Nutella Pizza Ring
The Nutella pizza ring is as innovative as it is harmoniously delicious. It's a doughnut pizza stuffed with ricotta cheese and roasted hazelnuts.
Since Nutella is made from hazelnuts, the roasted hazelnuts blend well with the melted Nutella. Ricotta cheese has a thick grainy texture and tastes slightly nutty.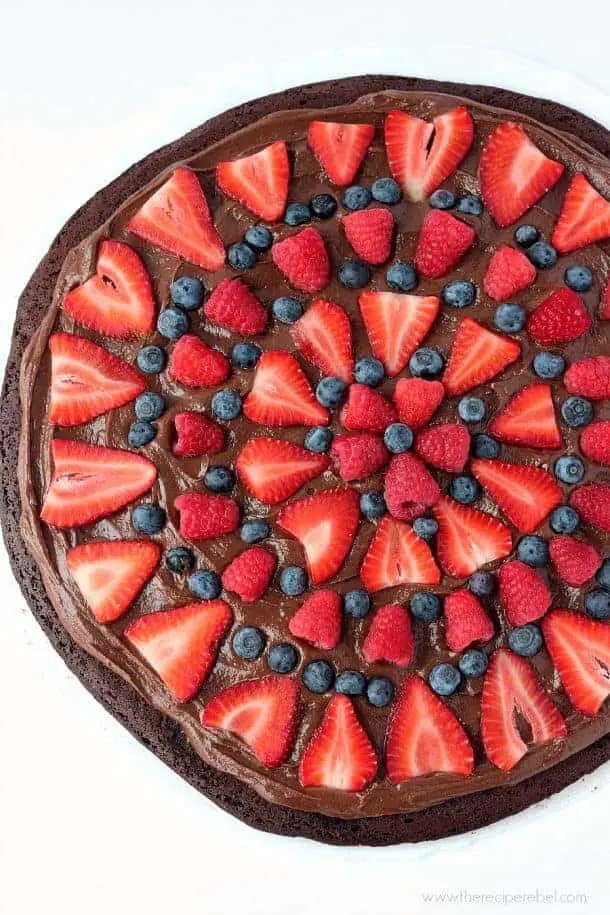 Instead of pizza dough, this sweet pizza uses a brownie bottom as a base. You might be afraid to use a brownie base, but this recipe will show you how to make a perfect base.
The base shouldn't be too dry or too thin or too flimsy. It should hold up and still be fudgy. There's also a lovely glaze you can make to keep the fruit toppings fresh!
This pizza is so straightforward to make yet so appetizing. It's a bit like a puff pastry with Nutella filling, except that the pizza is made in the shape of a larger square or rectangle.
It's a great way to use leftover pizza dough. If you have kids, chances are they will love making this pizza with you.
Set aside some to make this delectable pizza. You will get to combine pizza dough, Nutella ganache, apple slices, apple cider sauce, and cinnamon oat crumble in an outstanding dessert.
This recipe is quite detailed. Be sure to follow it closely to adhere to the correct steps, as well as the correct ingredients and their amounts.
You won't regret it! What's more, you might learn some baking tips along the way.
12. Pizza Dough Twists with Nutella
These mouth-watering twists are very easy to make. They don't take much time to bake and require a few simple ingredients that you probably already have in your kitchen.
The interesting shape of these pizza dough twists makes them ideal high-end desserts. At the same time, you can also make them as a simple quick snack for children.
Using sliced oranges to liven up your usual plain Nutella pizza is a brilliant idea!
The oranges' zest interrupts Nutella's heavy sweetness for a surprisingly harmonious dessert.
This dessert pizza takes less than 15 minutes to prepare from start to finish. Add honey, vanilla extract and cinnamon to taste.
14. Mini Nutella Pizzas
These mini Nutella pizzas are great for a quick bite. Make lots of mini Nutella pizzas, each with different toppings, then mix the slices for an exciting snack.
These pizzas are fun, quirky and affordable. For example, you can use these recipes to feed a large group of children if you have an after-school program or something similar.
Surprise your significant other with these Nutella fluff hearts. They are ideal for Valentine's Day. They are also perfectly appropriate for special dates like anniversaries and birthdays. You can also gift these fluff hearts on an ordinary day.
These fluff hearts are truly adorable. They are topped with beautiful red pomegranate arils.
These lovely Nutella pizza rolls require only three ingredients: pizza dough, Nutella and crushed Oreos. They take only a few minutes to bake. Make a large batch to share with your friends and family.
These rolls are unbelievably scrumptious. They are so dainty and tasty that you might get addicted! Be careful! You can choose to add cinnamon to taste.
This recipe uses a puff pastry base instead of a pizza dough base. You can make your own puff pastry or if you're pressed for time, you can buy frozen puff pastry sheets from the store.
The recommended toppings are beautiful. Use white chocolate to emulate mozzarella cheese topping. Pile in an assortment of berries before the chocolate dries and hardens.
18. Mini Fruit and Nutella Pizzas
These mini pizzas use tortilla bases topped with different kinds of fruit. They are really easy to make if you can buy ready-made tortillas at the store. You don't even have to use an oven because they don't require baking.
Simply spread Nutella on your tortillas. Use different fruit slices and chunks as toppings. You can use pineapples, berries, apples, et cetera. Have a blast!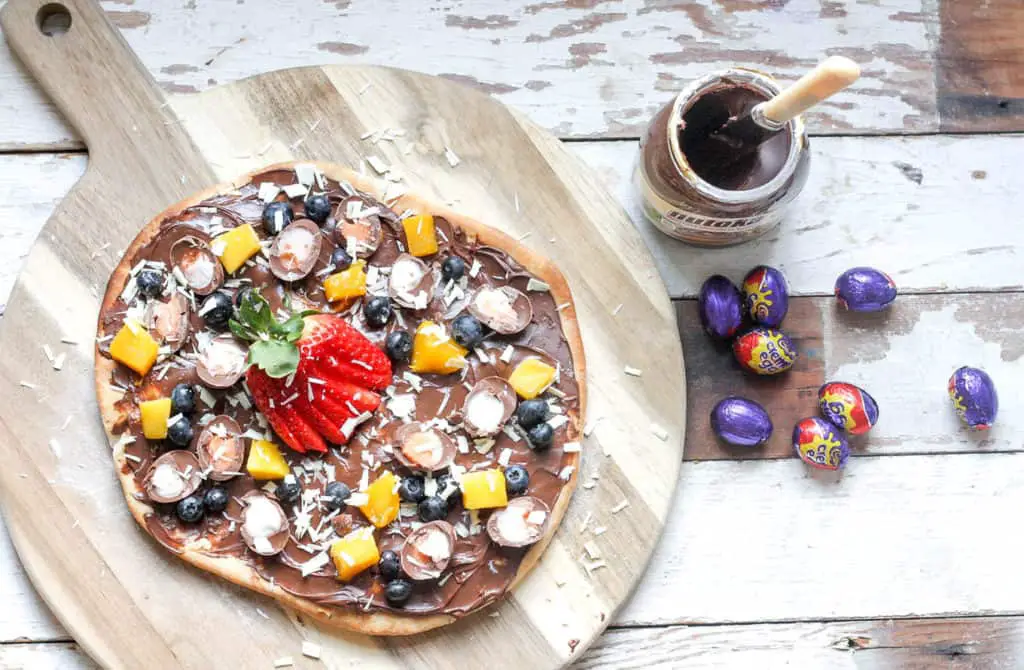 Use Cadbury Creme Egg minis to make these Nutella Pizza. The chocolate creme eggs work with Nutella to create a strong enchanting chocolate flavor for your pizza. Their small size is just perfect for topping.
Use regular homemade or store bought pizza dough. Add white chocolate and fruits as topping. If you have children, they will love this pizza. Make it with them for a fun Easter activity!
20. M&M & Nutella Colorful Pizza
This lovely recipe by an Italian chef shows you how to make a Nutella pizza from scratch using all purpose flour. It incorporates Nutella into the dough, unlike most other Nutella pizza recipes where Nutella is used only as a topping. It also adds M&Ms directly into the dough before baking!
The result is a fun and colorful pizza that delights with every bite.
Summary
Don't underestimate Nutella! As the main ingredient in each of these pizzas, Nutella instantly satisfies your sweet tooth and chocolate cravings. Your children will enjoy each of these.
Additionally, it's possible to make your own chocolate hazelnut spread! Simply follow this Healthified Homemade Nutella recipe.
20 Nutella Pizza Recipes
Directions
Select your favorite Nutella pizza recipes

Organize all the required ingredients.
Prep the recipe in 30 minutes or less!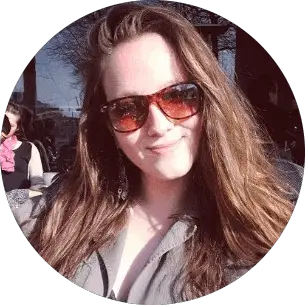 Barbara is an enthusiastic food-exploring person that goes through different culinary experiences. She got inspired by creating a pizza blog post after she tasted one of the best-selling pizzas in Toledo.