Pizza is one of life's greatest pleasures. Even healthy eaters try to sneak it past their trainers with gluten-free, non-dairy, veggie versions.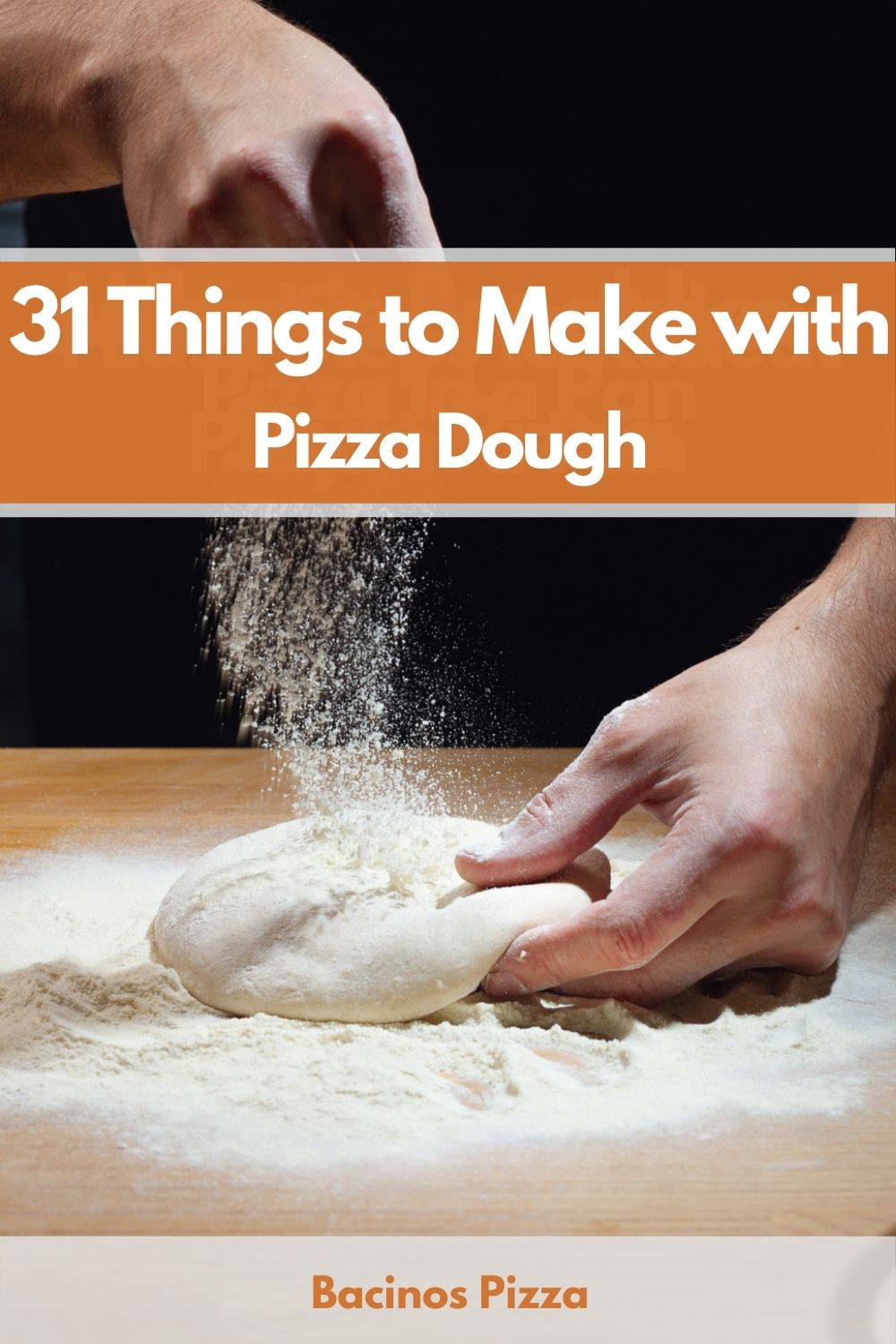 And while wars have been fought over thin vs thick vs square vs round crust, there are plenty more things to make with pizza dough.
So whether you knead your pastry from scratch or grab it pre-flipped from the store, let's see what else it can do.
1. Homemade Cheese-and-Garlic Breadsticks
They're not quite bottomless – but you can take pizza dough trimmings and re-mold them into a ball. Roll it flat and slice it into strips with a pizza cutter. Cover with saran wrap for about 20 minutes and let it rise. Unwrap, brush the top with clarified butter, then sprinkle onion powder, garlic powder, grated mozzarella, and shredded parmesan. Bake for 5 to 6 minutes at 475°F.
If you still have dough and toppings leftover when you're done, make a few quick pizza kebabs. Thread the toppings through the skewer, which can be wooden or metallic. Good options include sausages and mushrooms. The pizza trimmings are probably in strips already. Wind these strips between your skewered toppings. Douse with cooking spray and bake for 12 minutes at 400°F.
3. Toasted Braids
When you need a punny finish or your pizza dough, try braiding it into bread! Roll the pizza dough into strips and work them into three-strand twists of your preferred size. Roll the braids in sesame seeds and or poppy seeds (but be aware these seeds can trigger certain … tests …). Pop the bread into your pre-heated pizza oven until lightly browned – roughly 10 to 12 minutes.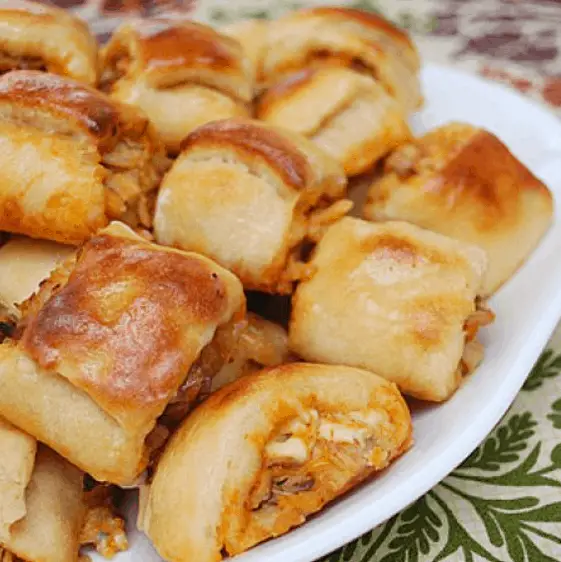 This isn't quite what it sounds like. The 'blue' is crumbled cheese and the 'buffalo' is a hot sauce mix used for spicy wings. Combine cooked chicken breast (boneless, diced, shredded, or cubed), blue cheese, cheddar, hot sauce, and melted, unsalted butter in a bowl. Spoon the mixture into pizza dough cut into 4-inch squares. Seal those 'pizza pies' and bake for 5 to 7 minutes at 400°F.
5. Breakfast Braids
You could make pizza dough from scratch or take a shortcut and go for store-bought. Either way, the trick is in the stuffing. Cut the pizza dough into three strips and paint tomato sauce over them. Follow with shredded mozzarella and diced salami. Curl the dough around the stuffing and braid. Brush with egg yolk, garnish with sesame seeds and bake for 30 minutes at 340°F.
This is the simplest thing you can make with pizza dough. Just roll out the dough and pop it in the oven. The resulting bread can be thin and flat or fluffy, depending on the type of dough you used. You can then spread jelly, butter, cheese, sauce, or anything else on the bread. And if you don't like it baked, fry it on a skillet. Flip once or twice to get the coloring you prefer.
7. Flip and Fold
Italians call them calzones. We call them hot pockets. Or pizza pockets. Sometimes pizza pies. This homemade version uses soft boiled eggs, bacon strips, grated cheddar, grated mozzarella, diced scallions, and sliced potatoes. Fold the stuffed pizza dough into a roll and brush it in egg wash. Top your calzone with sesame seeds or poppy seeds and bake for half an hour at 350°F.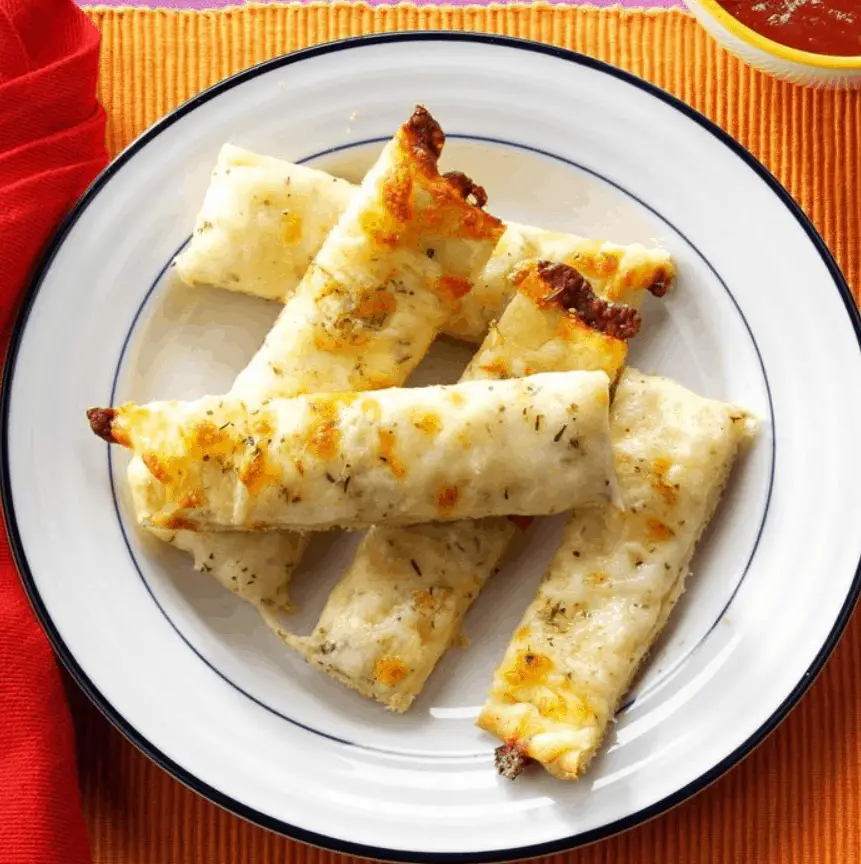 Europeans call them 'fingers'. We more often call them 'sticks'. But whether they're based on chicken, fish, bread, or cheese, they're always delightful and delicious. This version has much more cheese than regular pizza dough breadsticks. You can start with powdered pizza dough mix and add garlic powder then top with cheese and bake for 6 to 8 minutes. Use pizza sauce as a dip.
9. Cake Boss Garlic Knots
The Valastro Kids (and their mom) have tips on things beyond cake. So if you're in the mood for pizza dough but you don't want pizza, try garlic knots. Cut the dough into strips and tie them into tiny knots. You can brush the knots before baking or douse them after they're done. Your herbed mix can include fresh garlic, garlic powder, melted butter, parsley, and selected spices.
Texture is a big part of cooking. And it's one we often take for granted. But if you're looking for that crunchy thin-crust munch, consider these pizza dough crackers. They go well with pizza sauce as a dip – or any other option. Get the pizza dough as thin as possible (use a pasta roller) then dust it with spices and brush it with egg wash. Bake for 10 to 12 minutes in a 350°F oven.
11. Aged Pizza Bread
You can add a little kick to your non-pizza dish by holding onto the dough a little longer. Whether you bought it or kneaded it, oil the dough and put it in a covered dish with a tight lid. Put the dish in the ridge or a week to rise and age. When you take it out, bake as normal to get a crisp, slightly sour pizza bread. The texture and flavor of your bread depend on how long it ages.
The trickiest part of pastry dishes is the base. It needs to be crisp, fluffy, flaky, and crunchy. And that texture varies from savory pies to sweet flans. This recipe offers a shortcut by repurposing pizza dough into cinnamon roll crusts.  Roll the dough and brush it with melted butter. Dust with cinnamon powder and sugar then top with a vanilla glaze before baking for 5 minutes.
13. Fritta (Fried Pizza)
Fried pizza can be as simple or complex as you like. This version is from a family restaurant in Naples, Italy. They make bite-sized pizzas by starting with small dough batches, wrapping the toppings into a pocket of dough, then deep-frying the whole thing. For a simpler home version, make quick dinner rolls by cutting pizza dough into strips and deep-frying without toppings.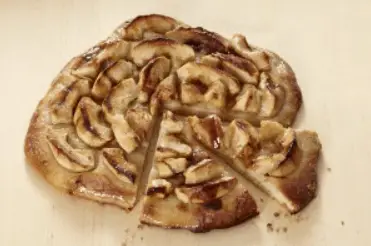 What's more American than apple pie? Nothing! But what if you blend the pie with pizza crust and sugar? Well, this French-born-American chef says c'est magnifique! Set your dough to rise for ten minutes to half an hour. Arrange 8 apple wedges on your pizza dough, dot with butter cubes, dust with sugar, and bake for 45 minutes at 400°F. Top the galette with apricot preserve.
15. Savory Dough Balls
Another quick fix for your excess pizza dough is to ball it up. Don't just roll it in your first since that won't get you a bready texture. You want to knead the little clump as you work in more air and attain the right texture. Let the balls sit for half an hour to proof then bake them. They should be browned by still sot. Serve warm with garlic butter or a seasoned dip of your choice.
Pot pies are deeper than regular pies and have a laky top. So yes, you can use pizza dough to bake a pot pie. Just knead the top layer more to get that fluffy texture. This recipe uses slit pizza dough as the top of the pie, leaving the fillings directly in the baking bowl. There's no 'bottom crust' on this pie. The Turkish recipe uses turkey, herbs, and vegetables cooked in chicken broth.
17. Sweet Dough Balls
This popular Italian snack is called Castagnola. And no, they're not just doughnut holes. Castagnole dough includes eggs, ricotta, and lemon. So add those if you're making the dough from scratch. But a simpler version is to use regular pizza dough, work it into balls, then bake or fry them. You can toss the dough balls in a mixture of cinnamon powder, cocoa, sugar, or syrup.
A calzone is a 'folded' pizza and a Stromboli is a 'rolled' pizza. Think of it like a bigger cinnamon roll filled with pizza toppings. So if you want to do a homemade Stromboli, you can cut the pizza dough into strips or bake it whole and put sandwich toppings between the raw bread. Try mixed hams, spices, sauces, cheeses, and vegetables. Bake the 'loaf' then cool, slice, and serve.
19. Baozi Pizza Dough Dumplings
Chinese food tastes different when we make it at home. (And it tastes nothing like you'd expect when you order it in China!) But what happens when a Chinese chef uses American ingredients? This culinary expert makes modified fried or steamed dumplings with pizza crust. The fillings are a minced mix of pork, turkey, mushroom, spices, and vegetables with homemade dip.
A more accurate term is scallion pancakes. But since the base batter is pizza dough, here we are. Scallion pancake dough doesn't use yeast, so your pizza pancakes will be denser than thin pizza batter. It's a popular Chinese dish, so when you substitute pizza dough or pancake batter, knead the scallions into the dough, roll it out, and fry on a skillet or sallow pun, flipping once.
21. Bacon Quiche
A quiche is a kind of tart and pizza crust is the perfect base for it. This particular pizza dough quiche recipe is a rich mix of unexpected flavors. The ingredients layered into this sweet-and-savory 'pot pie' include eggs, bacon-wrapped apple wedges, savoy cabbage, mozzarella, caraway, nutmeg, and heavy cream. Pre-bake the dough for 10 minutes before adding the filling.
This one is fun and easy. Use an elliptical container to cut popsicle shapes in your rolled-out pizza dough. Paint pizza sauce on one side, slip in a popsicle stick, add toppings, and cover with another oval slice of dough. Bake for 20 minutes at 340°F. You can use any toppings you enjoy but we recommended mixed cheeses, bacon, herbs, and ham. Don't forget the egg wash!
23. Three-in-One Pizza Treats
When you can't decide on just one thing, why not spoil yourself with three! Here's a triplet of pizza dough recipe you can try at home. One, shape the dough ball into a lower, bake it, and garnish it with sesame seeds. Two, stuff a pizza roll with sausage links and cheese slices. Three, dust a flattened sheet o pizza dough, dust it with cinnamon and hazelnuts, and coil into twists.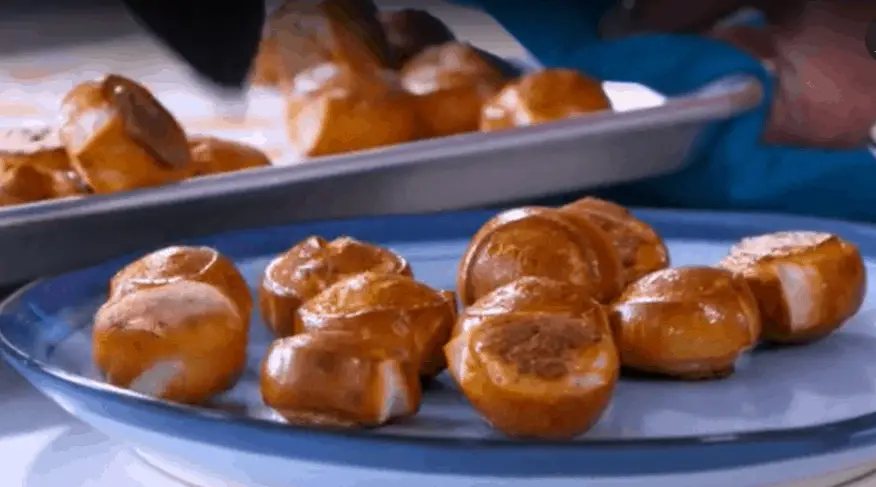 In today's food world, you're sometimes tricked into healthy substitutions. Zucchini spaghetti. Or scrambled tofu. But if you're looking to swap one junk food genre or another, try these pretzel bites. Coil the dough into ropes, boil for 45 seconds, coat in egg wash, bake for 5 minutes, and serve with a creamy homemade dip that blends Dijon mustard, honey, and sour cream.
25. Simplest Shortcuts
Sometimes, you want a complicated dish. Other times, you're looking for a quick-ix. Here are some of the simplest versions of pizza dough alternatives. You can prepare them in minutes with none of the fuss. Cut pizza dough into strips and brush with sugar and cinnamon or cinnamon rolls. Or ditch the sauce and use plain cheese or pizza fries. Or twist them into knotty bread.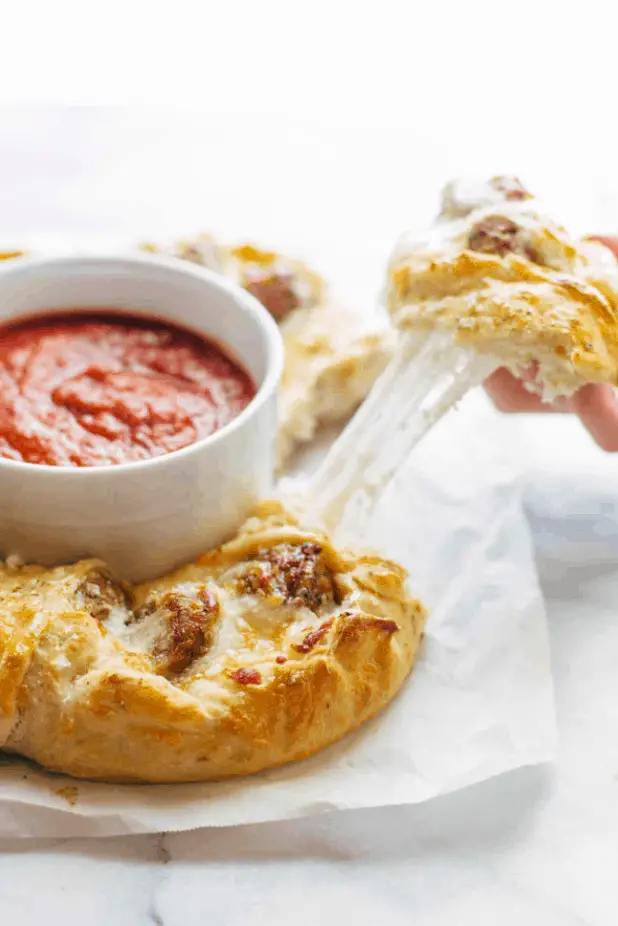 Pizza rings give you the wholesome joy of freshly baked bread with the sinful of greasy junk food. Roll the pizza dough lat and cut slits into it. Put ricotta cheese and meatballs into the slits. Sprinkle everything with mozzarella and tuck the cheese into the crust. Curl the dough into a ring, leaving a hollow in the middle for dipping bowls. Brush the pastry with egg wash and bake.
27. Flatbread Sandwich
Skip past the baked pretzel bites and try the sandwich. We've already looked at several versions of pizza bread. Elevate this pizza dough snack by ditching the pizza toppings or sandwich filling. Use a combination of deli meats, lettuce, mayo (or a creamy dressing of your choice). Fry the rolled pizza dough on both sides, spread the sandwich fillings, ad old it into a sot pizza taco.
Egg cups are nice, with their mix of ham and runny sunny-side-up delicacies. But here's something else you can make with your muffin tin – pizza cups. They're not quite pizzas. Cut the pizza dough into small squares, lay them into the ungreased cups, and top them with your choice of fruit and deli meats. This version uses mushroom, mozzarella, tomato sauce, and broccoli.
29. Pizza Doughnuts
We've done a few variants of doughnut holes and pizza balls here. But what about the doughnut itself? Here's an easy recipe with pizza dough. Roll the dough, shape it, and deep fry it. But remember, pizza dough isn't generally infused with sugar, so these will be savory doughnuts. To get the sweet kick, dust them in icing sugar and cinnamon or dip them in melted chocolate.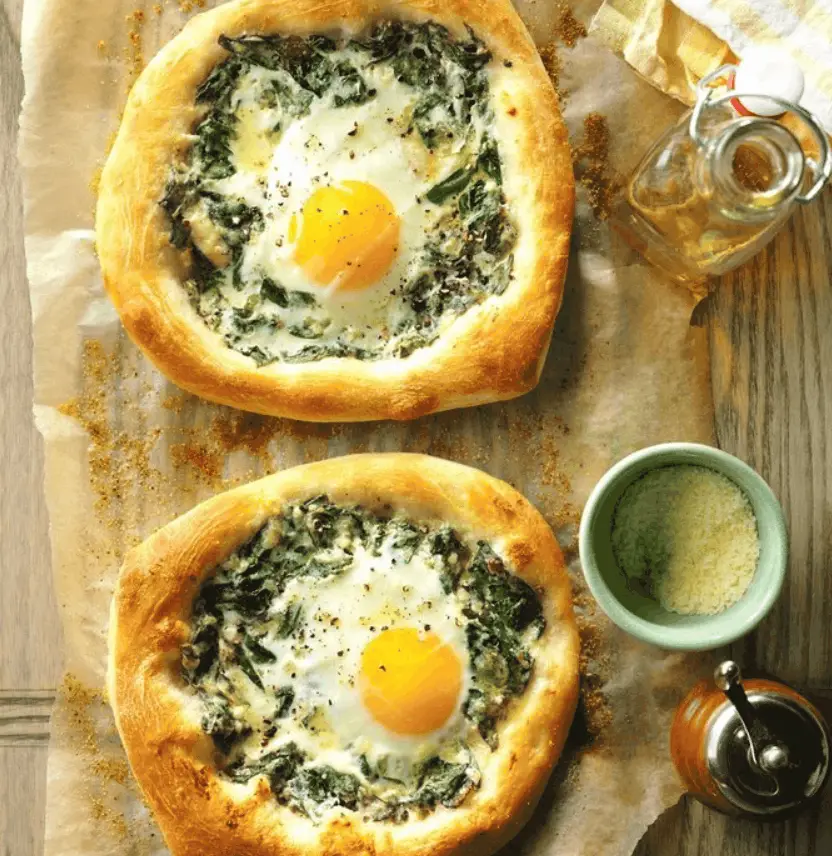 Looking for a breakfast of champions that's wholesome and lactose-free? You can still get your calcium ix even as you skip the gluten and dairy. Get gluten-free pizza dough and form it into small flattened balls. Ill them with cooked spinach and bake for five minutes. Then break an egg onto the spinach and bake for 5 to 10 more minutes, depending on how you like your eggs.
31. Pizza Waffles
Our final listing has six pizza dough recipes but we're mostly interested in the first one. Put a rolled pizza dough piece on your wale maker and cover it with sauce and toppings as desired. We recommend mozzarella, ham, and mushroom. Cover with a second sheet of pizza dough and close the wale maker or the recommended time. Carefully remove your pizza waffle and enjoy.
Do you have more recipes or alternative uses for pizza dough? Show us in the comments!
31 Things to Make with Pizza Dough
Ingredients
Homemade Cheese-And-Garlic Breadsticks

Toasted Braids

Breakfast Braids

Flip And Fold

Cake Boss Garlic Knots

Aged Pizza Bread

Fritta (Fried Pizza)

Savory Dough Balls

Sweet Dough Balls

Baozi Pizza Dough Dumplings

Bacon Quiche

Three-In-One Pizza Treats

Simplest Shortcuts

Flatbread Sandwich

Pizza Doughnuts

Pizza Waffles
Directions
Select your favorite recipe.
Organize all the required ingredients.
Prep a Recipe Make With Pizza Dough in 30 minutes or less!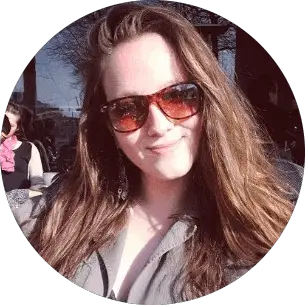 Barbara is an enthusiastic food-exploring person that goes through different culinary experiences. She got inspired by creating a pizza blog post after she tasted one of the best-selling pizzas in Toledo.