Raise your hand if you can't even go a week without pizza! Well, we pizza fanatics can totally relate to that feeling. But how disappointing would it be to visit a pizzeria all jolly and excited only to get served a so-so slice? Well, worry not. We've got your back!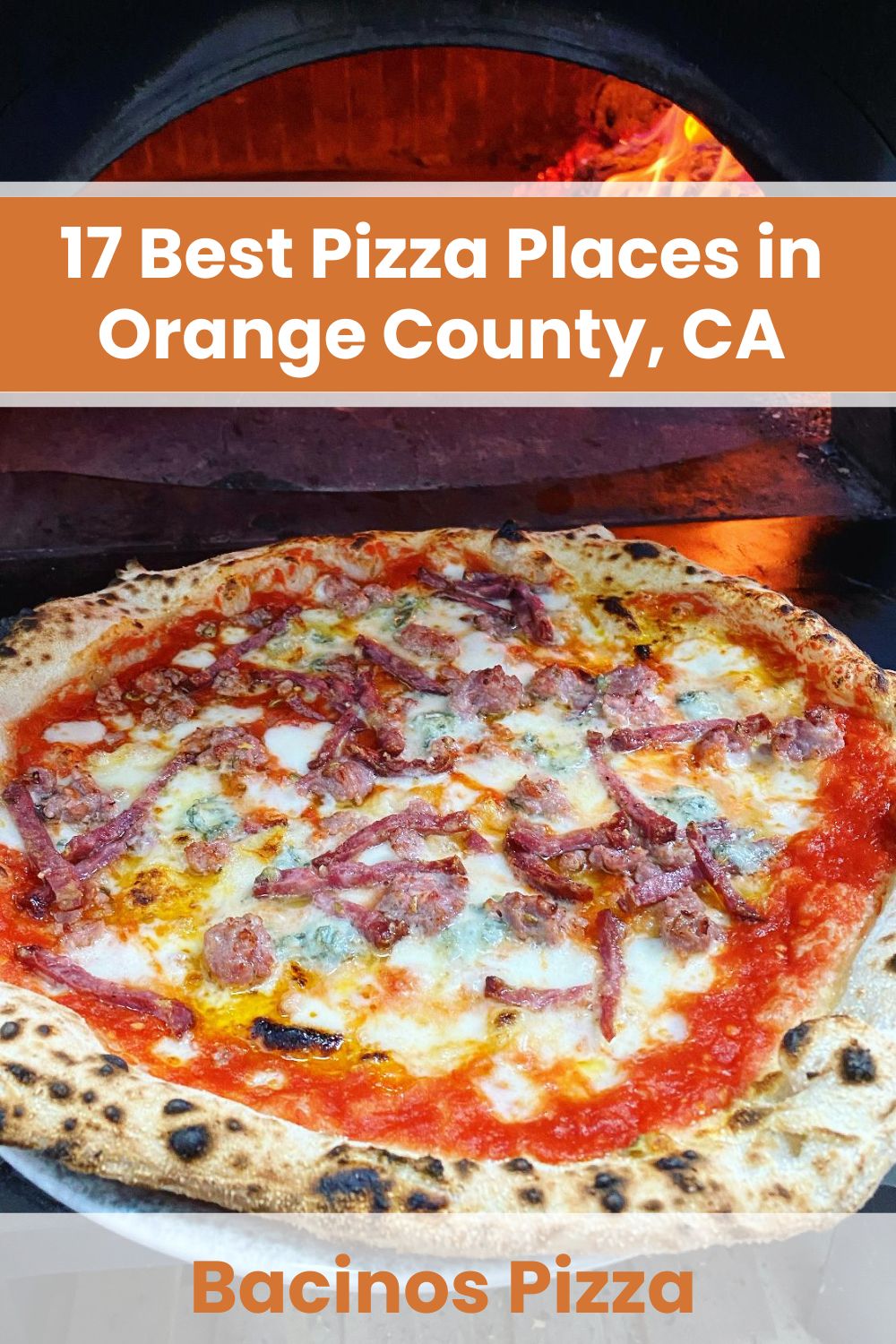 So, if you're in Orange County and are craving a perfect slice of pizza, you're at the right place! Let's dig in and find the best pizza spot for you around the area.
You can find many Blaze Pizza eateries in Orange County. But the one that is absolutely worth the mention is the Blaze located in Glassell St.
Once you build your own pizza or select one from their specialties, Blaze's pizzasmiths then fire your pizza for 180 seconds, and that's it! The pizza baked to crispy perfection is now yours to devour. They offer a large menu of a variety of creative toppings for you to choose from.
Even if you're on a gluten-free and vegan diet, you can find plenty of options at Blaze. Have a warm lunch/dinner at Blaze, swing by for a takeaway, or opt for curbside pickup or delivery. Whatever is your demand, Blaze Pizza is at your service.
Address: 101 S Glassell St, Orange, CA 92866, United States
Contact: +1 714-783-9845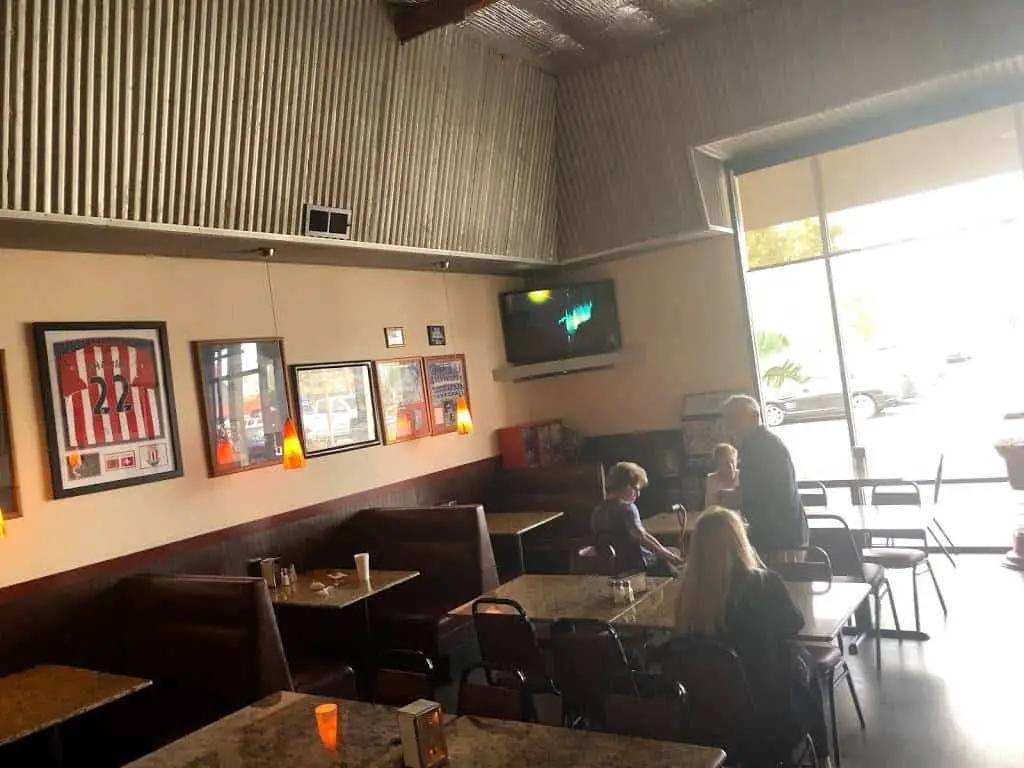 Located in the center of Westport Square Shopping Center, this Italian spot serves hand-tossed pizzas, subs, pasta and offers a great selection of beverages.
Founded in 1981 by Izzi Pepic, this family-style restaurant integrates fresh and high-quality ingredients to create a delicious pizza every time. The ambience is cozy and family-friendly, and the customer service is fast and amazing.
So, if you're craving Italian when in Costa Mesa, Massimos Pizza and Pasta is a no-brainer! What's more, lunch specials at Massimos are unbeatable in taste, value, quality, and size-wise. So, make sure you pay a visit to this Orange County gem.
Address: 369 E 17th St #15, Costa Mesa, CA 92627, United States
Contact: +1 949-631-0255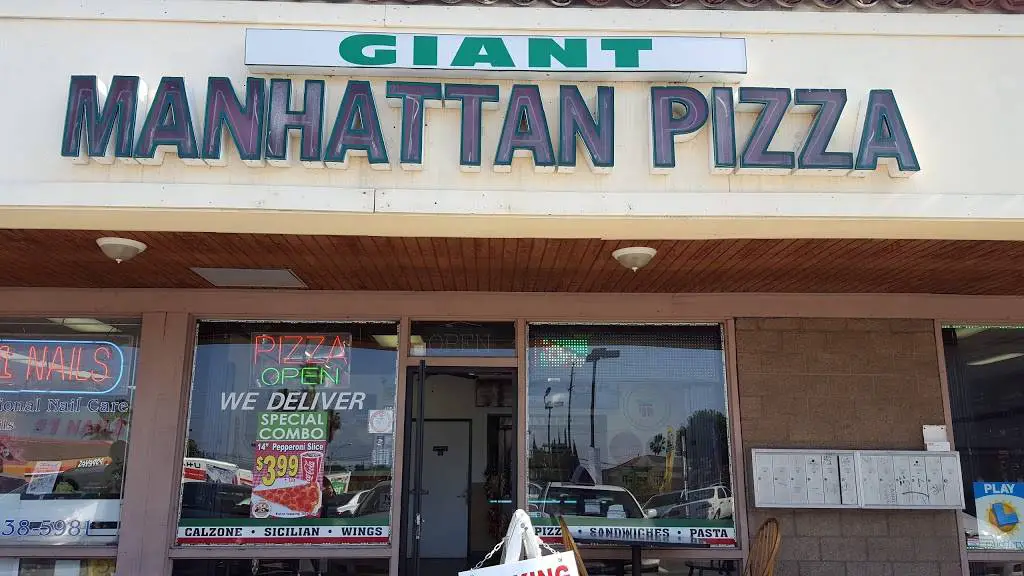 This famous Anaheim counter-serve joint is aptly named. They truly serve the biggest pizza in town. And the prices are so reasonable. You'd be stunned, really!
Giant Manhattan Pizza offers thin-crust New York-style and deep-dish Sicilian-style pies along with other outstanding stuffed recipes such as calzones, strombolis, and panini.
hey offer flavorful pizza crusts, plentiful toppings, fresh, herby sauces, and pocket-friendly prices. What else could anybody ask for? Giant Manhattan Pizza is truly a must-have when you're in Anaheim.
Address: 9842 Katella Ave, Anaheim, CA 92804, United States
Contact: +1 714-534-2233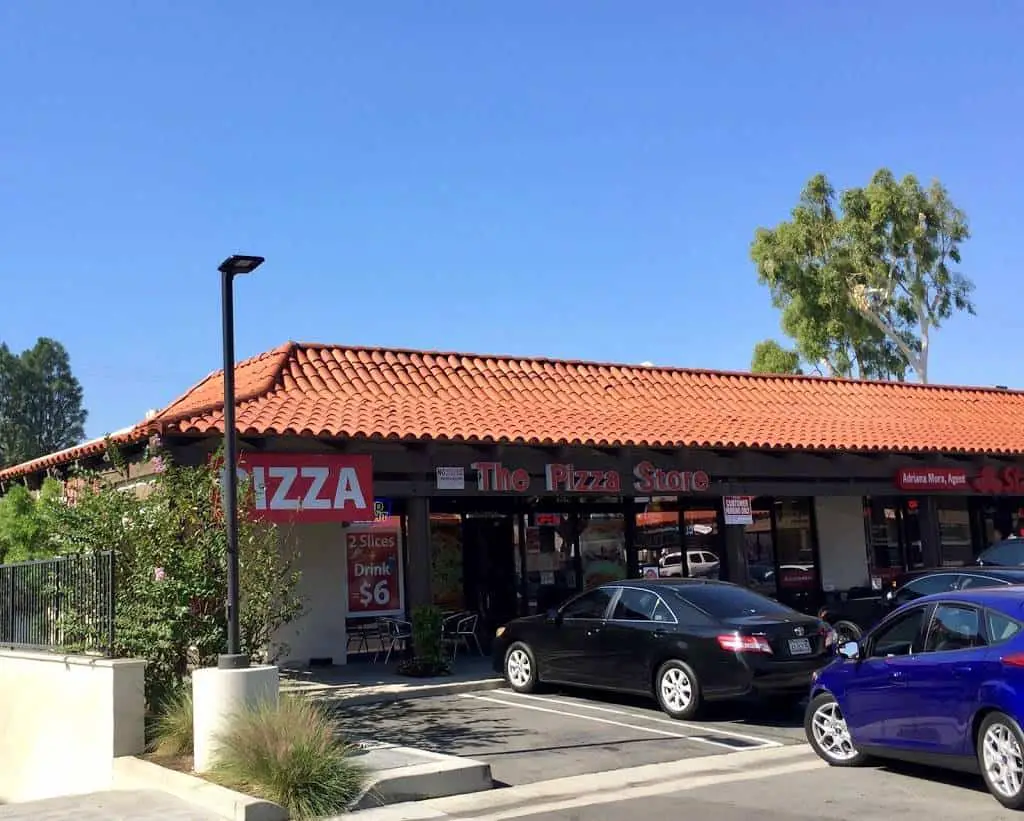 Established in 1976, this family-owned restaurant has been serving excellent pizzas, wings, sandwiches, salad, and more celebrated recipes since then.
The Pizza Store sources their ingredients fresh and high-quality from local suppliers. And their dough is made from scratch daily and hand-tossed to order. The ambiance is friendly and welcoming, and the customer service is great at the Pizza Store.
You should definitely try this classic Orange restaurant whenever you're in the city. You should try their wings too. The reviews are fantastic. You'll not regret it!
Address: 380 S Main St, Orange, CA 92868, United States
Contact: +1 714-978-7300
Zito's Pizza, a chain pizzeria local to Orange and Anaheim, has been serving the best New York style pies in the cities for over 30 years. Visit your nearby Zito's and relish their delicious recipes in their cozy and fun atmosphere, or call them to place an order.
At Zito's, they also have gaming areas for kids and TVs to watch games on. The service is amazing, and their BBQ wings are to die for! Opt for their specialties pizza or build your own from over 25 toppings to choose from.
If you're hungry, you can also quickly grab a slice at Zito's. They serve cheese and pepperoni slices during weekdays. Oh, and don't miss out on their garlic knots! Zito's Pizza undoubtedly makes the best garlic knots in the city.
Address: 156 N Glassell St, Orange, CA 92866, United States

Contact: +1 714-771-2222

Address: 5572 E Santa Ana Canyon Rd, Anaheim, CA 92807, United States

Contact: +1 714-998-2000

Address: 1716 W Chapman Ave, Orange, CA 92868, United States

Contact: +1 714-939-1111

Address: 2036 N Tustin St, Orange, CA 92865, United States

Contact: +1 714-974-6191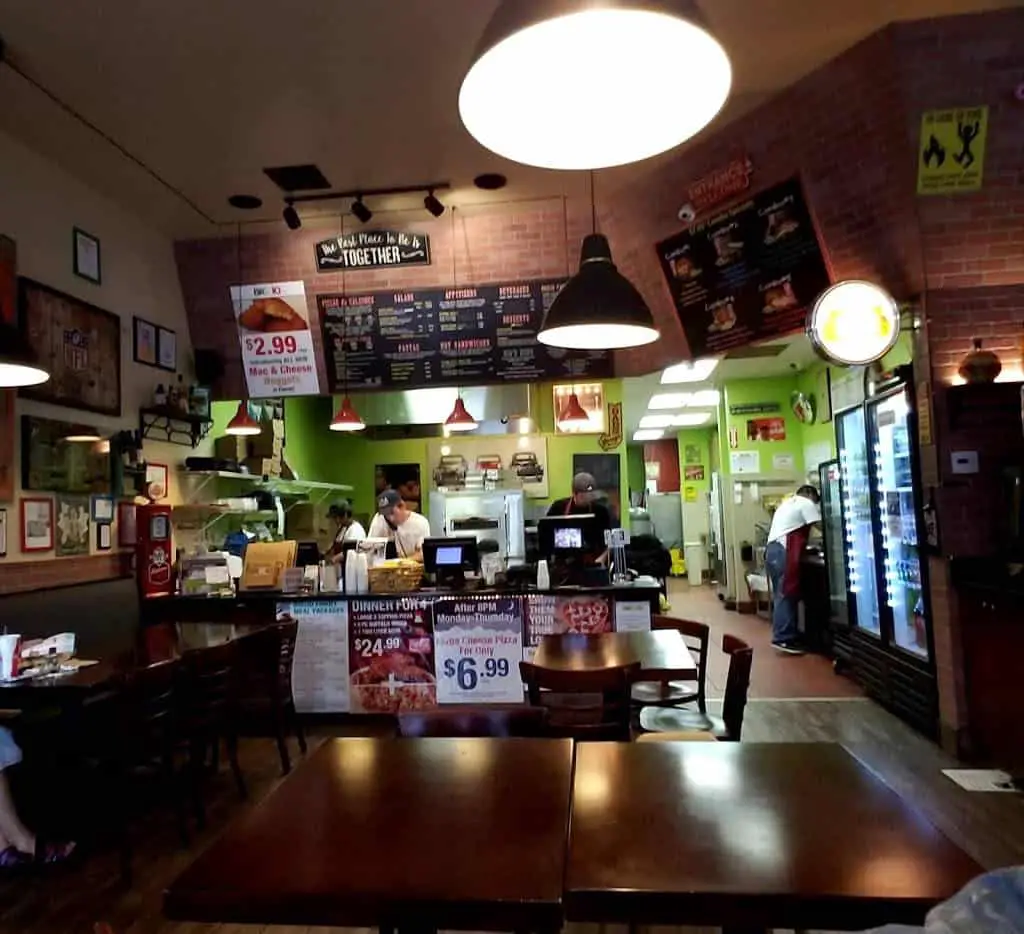 Craving a pizza late at night? Brizio's Pizza to your rescue! They offer 24-hour delivery in Orange and San Diego Counties.
Brizio's has gone above and beyond to establish itself in the hearts of Orange County locals. Each of their recipes is prepared with care and passion, and it reflects in their food.
And when it comes to pizza, you can never go wrong at Brizio's! If you don't feel like pizza, go for their Italian beef or meatball sandwich or any other Italian dishes. Brizio's truly serves high-quality and finger-licking good food.
Brizio's should also be commended for their Humanitarian efforts. They are open to various fundraising programs where they donate 50% of the total sales. How great is that?
Address: 21771 Lake Forest Dr, Lake Forest, CA 92630, United States
Contact: +1 949-951-7333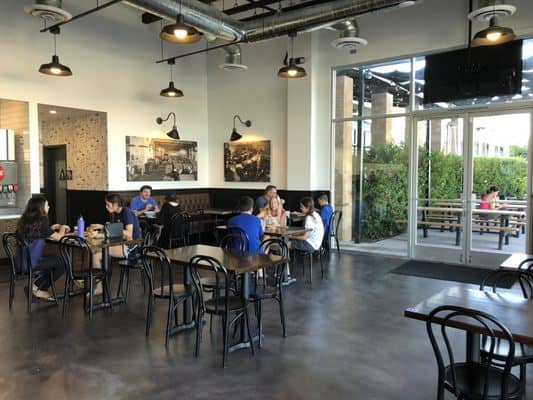 First founded in 2012, this Anaheim-based pizzeria has quickly grown to over 30 locations in such a short span of time. The restaurant theme is 1920s American newspapers-inspired, and their signature pizzas are also named after some major American newspapers.
The Pizza Press embraces the concept of building your own pizza and offers you a variety of fresh and high-quality toppings to choose from. They also have a fantastic rotating craft beer selection on tap.
If you're around one of their outlets, you should definitely experience their food and service. You won't be disappointed!
Address: 155 N Glassell St, Orange, CA 92866, United States
Contact: +1 714-888-5941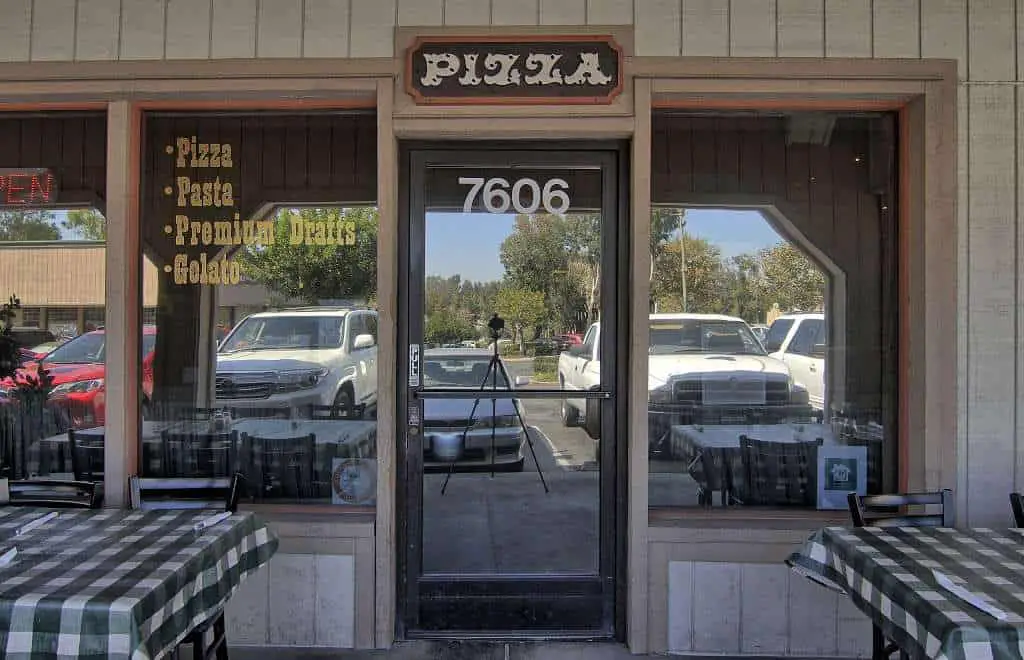 If you're someone who likes to pair up their pizza with a cold beer, Wise Guys Pizzeria is your place! They have a great selection of craft beers and wines.
Wise Guys offers an amazing variety of Italian delicacies, which, of course, includes pizza. The toppings are generously added, and the crusts have the perfect balance of crispiness and chewiness. Garlic knots at Wise Guys are also flavorsome.
Good food, good atmosphere, good beers, and good pricing – Wise Guys ticks all the boxes!
Address: 7606 E Chapman Ave, Orange, CA 92869, United States
Contact:  +1 714-633-4161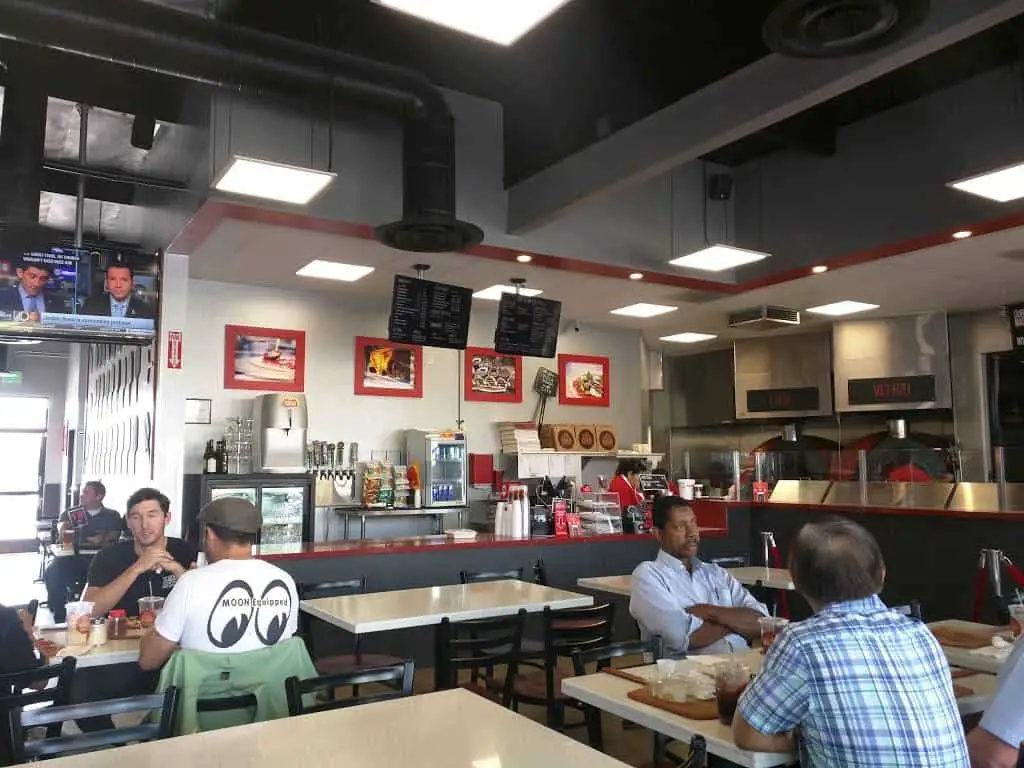 Craving some wood-fired Neapolitan pies in Orange County? Pizza 900 cooks your pizza in 90 seconds in an authentic Italian brick oven. They truly make one of its kind pizzas in the city.
What's more, at Pizza 900, they use the finest Italian ingredients as much as they can get their hands on. Their mozzarella is handmade using authentic Italian curd. A true Italian-inspired pizzeria indeed!
The fast-cooked pizza crusts are crispy thin on the outside and soft chewy on the inside. The toppings combinations are creative and endless, enough to satisfy anyone's palate. And, they have local craft beers on tap. A must-visit pizzeria in Orange County!
Address: 23020 Lake Forest Dr #170, Laguna Hills, CA 92653, United States
Contact: +1 949-328-9988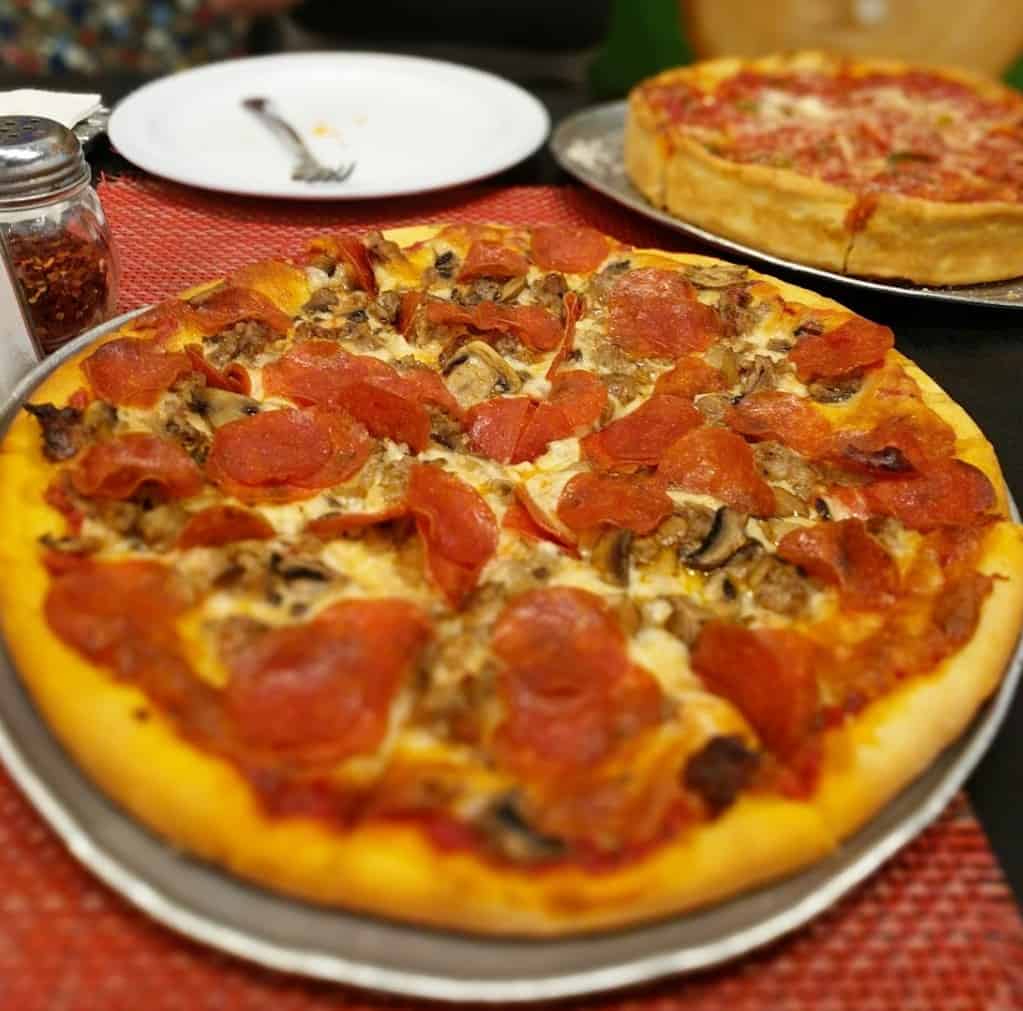 Family-owned and operated since 1978 by Tony Manzella, Tony's Little Italy brings authentic Chicago deep-dish pizza to Southern California. Tony believes that a pizza should be a reflection of culinary craftsmanship – made just the way it's meant to be. Choose from their housemade deep-dish crusts, specialty sauces, and the freshest and high-quality toppings to build a finger-licking good pizza for yourself.
Tony's Little Italy also believes that enjoying authentic pizzas shouldn't have to break the bank. So, they have kept their prices affordable. You'd be hard-pressed to find another pizzeria that can beat their value!
Tony's Little Italy offers dine-in, takeaway, and no-contact delivery services. Opt for whichever service you are comfortable with, and don't miss out on this Southern California gem that brings the best of Chicago deep-dish pizza and pasta to the area. Tony and his family are proud to serve their community and have been loved by customers and praised by critics over the years.
Address: 1808 N Placentia Ave B, Placentia, CA 92870
Contact: +1 714-528-2159
Cortina's Italian Market serves one of the best pies in the city. And we understand why. They have been in the business since 1963! No doubt that they have stood the test of time.
With the magic of their decades-old traditional family recipes and the highest quality ingredients available, this family-owned restaurant creates dishes that have won and are continuing to win the hearts of many.
Besides pizzas, they also offer great pasta and salads. And don't sleep on their sandwiches! Their Meatball sandwich and Pastrami sandwich are out of this world. Don't blame us if you kept returning back for more!
Address: 2175 W Orange Ave, Anaheim, CA 92804, United States
Contact: +1 714-535-1948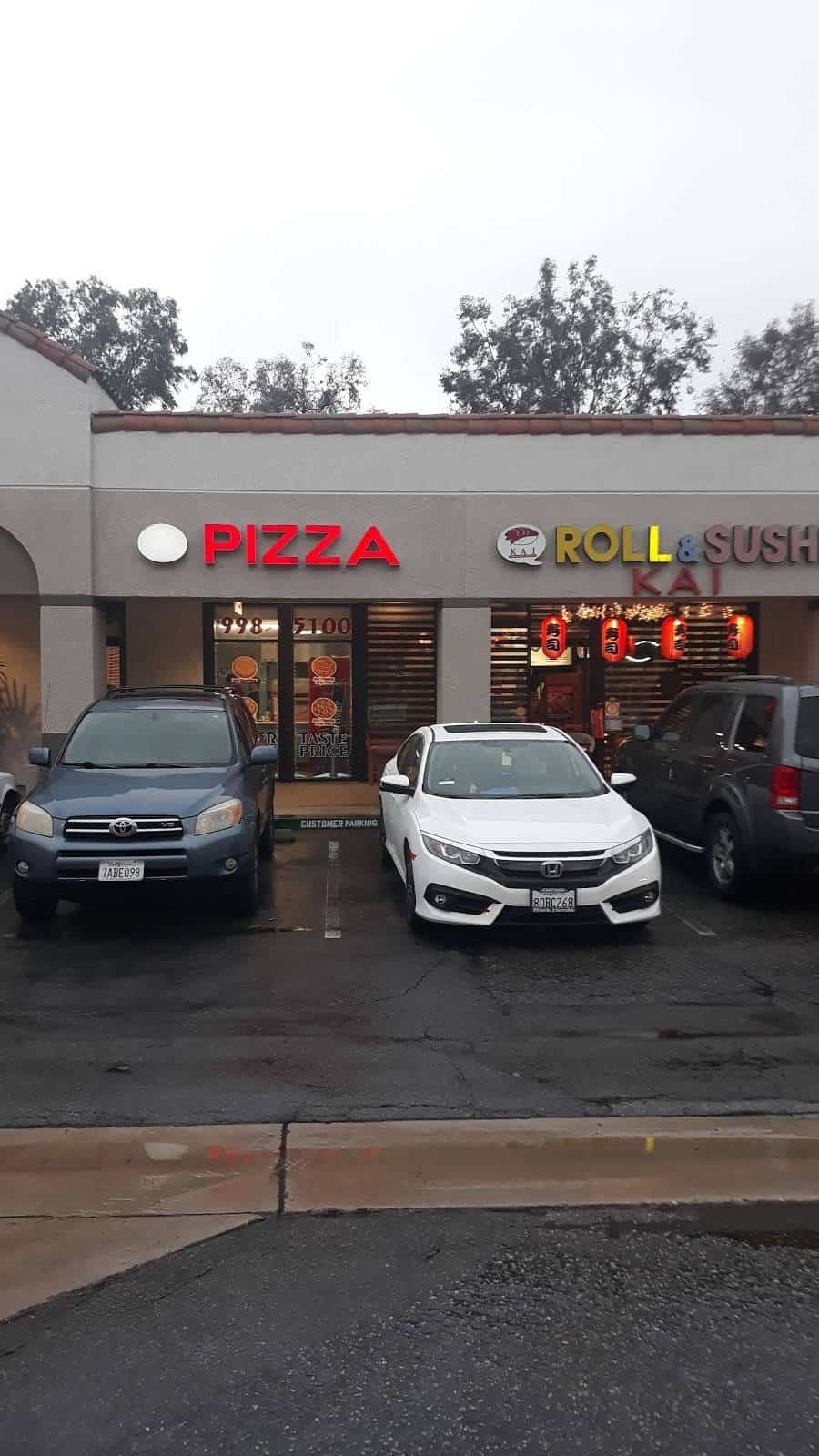 Whata Lotta Pizza is a pizzeria chain local to California. You can find their storefronts in Anaheim, Ellis, Fountain Valley, Hamilton, Orange, Santa Ana, Stanton, and Warner.
As the owner Wayne has been in the pizza business since 1965, you can obviously expect a burst of flavors from Whata Lotta's pies. The best part is that this pizzeria offers the best pies at amazingly fair prices.
On the downside, if you're planning on a proper dine-in session with your friends, family, or a romantic evening date, you might want to look for some other pizzerias. Whata Lotta Pizza is takeaway and delivery only!
Address: 1500 E Lincoln Ave, Orange, CA 92865, United States
Contact: +1 714-998-5100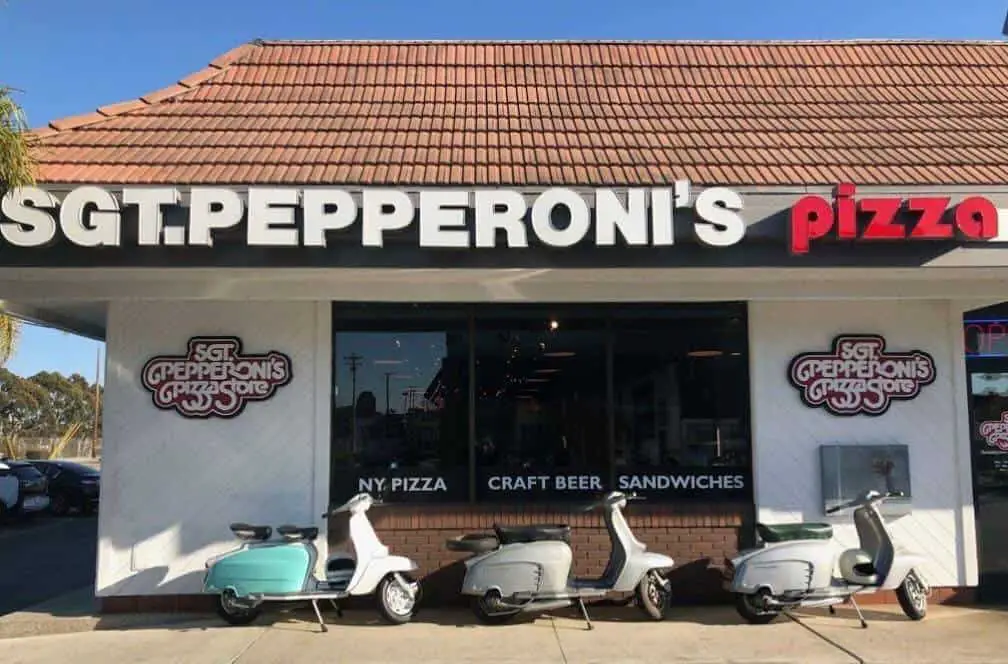 Sgt. Pepperoni's Pizza Store has been serving New York-style pizzas with a Californian twist since 1976. And, the Newport Beach locals and tourists are loving it!
And, the little game room with Pac-Man, Galaga, and a pinball machine just makes the experience at Sgt. Pepperoni's much more wholesome.
Relish a pie with your friends, family, or date, or just go solo on their ready-to-heat pizza slices at Sgt. Pepperoni's. Either way, you'll love them!
And, don't skip their pinwheels! They serve the best pinwheels in Newport Beach.
Address: 2300 SE Bristol St Ste F, Newport Beach, CA 92660, United States
Contact: +1 949-852-9500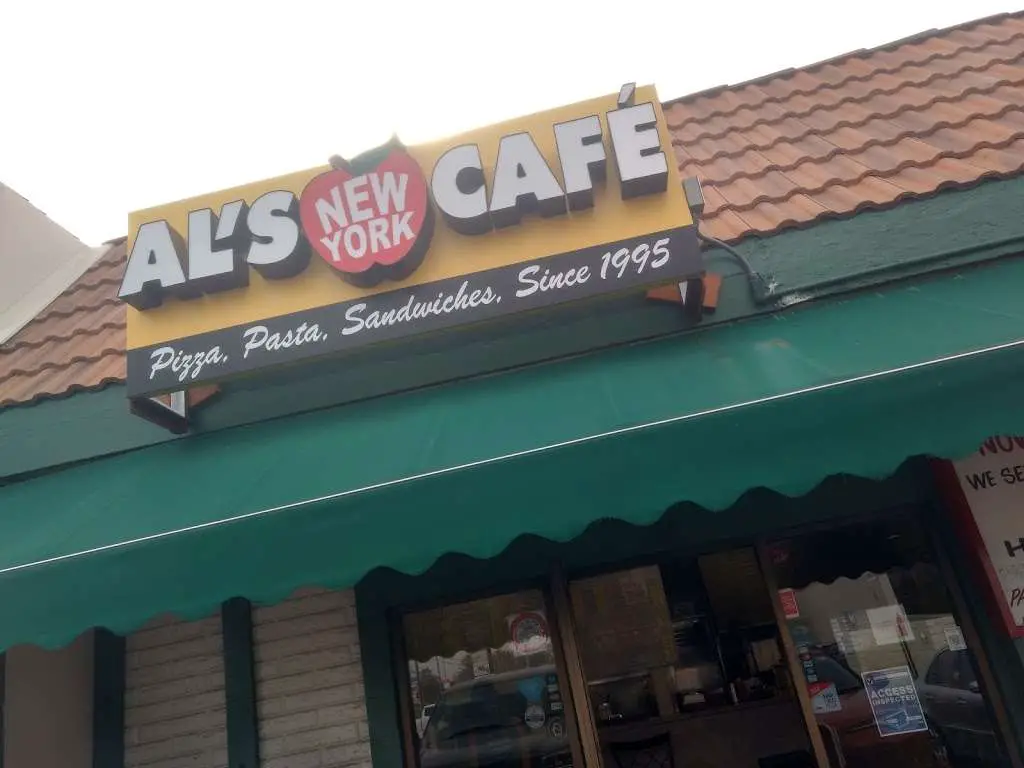 If you're craving a thin-crust New York pie, we've found the perfect place for you! AL's New York Café is your portal to New York-style pizzas when you're in Orange County. Though some seating is available, AL's New York Café is typically a takeaway and delivery kind of café.
Located on Irvine Ave between East 17th St and Ogle St in Costa Mesa, this café uses the finest homemade dough and the highest quality ingredients for its recipes. In addition to great NY pizzas, they also feature calzones, sandwiches, salads, and pasta.
What's more, AL's lunch specials are an absolute bargain. Make sure you check it out!
Address: 1673 Irvine Ave B, Costa Mesa, CA 92627, United States
Contact: +1 949-722-1212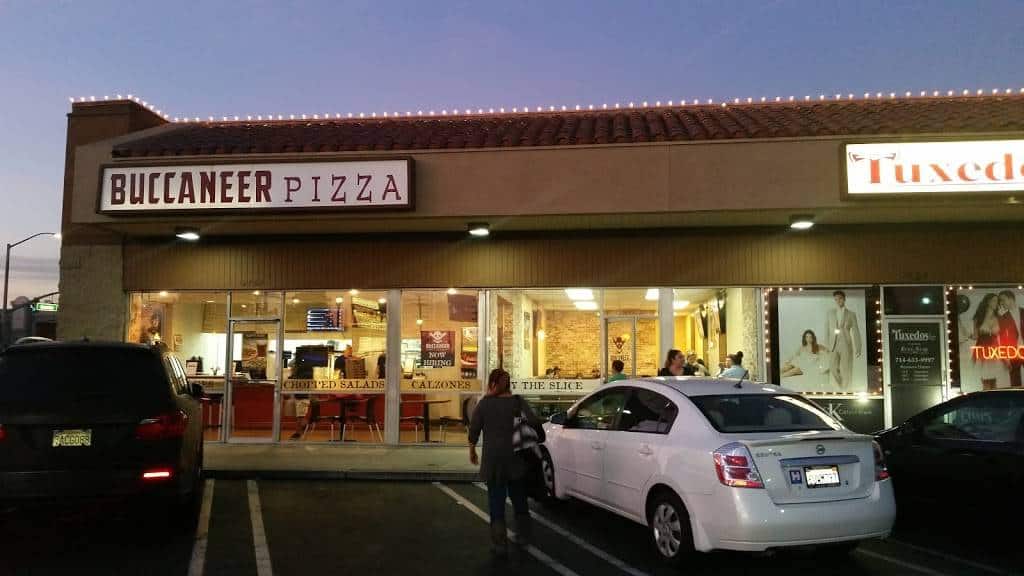 For all those cheese maniacs, who love hefty cheese on their pizzas, there's no better pizzeria than Buccaneer in Orange County for you. Pizza crusts at Buccaneer are thick, fluffy, and slightly crispy, loaded with layers of cheese and ample toppings.
Even classic pepperoni pizzas at Buccaneer are heavenly delicious. You can also order a can of local beer to pair your pizza with. They offer a good selection of local craft beer from their local breweries. Buccaneer also offers subs, sandwiches, calzones, and wings if you don't feel like pizza.
Address: 2757 N Grand Ave, Santa Ana, CA 92705, United States
Contact: +1 714-639-9610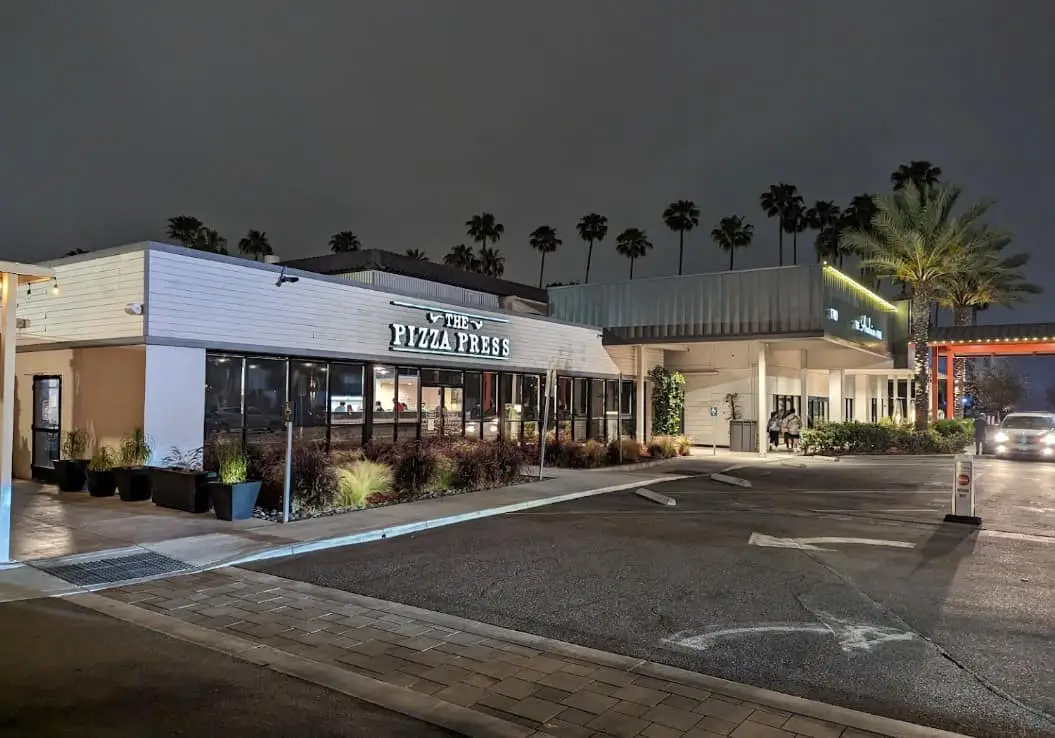 Sitting in the harbor, you'll love the chill and relaxing ambiance of The Pizza Press. Pizza is excellent enough on its own, but how about making your personalized one?
Well, with The Pizza Press 'Publish Your Own' program, you can make one for yourself! Choose from their slew of delicious toppings and sauces and create the best pizza for yourself. They also have the same program for their salads.
With their stack combo meals, you can mix and match your favorite pizza with unique sides such as salads and chicken wings. So, if you want a delicious and highly praised pizza joint, add this to your list!
Address: 1700 S Harbor Blvd, Anaheim, CA 92802

Phone: +1 714-323-7134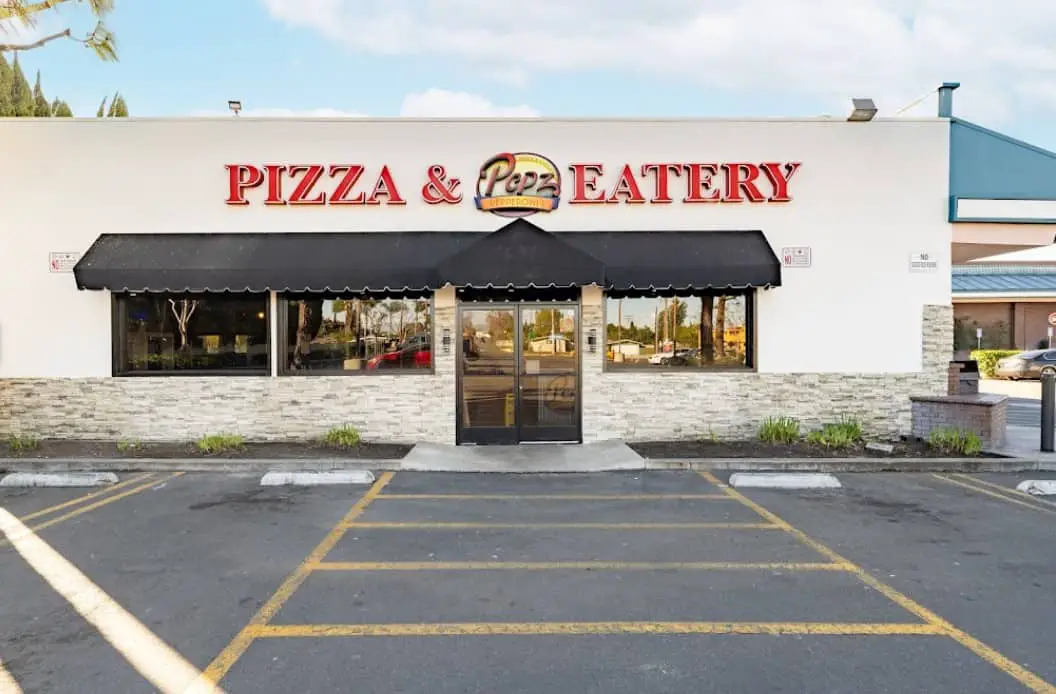 If you want a seasoned pizza place from Orange County, you can count on Stadium Pepz! This joint sitting on State College Blvd might be familiar if you ever got around the South Junior High School. As this resto delivers pizza and other tasty dishes for more than twenty years, you know it's a classic with the locals.
In Pepz, you can get yourself one of their signature options or even make your own! With their gluten-free pizza menu, everyone will have something to enjoy. But be sure to try out their best seller: the Pepz House Special Pizza!
Address: 726 S State College Blvd, Anaheim, CA 92806

Phone: +1 714-991-9900
Summary
There might be many other pizzerias in Orange County that serve good pizzas, but these 15 are a cut above the rest. When it comes to pizza, you cannot go wrong with these pizzerias!
Whether you're planning a pizza date, a family gathering or a fun hangout with your friends, this list has got something for all, doesn't it?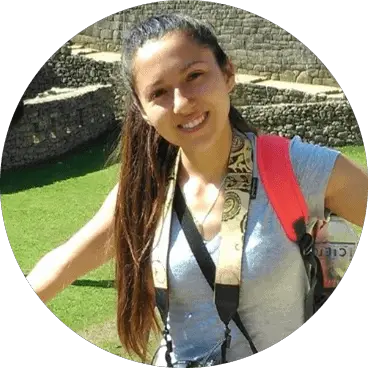 Kathryn's love for pizza started when she was still young. When she was young, she's been a picky eater–that's what her Mom used to say. The only food that she enjoyed and loved was pizza–until now! Her love for pizza turned into a passion!