Making pizza at home is straightforward, and the results are incredible, but it takes time. So, here are more than thirty mouthwatering recipes for pizza sauce you can prepare in advance. When you can sauce, you can keep it for months in your fridge or freezer to save you precious time the next time you make pizza.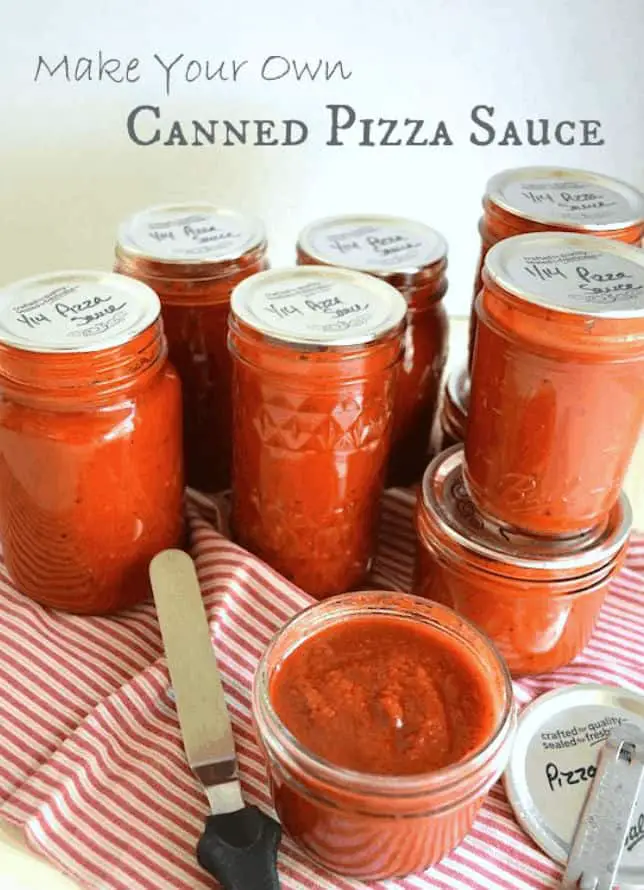 This is a versatile all-purpose pizza sauce that you can make with fresh or frozen tomatoes. First, you wash, core, and halve the tomatoes and boil in a large stockpot. Next, strain off the skin and seeds through a food mill. Fry onions, garlic with herbs and seasonings, blend and add to the tomatoes. Then add to jars containing a little lemon juice or citric acid and place in a canner rack for thirty-five minutes.
NB: Take special note of the canning process in this recipe because you can use it to preserve any of the sauces on this list if they don't include their own canning instructions.
2. San Marzano Pizza Sauce Recipe
San Marzano are the world-famous Italian tomatoes used in classic Neapolitan pizzas. This recipe uses tinned Marzano's combined with fresh garlic, basil, oregano, salt, and pepper to make a quick and richly authentic uncooked pizza sauce.
Simply drain the tomatoes, mix all the ingredients and blend to your desired consistency with a hand blender. The garlic gives a real aromatic kick, and the Marzano tomatoes have a perfect balance between sweetness and acidity.
In this canning recipe, you can use home-strained fresh tomatoes or store-bought passata. This is one of the quickest and easiest recipes you'll find since you just purée the tomatoes adding oregano, garlic powder, black pepper, lemon juice, and salt. After simmering to thicken, decant the sauce into heated jars, leaving 2 cm headspace, and can for thirty-five minutes.
4. Canning Homemade Pizza Sauce
This pizza sauce uses a food strainer to draw the goodness from fresh tomatoes. This forms a base, and you add herbs and spices and reduce gently for an hour or two. Next, carefully sterilize mason jars, add the sauce, and can for thirty-five minutes.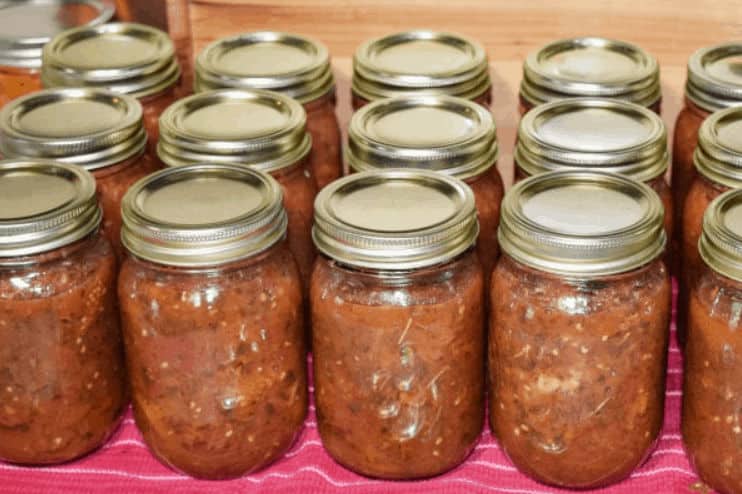 Hidden Spring Homestead's sauce works with fresh or canned tomatoes, but they suggest using fresh tomatoes if you have them for maximum flavor. This is an excellent recipe if you like a rich, herby pizza sauce since it adds parsley, oregano, basil, and rosemary to a reduced tomato base. The secret here is in the long stewing stage where the tomato base is reduced by half into a rich pizza sauce which you then can and keep.
6. Ball's Home Preserving Canned Pizza Sauce
This bulk recipe for pizza sauce uses an electric food strainer to process fresh tomatoes into 13 cups of puree, boiled with lemon juice, oregano, salt, and pepper, and reduced until thick. Then can the sauce in mason jars using a water bath.
Making a vegan pizza sauce is simple because most pizza sauces are pretty close to vegan anyway. This tasty vegan recipe is all about the basil, combining plenty of this wonderfully fragrant herb with tinned tomatoes, garlic, and a little thyme and oregano. And it's a piece of cake to make, just put all ingredients in a blender, then bring to a boil and gently reduce for thirty minutes. That's it.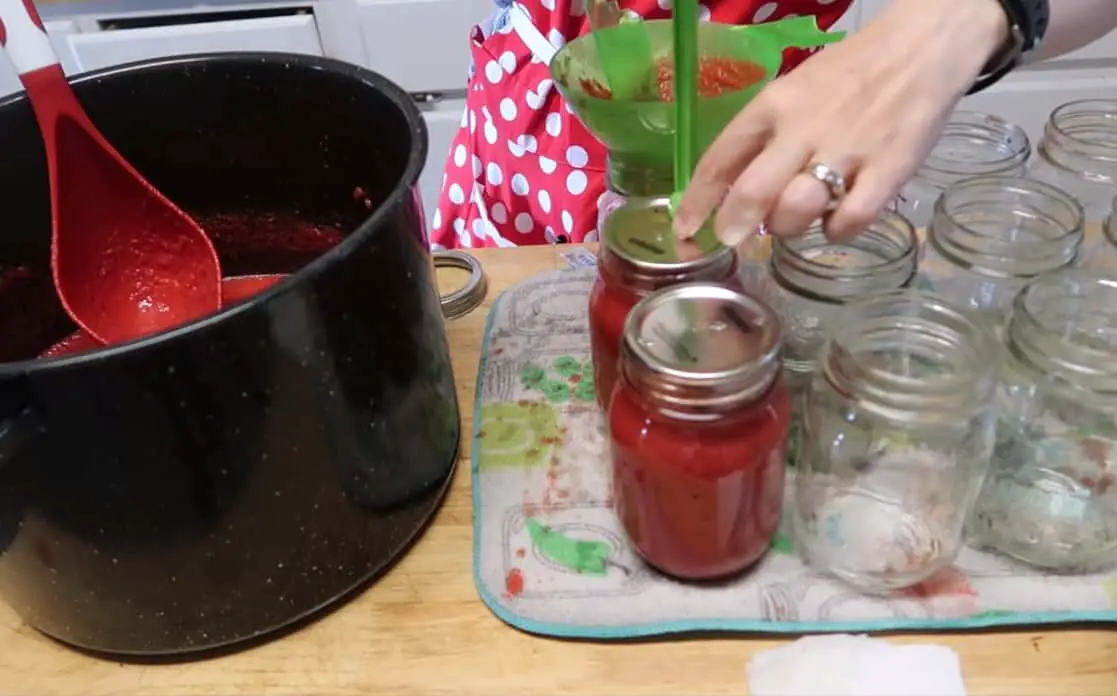 This pizza sauce recipe draws extra flavor from the tomatoes by oven roasting them first. Then these are combined with herbs and seasonings and reduced in the stockpot giving an extra rich and flavorful pizza sauce.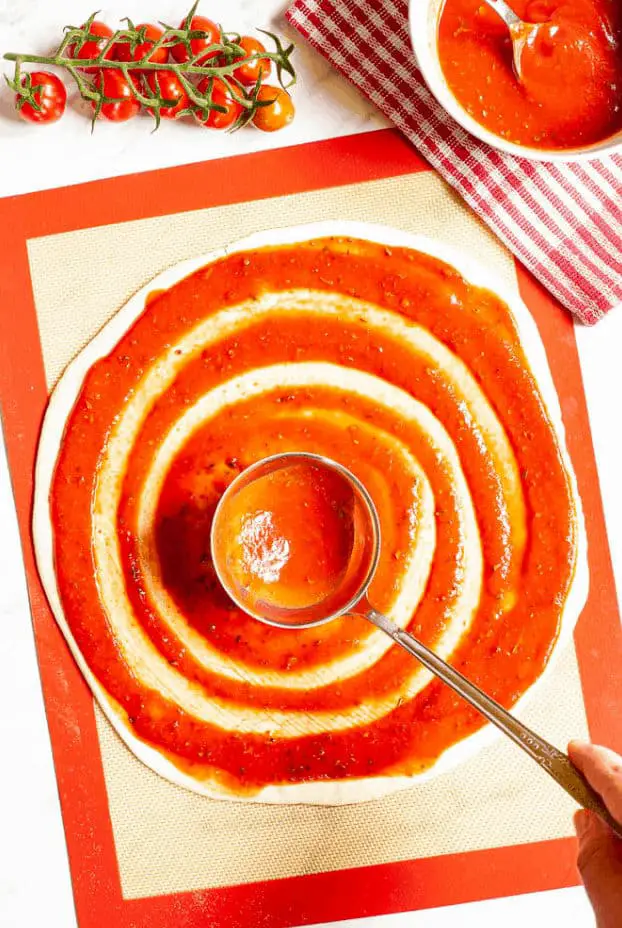 You don't need to can this no-nonsense five-minute pizza sauce recipe since it's so quick to make. And it will keep in the freezer too, simply store it in an air-free Ziploc bag. This is a no-cook recipe, so all you need to do is combine passata, garlic powder, basil, oregano, salt, and pepper.
10. Chef John's Secret Pizza Sauce Recipe
Chef John's pizza sauce packs a punch,  starting with anchovies for that umami flavor kick. He then fries garlic and onion, adding fresh herbs and quality tinned tomatoes. If you can this rich and authentic pizza sauce in Mason jars, you can store it for months in the fridge.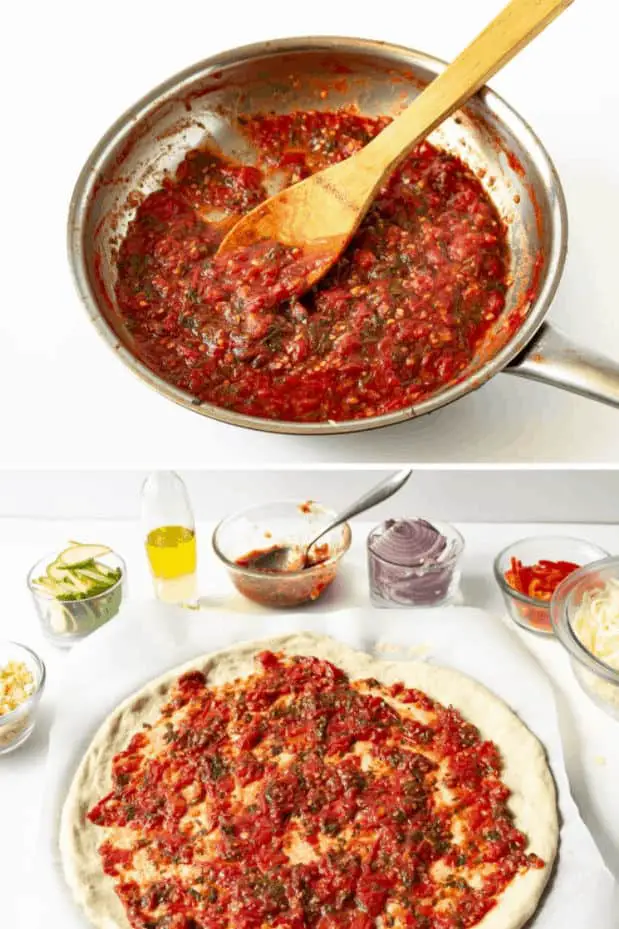 This rich and refreshing pizza sauce is packed full of fresh flavor. The sauce uses fresh tomatoes, but you can substitute canned if you prefer. This is a rich and rustic sauce that keeps the goodness of the tomato skin and seeds. All you have to do is fry finely chopped tomatoes with garlic, basil, salt, and pepper in the pan and simmer for twenty minutes.
12. The Mushroom Den's Best Vegan Pizza Sauce
The mushroom Den's pizza sauce begins with roasted green and yellow bell peppers blended with quality tinned tomatoes and mixed with fresh herbs. Combined with fried onions and seasonings, this makes a wildly flavorful base to any vegan pizza.
This pizza sauce combines store-bought tomato sauce with tomato paste, garlic powder, herbs, and sugar for a sauce that will appeal to kids and those with a sweet tooth. There's no chopping or frying since everything is preprocessed. You just need to boil all the ingredients together and then can.
14. Keto Pizza Sauce Recipe
This quick low-carb marinara sauce is perfect for pizzas. Fry onion flakes and oregano in olive oil. Then add and reduce pureed tomatoes, season, and bottle. Make sure to can the sauce in a mason jar for 35 minutes if you want to store it for a long time.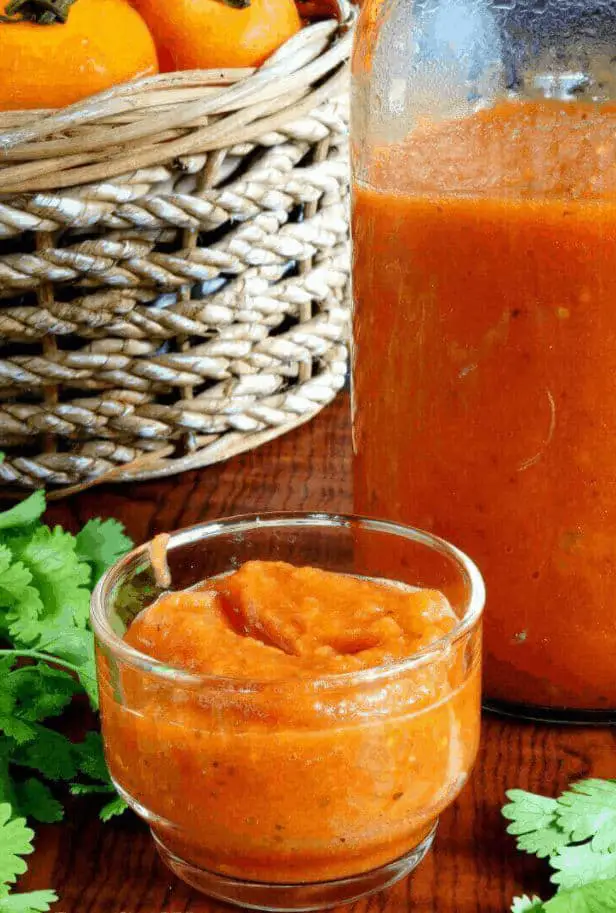 If you're on a Keto diet, you probably already know that store-bought pizza sauces contain lots of sugar. So it's a great idea to make your own and cut out those pesky carbs. Low Carb Yum's simple recipe combines fresh tomatoes and herbs with Truvia or another low-carb sweetener.
16. Tim Talks Cooking Keto Pizza Sauce
This uncooked quick, and easy low-carb keto sauce is a cheap all-purpose Italian red sauce perfect for pizza sauce or pasta sauce. The ingredients are tined crushed tomatoes, garlic powder, Italian seasonings, salt, pepper, and pepper flakes to taste. How do you make it? Just mix them all in a mason jar and shake to mix.
This virtually carb-free Keto pizza sauce recipe takes just fifteen minutes to make. It's great as a pizza sauce or for low-carb pasta or enchiladas. Start with fried onion and garlic and tomatoes and herbs, and then blitz the mixture with a hand blender until you get your desired consistency. Can, and you're done.
18. Serious Eats Farm Fresh Tomato Pizza Sauce
This Serious Eats recipe digs deep into fresh tomatoes and shows you how to get the best flavor from them to make a fresh-tasting tomato sauce for pasta and pizza. It takes a little time, but if you're a discerning foodie or if you just love pizza. It's well worth the effort.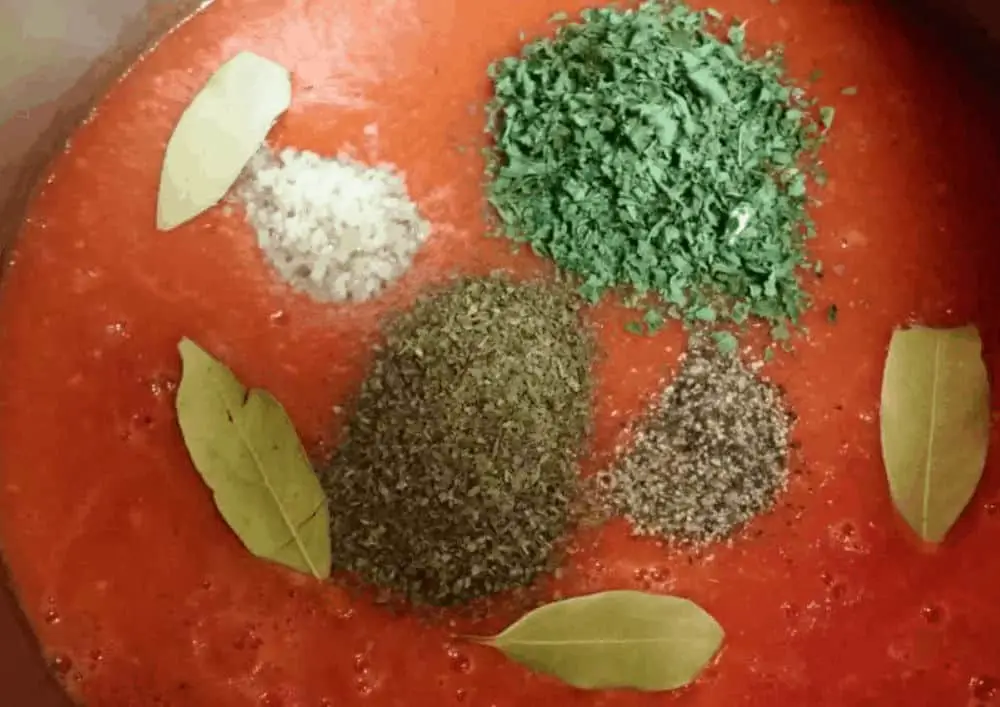 If you're looking for a great authentic Italian pizza sauce recipe to make and can a lot of pizza sauce, then Back To Our Roots have you covered. This recipe uses no less than 20 pounds of fresh tomatoes. Just skin the tomatoes and boil with onions and tomatoes in a large pot. Add herbs, spices, salt-and-pepper, and simmer to reduce. Then can and you've got enough pizza sauce for a looooong time.
20. Gluten-Free Fresh Basil Pizza Sauce
This quick pizza sauce combines canned tomatoes, onion, fresh basil, and garlic for an excellent multi-purpose Italian sauce. There's no sugar, of course, since that adds an unwanted carb, and besides, this flavorful sauce doesn't need it. It will keep for a week or two in the fridge or just can it in mason jars to preserve for months.
This authentic and straightforward pizza sauce relies on the fresh flavors of 20 pounds of ripe tomatoes, preferably a mix of Romas and Brandywine. The hard work is in blanching, coring, and skinning the tomatoes. After that, it just a case of boiling and reducing them with basil and a few other ingredients, then carefully canning in hot jars.
This simple pizza sauce video goes deep on the canning process and is an excellent place to go for a quick canning 101 if you want to can some of the sauces on this list that don't have detailed canning instructions.
It's quite possible, with some thought and care, to make a pizza that isn't packed full of calories. You just need to be careful with the cheese and choose your toppings wisely. This low-cal sauce will help too. The recipe requires just one tablespoon of olive oil in which you fry red onions and garlic, adding tomatoes,s herbs, and seasonings. Reduce for twenty minutes, and then can.
24. Little Caesar's Pizza Sauce
This pizza sauce differs from most, using tomato paste and water for a rich and intense tomato flavor. Adding black pepper and sugar, garlic, onion powder, and salt to the mix, you just simmer for 35-40 minutes until the sauce is thick enough.
This handy article gives you the lowdown on canning three kinds of tomato sauce, which is an excellent idea since you can keep some on hand for all your needs. It's a fairly involved recipe involving an electric tomato strainer. So it takes time, but it makes a lot of sauce, so you will only have to make it once in a blue moon.
26. 5-Minute Pizza Sauce
A rich and thick pizza sauce in five minutes? Well, it's more like ten, including prep, but that's still great. Slice and blend fresh tomatoes, then fry in an oiled skillet. Add chili flakes, salt, and sugar and fry for 5 minutes. Done!
Purists look away, but I like to use spicy arrabbiata sauce as a pizza sauce. All you need to do is reduce this tasty sauce a little more than usual. It's simple to make too; after preparing tomatoes, you just boil them in a stock pan with flavourful serrano chilis, onions, garlic, herbs, and spices. Then can and enjoy at your leisure.
28. Mrs. Wage's Pizza Sauce and Chili Base
There's lots of helpful background in this tasty down-home pizza sauce and chili base canning video. The sauce concentrates fast by using just the whole tomatoes from tinned tomatoes, saving the juice for other purposes. Plenty of flavor gets added by dried herbs and seasonings, and the finished sauce is canned in a boiling water canner for 40 minutes.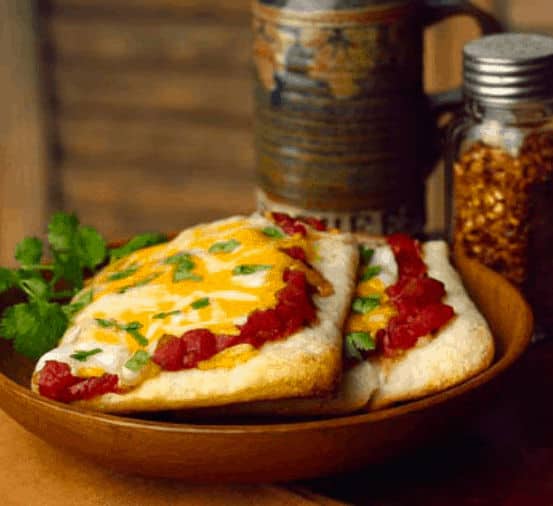 This rich and zesty pizza sauce goes big on lemon juice and oregano for a starburst of flavor. The sauce recommends fresh plum tomatoes, but you can use canned ones too. After boiling and reducing the sauce a little, add it to clean 500 ml. mason jars in a water canner and simmer for thirty-five minutes.
30. Italian Grandma Makes Pizza and Pizza Sauce
Who better than an Italian grandma to show you how to make an authentic pizza from scratch? This video takes you through the whole process from the dough base, through the sauce, to the toppings. The sauce is all about the combination of basil, onion, and fresh tomatoes. You really should make an extra-large batch and can some for later.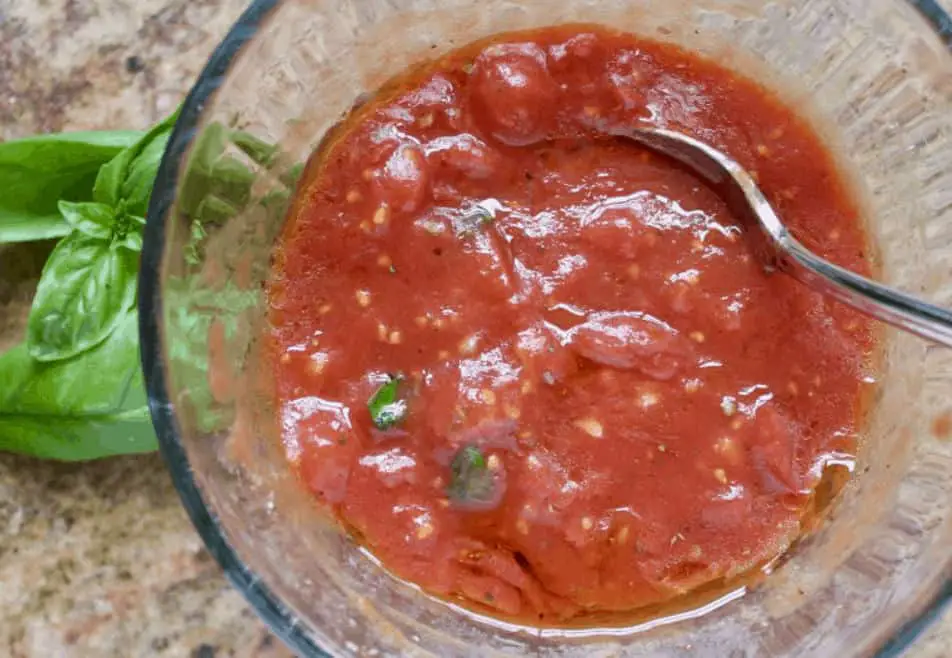 Here's a quick and easy no-cook pizza sauce recipe. It's authentically Italian and made by an Italian chef. Christina's key to a good pizza sauce is to buy good ingredients, using fresh or quality canned Italian tomatoes.
31 Pizza Sauce Canning Recipes
Ingredients
San Marzano Pizza Sauce Recipe

Canning Homemade Pizza Sauce

Ball's Home Preserving Canned Pizza Sauce

Roasted Tomato Pizza Sauce

Chef John's Secret Pizza Sauce Recipe

The Mushroom Den's Best Vegan Pizza Sauce

Keto Pizza Sauce Recipe

Tim Talks Cooking Keto Pizza Sauce

Serious Eats Farm Fresh Tomato Pizza Sauce

Gluten-Free Fresh Basil Pizza Sauce

Simple Canned Pizza Sauce

Little Caesar's Pizza Sauce

5-Minute Pizza Sauce

Mrs. Wage's Pizza Sauce And Chili Base

Italian Grandma Makes Pizza And Pizza Sauce
Directions
Select your favorite recipe.
Organize all the required ingredients.
Prep the recipe in 30 minutes or less!