If you're in Santa Fe and you're looking for a quality pizza, we're here to help! We're going to take a look at 15 places to get the best pizza in Santa Fe.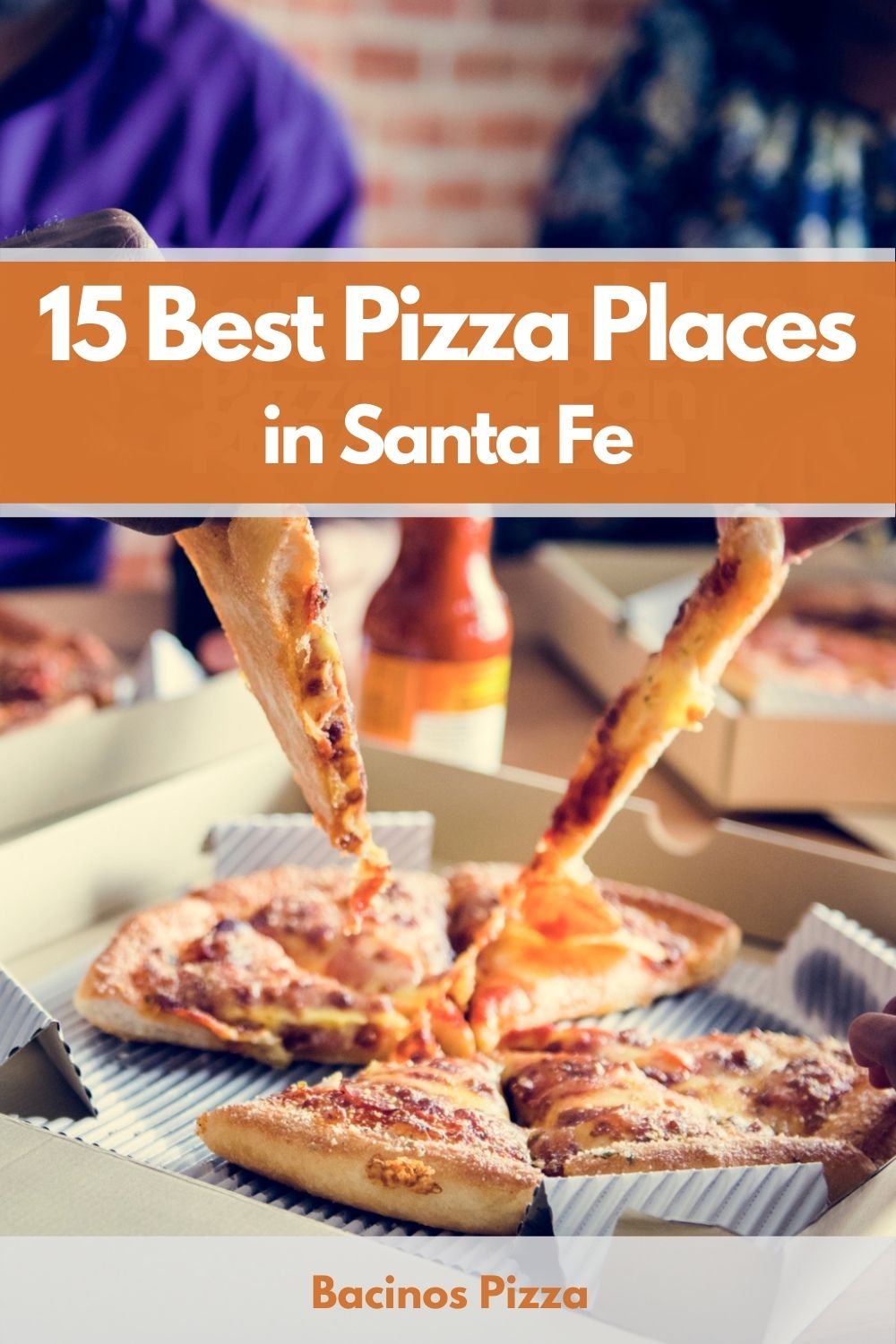 Whether you're looking for thin crust or pan, classic toppings or something a bit different, we've got you covered.
So step this way to find out where to place your order when your next pizza craving strikes!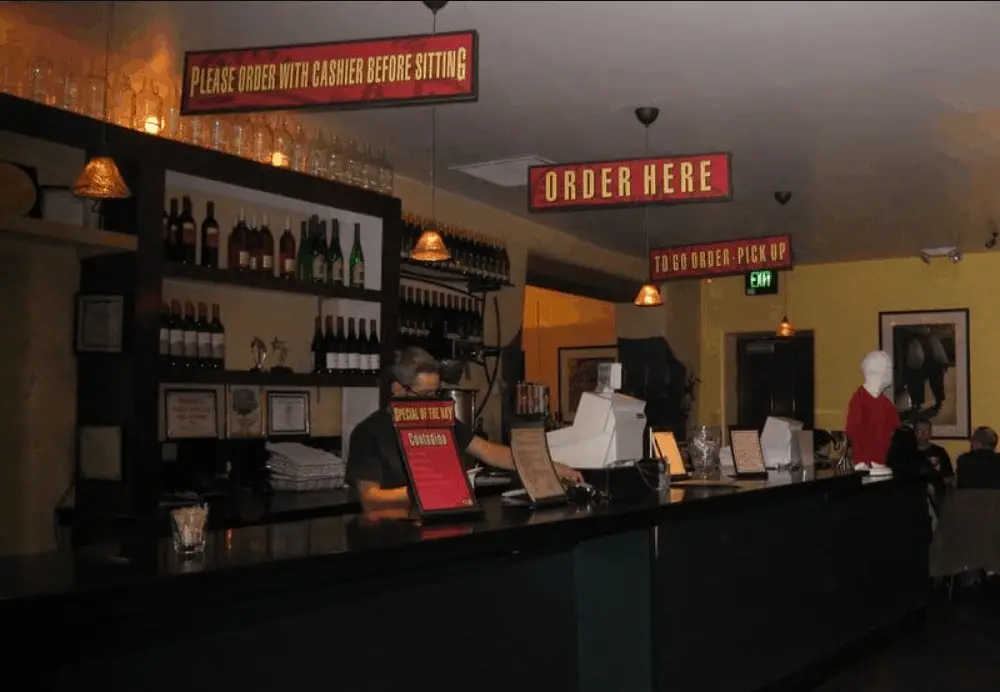 Address: 321 W San Francisco St, Santa Fe, New Mexico 87501
Tel: 505-986-8700
Located in Santa Fe's plaza, Il Vicino serves pizzas made in an authentic wood-fired pizza oven. The surroundings are relaxed but smart, and they even serve their very own brew – an internationally award-winning beer called Canteen.
You can eat outdoors too – a boon in pandemic times. And if you'd rather stay at home, you can have your food delivered. They will even cater for events – just contact the team for details.
The menu features a range of classic Italian toppings. The Molto Carne takes the standard meat feast up a level, with homemade sausage and capocollo ham added to the pepperoni. Vegetarians have a decent choice of toppings, featuring ingredients like mushrooms, artichoke hearts, spinach, and kalamata olives.
And if you prefer, you can create your own pizza, choosing from a range of bases and sauces as well as toppings.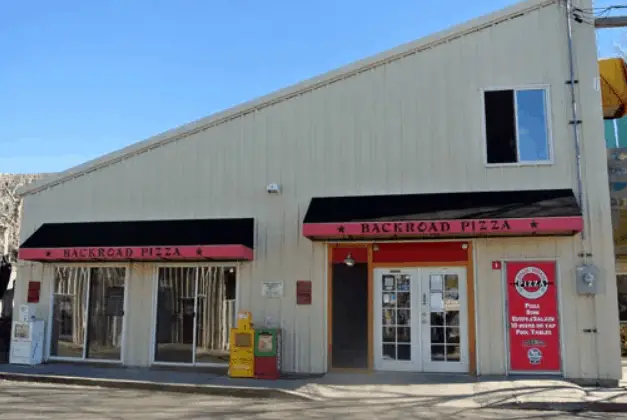 Address: 1807 2nd St #1, Santa Fe, New Mexico 87505
Tel:  505-955-9055
This friendly pizzeria is a great choice for those looking for a crunchy crust and fresh, abundant toppings. In pandemic times, food is limited to curbside collection. At other times, you can dine in and watch the pizza being made. And there are pool tables upstairs to keep you entertained after your meal too.
The menu features a good range of pizzas, all with a crust rolled in cornmeal to give it extra crunch. You can choose from 6, 12 and 16-inch pies, with a 12-inch gluten-free version available too. And there are plenty of toppings for those who like to create their own.
You can even order your own DIY pizza kit to replicate the Back Road experience at home. And inexperienced cooks needn't worry – it comes with instructions too!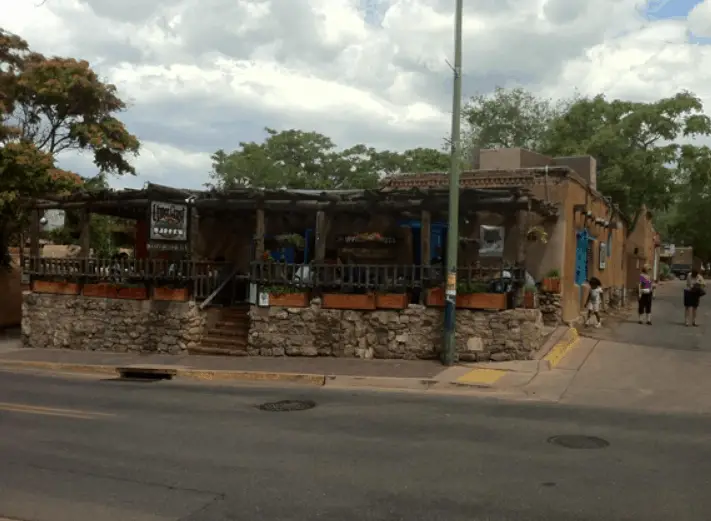 Downtown:
Address: 329 Old Santa Fe Trail, Santa Fe, New Mexico 87501
Tel: 505-982-0000
El Dorado:
Address: 5 Colina Drive, Santa Fe, New Mexico 87508
Tel: 505-471-1111
Upper Crust Pizza has two branches in Santa Fe. In normal times, both offer a great dine-in experience. But you can order from both locations for delivery, and the El Dorado branch has a drive-thru too.
The wholewheat crust and marinara sauce are particular hits. And the menu has plenty of choices for both meat-eaters and vegetarians. The pizzas come in two sizes, and you can also order calzones, salads, sandwiches and sides.
If you have a sweet tooth, you can get a delicious strawberry or turtle cheesecake from the downtown Upper Crust. But head to El Dorado and you'll get lots more choices, including brownies, apple pie, empanadas, chocolate cake and banana bread.
Downtown
Address: 418 Cerrillos Road, Santa Fe, New Mexico 87501
Tel: 505-988-8825
Southside
Address: 3470 Zafarano Drive, Suite D, Santa Fe, New Mexico 87507
Tel: 505-471-6200
At Pizza Centro you can buy your pizza in 12 or 16-inch versions. There's a good range of toppings, whether you order from the menu or create your own. Both vegetarians and meat-eaters have plenty to choose from. And you can buy plain, pepperoni and specialty pizzas by the slice too.
There's also a 12-inch gluten-free crust. But those with a gluten intolerance might feel peeved at having to pay the same price for their toppings as for a 16-inch pizza.
Aside from the pizzas, there's a very good range of salads, plus sandwiches and a few sides. And if you want dessert, there's gelato too.
St. Michaels and Cerillos
Address: 2014 Cerrillos Road, Santa Fe, New Mexico 87505
Tel: 505-424-7333
Las Soleras (I-25 and Cerillos)
Address: 4980 Promenade Boulevard, Santa Fe, New Mexico 87507
Tel: 505-501-6060
Dion's has branches all over New Mexico, as well as Colorado and Texas. And both the Santa Fe locations are well rated by customers.
There are plenty of different pizzas to choose from here, both classic and gourmet, as well as create your own. The original crust is slightly deeper, while the gourmet version is thin and crispy. Everything is nice and fresh, with the dough and sauce made daily on the premises.
As well as pizzas, there's a wide range of salads and sauces, plus sandwiches, sides and a few desserts.
Order to dine in or take out. You can also get Dion's to cater your event, and they'll deliver your food for free with orders of over $150.
Address: 322 Garfield Street, Santa Fe, New Mexico 87501
Tel: 505-995-9595
Andiamo! is a traditional trattoria, with a wonderful selection of entrees, pasta dishes and desserts. And it's also a great place to get an authentic Italian pizza.
The menu changes daily, and all the ingredients are fresh and high quality. The beautiful old villa is a lovely place to dine in, with excellent service. But you can also order your food for delivery or curbside collection.
Note that during the pandemic, it's closed for lunch. Check the website for up-to-date information on opening times and to reserve a table.
Address: 1512 Paseo De Peralta, Santa Fe, New Mexico 87501
Tel: 505-690-0966
Bruno's is a beloved Santa Fe institution, with a family tradition of pizza making going back five generations. If you're looking for a pie and something sweet, this is a great option.
Pizzas are available by the pie and the slice, in sizes from 8 to 20 inches. There's even a pizza slider menu for those who'd like to sample different flavors. A large 16-inch pizza can be ordered with different toppings on each quarter. And you can get a flatbread pizza the same way too.
All the pizzas are made in an authentic wood-fired pizza oven, and there's a huge range of toppings to choose from.
There's also a small but good selection of salads. And for afters, there's gelato, cannoli, and a refreshing limoncello granita.
Address: 204 North Guadalupe Street, Santa Fe, New Mexico 87501
Tel: 505-982-8474
Lino's is open six days a week, staying closed on Mondays. Food is available for delivery or curbside pickup, and outside of pandemics, you can dine in too.
There's an excellent choice of pizza. Vegans will love the range of options too, including the VIP – Vegan Impossible Pizza. And if you fancy pasta instead, we'd recommend the Frank Sinatra – fettuccine with mushrooms, shallots, green peas and a delicious rosemary cream sauce.
This isn't the cheapest place to eat, but the quality is excellent. And the service is top-notch too.
Address: 2801 Rodeo Road, A-5 in Rodeo Plaza, Santa Fe, New Mexico 87507
Tel: 505-471-3800
Joe's menu goes far beyond pizza. Here you can enjoy everything from burgers to sandwiches, pasta to entrees, salads to appetizers. There's even an extensive breakfast menu.
But while the pizzas may not be the only game in town, they're well worth checking out.
Here, the simple Margherita is elevated to an art form. Like all Joe's pizzas, it's topped with Joe's own mozzarella, made several times a day. You won't find fresher. And it's offered only in the late summer and early autumn when the right quality of New Mexico heirloom tomatoes are available.
Give it a try, and taste the difference. You can also buy a range of other classic and innovative pizzas. All are available in 10 and 16-inch diameters, enough for six and twelve slices respectively.
Address: 60 East San Francisco Street, Suite 301, Santa Fe, New Mexico 87501
Tel: 505-984-0008
Rooftop Pizzeria offers indoor dining in the smart restaurant or outdoors on the relaxing patio, curbside pickup or delivery. It's open six days a week, closed on Tuesdays.
The thin crust gourmet pizzas are a highlight, but they also offer antipasti, salads, lasagna and other pasta dishes. The dessert selection is small but perfectly formed. Choose from Italian specialties cannoli or tiramisu.
There's an impressive wine list, with over 20 wines available by the glass. Beer lovers can sample offerings from some of New Mexico's best microbreweries. And there's a decent range of flavored waters, sodas and Italian soft drinks too.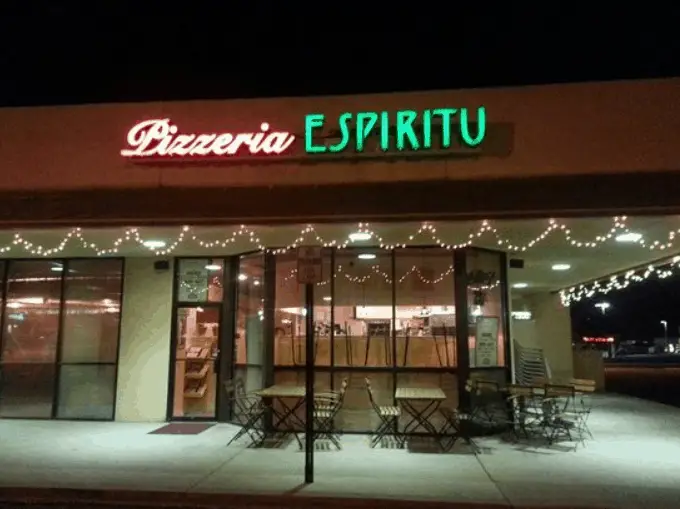 Address: 1722 Saint Michaels Drive, Santa Fe, New Mexico 87505-5443
Tel: 505-424-8000
Pizzeria Espiritu offers pizzas, salads, pastas, sandwiches and desserts. You can dine in, or order for curbside pickup. Note, however, that there's no delivery option at present. And it's closed on Saturdays and Sundays.
Pizzas are available in 10, 12, 14 or 16-inch diameters. Vegetarians are well catered for, with six of the nine specialty pizzas being meat-free. There's also an extensive list of toppings to create your thin crust, pan or calzone of choice.
Desserts here are particularly tempting. Choose from tiramisu, cheesecake, chocolate mousse cake, raspberry crème brulée and a large chocolate chip cookie.
Address: 556 North Guadalupe Street, Santa Fe, New Mexico 87501
Tel: 505-820-3131
Pizza Etc. has been serving up great pizzas made with local organic flour since 1995. Today it caters to pizza lovers of all tastes, with meaty, vegan and gluten-free options on the menu.
Plain cheese, pepperoni, and pepperoni, sausage and green chili pizzas are available by the slice. Specialty pizzas can be ordered in 6, 10, 14 and 16-inch diameters. And there's a choice of gluten-free crusts too, with 10, 14 and 16-inch pies on offer.
There's a good range of toppings to create your own pizza. And there are seasonal specialties like the Fiesta Pizza, featuring fajita beef and roasted, locally grown green chilies. Calzones and Stromboli are available too. And all the dough is made fresh daily.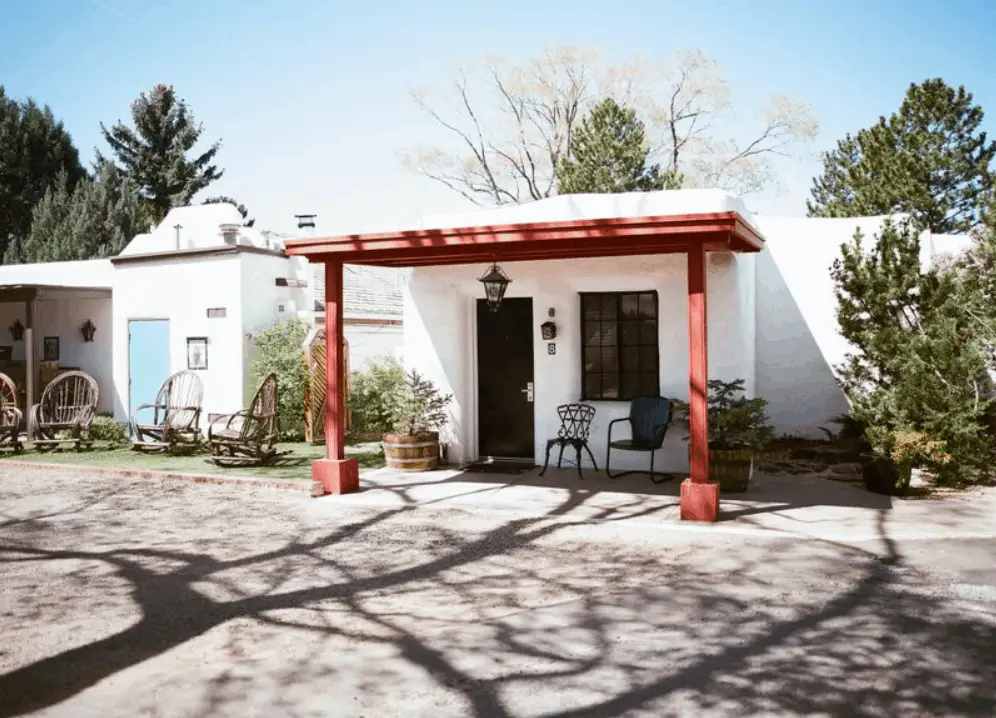 Address: El Rey Court, 1862 Cerillos Road, Santa Fe, New Mexico 87505
Tel: 413-374-9191
If you're the kind of person who likes to plan ahead, Tender Fire could be the perfect pizzeria for you. It publishes its new weekly menu every Tuesday, with pre-order slots for the following week. Book early – they've usually sold out by Wednesday night.
Pre-ordering is done online. Check out the website for details. There's also some limited availability for walk up orders. Your best bet is to check around 8.30pm. You'll need to do it in person, though. The small staff will be focused on food preparation, so won't be able to answer the phone or check texts.
Order in advance, and your pizza will be put into the outdoor brick oven when you check-in. It will be ready in between 5 and 15 minutes. If you've ordered five or more pizzas, it will take a little longer.
Many of the pizzas here are vegetarian and vegan. Whatever the ingredients, the emphasis is on sustainability, with produce sourced as close to home as possible.
Address: 3005 South Saint Francis Drive, Santa Fe, NM 87505
Tel: 505-984-0099
If you want the convenience of carryout with the fresh-out-of-the-oven taste of home baking, Papa Murphy's could be for you. The take 'n' bake chain assembles your pizza to order, ready for you to bake at home.
The Santa Fe branch gets good reviews from locals. There's a great range of pizzas, including keto-friendly "pizza bowls" – all the ingredients bar the crust. There are lots of options for both meat-eaters and vegetarians, and sides and salads are available too.
You can either collect your pizza at the store or get it delivered via Grubuub, Uber Eats or Postmates.
Address: 2890 Agua Fria Street, Santa Fe, New Mexico 87507
Tel: 505-471-1480
The family owned Piccolino's sits on the corner of Agua Fria and Siler. The menu here is vast, with a good range of pizzas alongside the soups, salads, pastas, meat dishes, seafood, calzone and sandwiches. And little ones are well served by a separate kids' menu.
You can order to dine in the cheerful restaurant with its checkered tablecloths, or collect your food curbside. Service can sometimes be a little slow, so this isn't the place to go if you're in a hurry. But the food is simple and good quality.
Time for pizza!
We hope you've enjoyed our tour of 15 places to get the best pizza in Santa Fe! There's lots on offer here, whether you want to dine in or prefer to eat at home. And there's a pizzeria to suit all budgets.
So next time you want a pizza, why not try somewhere new? We hope you enjoy your meal!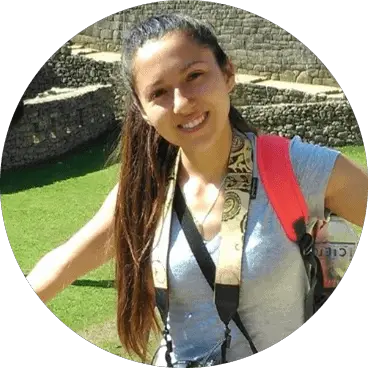 Kathryn's love for pizza started when she was still young. When she was young, she's been a picky eater–that's what her Mom used to say. The only food that she enjoyed and loved was pizza–until now! Her love for pizza turned into a passion!